2021 Sophia Domagala
2021 Martina Kügler | paper positions berlin
2021 Eric Meier | Mies In Mind by INDEX
2021 Max Geisler
2021 Guy Allott
2021 José Montealegre
2021 Wagehe Raufi
—
2020 Boutique
2020 Assisted Survival
2020 Lauren Coullard
2020 Rashiyah Elanga
2020 In A Single Work: Max Geisler
2020 John Matthew Heard
—
2019 Yana Tsegay
2019 Eric Meier
2019 L'Arbre du Soleil
---
SOPHIA DOMAGALA Beggars
September 15 — October 31, 2021
September 15, 5–9 pm | Opening Reception + Catalog Launch | Exhibition catalog with extended artist material and an essay by Camila McHugh
October 31, 1-5 pm | Finissage | Poetry readings with artists and texts by Lotta Bartoschewski, Benedikt Bock, Sophia Domagala, Gloria Lin, Nat Marcus + Concert by Harmony Molina
3D Tour
CV Sophia Domagala
Text by Camila McHugh
Work list
Exhibition views by Best Quality, Berlin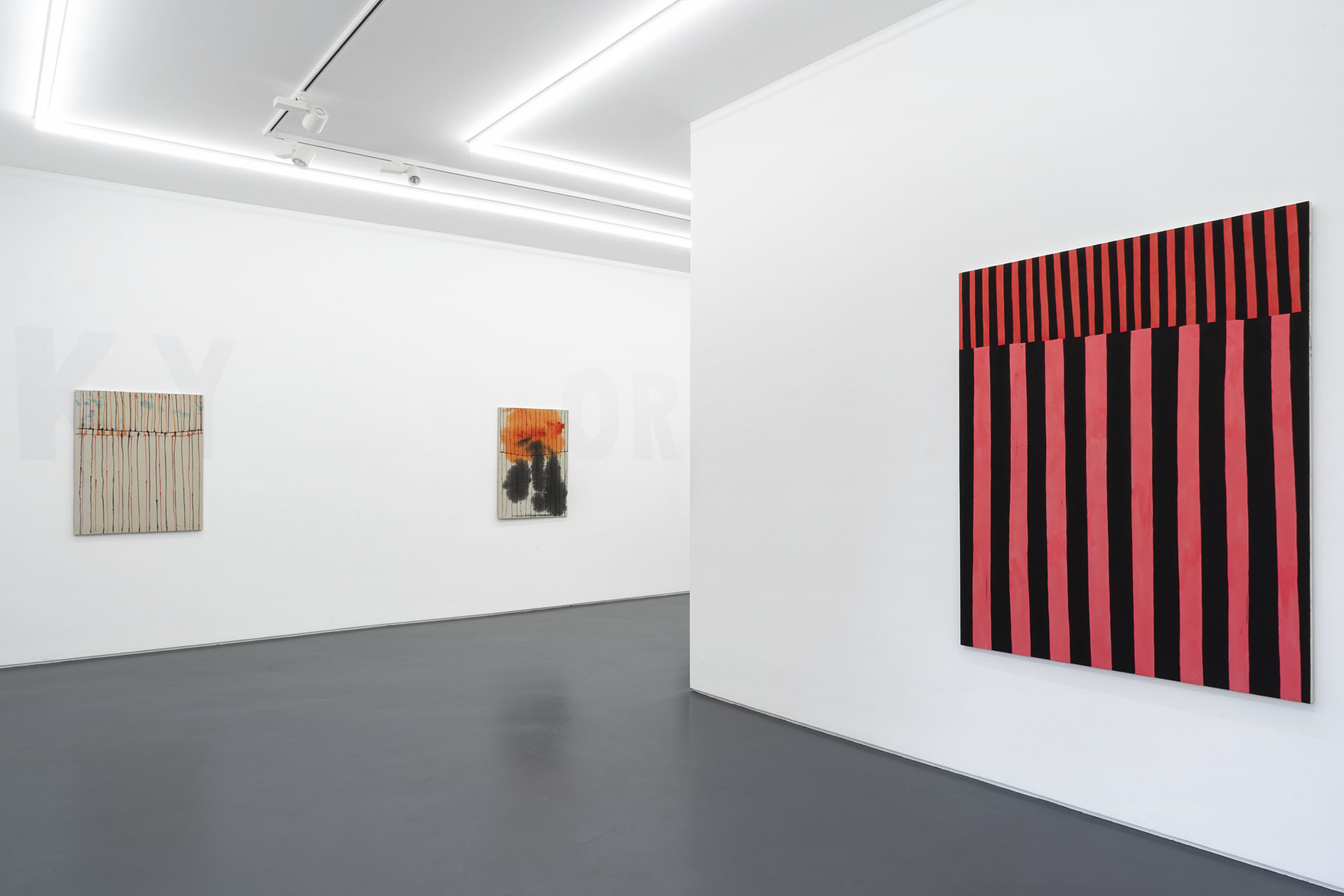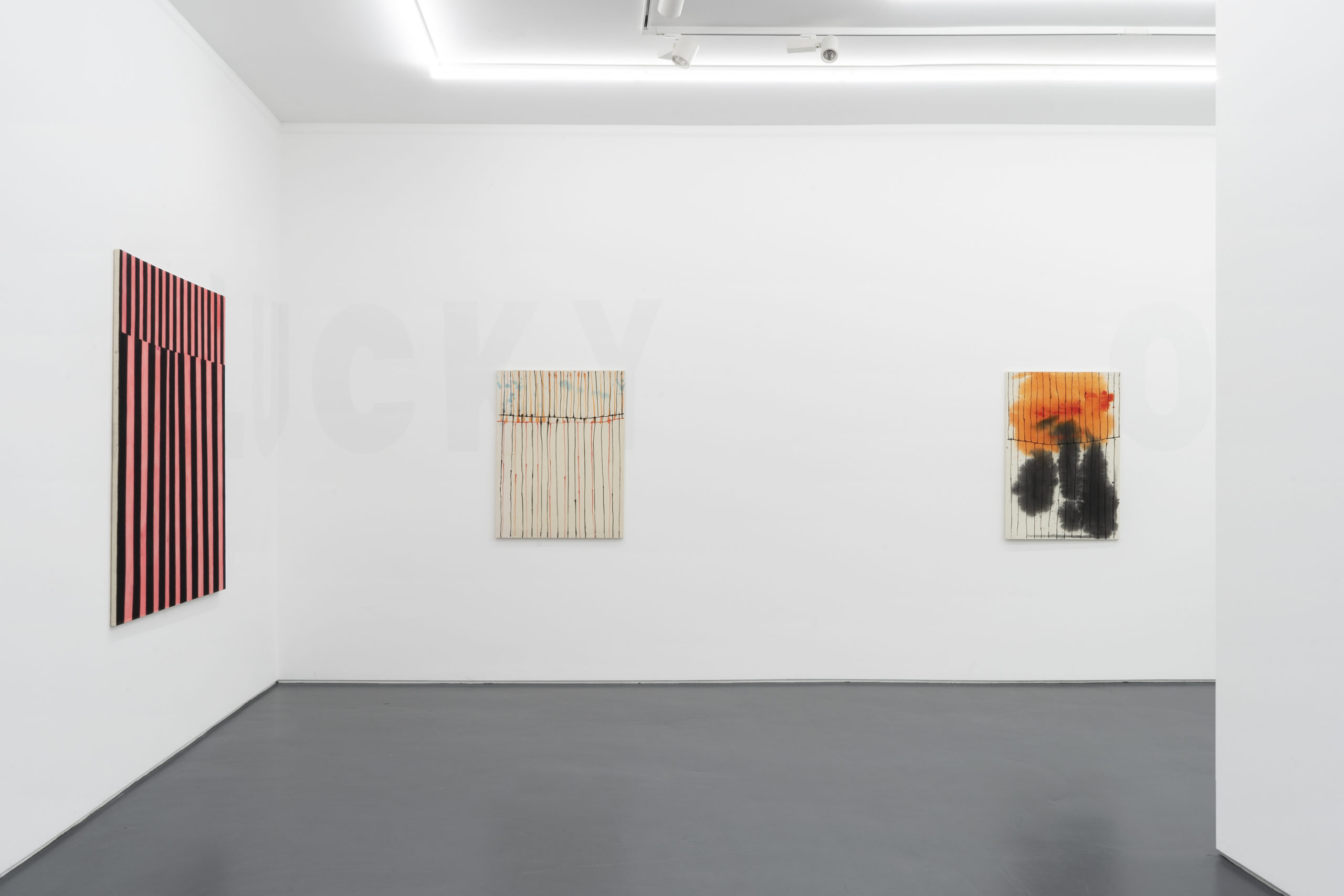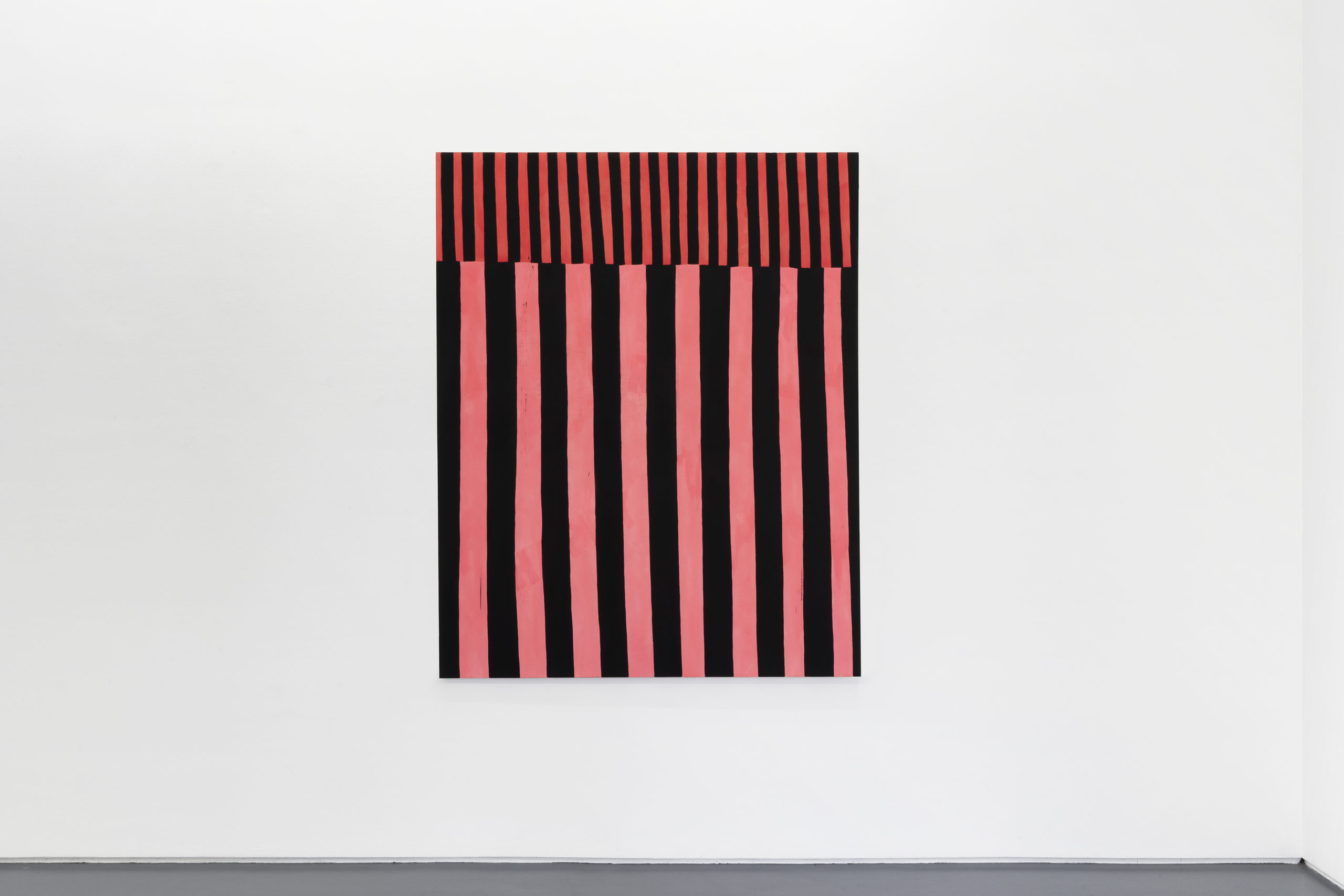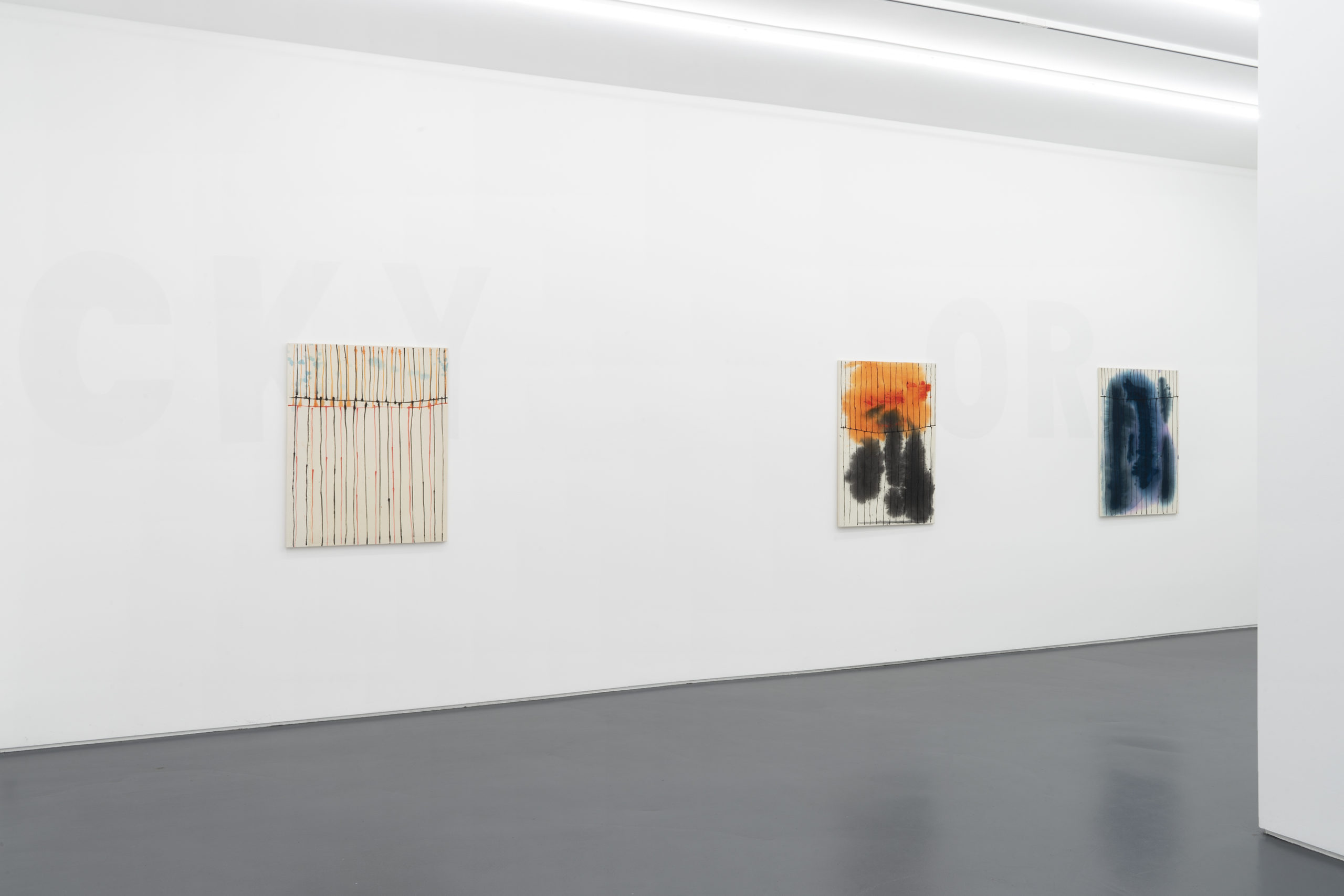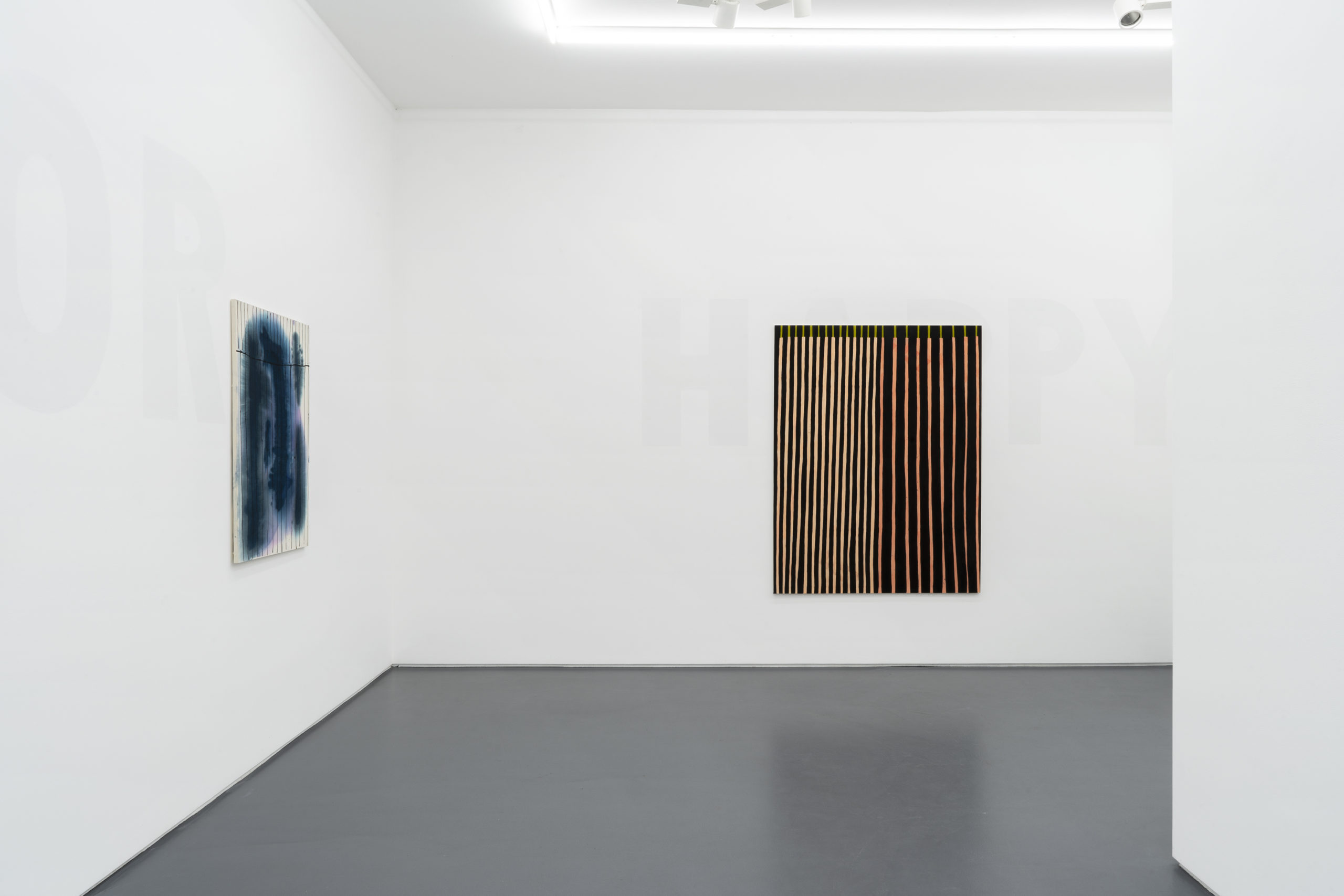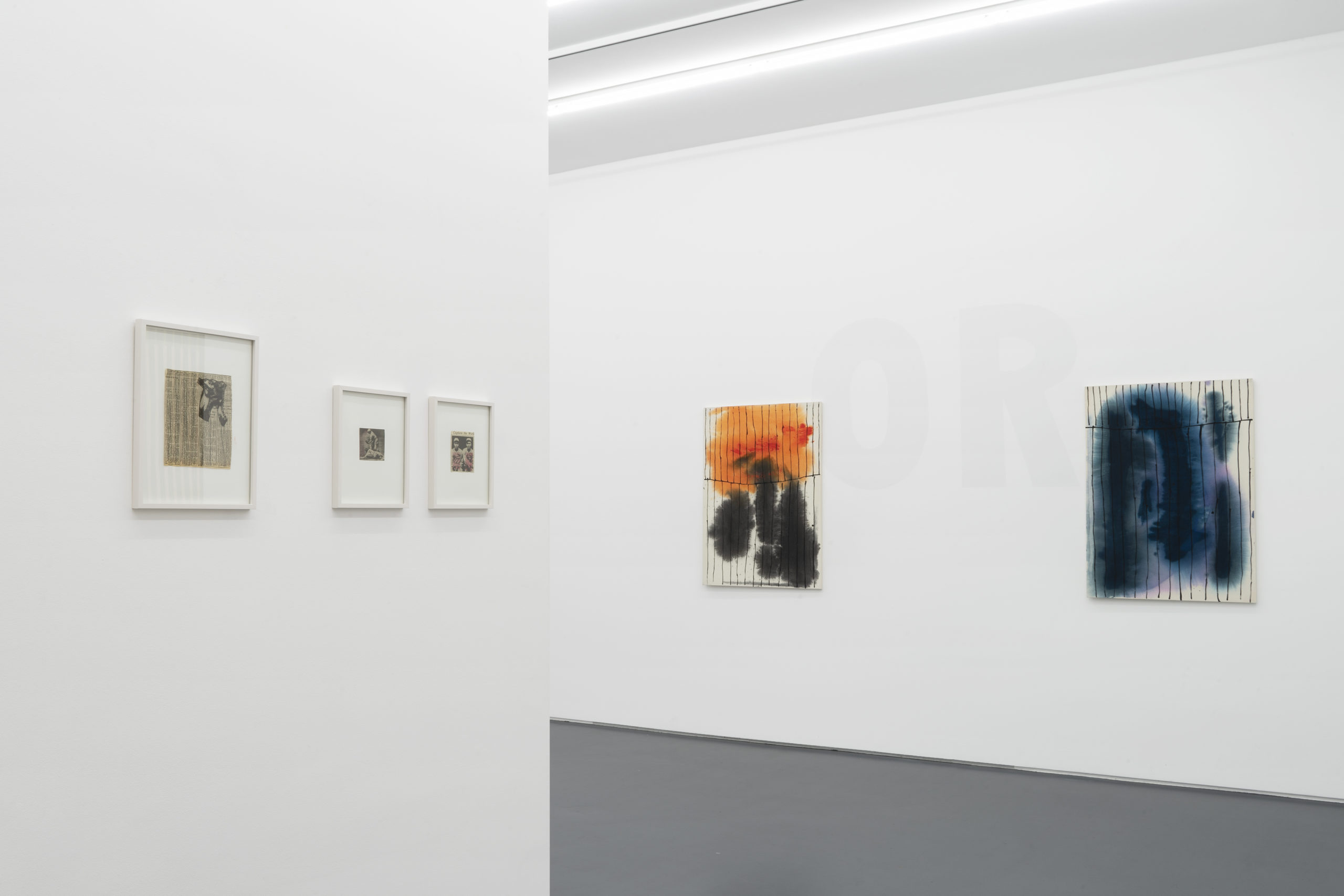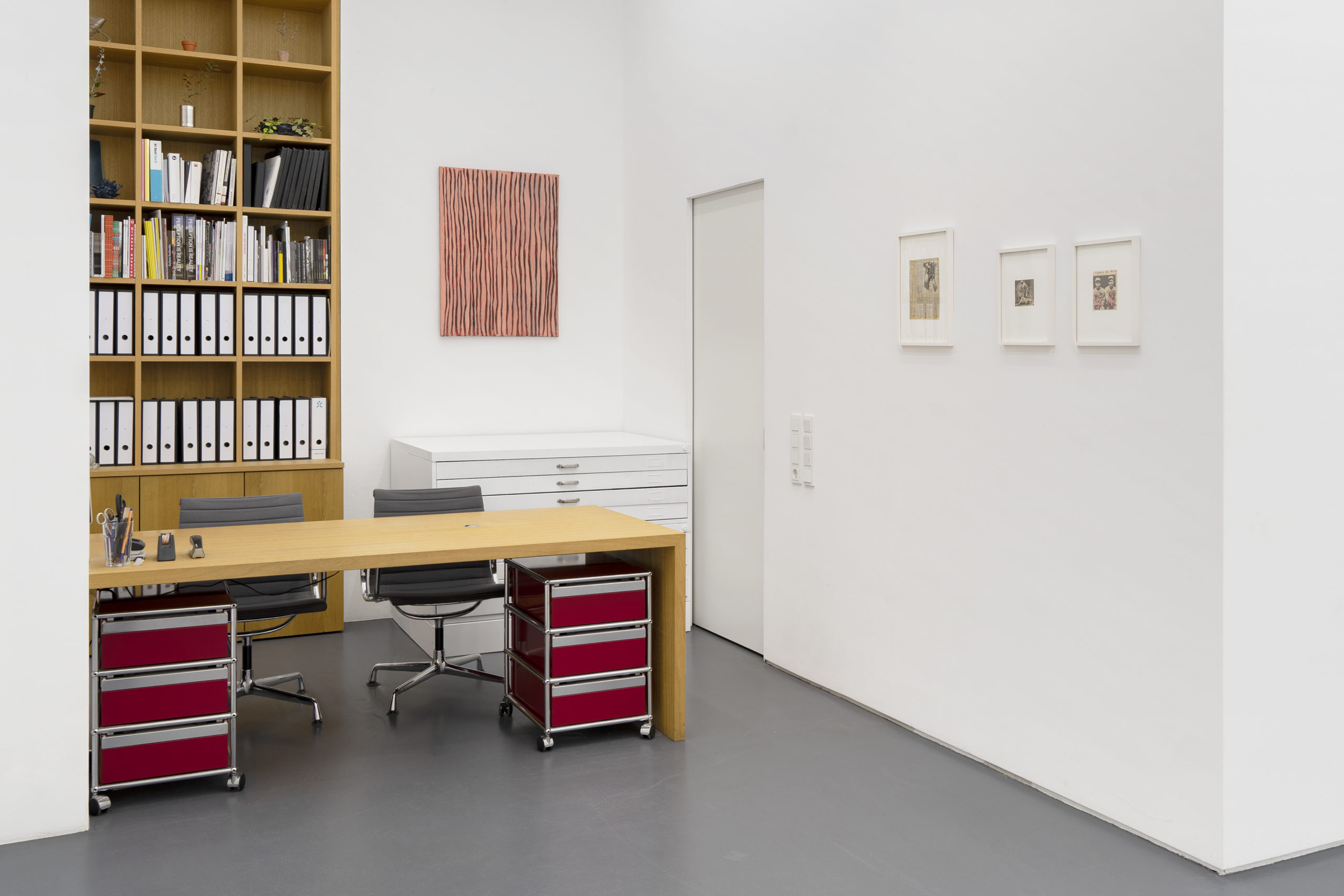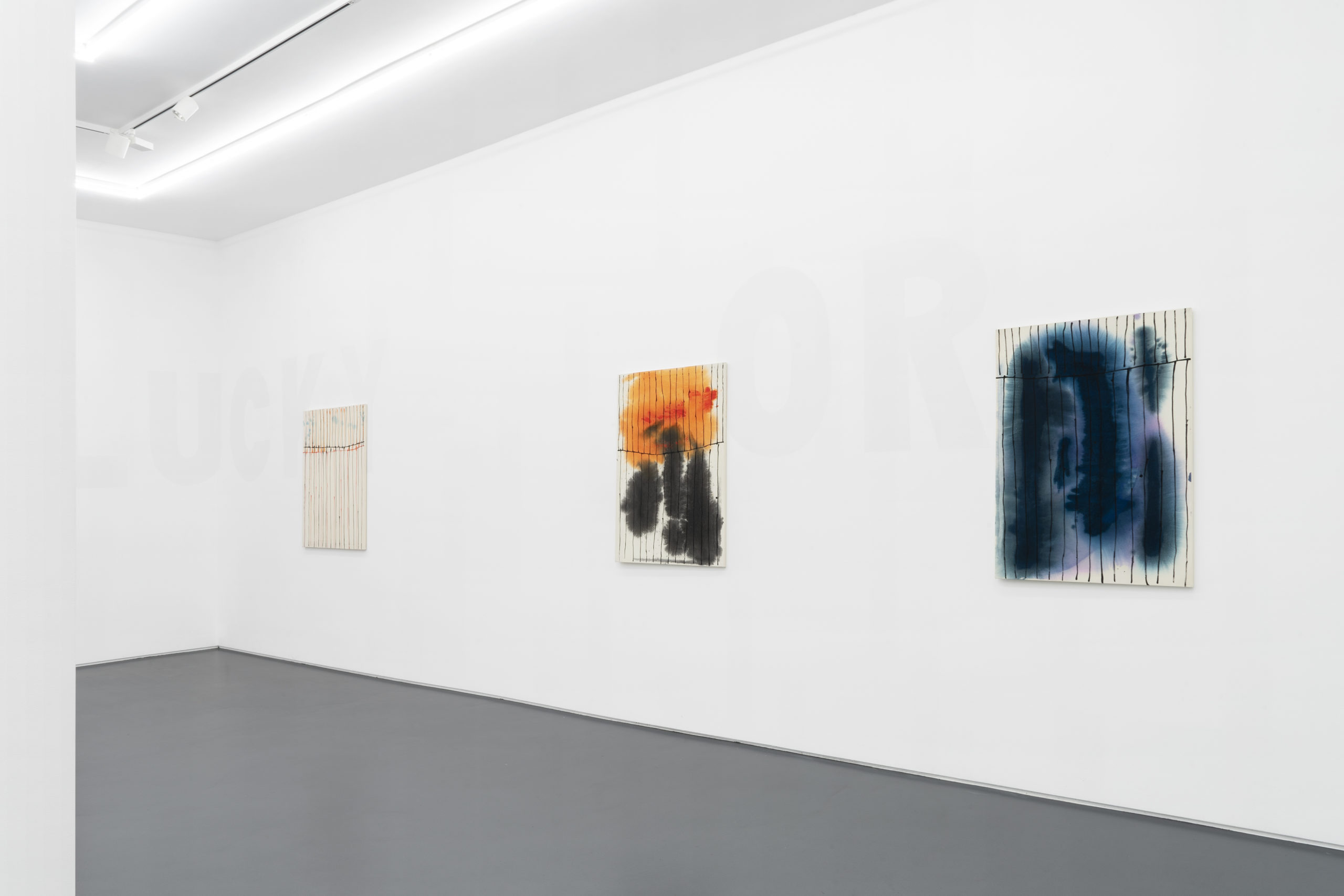 Invitation card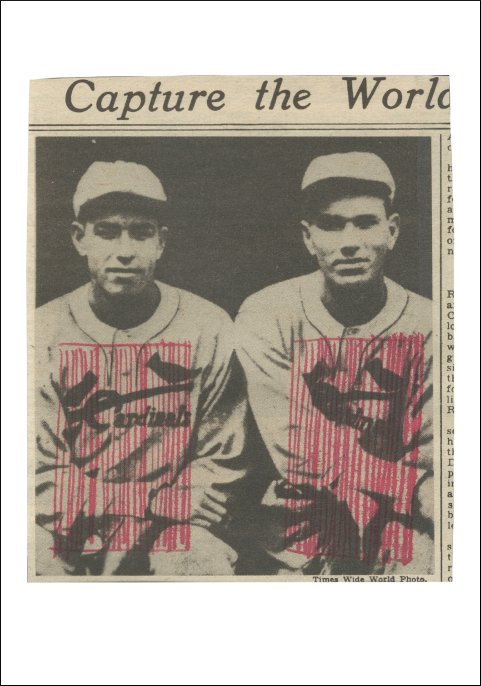 ---
August 19–22, 2021
MARTINA KÜGLER
paper positions berlin | Booth 43

Photo: Julie Becquart
---
August 19–22, 2021
ERIC MEIER | Mies In Mind
SUNDAY OPEN Festival by INDEX Berlin, on the occasion of the re-opening of the Neue Nationalgalerie Berlin by Ludwig Mies van der Rohe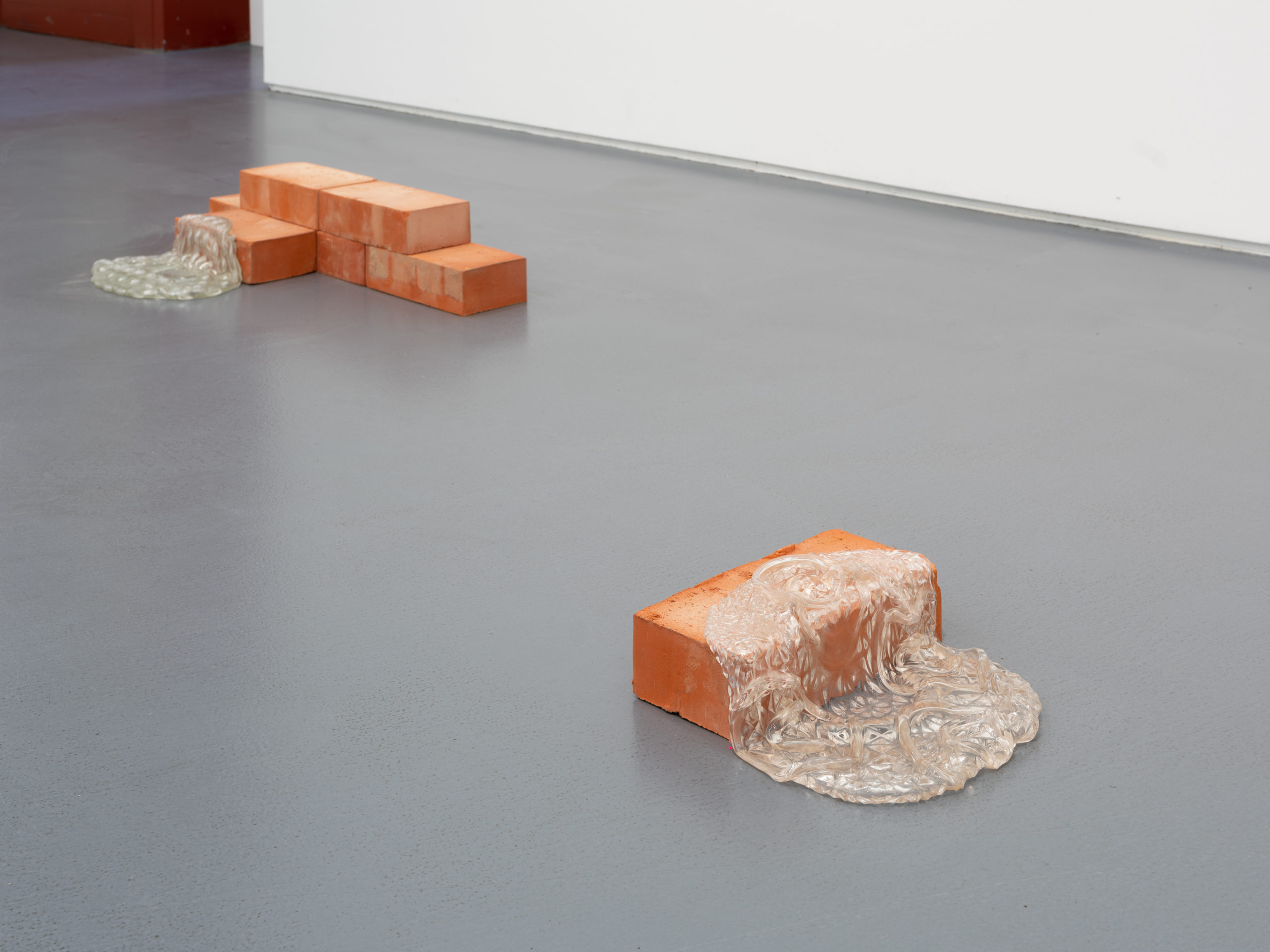 ---
MAX GEISLER Collapse
June 19 — August 7, 2021
June 18, 6-9 pm | Opening reception
June 29, 12-7 pm | Special opening hours during GALLERY WEEKEND BERLIN Summer Special 2021
July 16, 2021, 5-9 pm | Catalog Launch + Summer Drinks
An exhibition catalog with a text by Hans-Jürgen Hafner will be published during the course of the exhibition.
> 3D Tour
> Artist CV
> Work list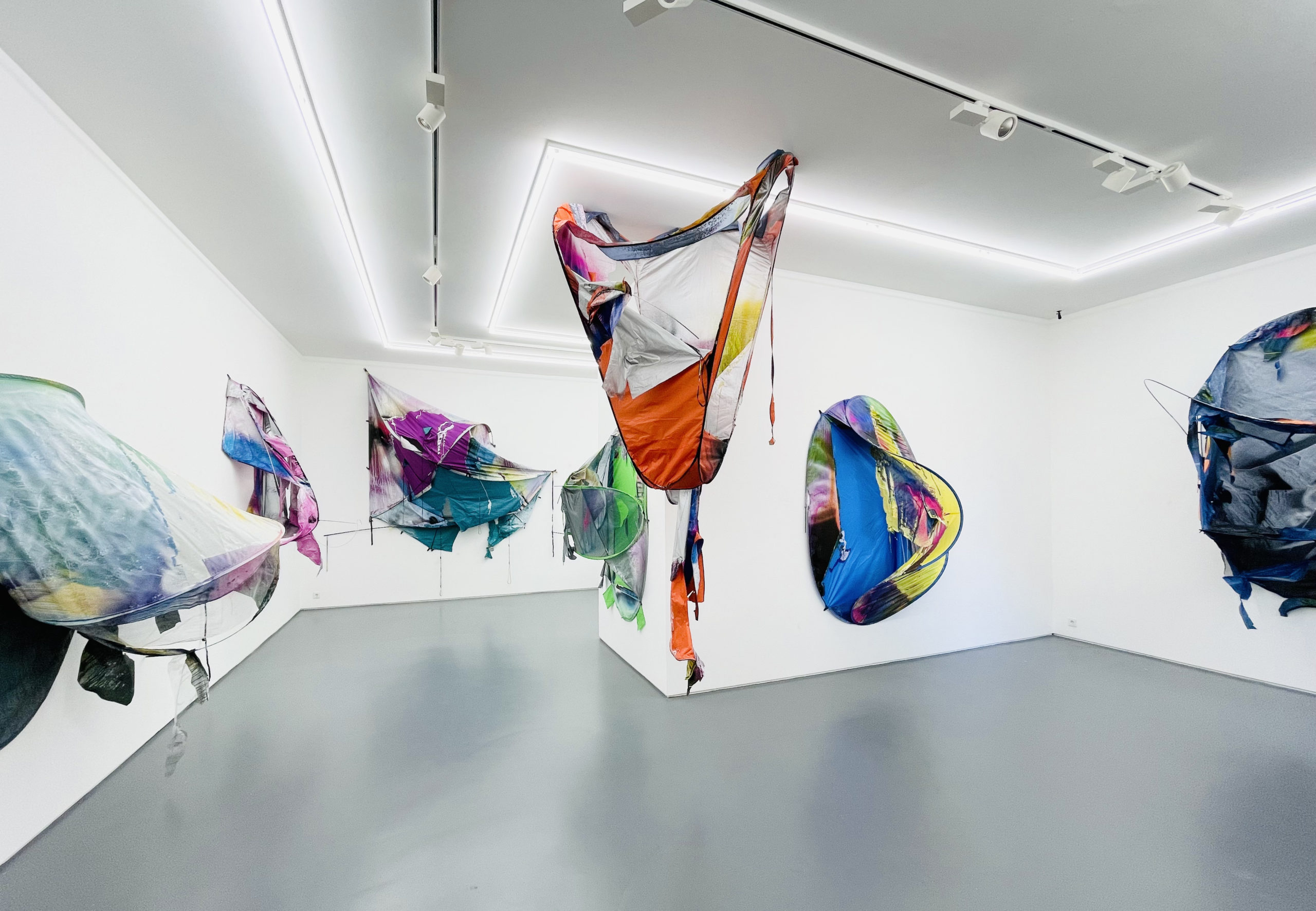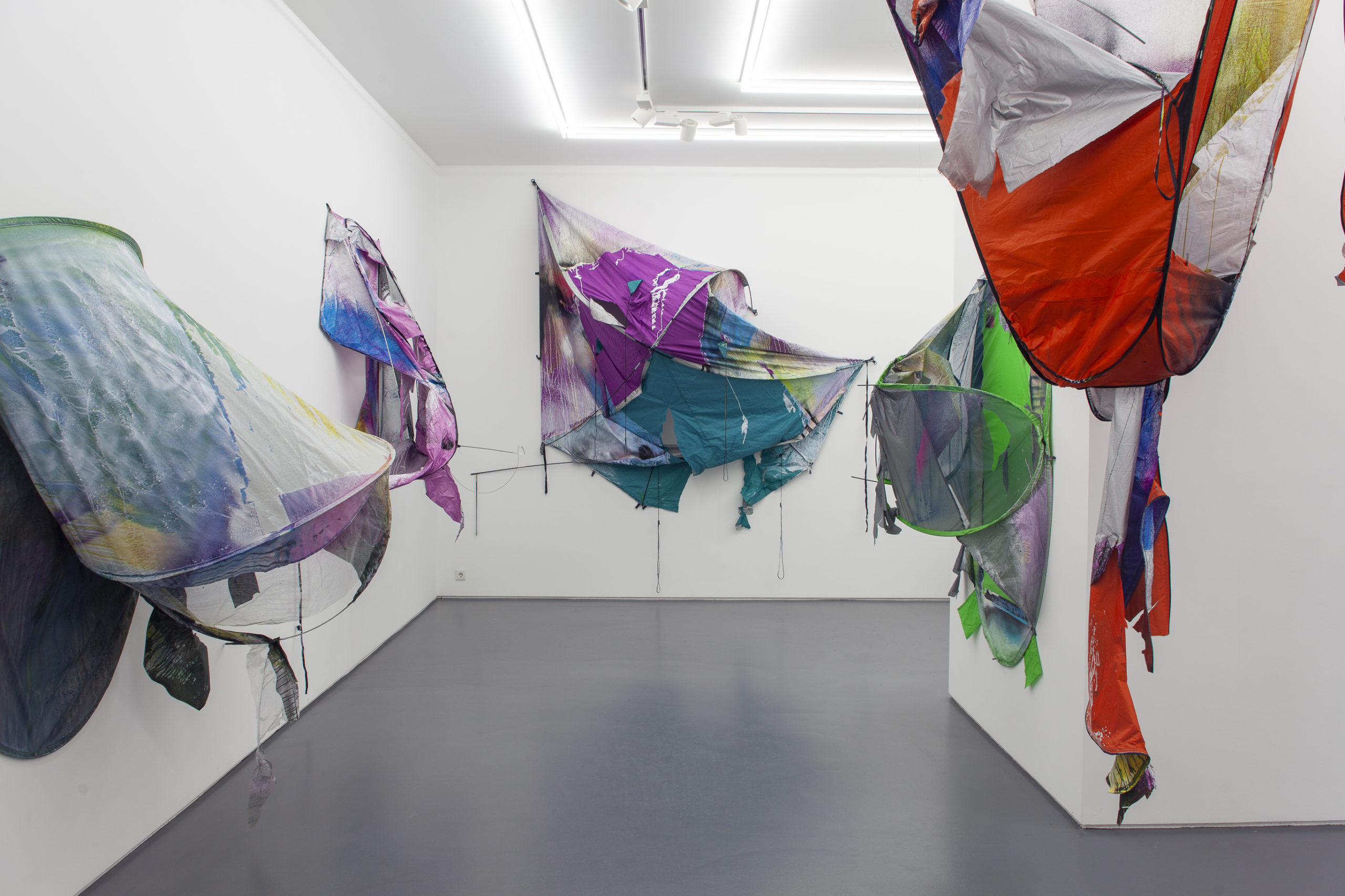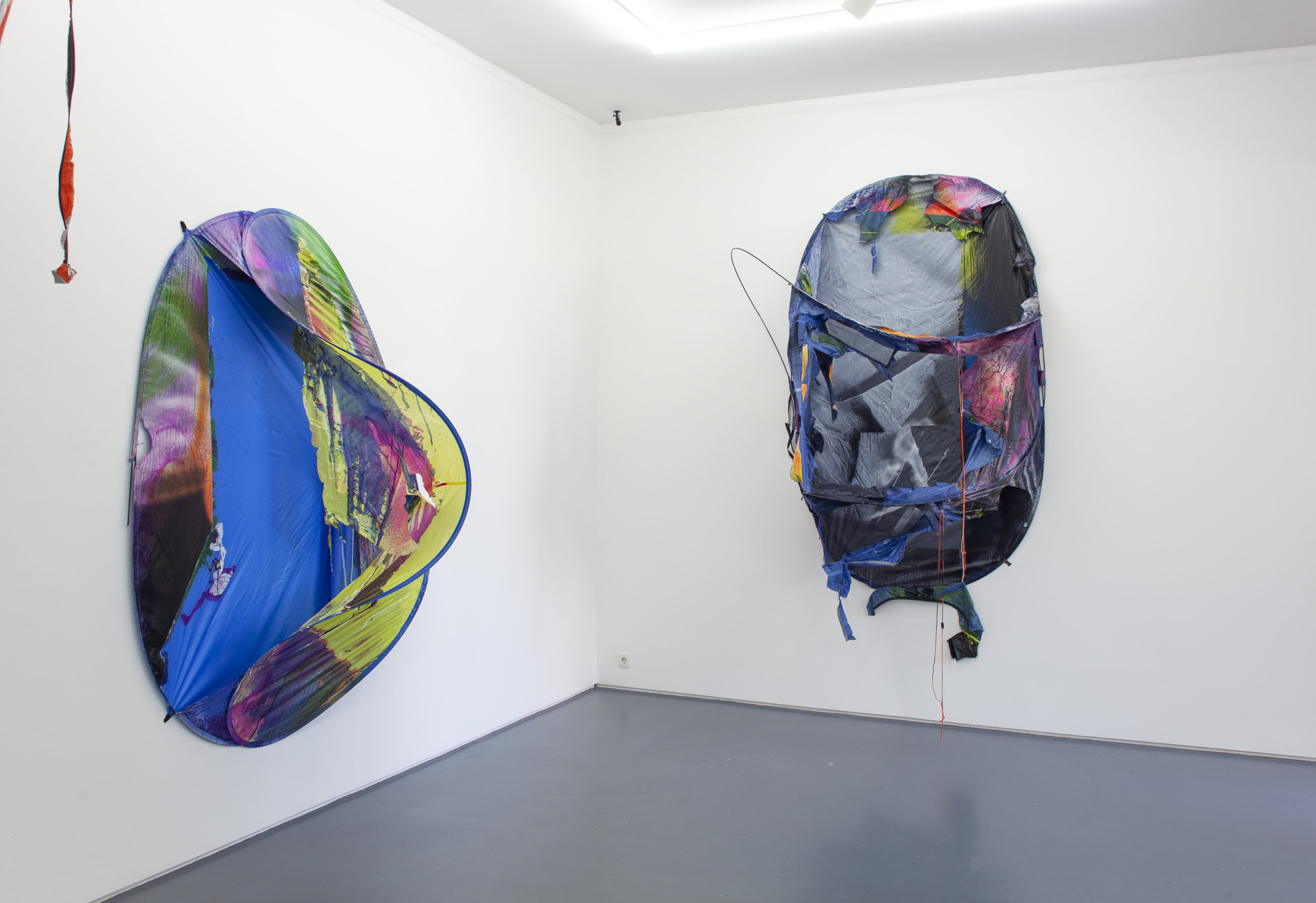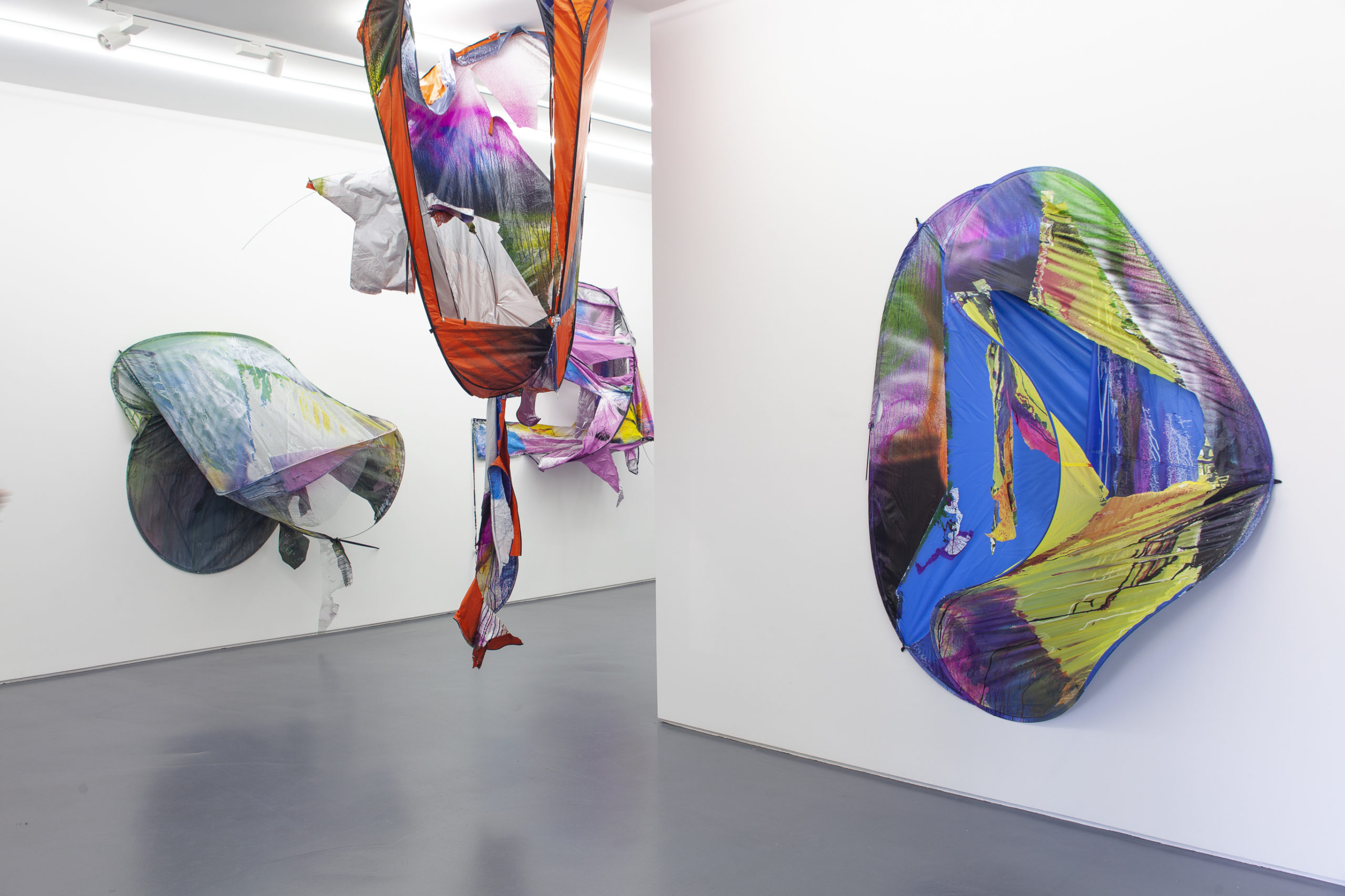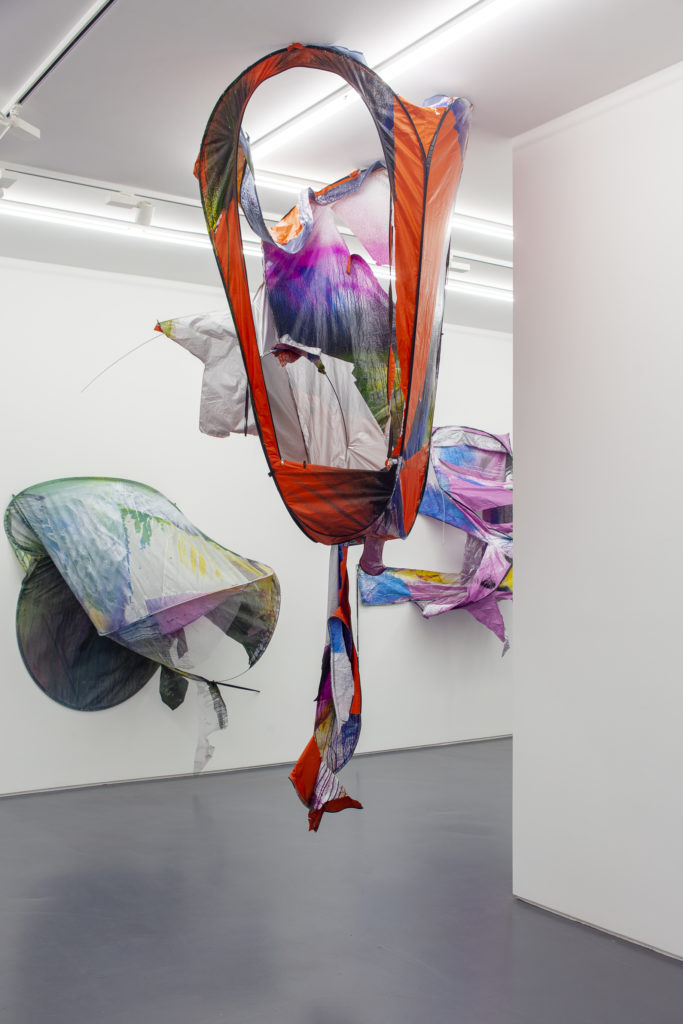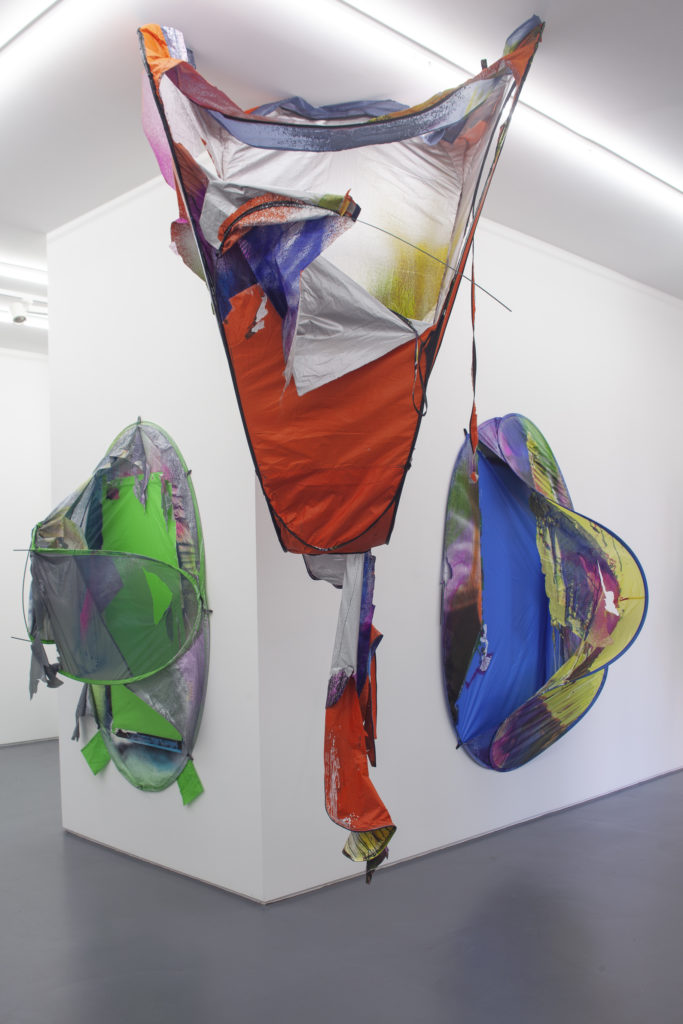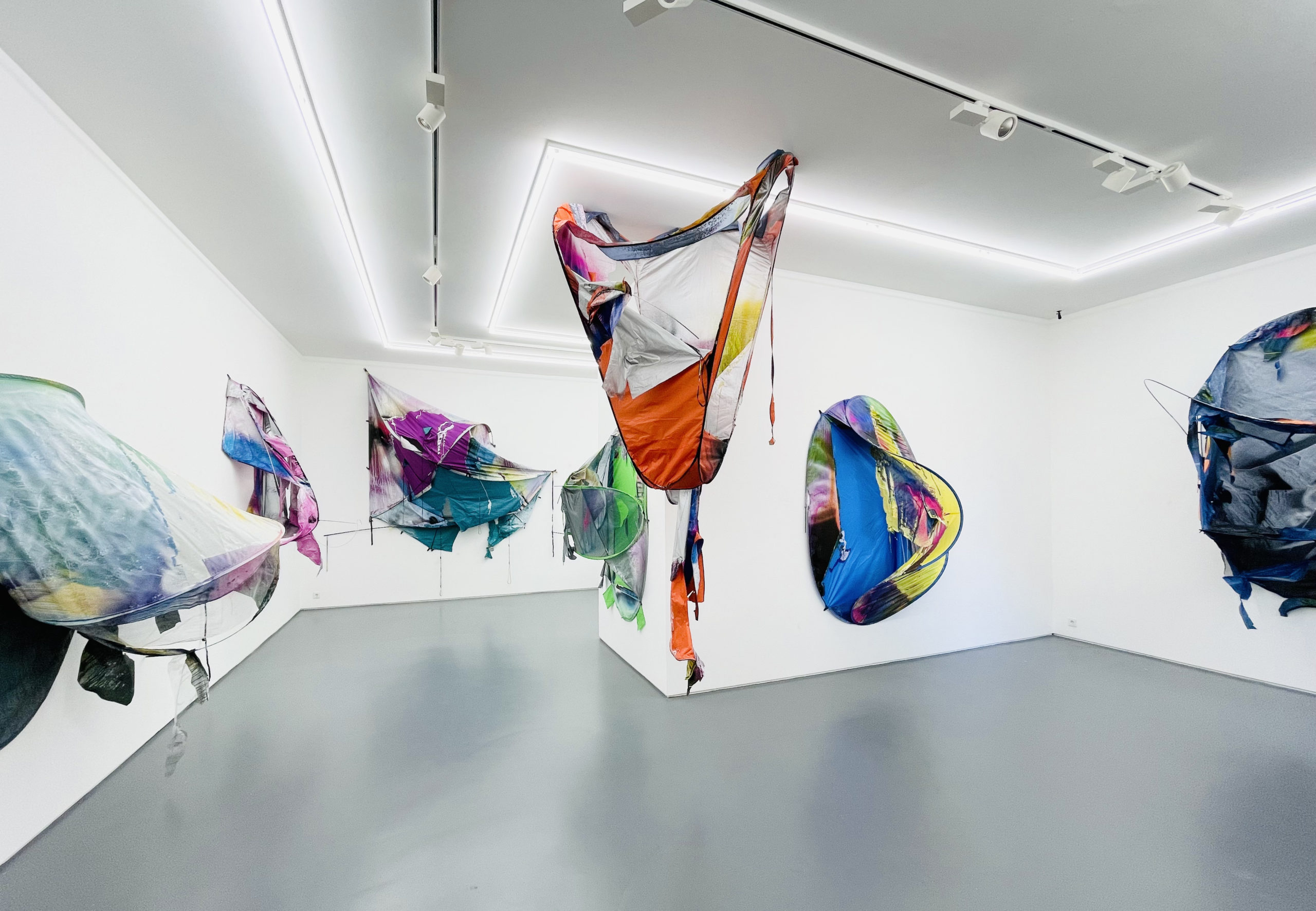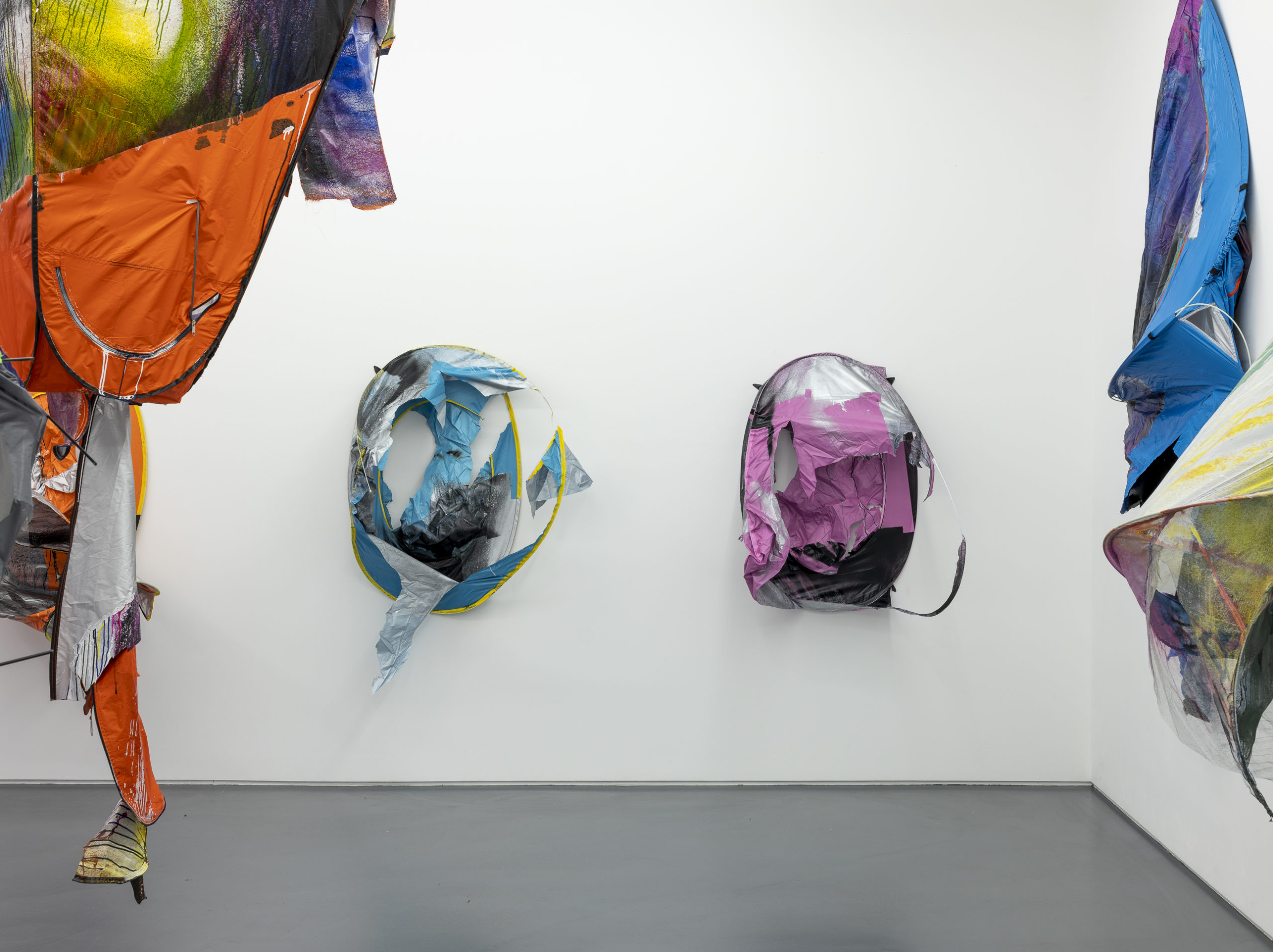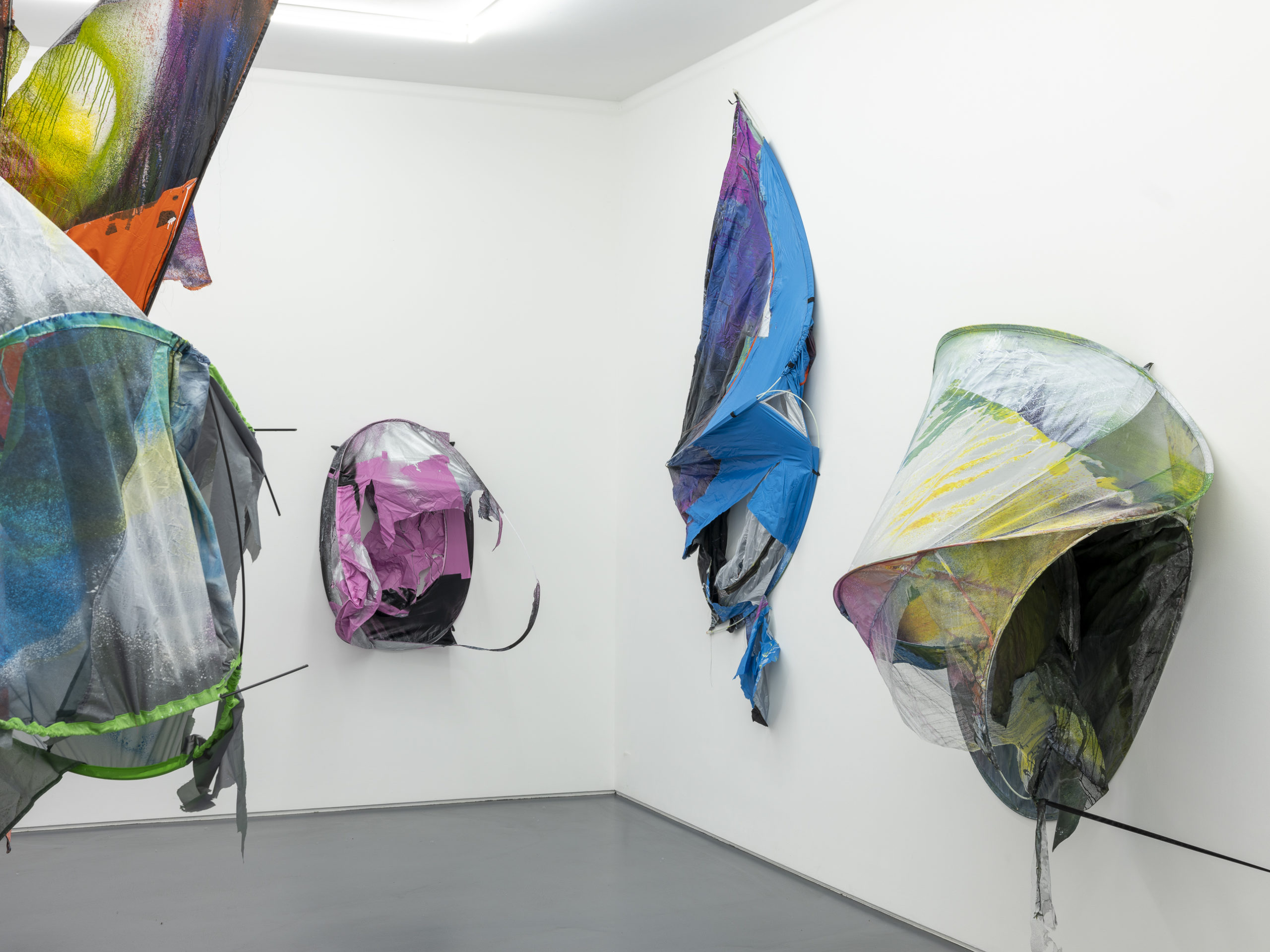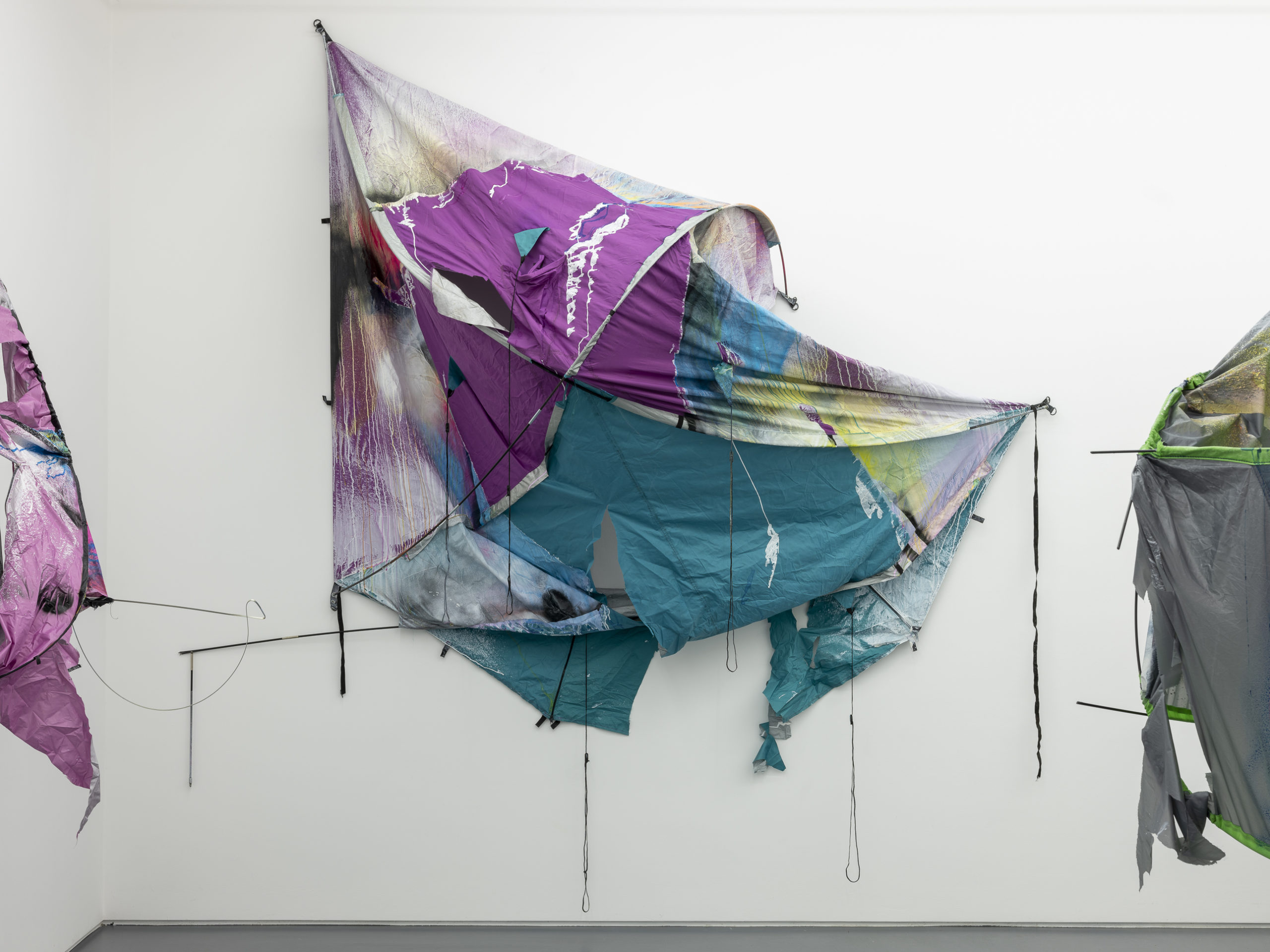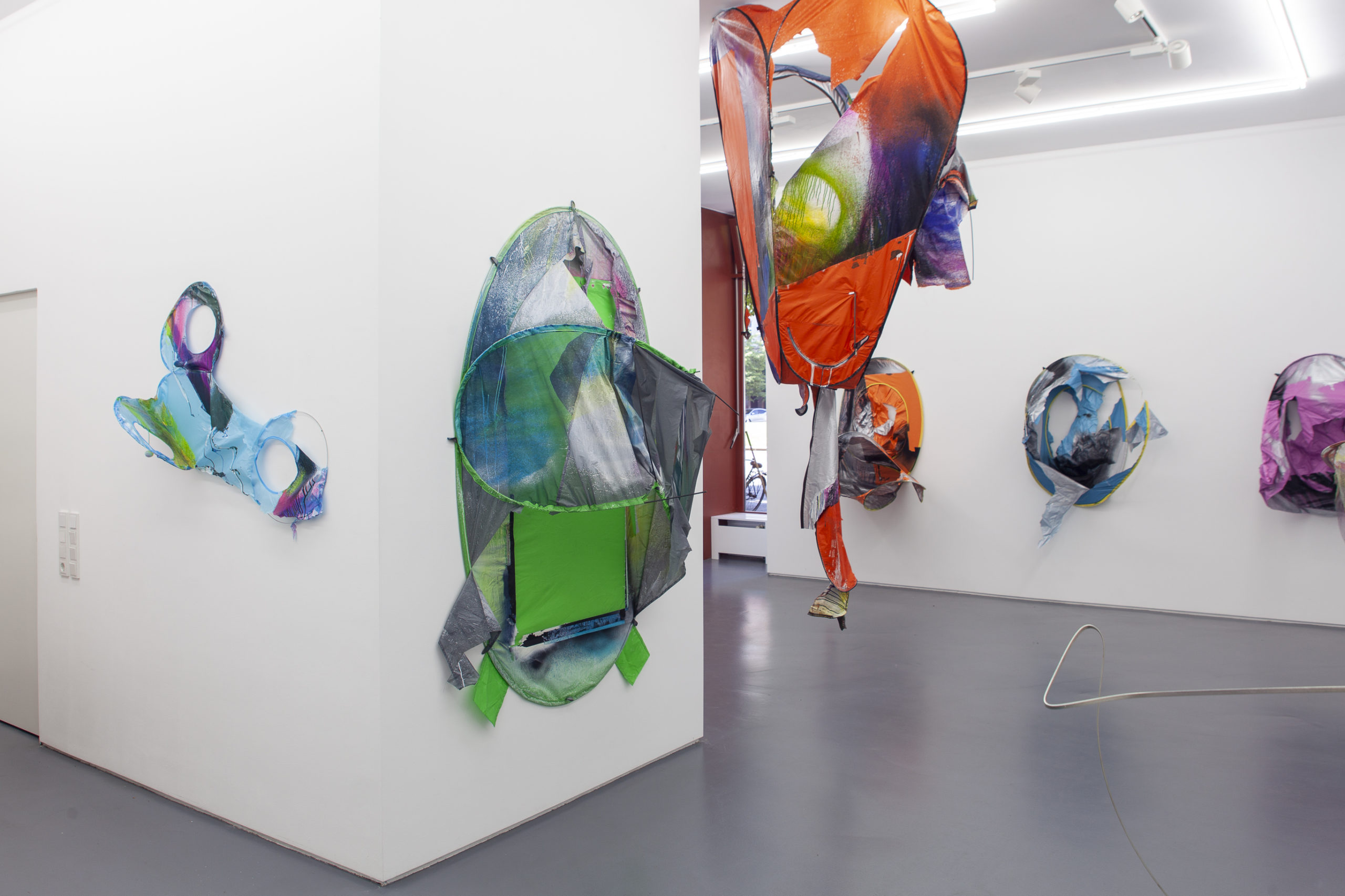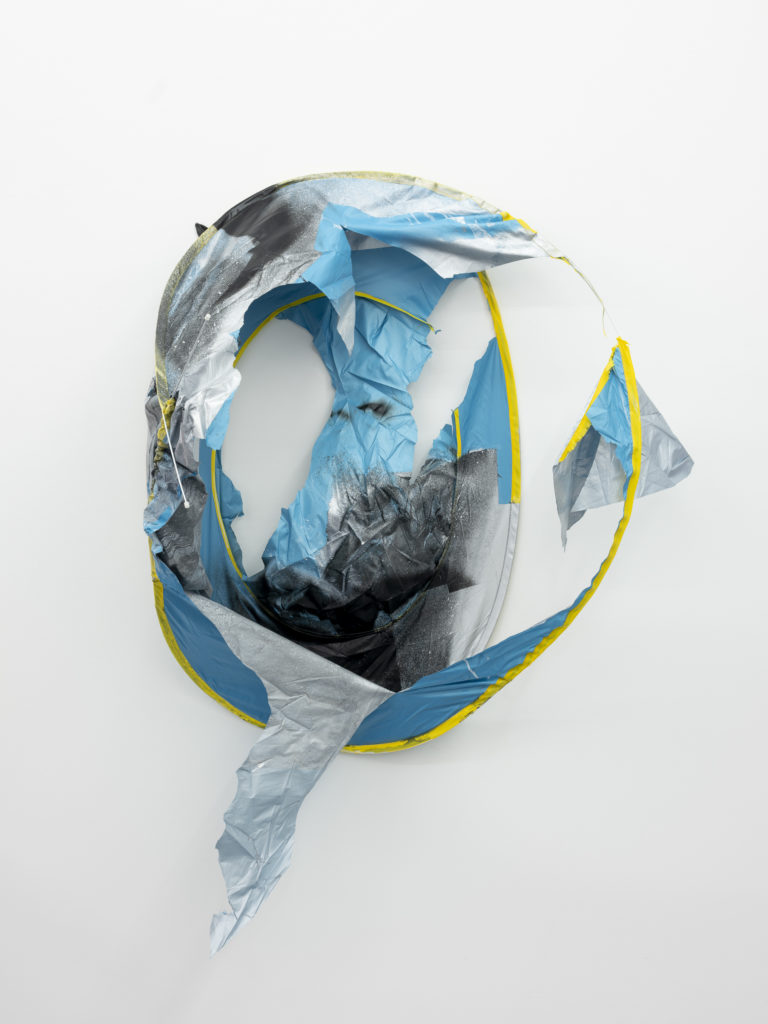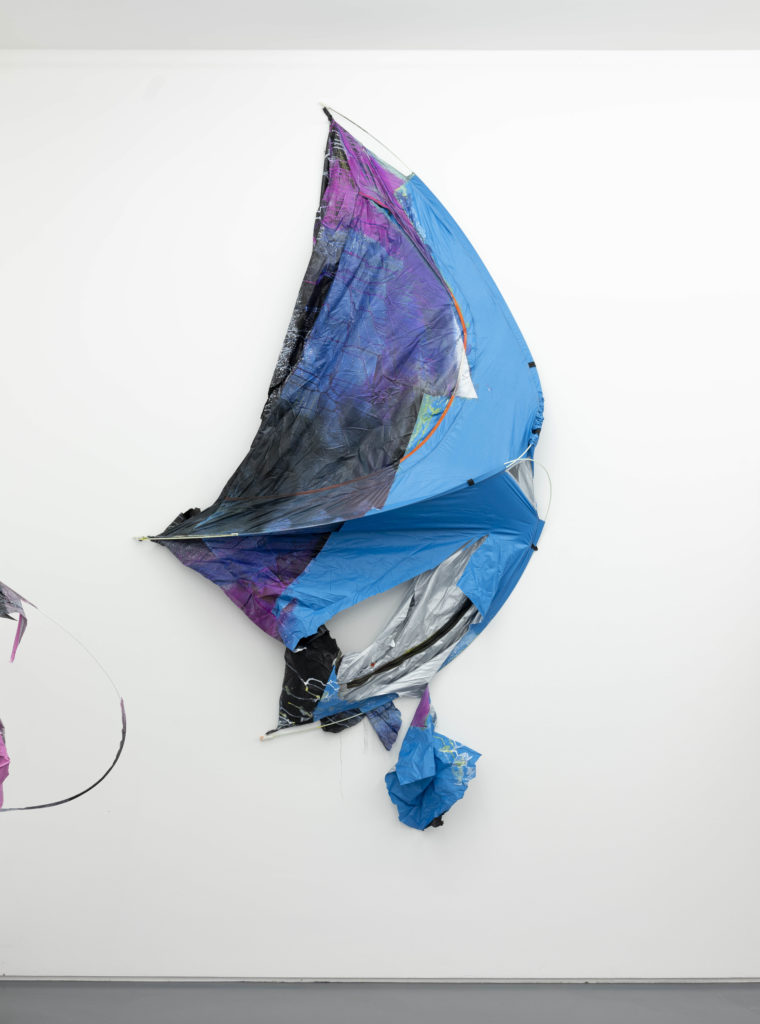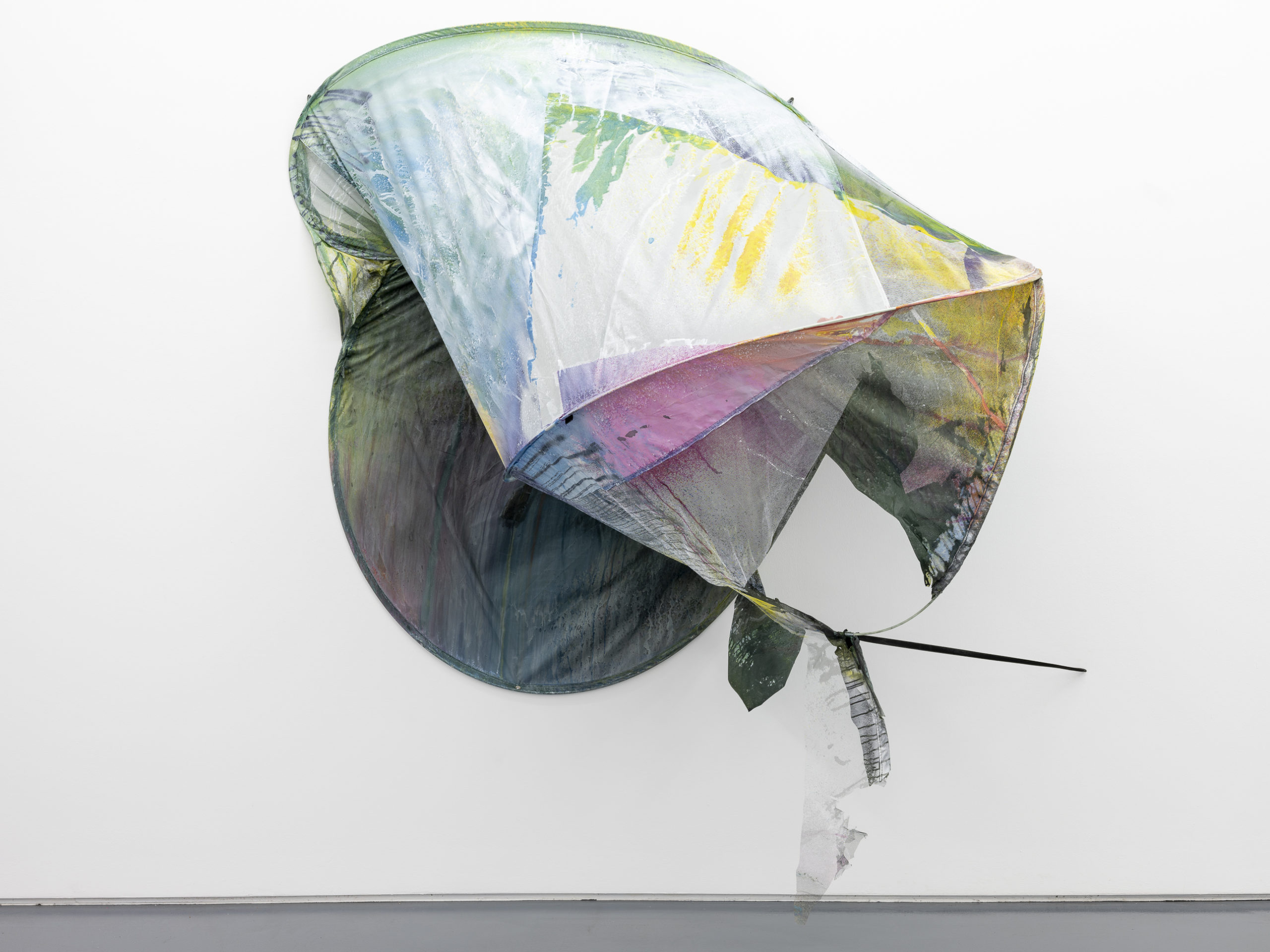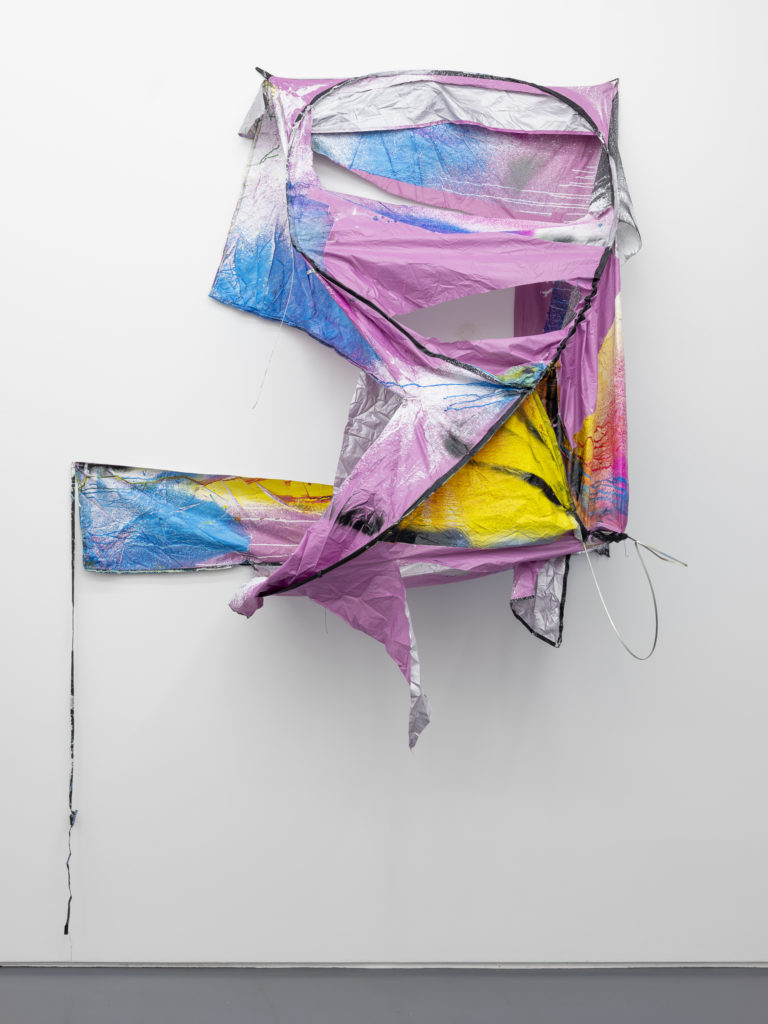 ---

GUY ALLOTT I Am A Building
April 29 — June 12, 2021
April 29, 1-7pm | Opening reception
April 30 – May 2, 12-7pm | Special opening hours during Gallery Weekend Berlin 2021
June 10, 5-8 pm | Exhibition catalog launch
> 3D Tour
> Artist CV
> Exhibition essay by Paul Carey-Kent
> Short story by Guy Allott
> Work list
Exhibition photography: Best Quality, Berlin. All titles of the works, dimensions, materials, see list of works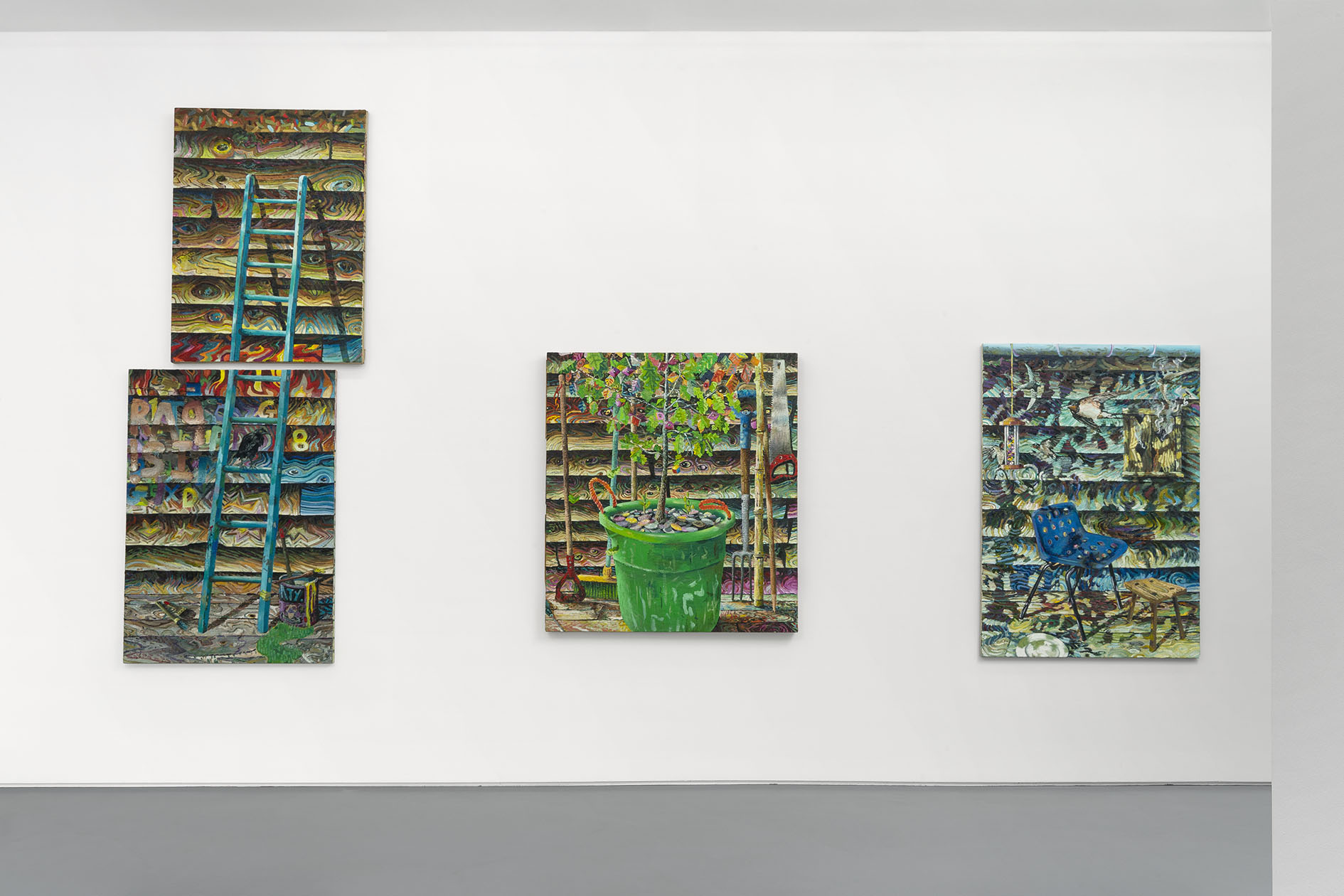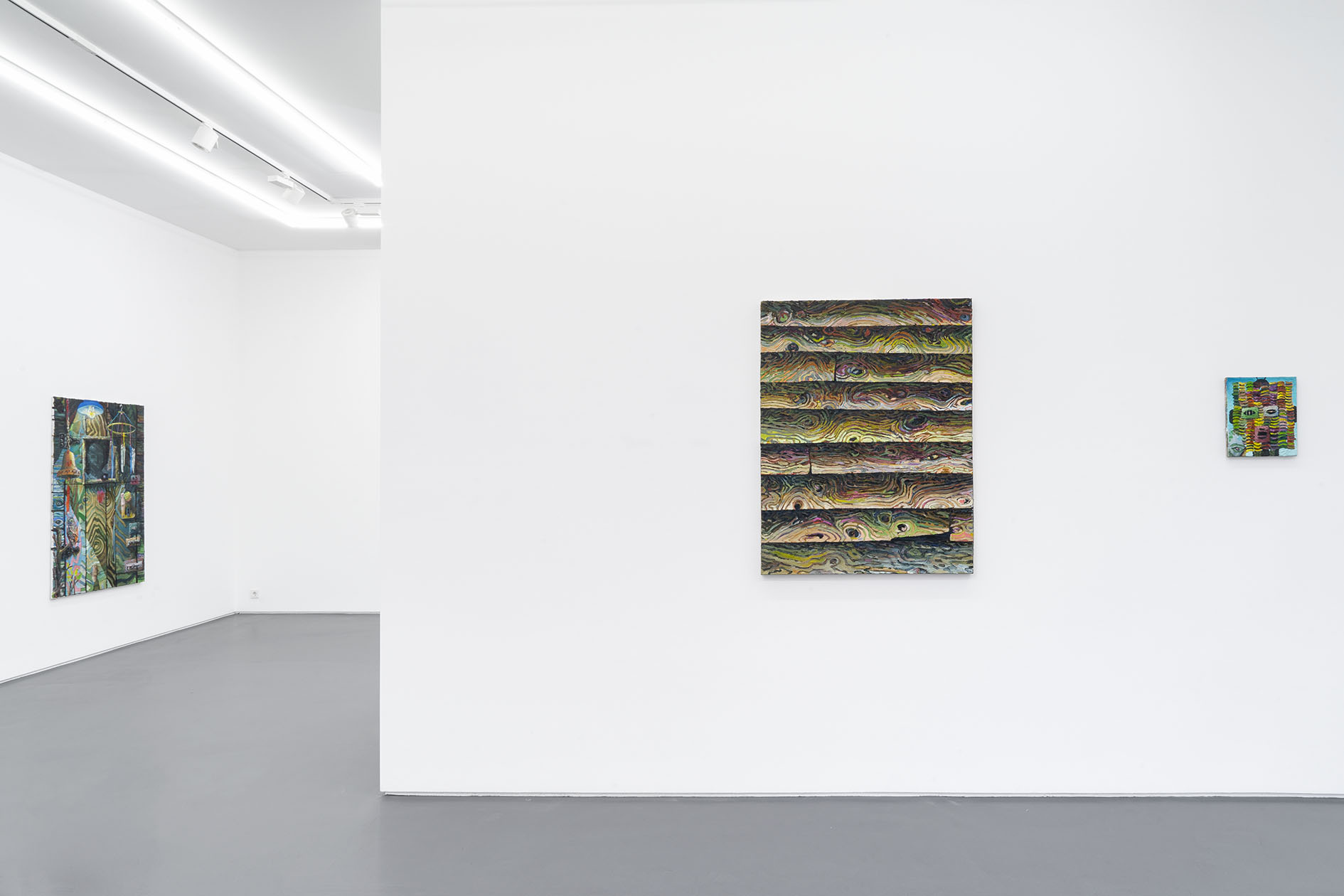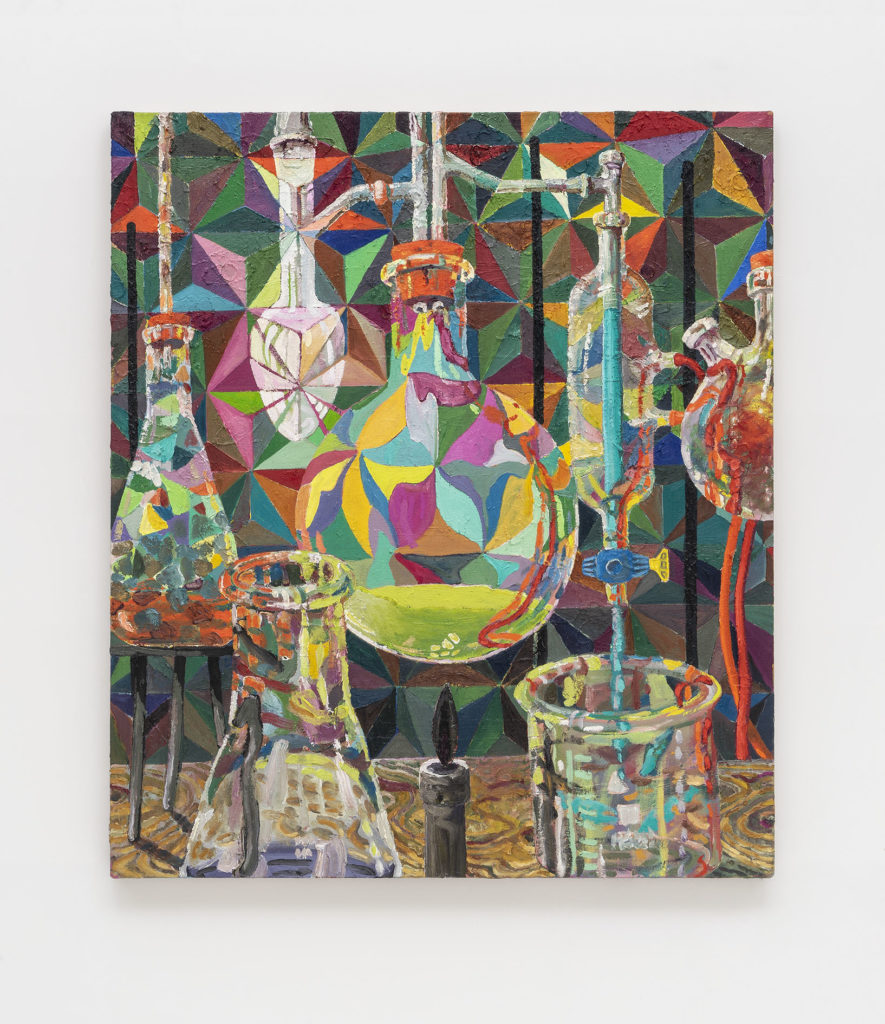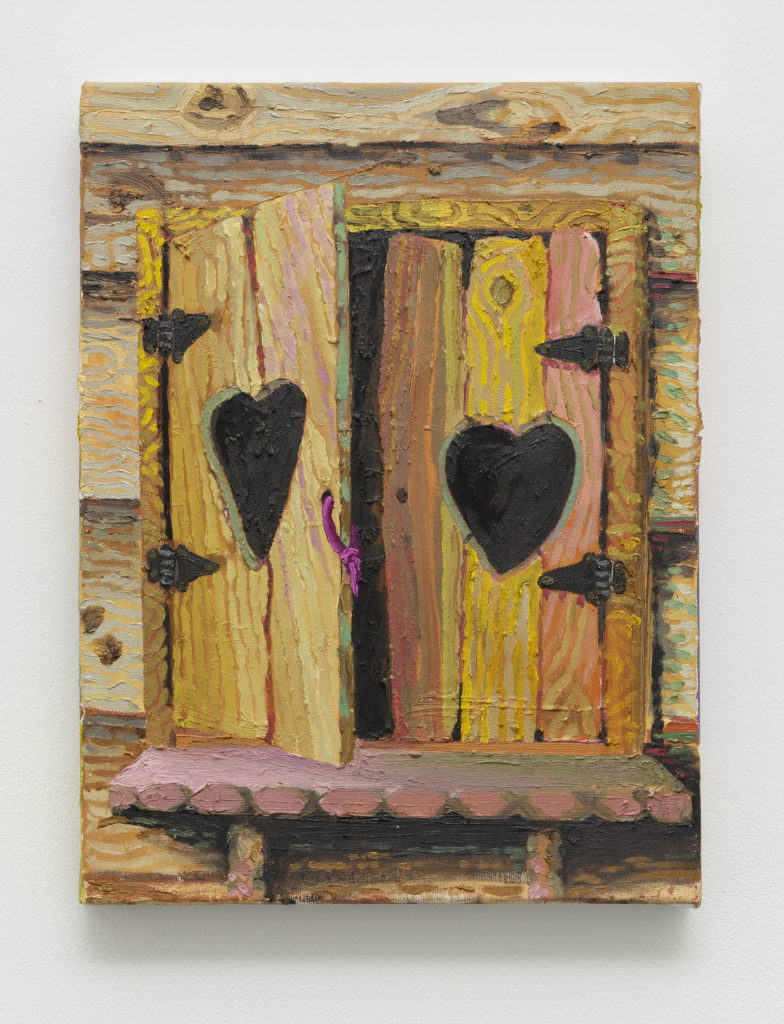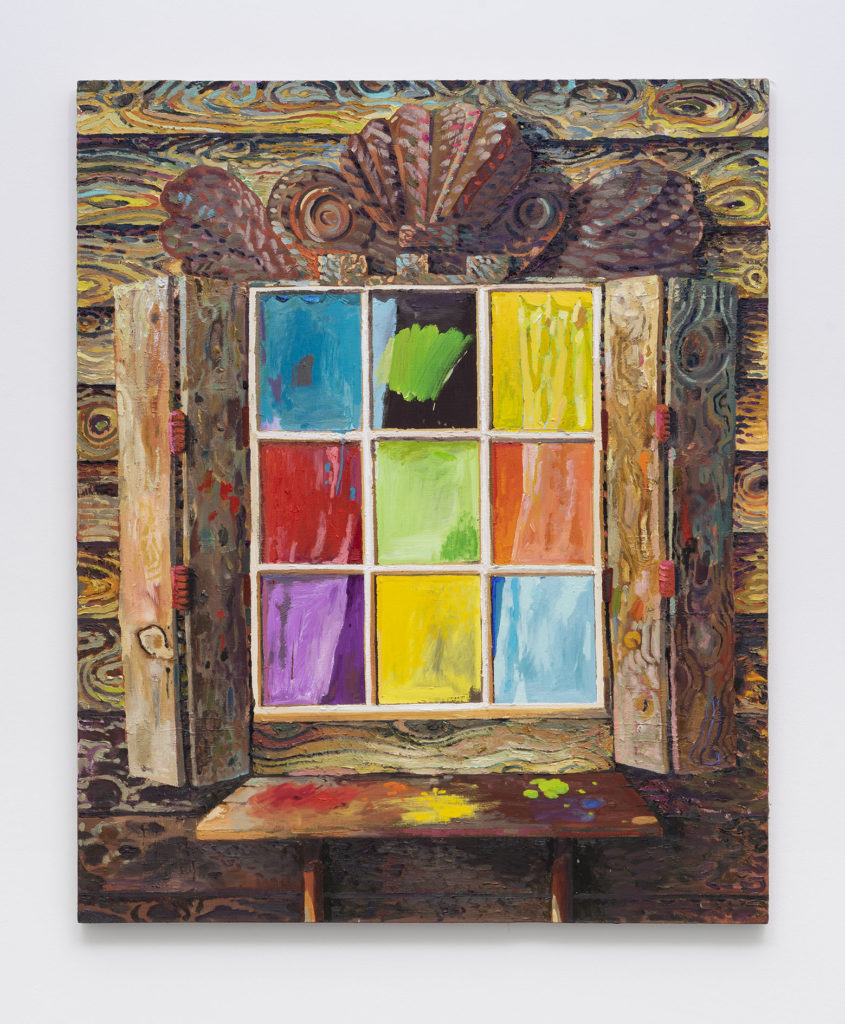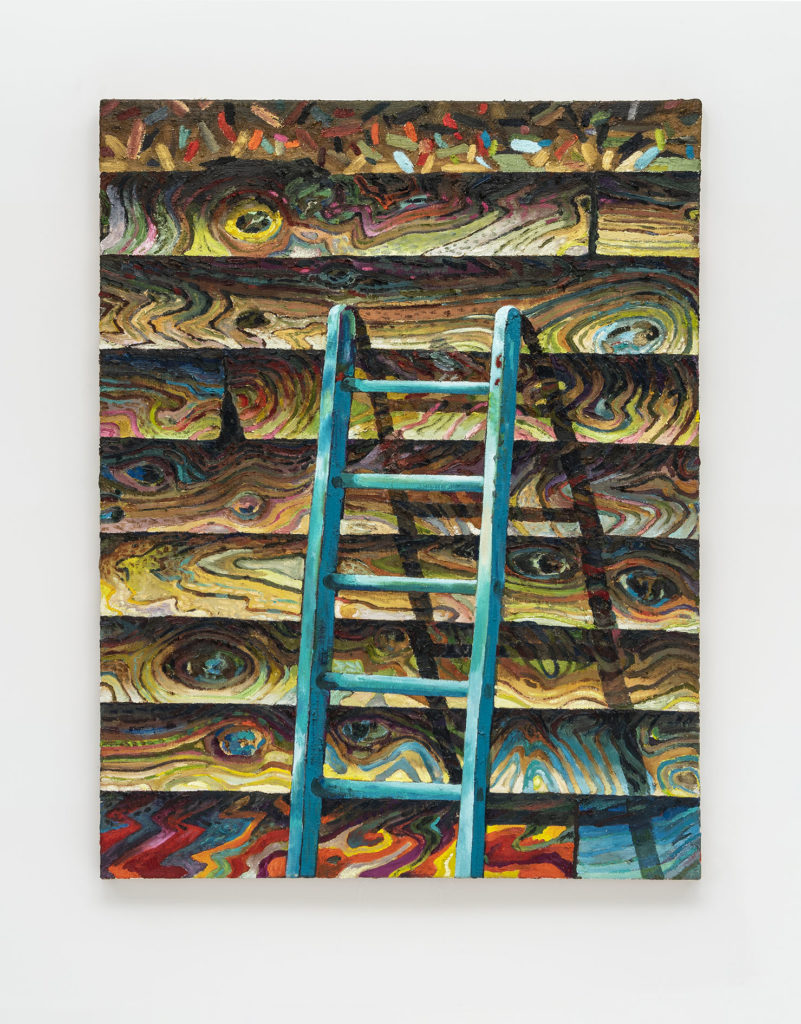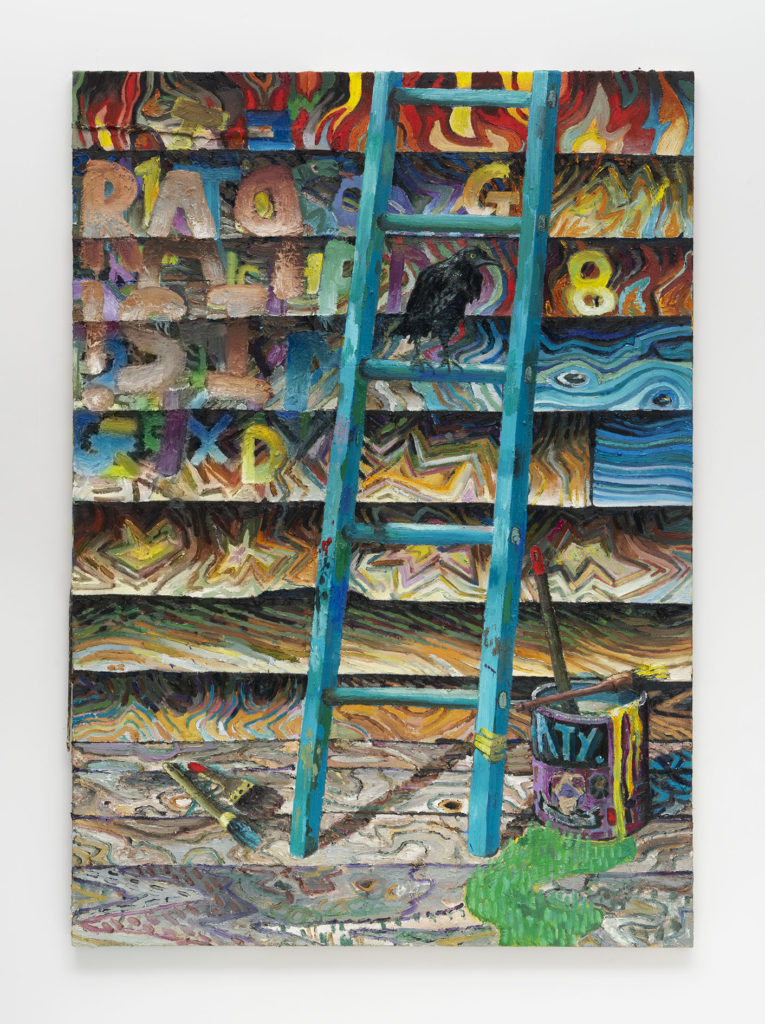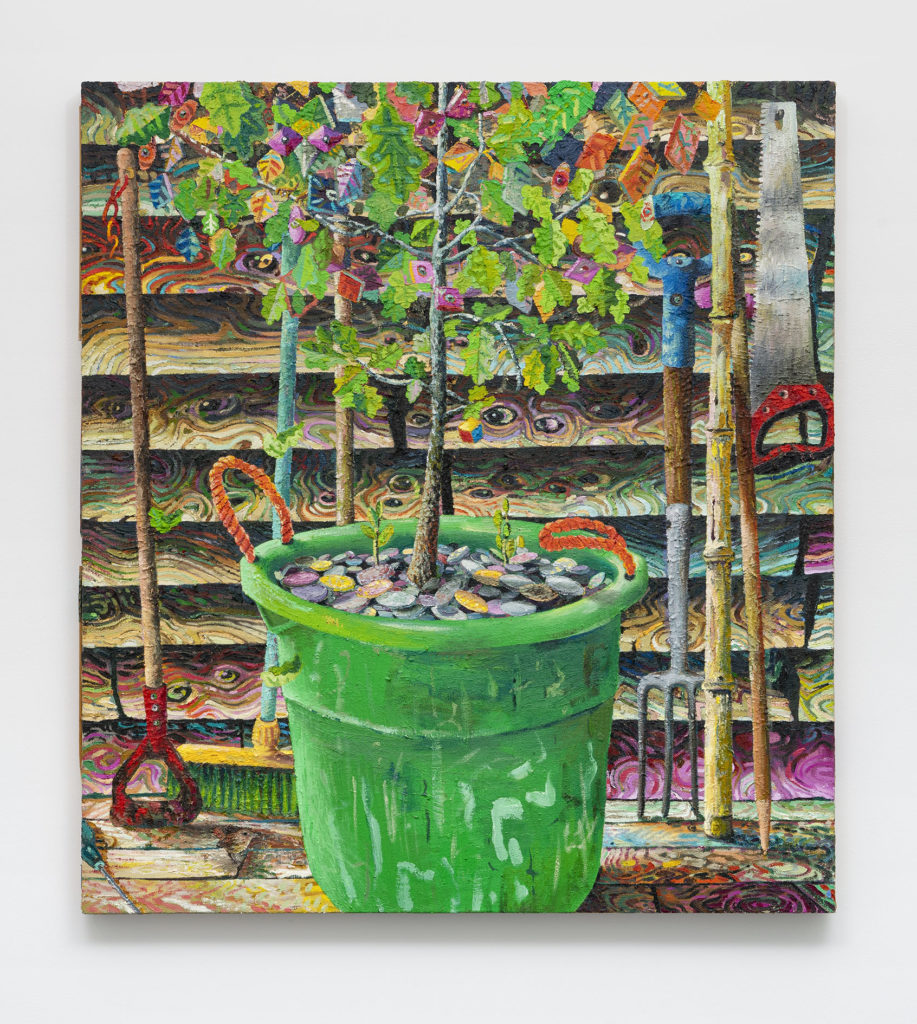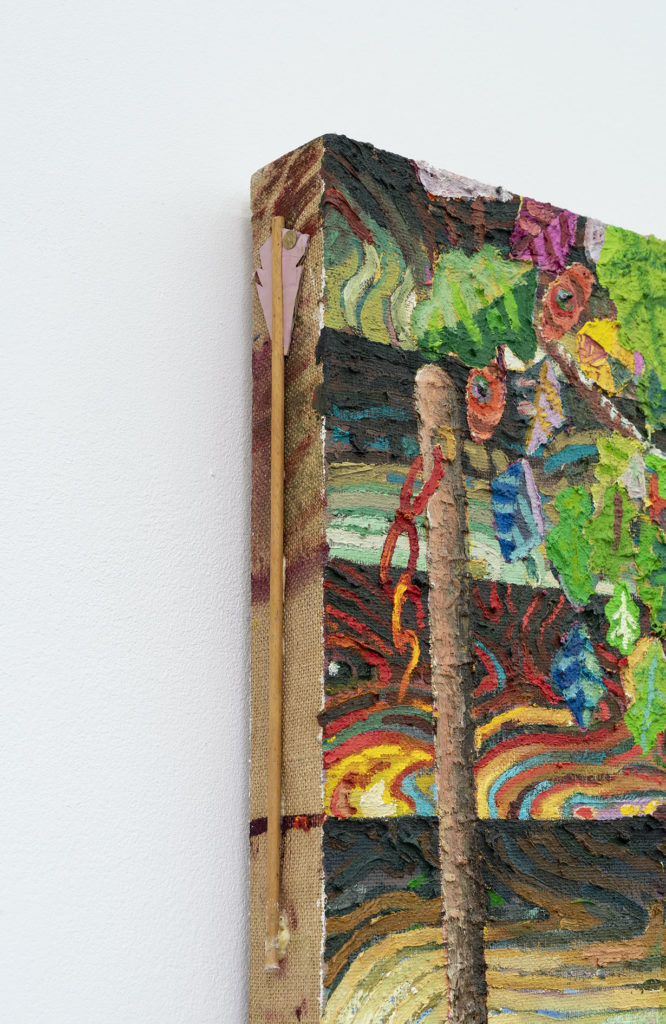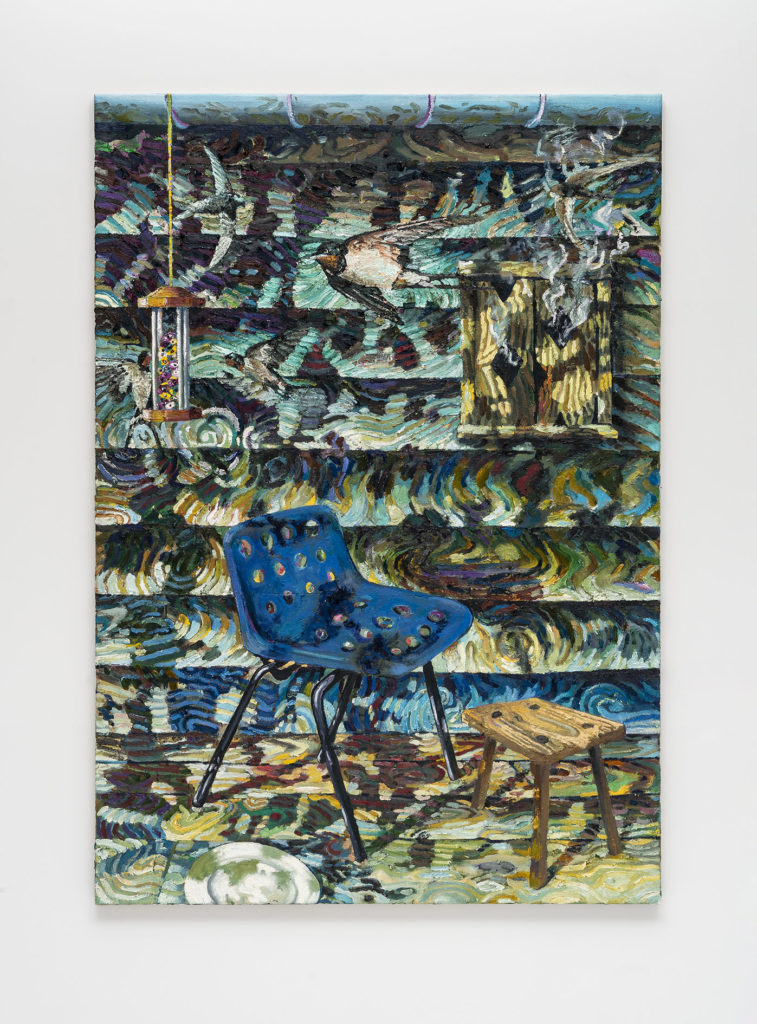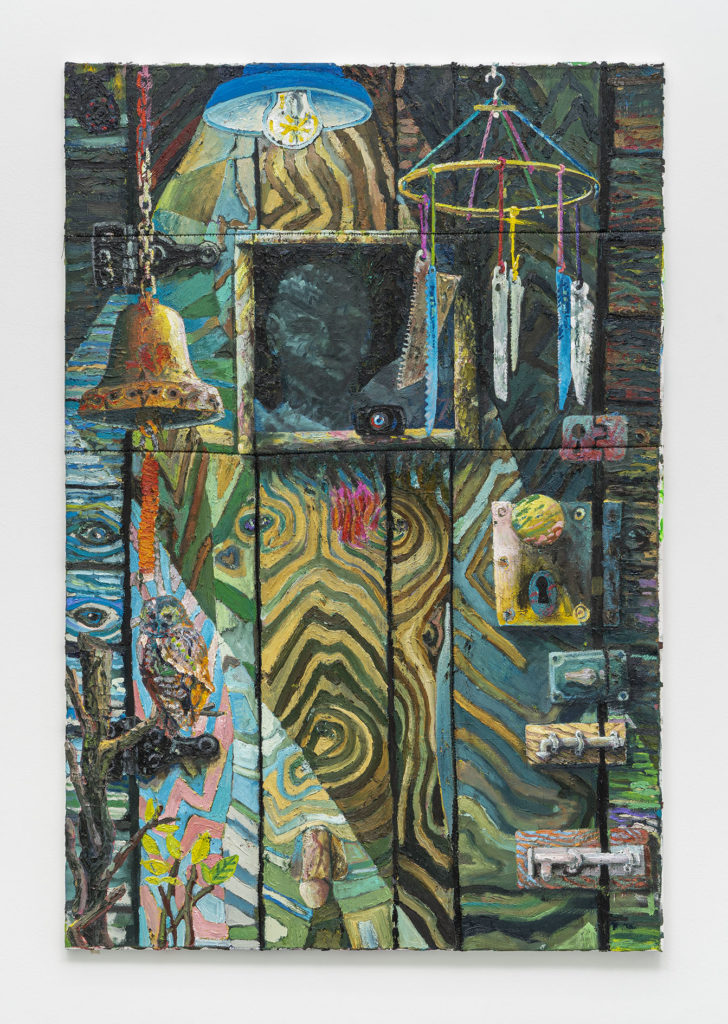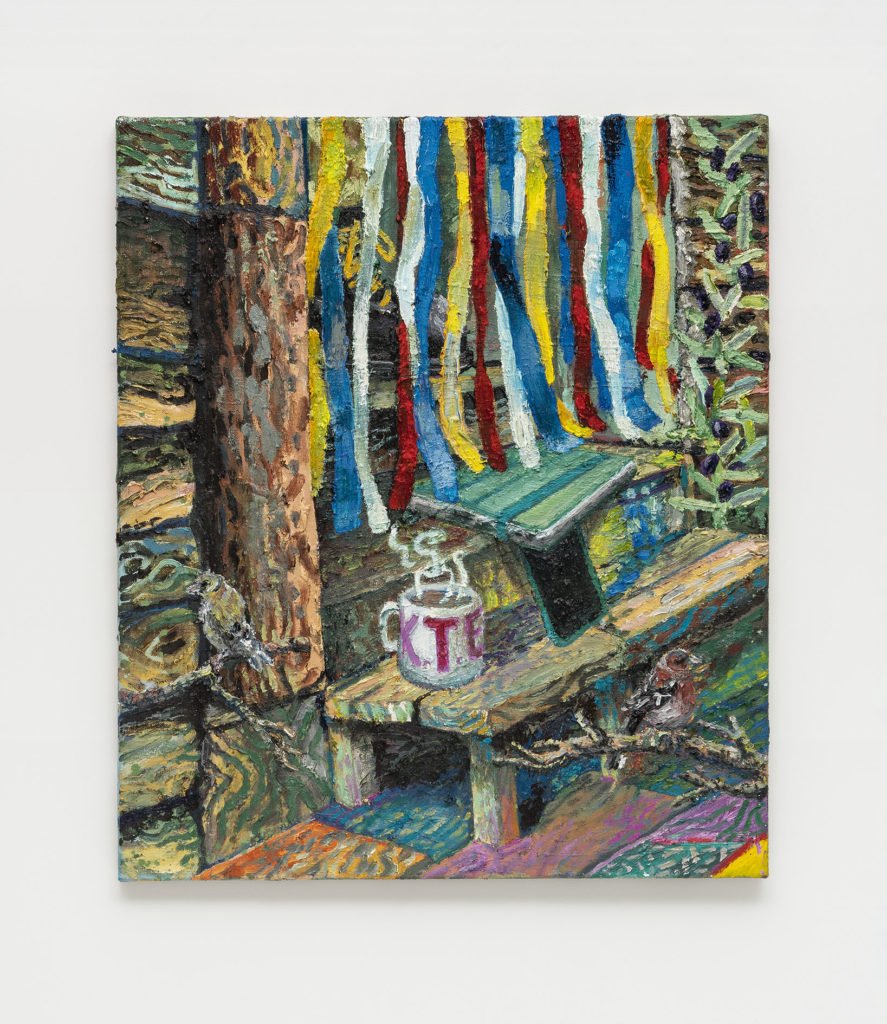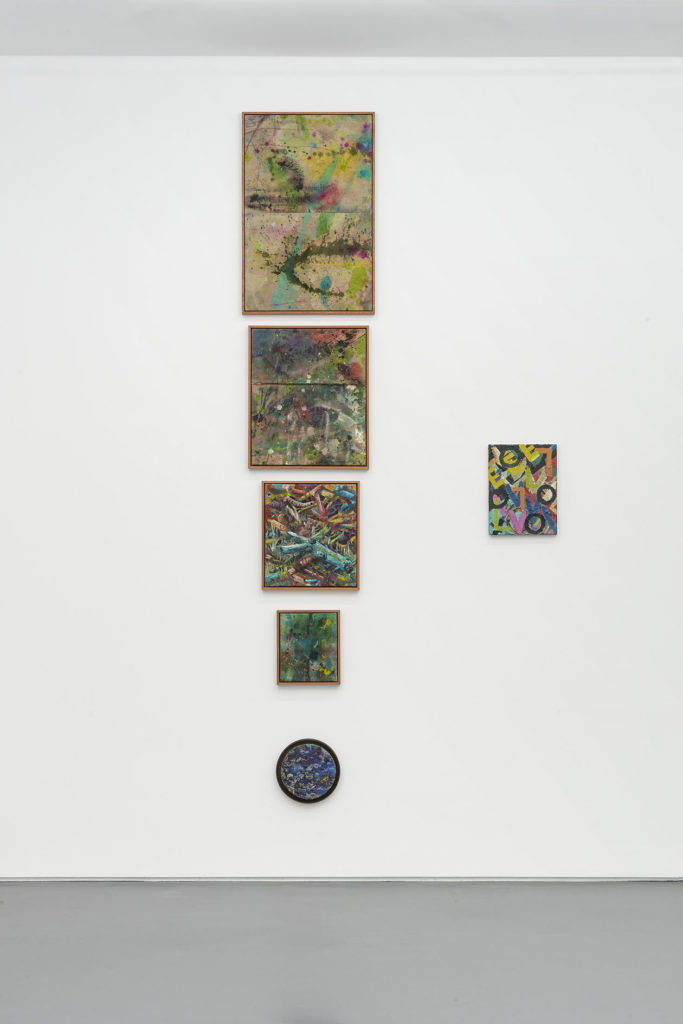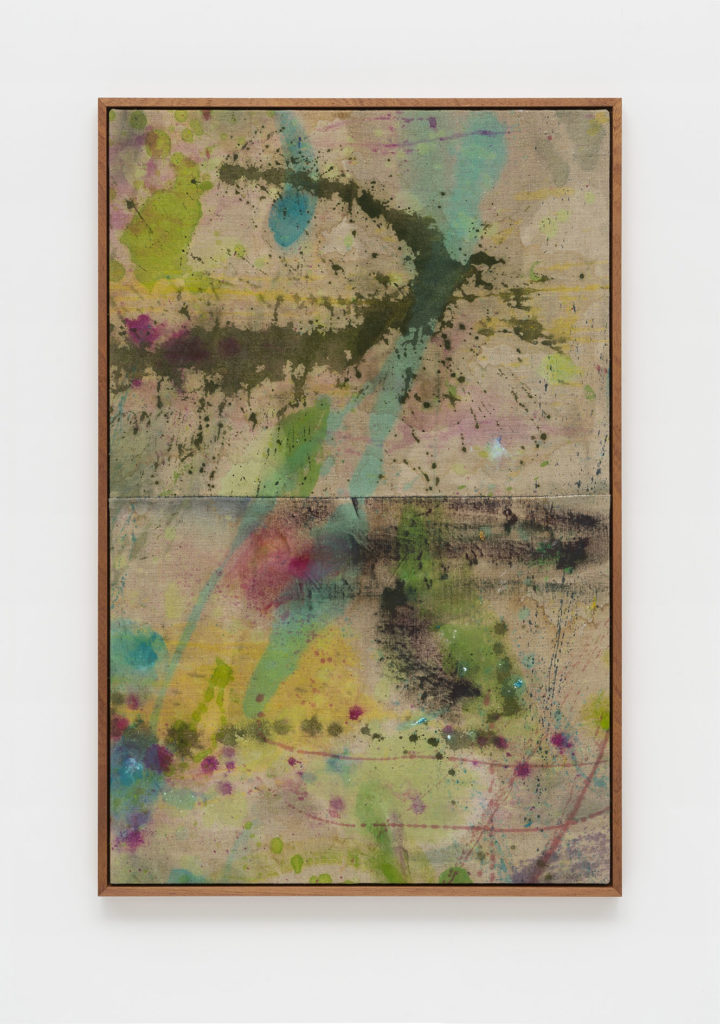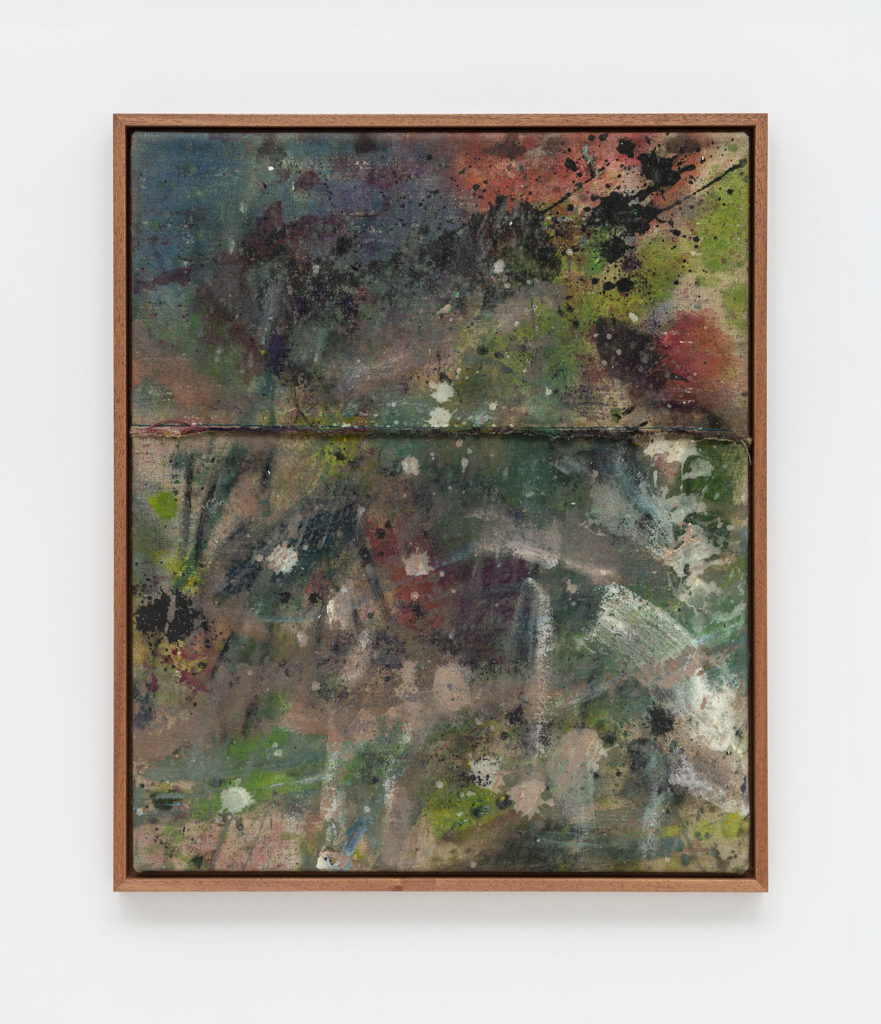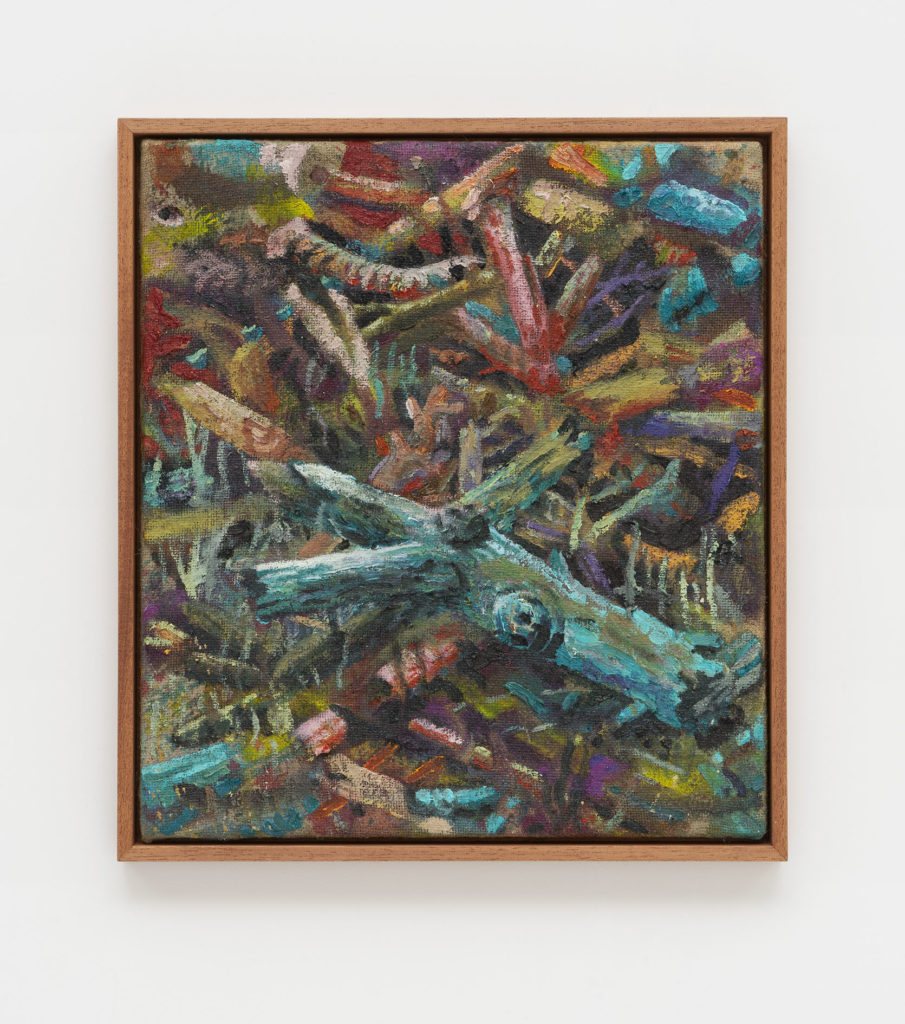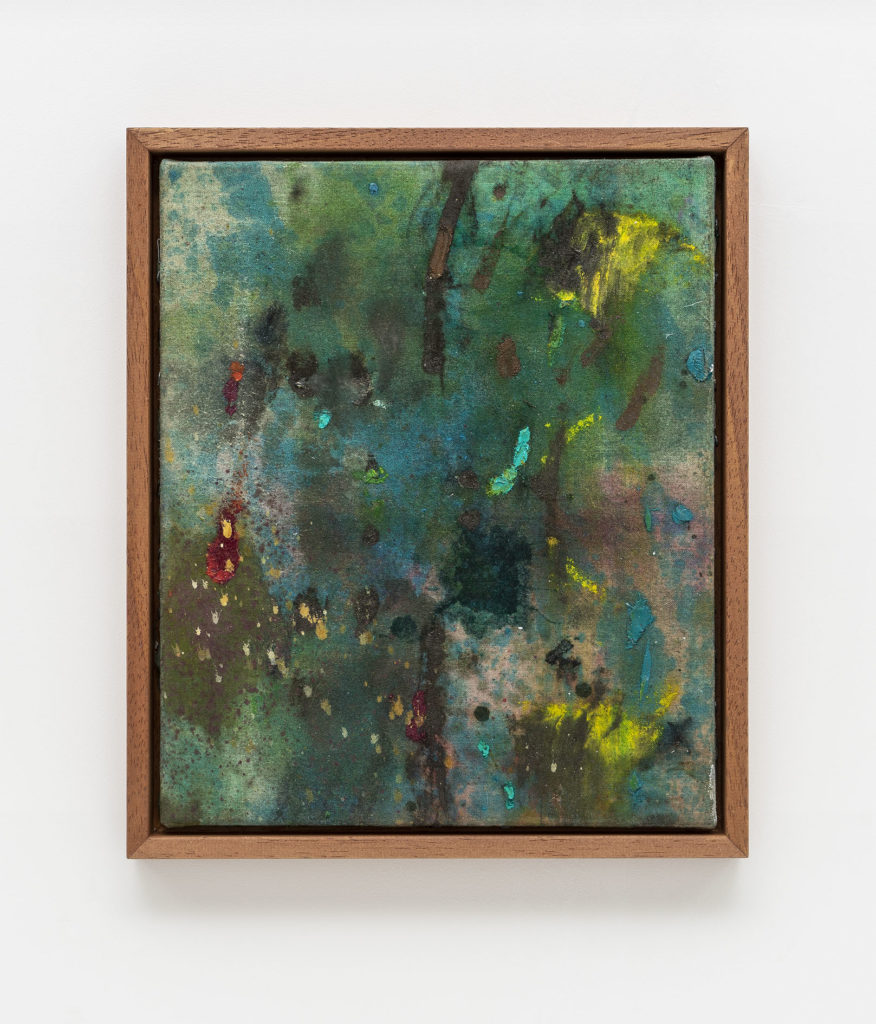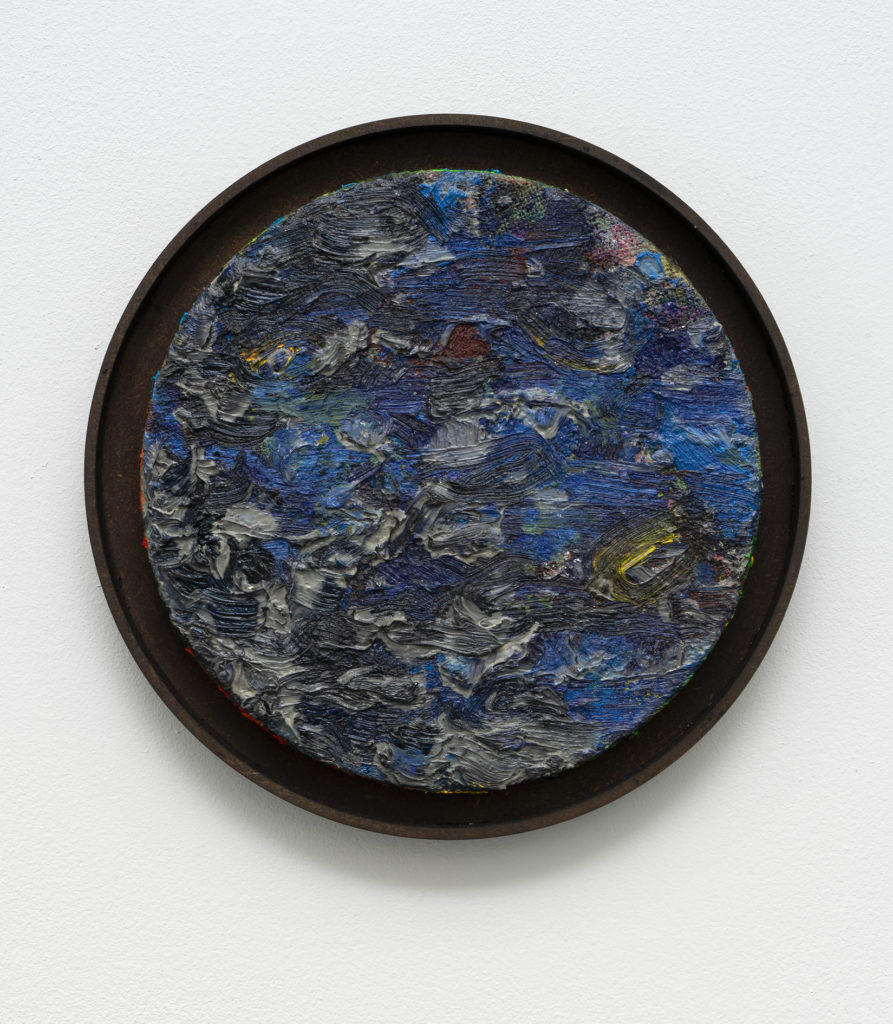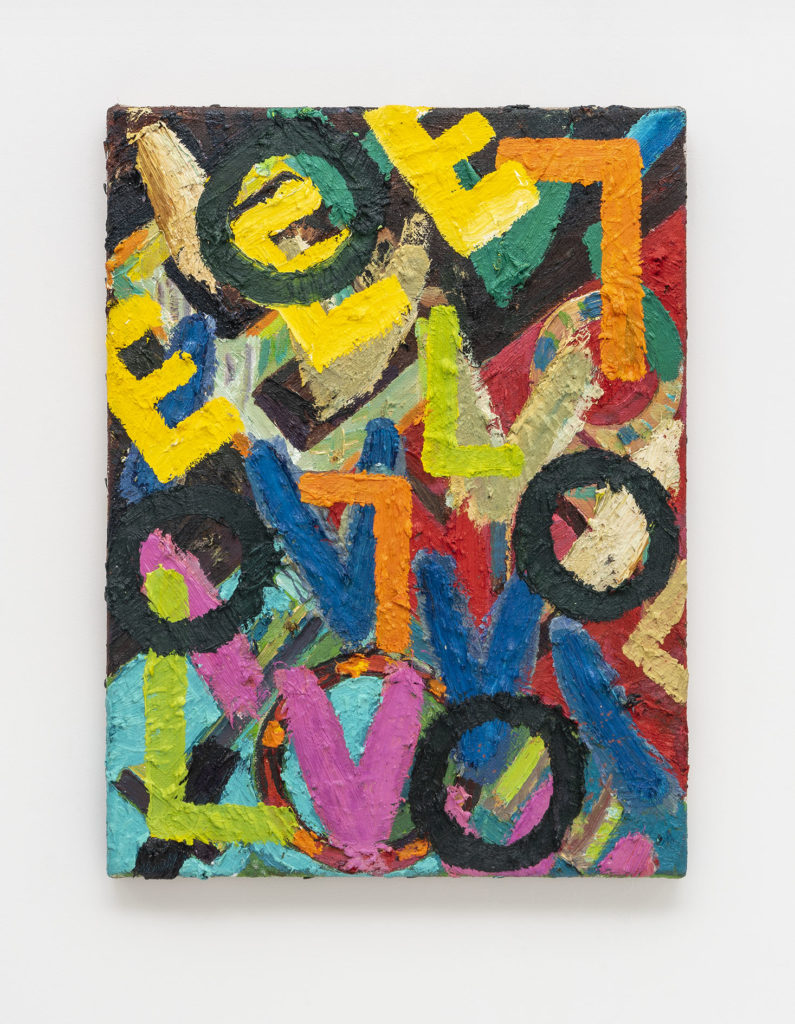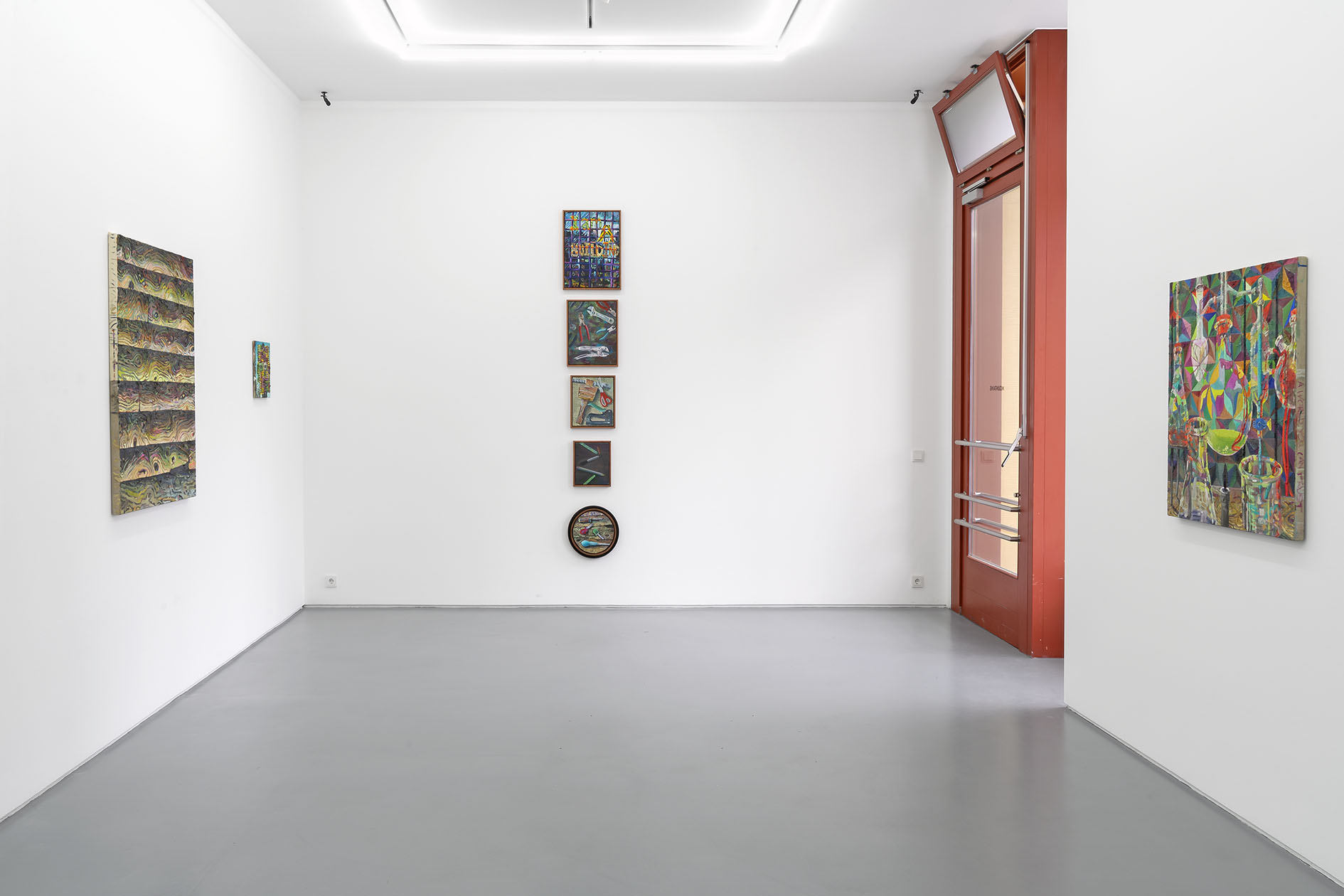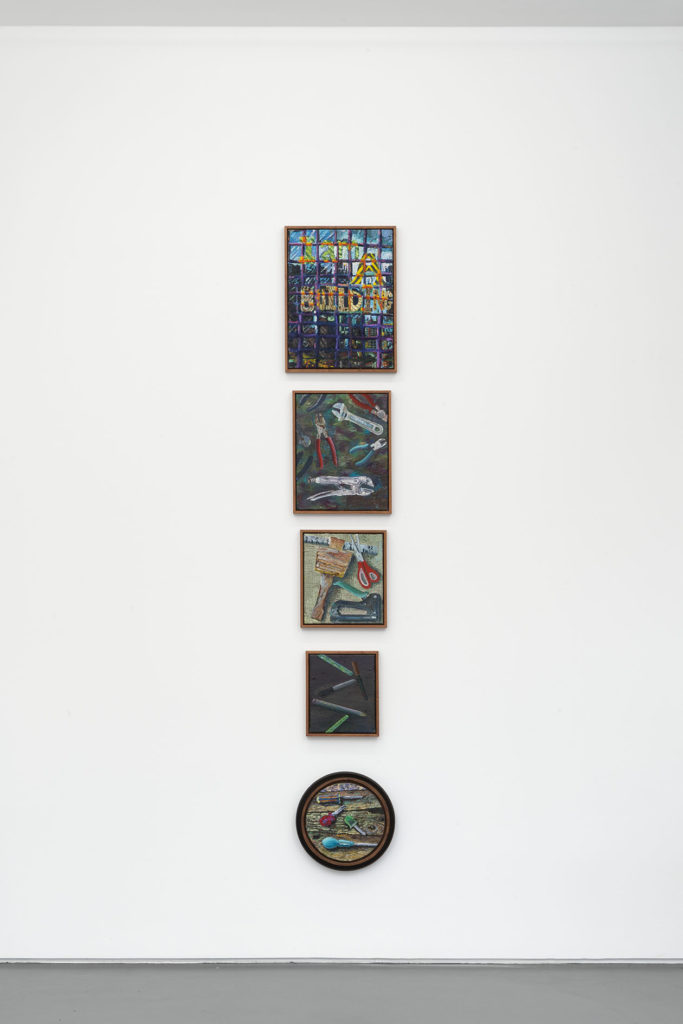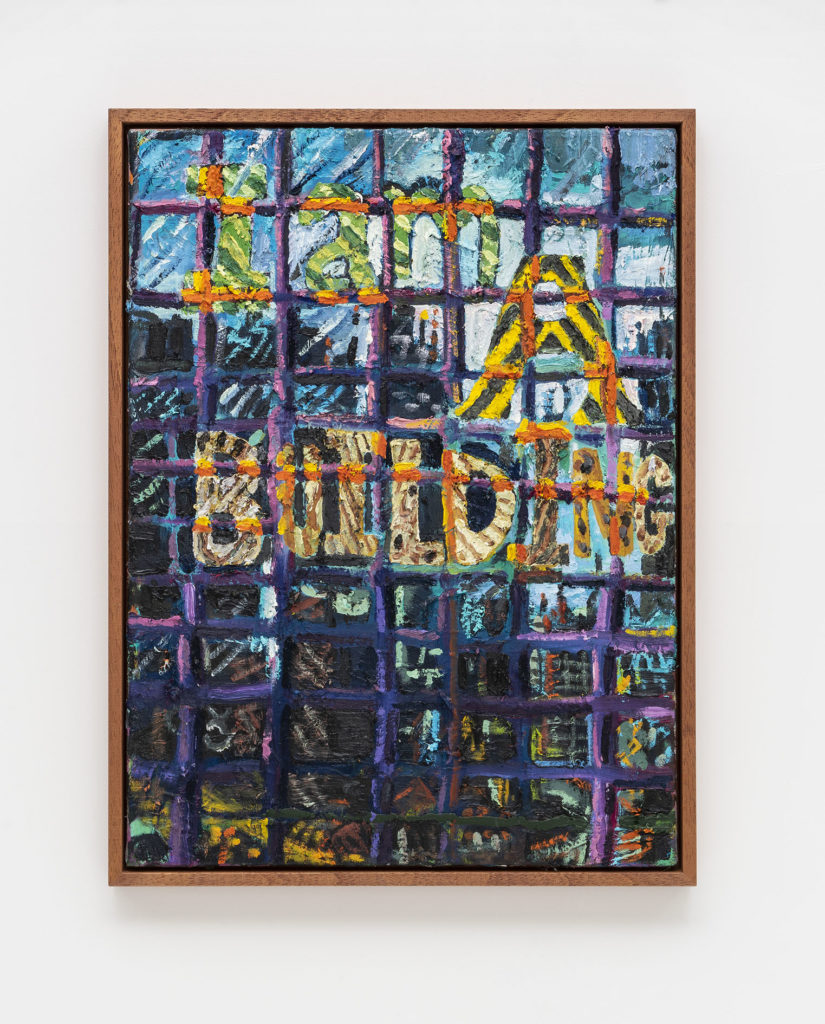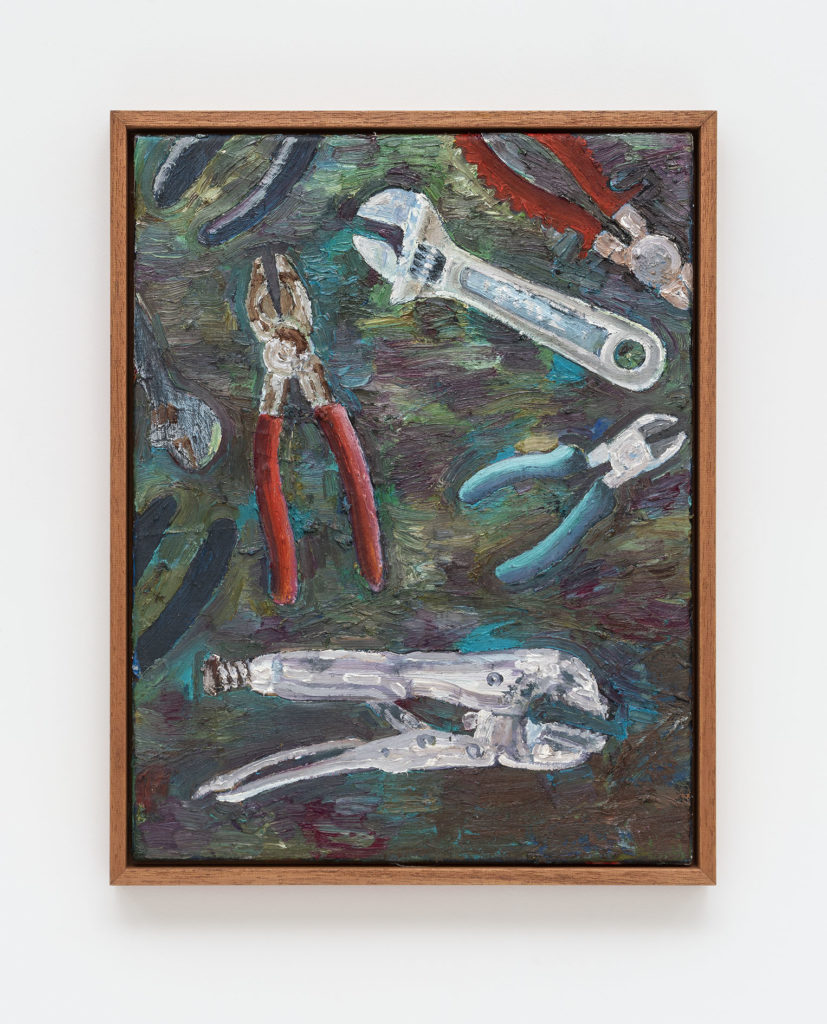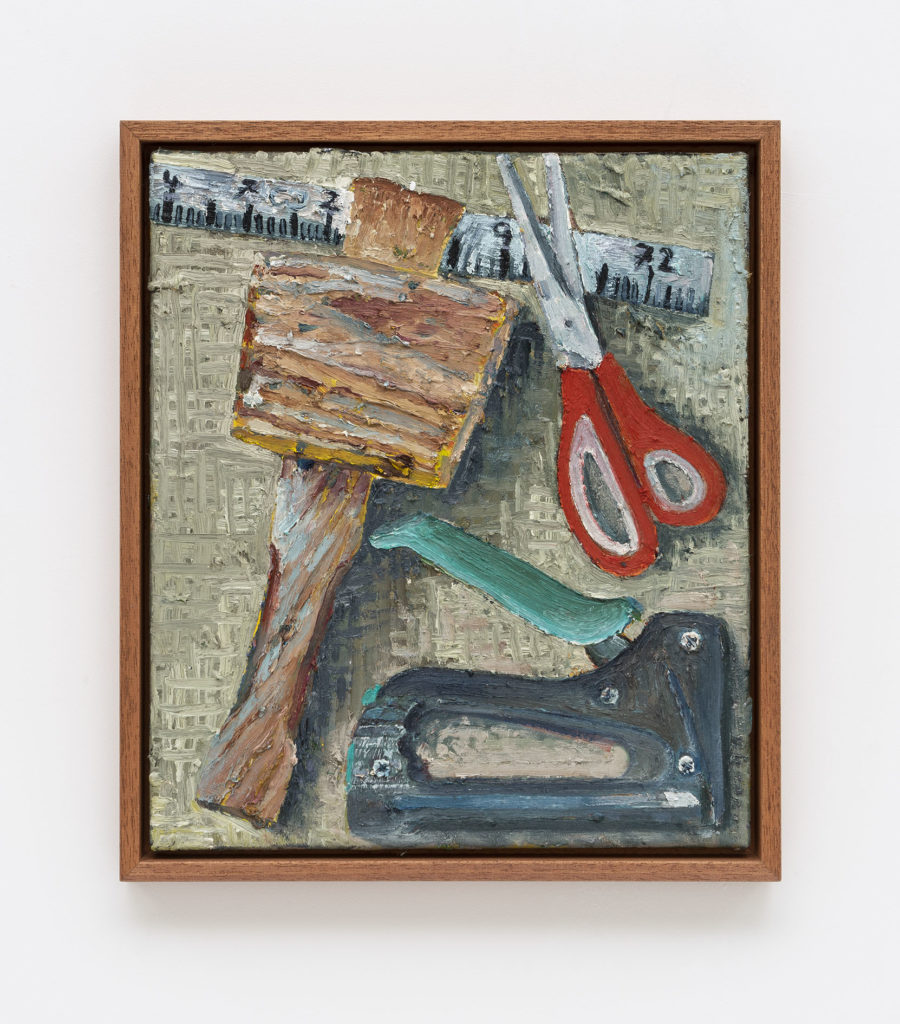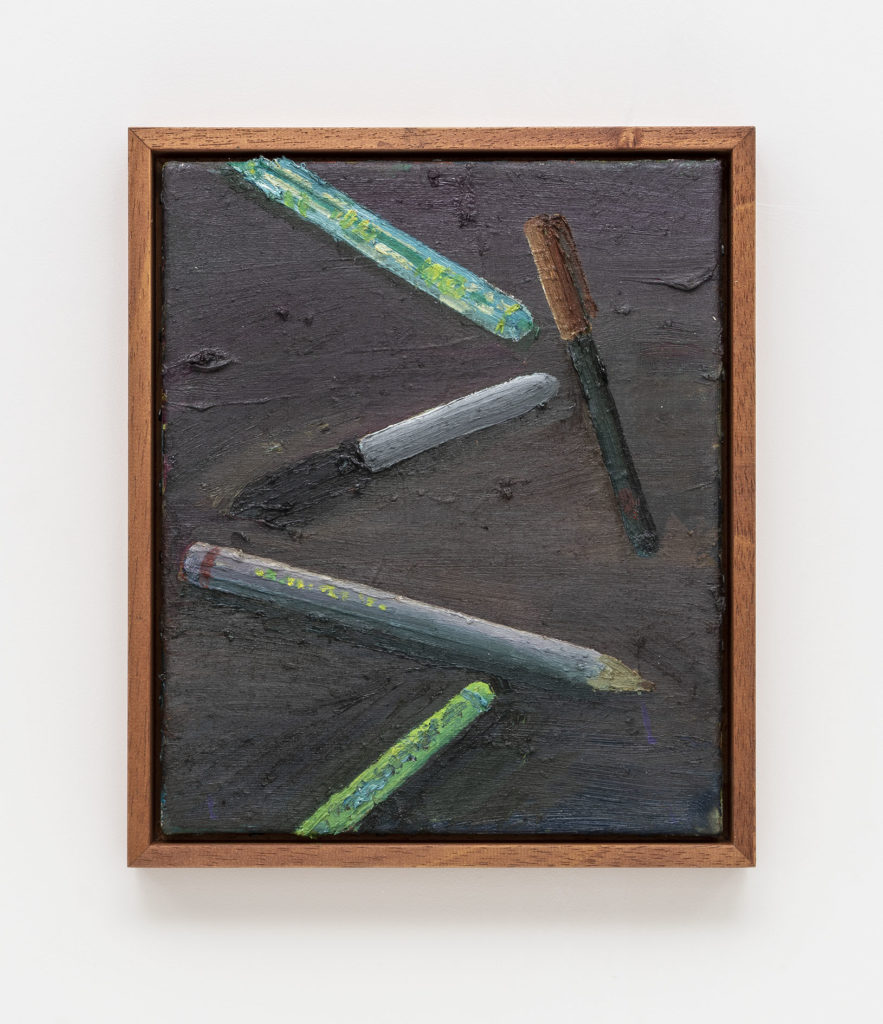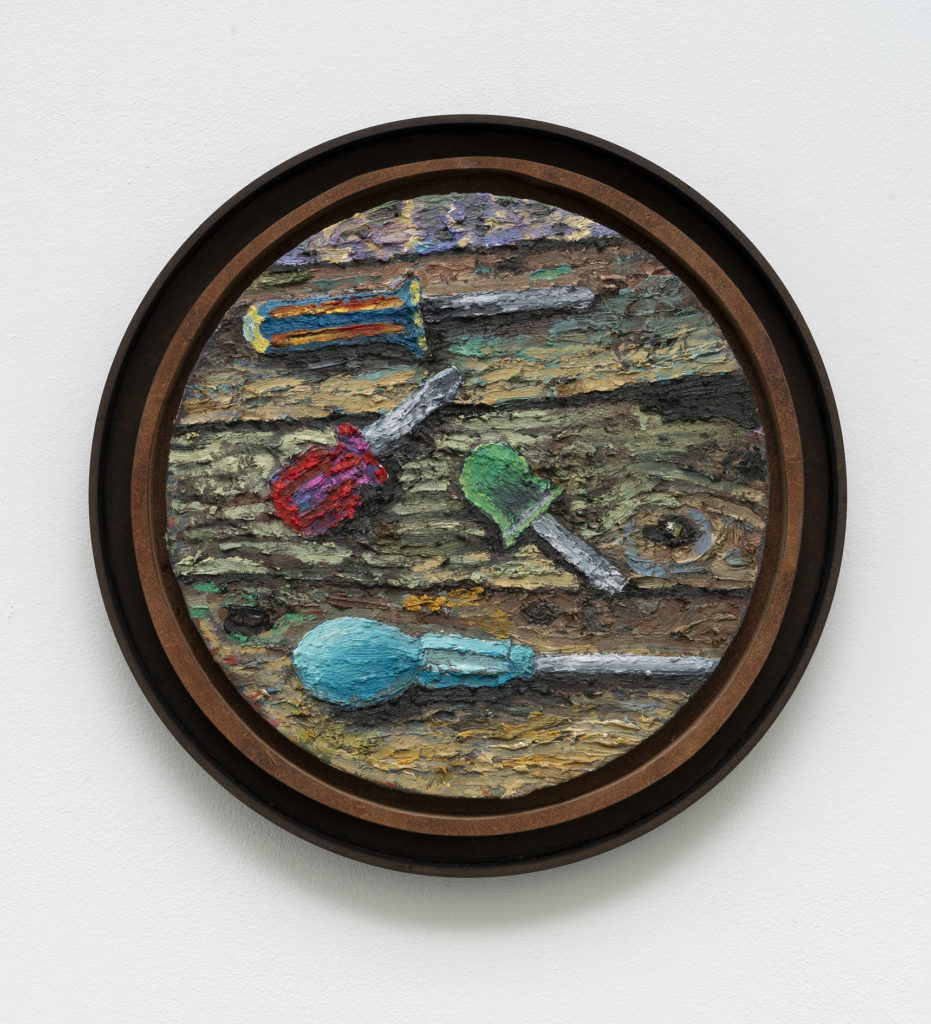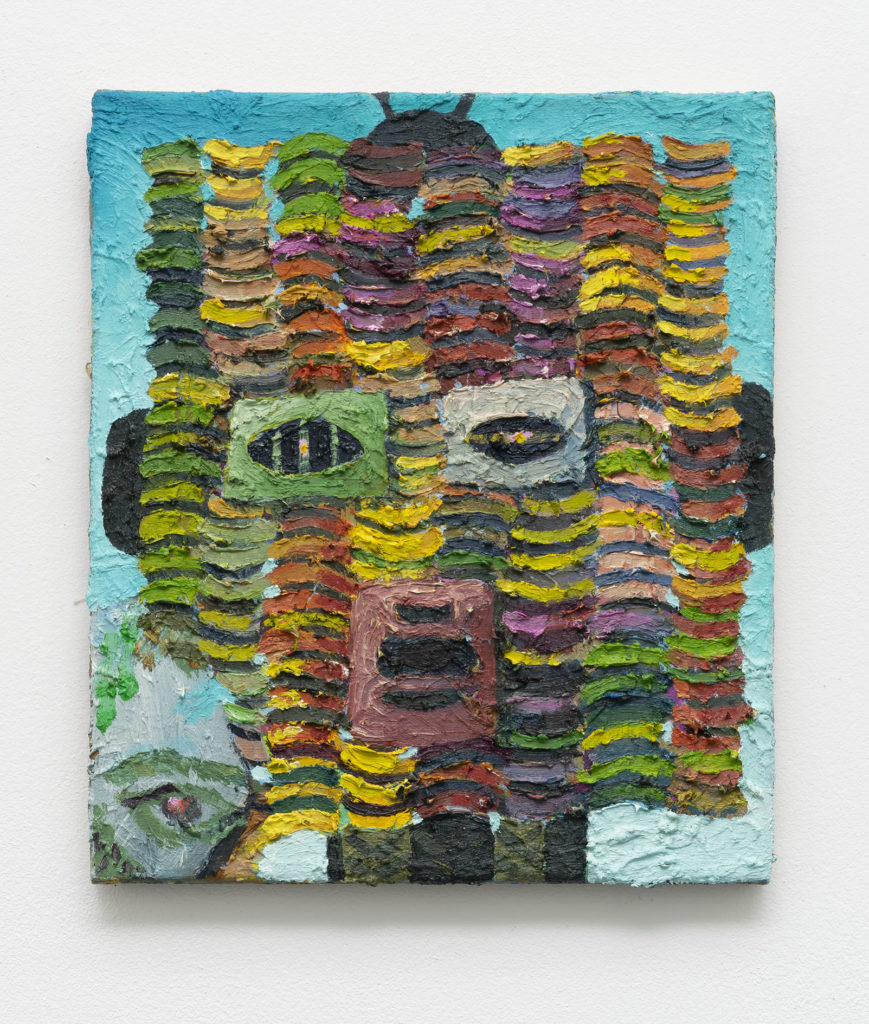 ---

JOSE MONTEALEGRE Nuevo Mundo
March 19 – April 24, 2021
> 3D tour
> Artist CV
> Exhibition essay by José Segebre (Spanish/English booklet)
> Work list
> FRIEZE | Carina Bukuts: José Montealegre Blurs the Lines Between Reality and Fiction (online/print)
Exhibition photography: Best Quality, Berlin. All titles to the works, dimensions, materials, see list of works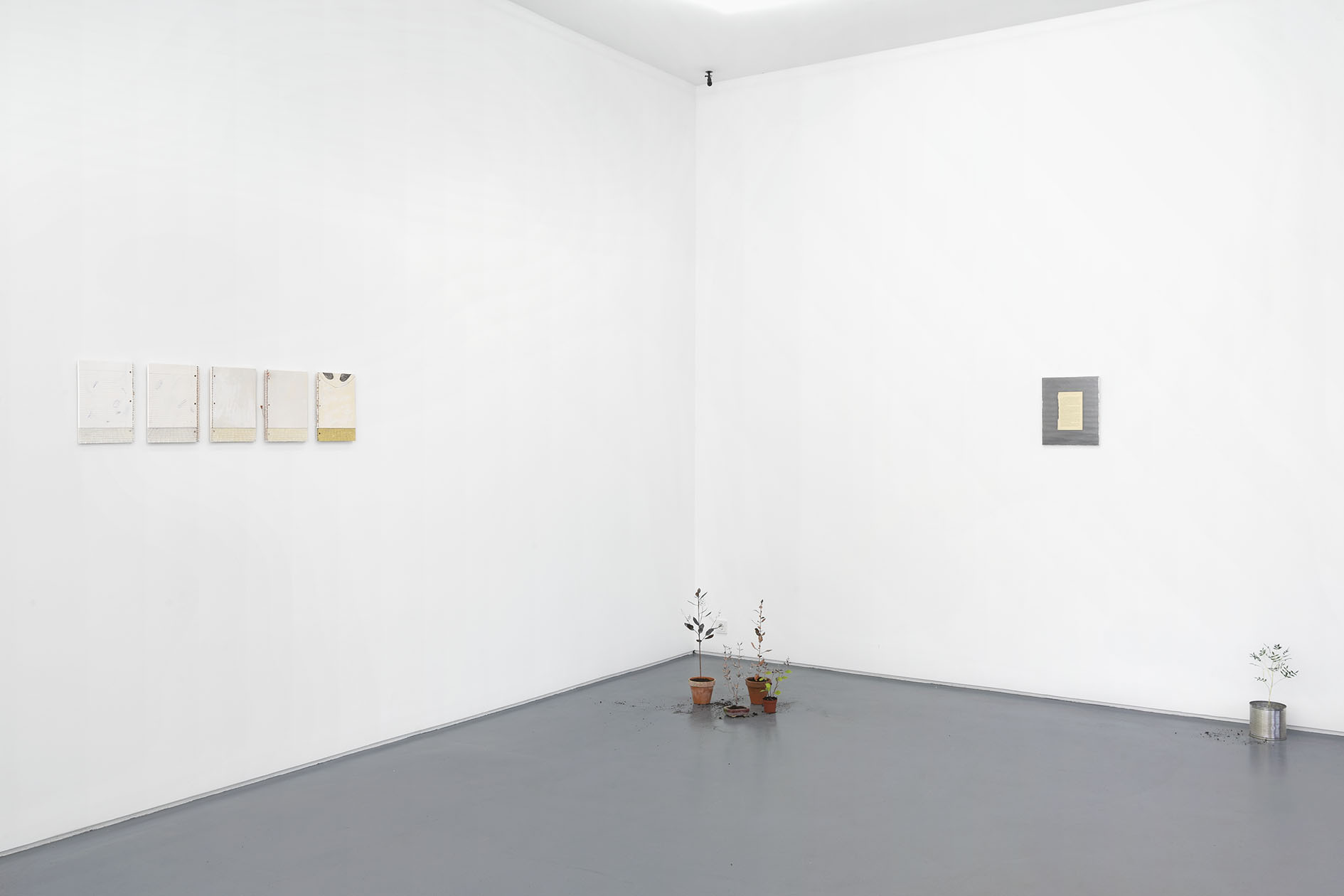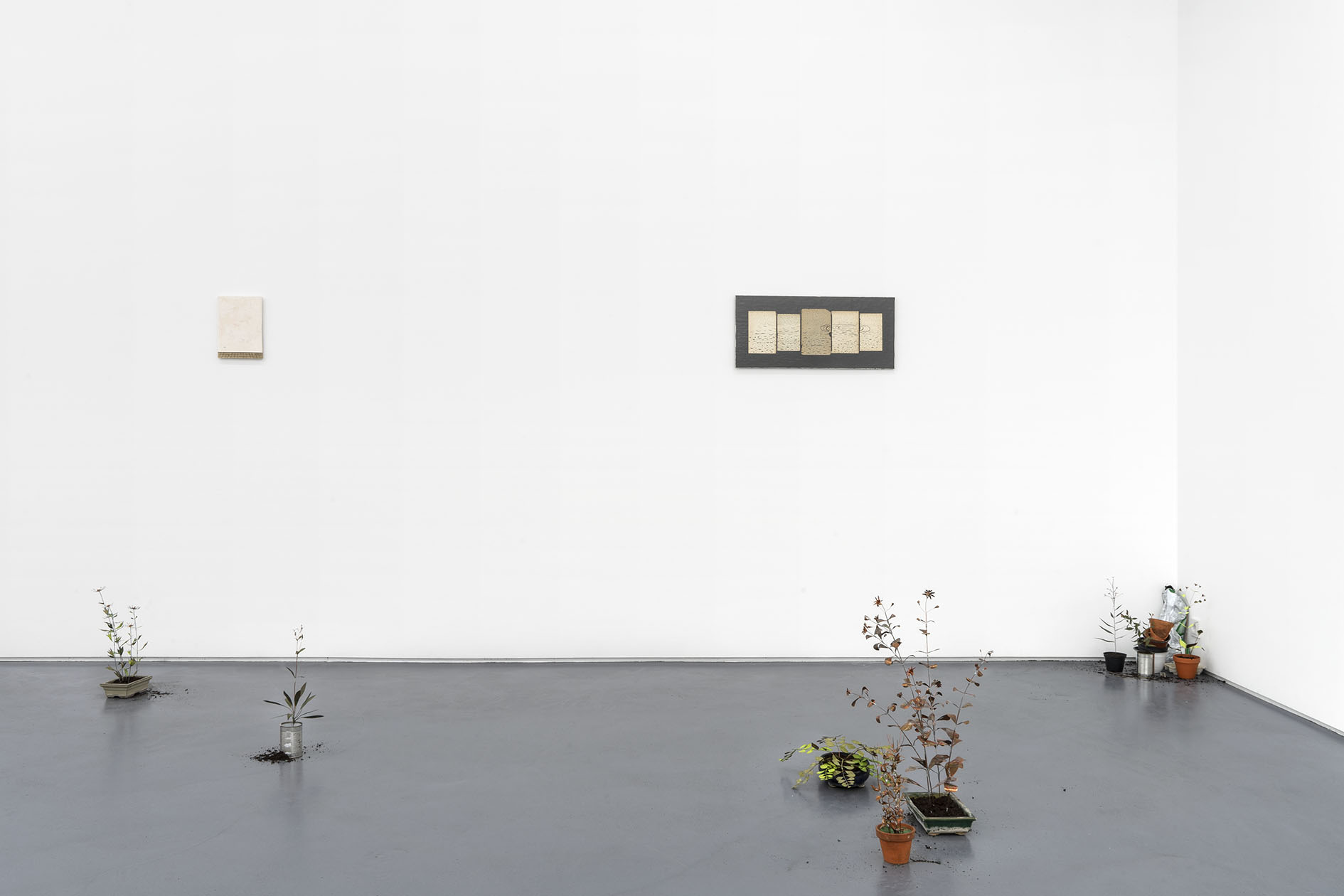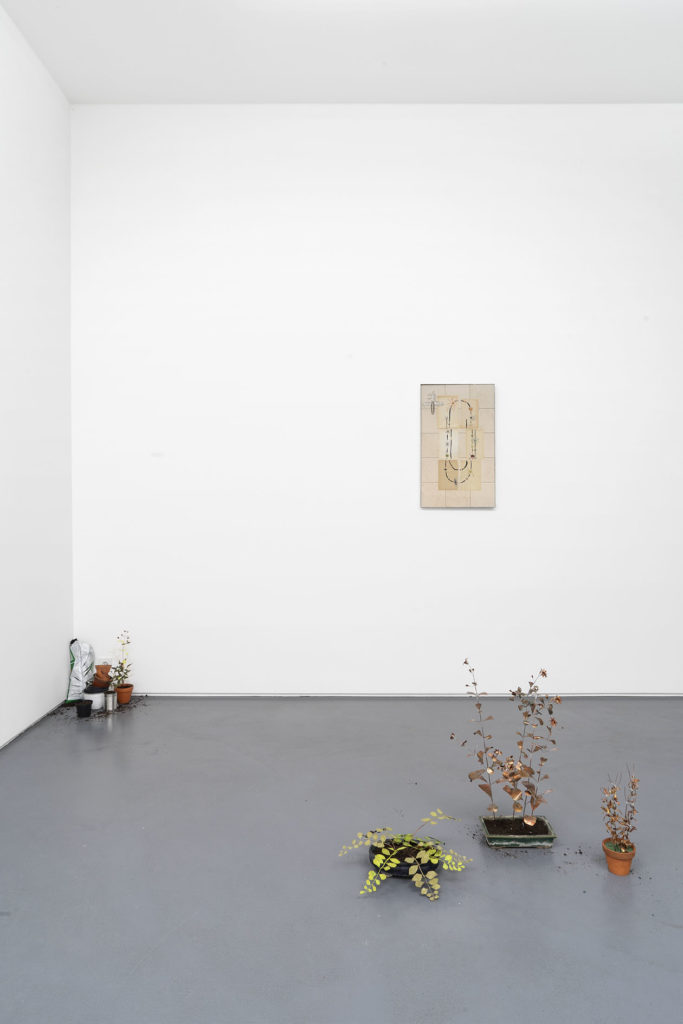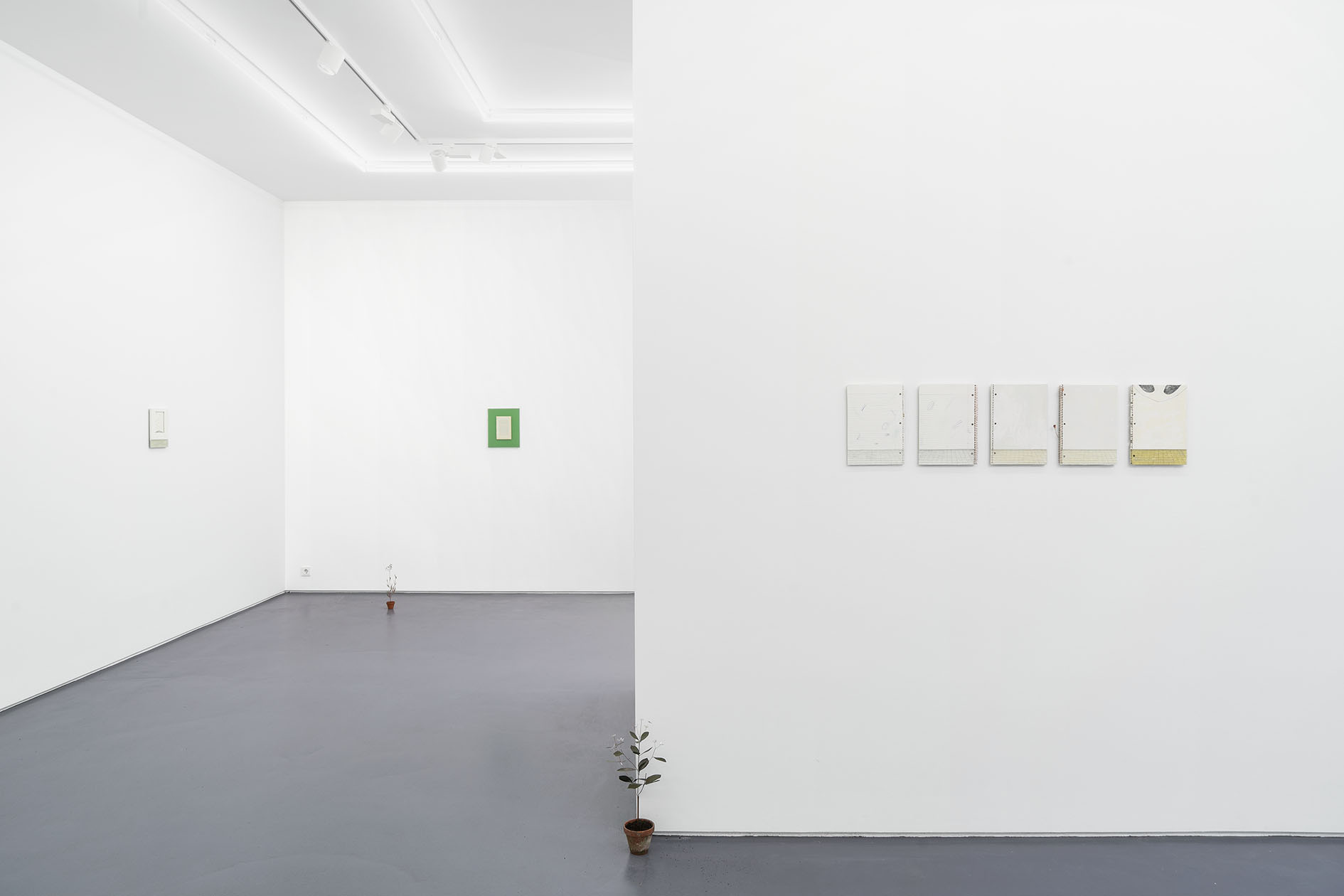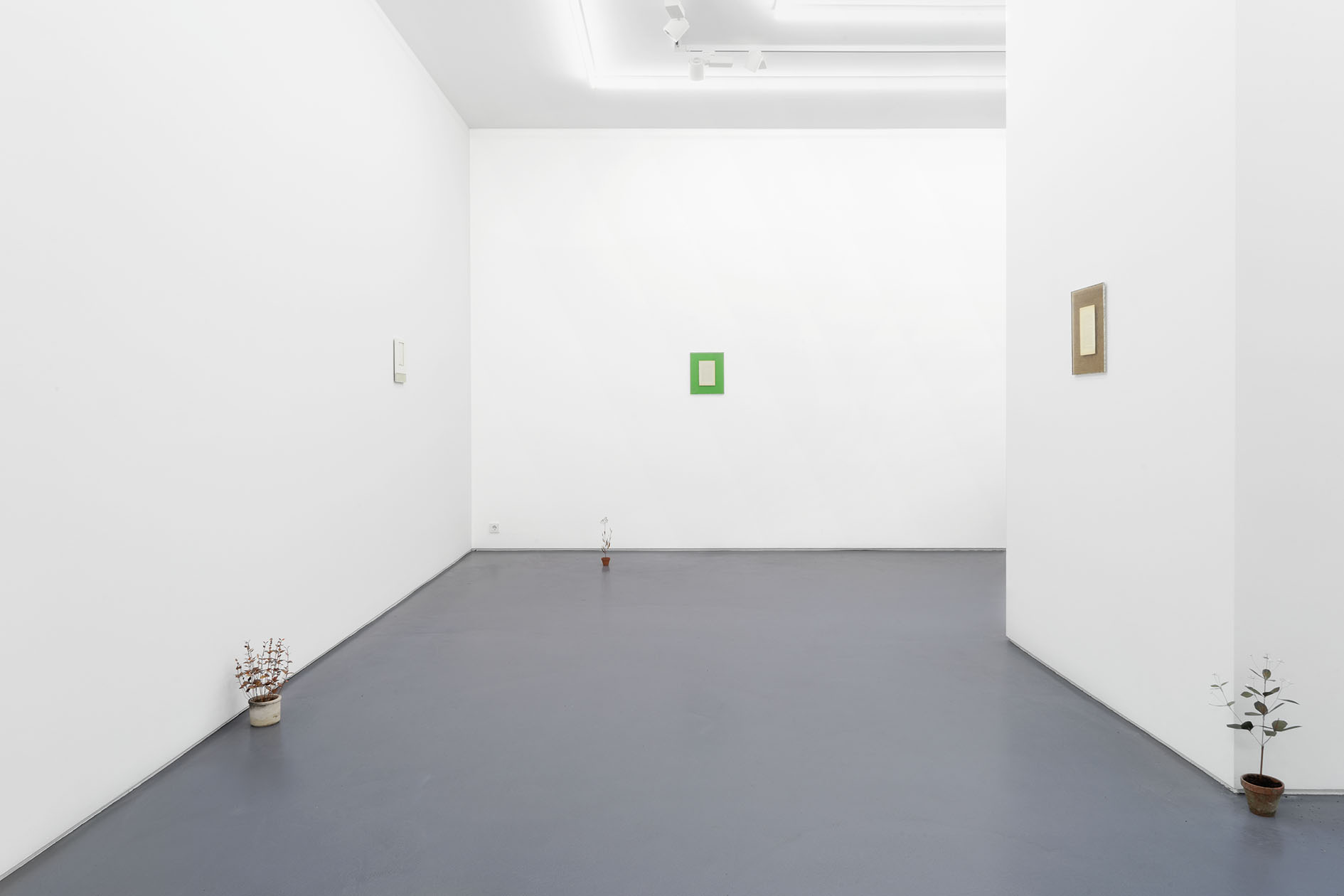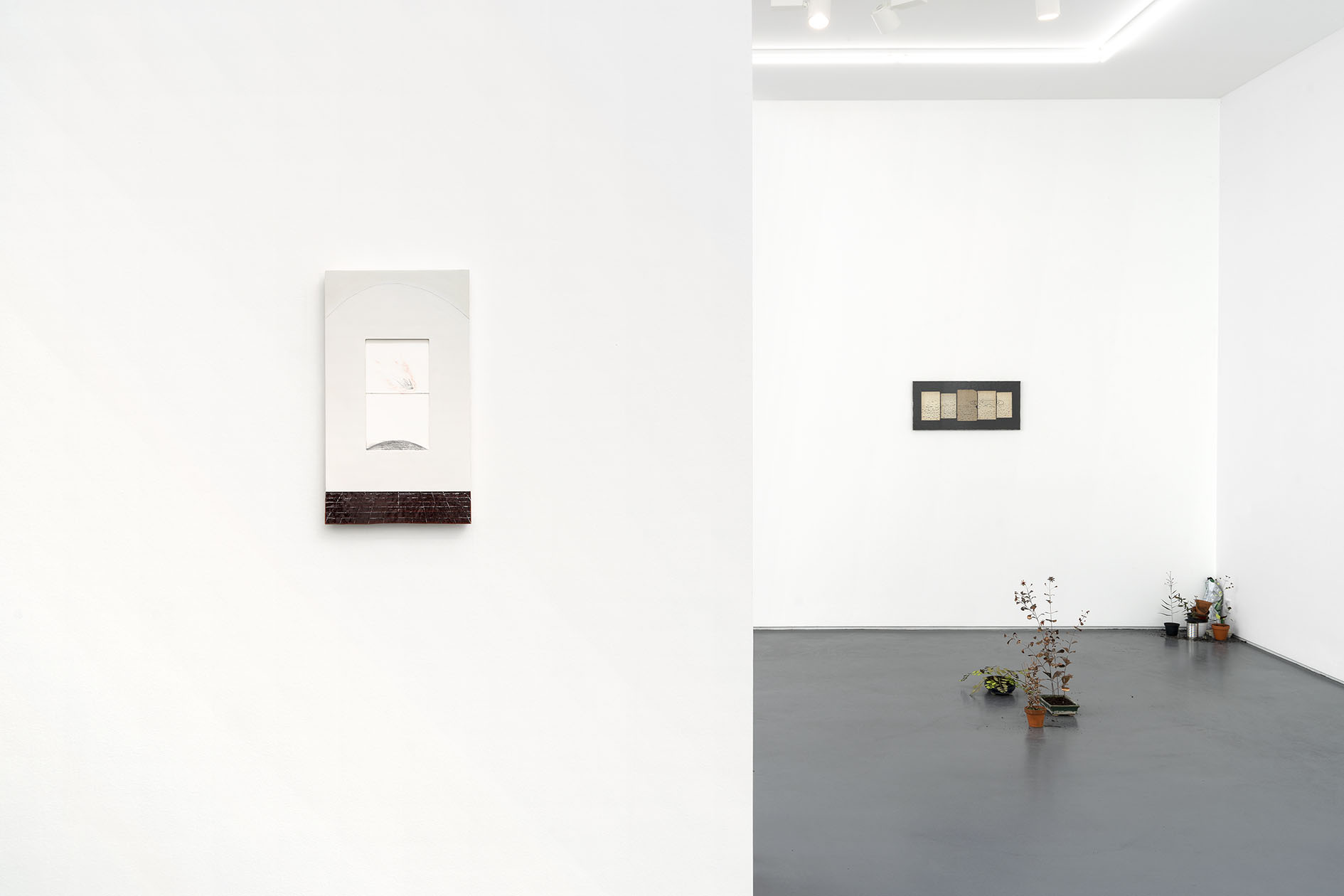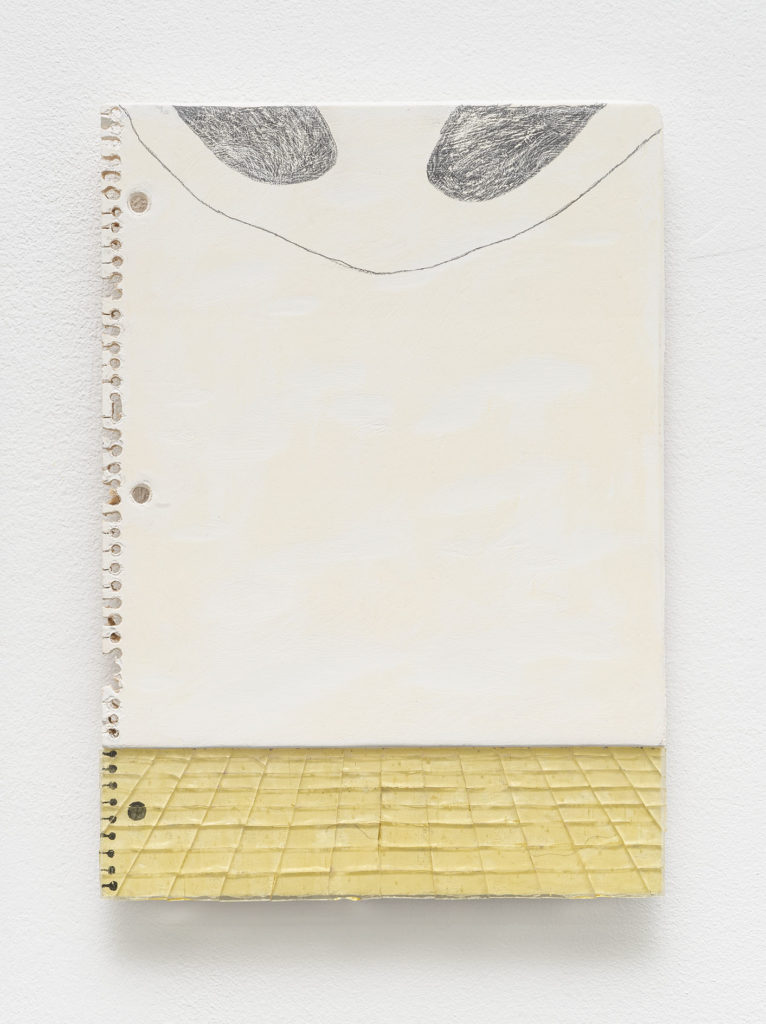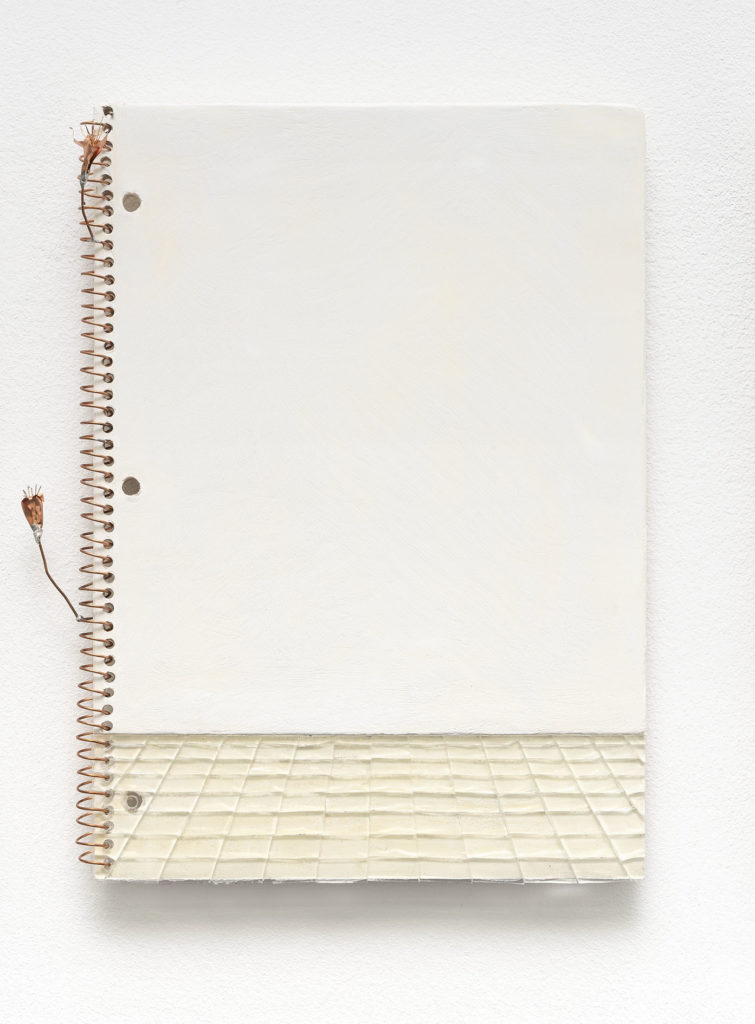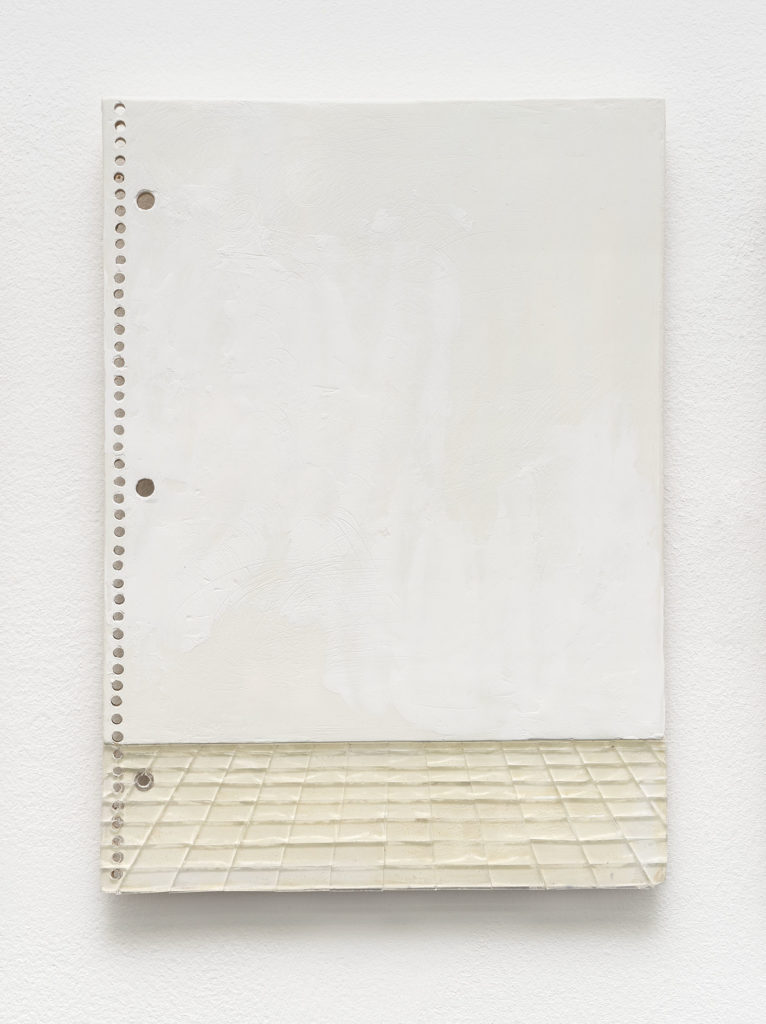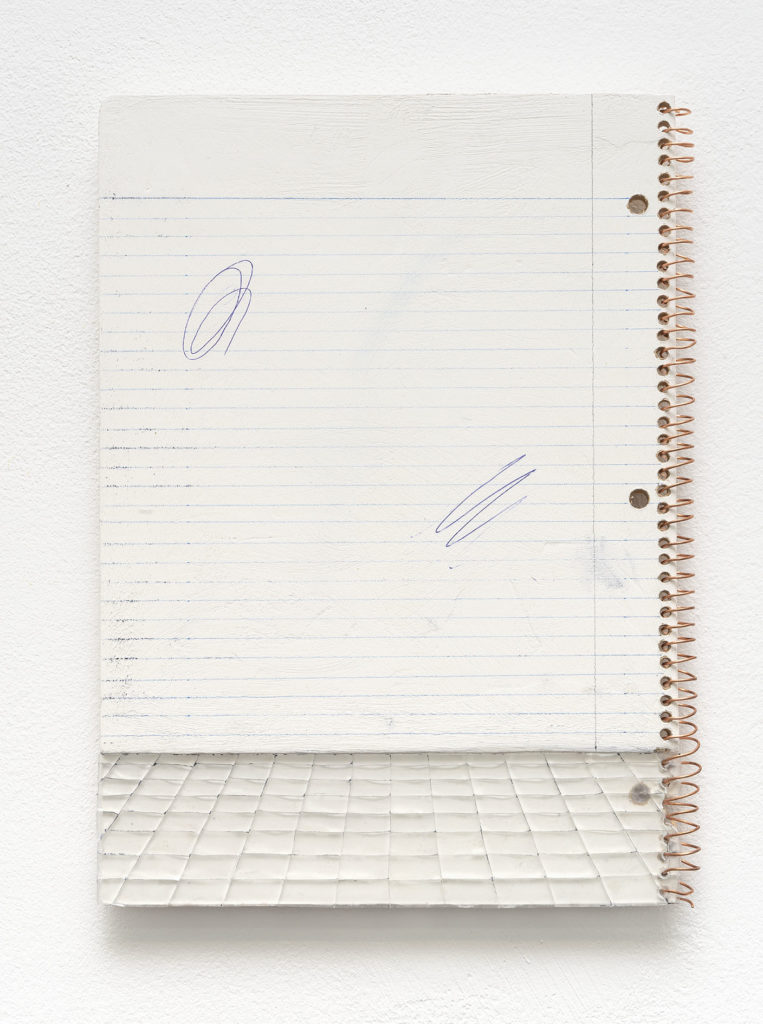 <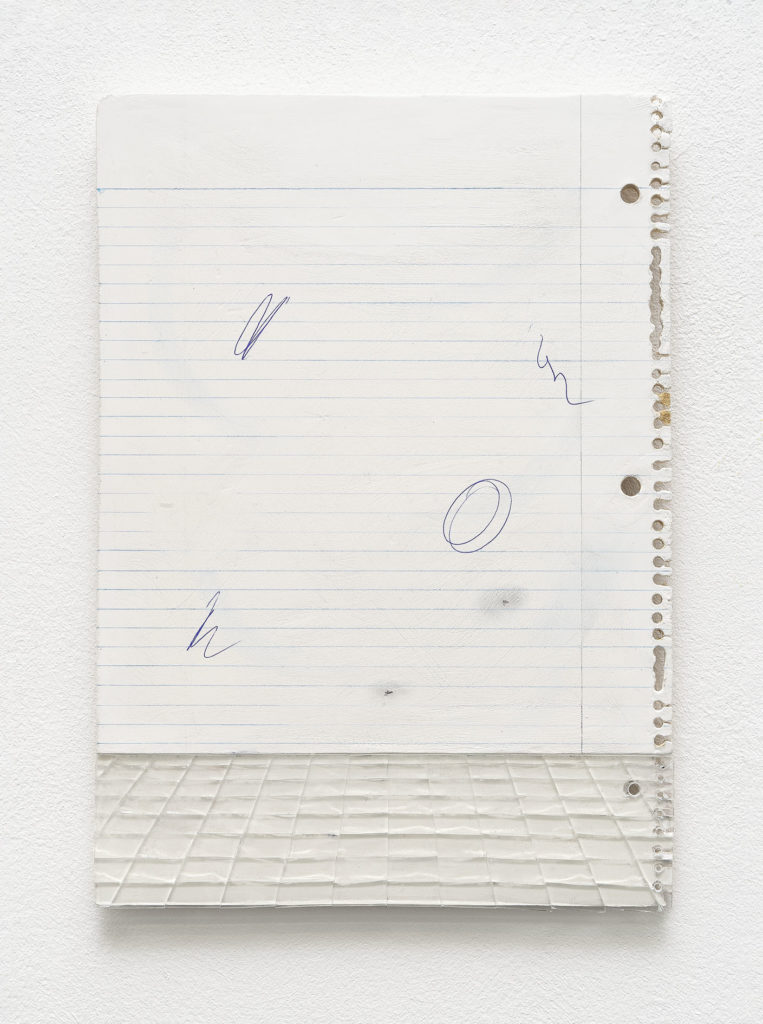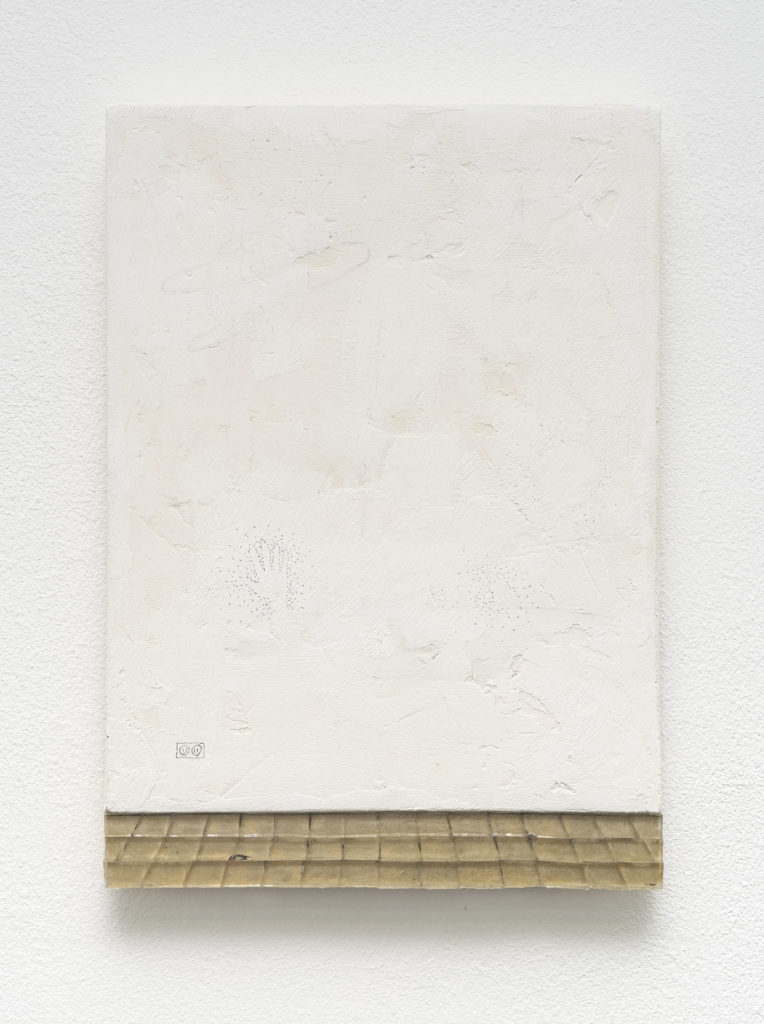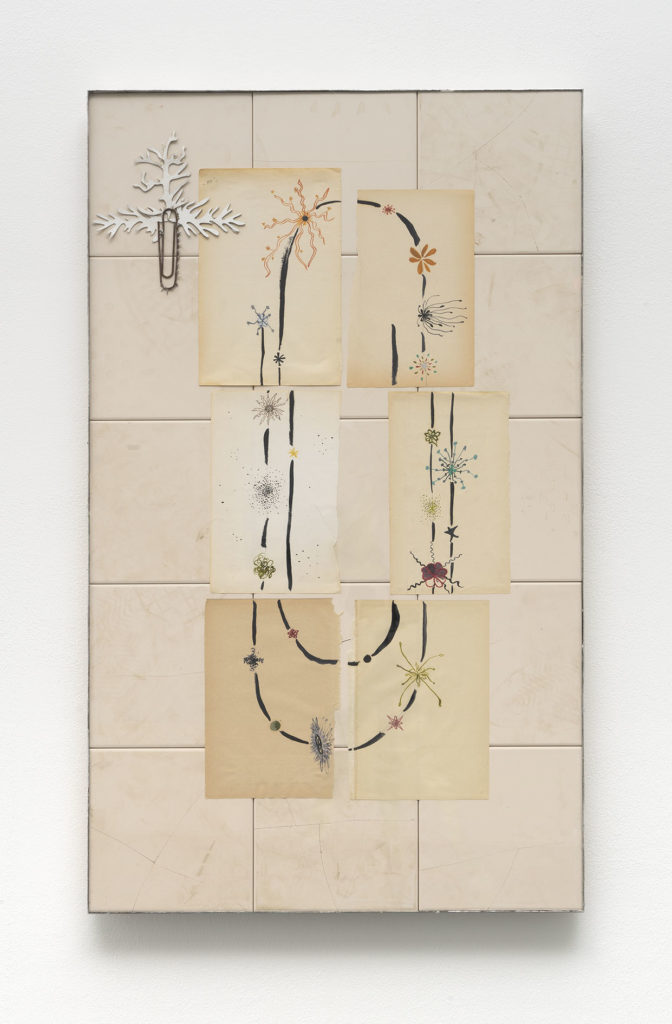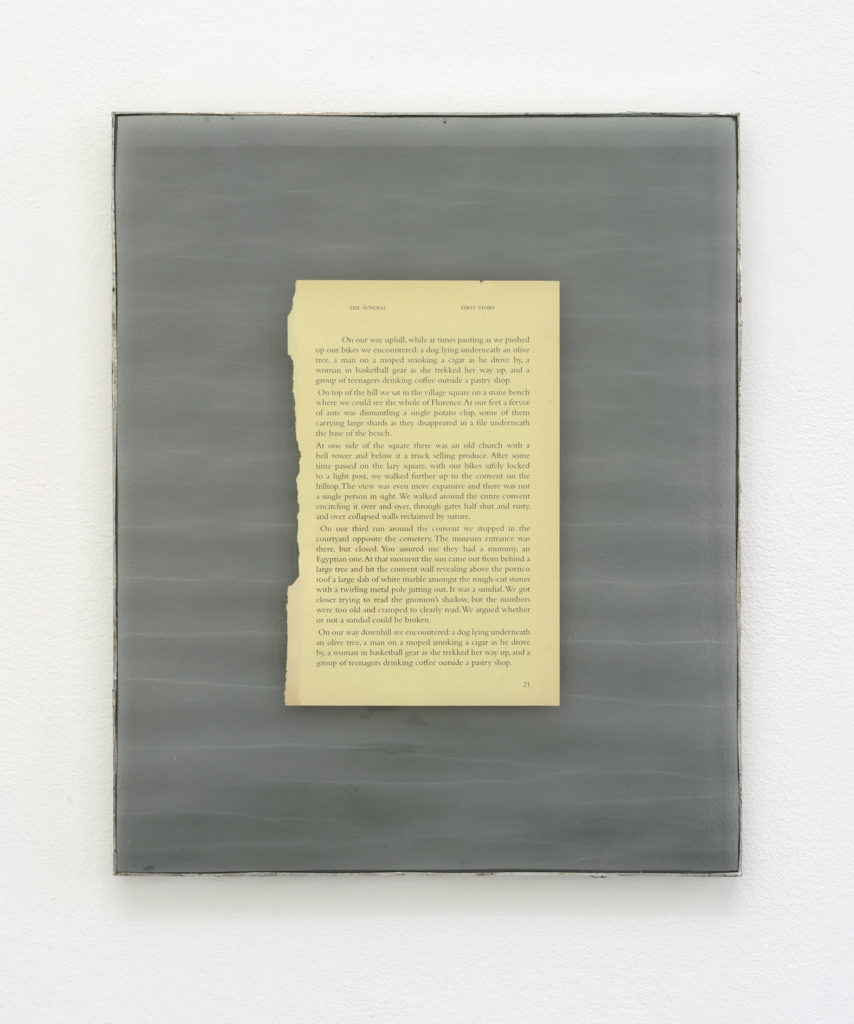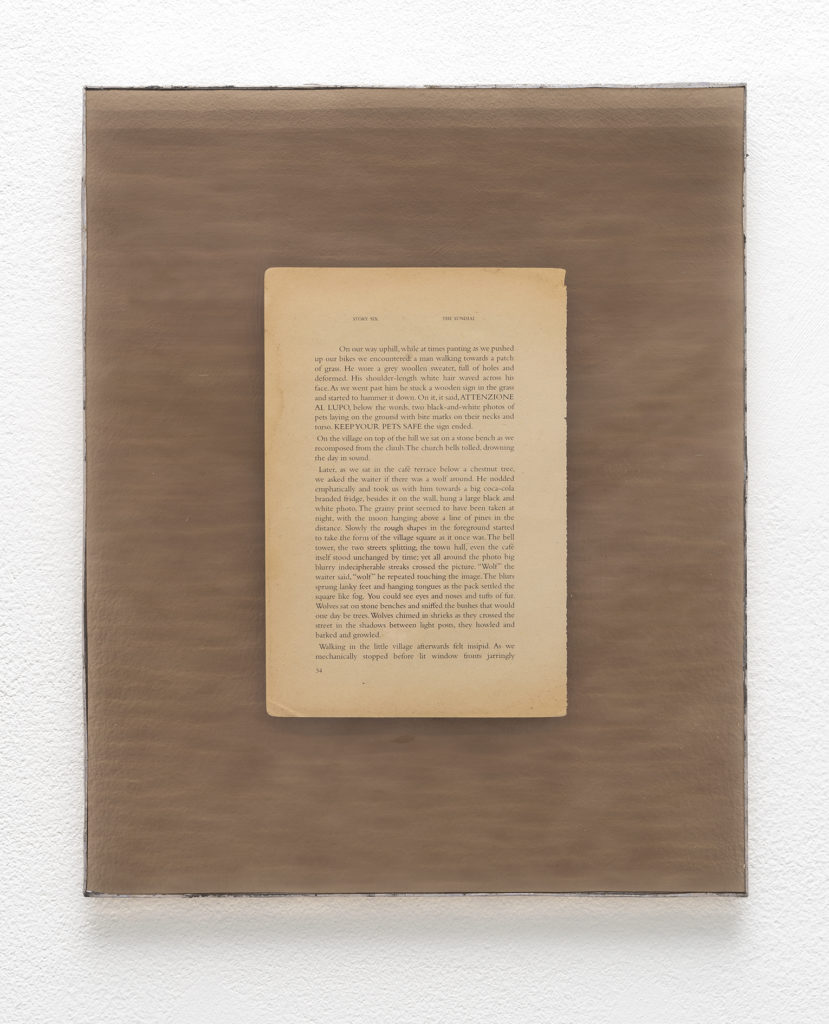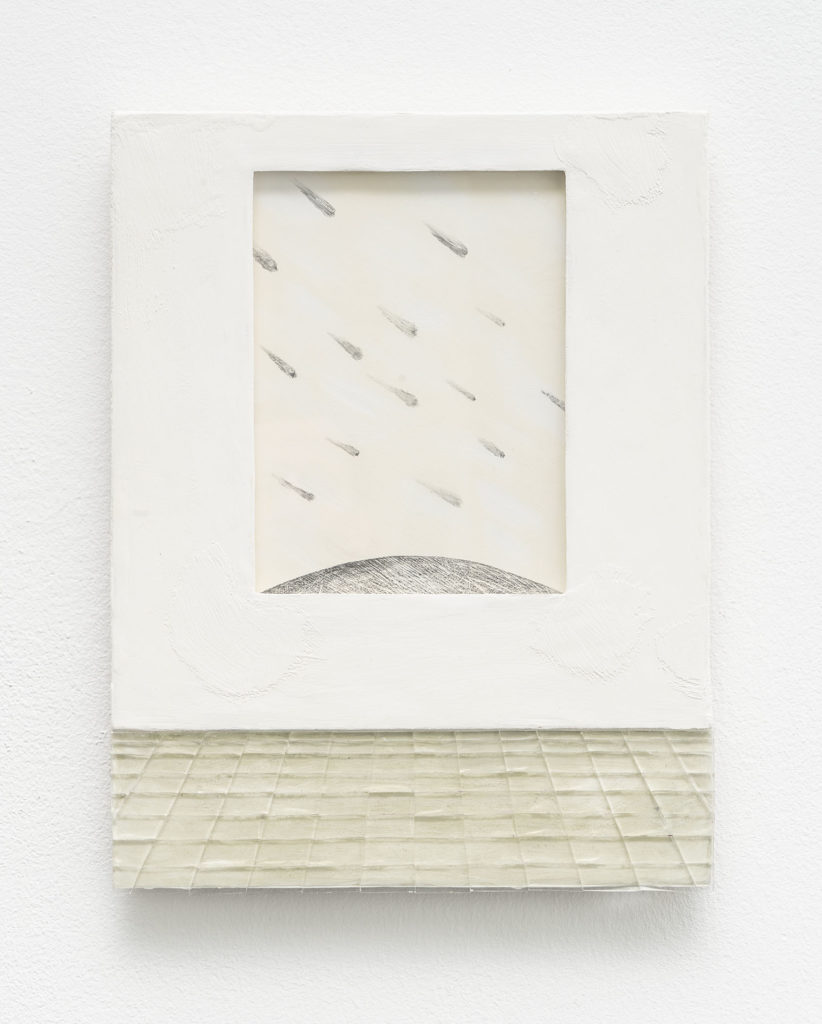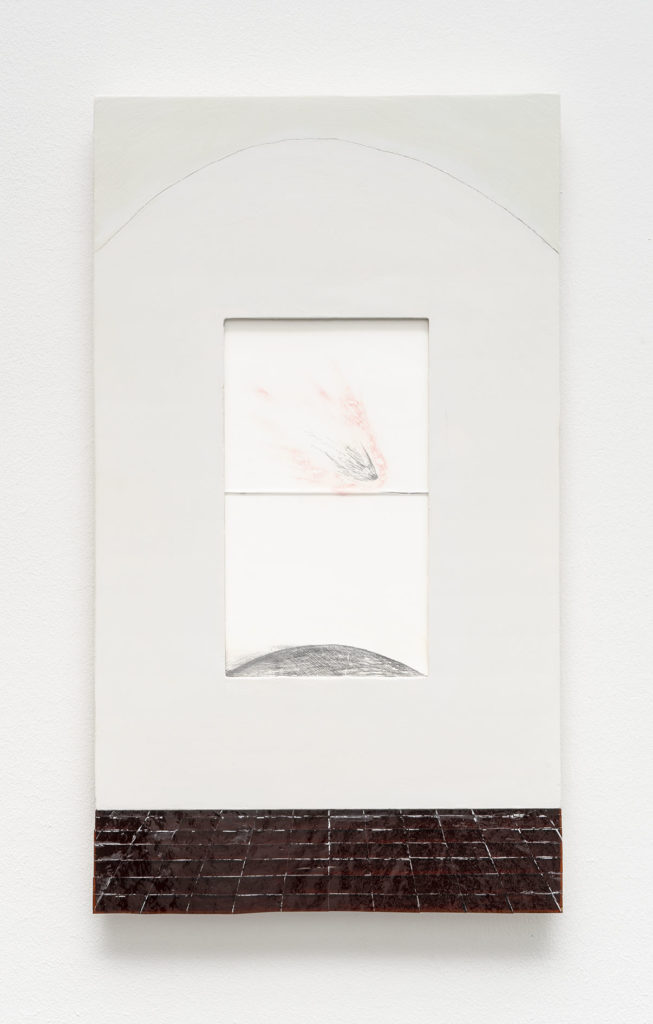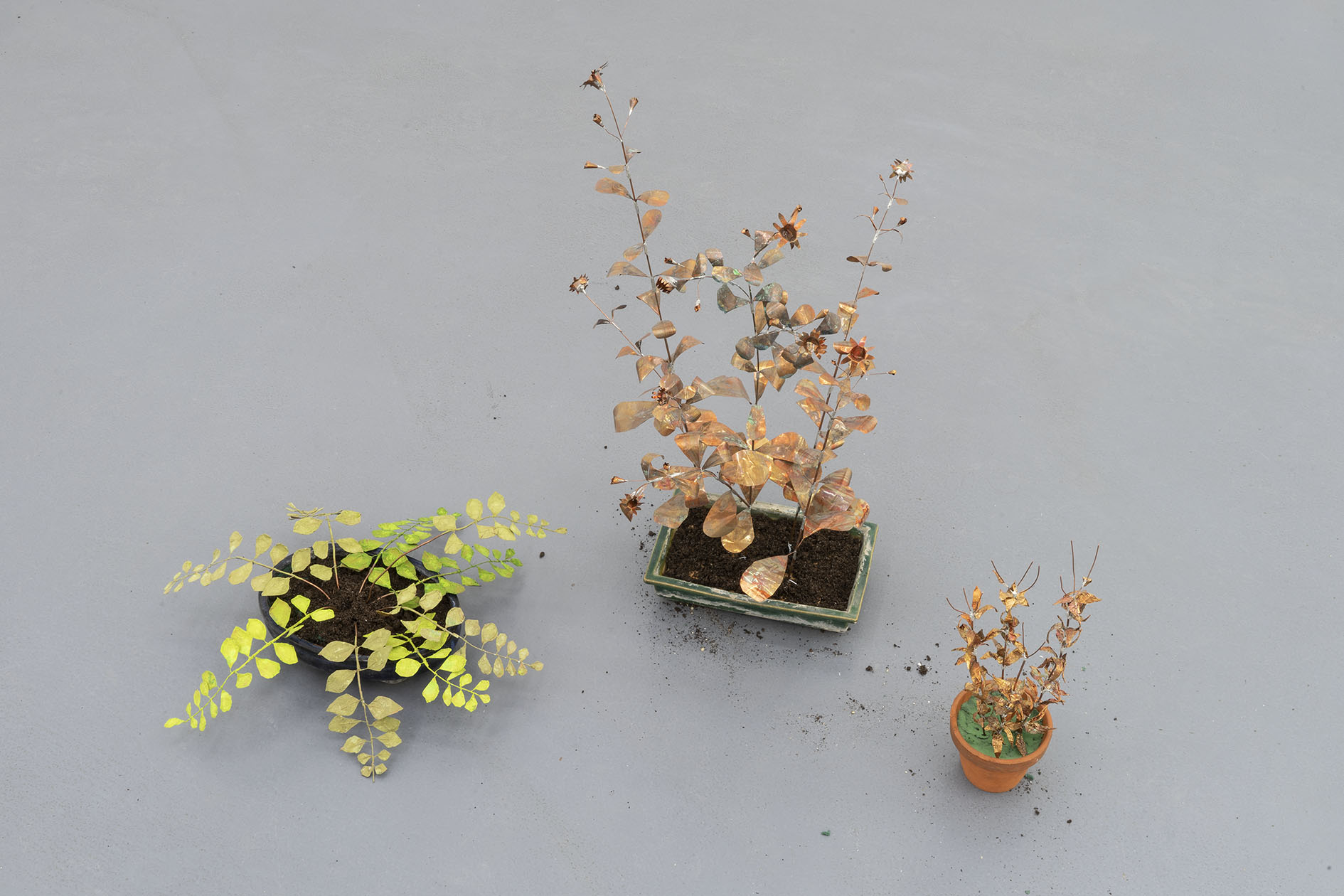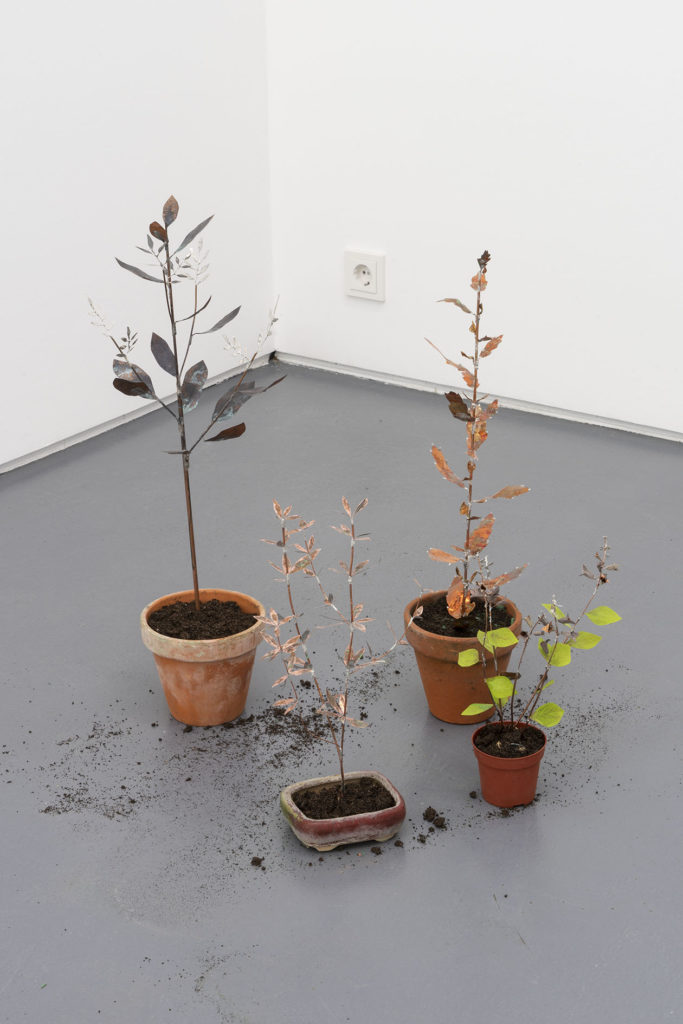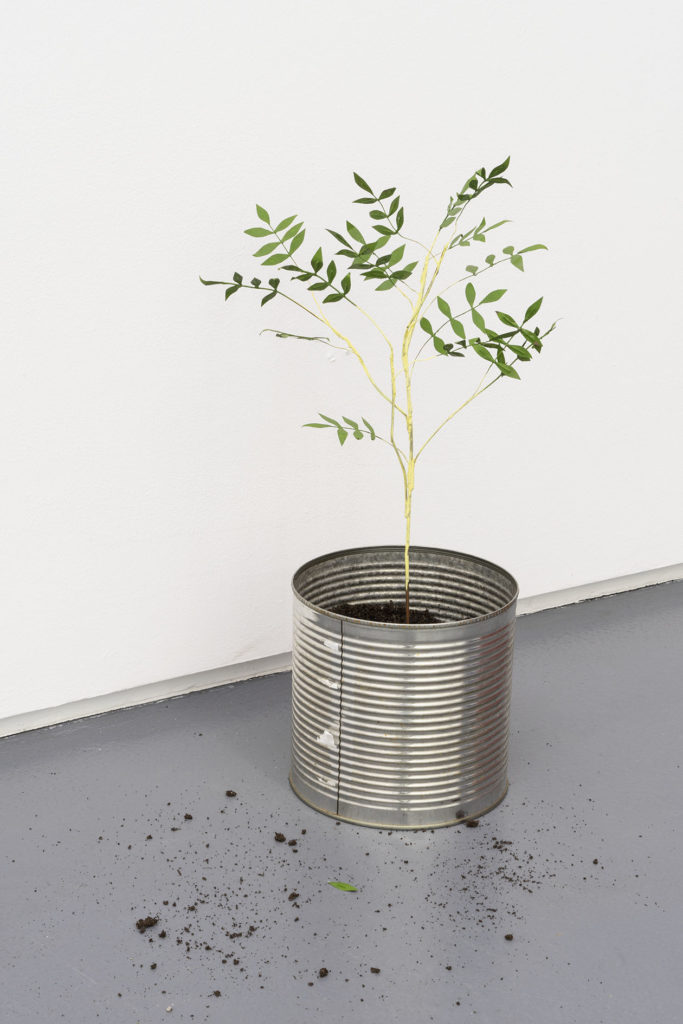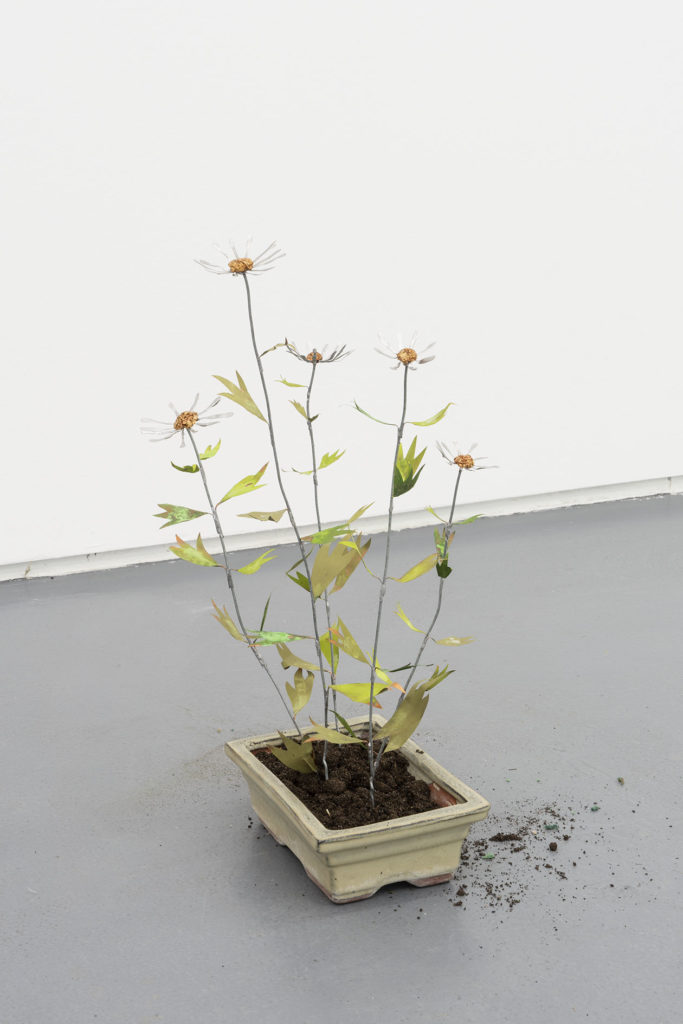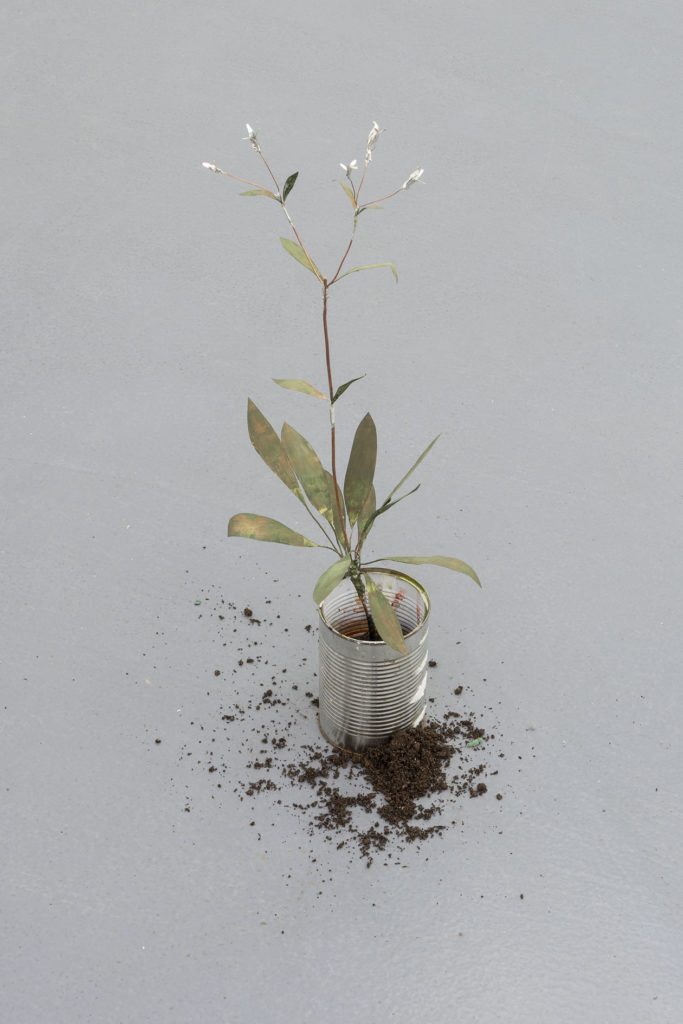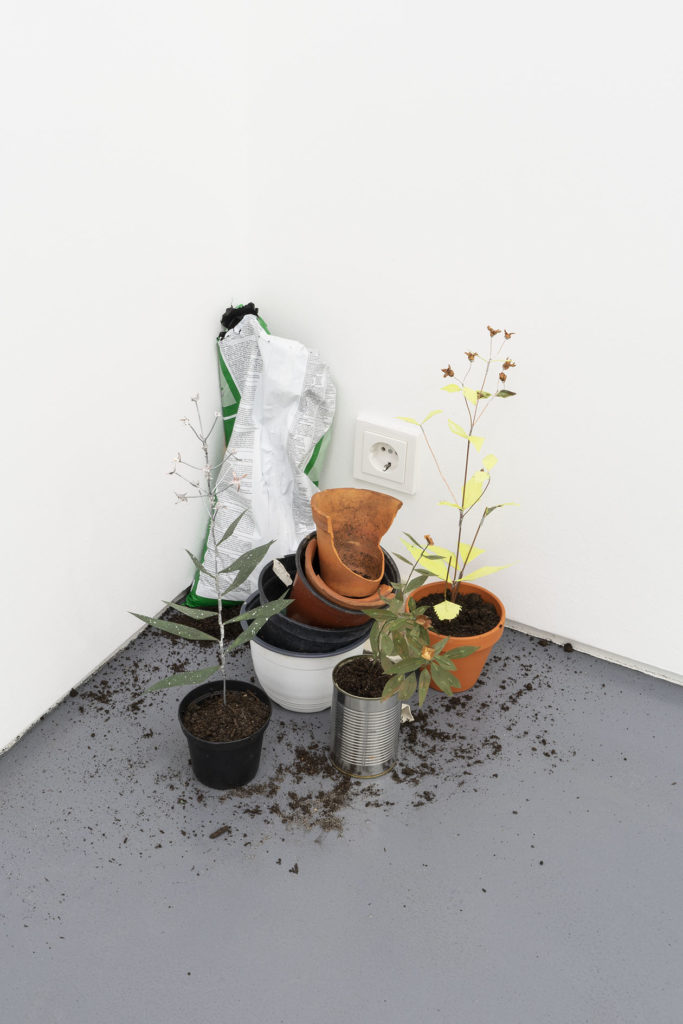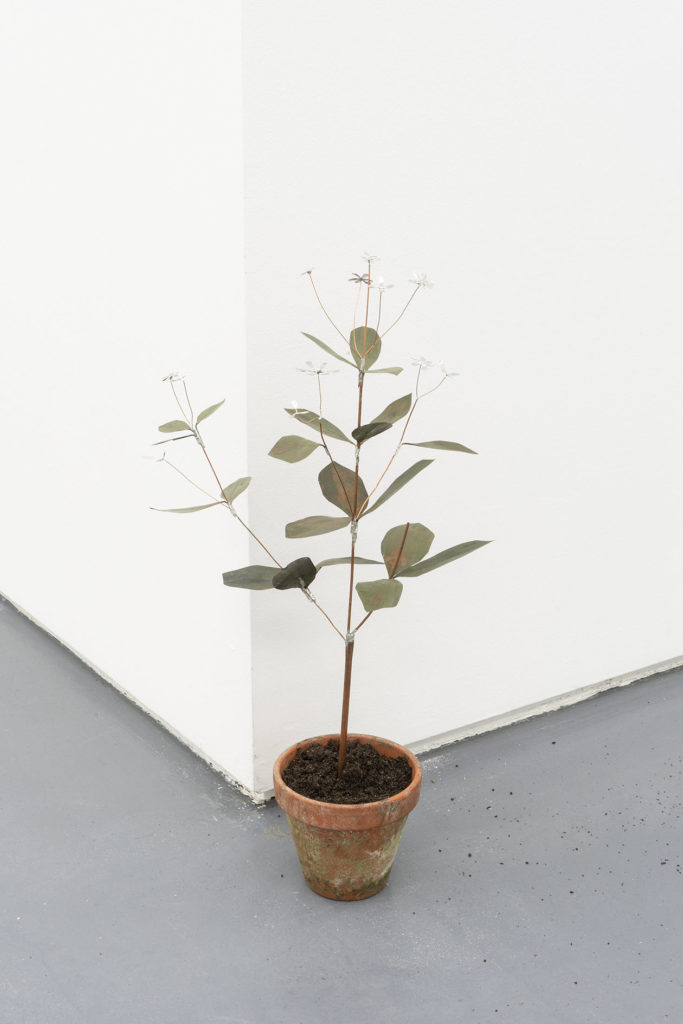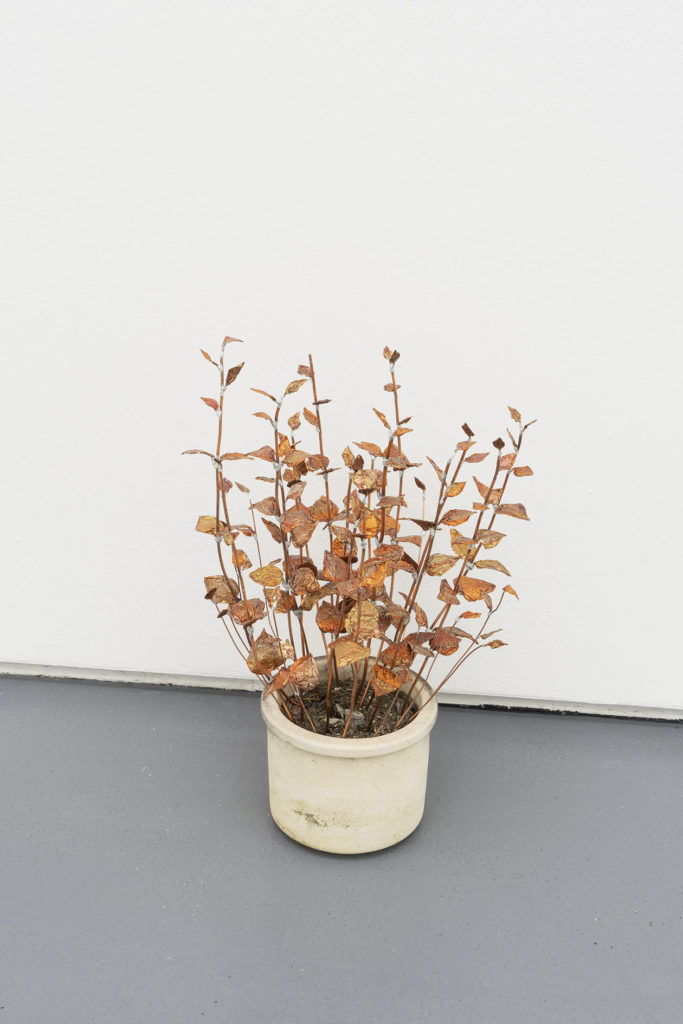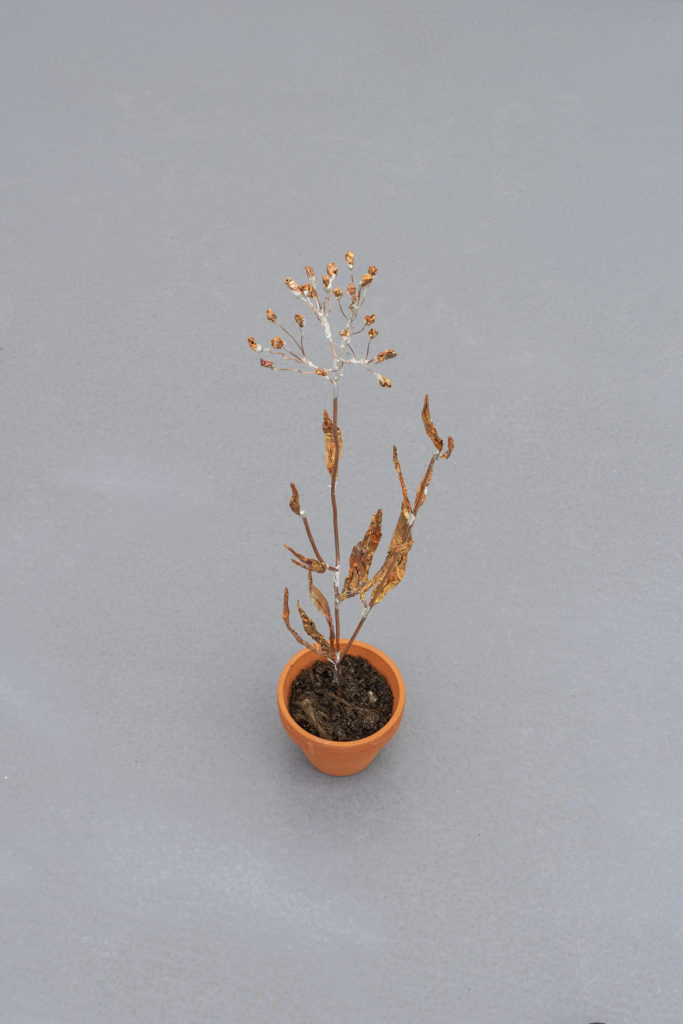 Copyright all photos: Best Quality Photography, Berlin
---
WAGEHE RAUFI Hidden Architect
February 15 – March 13, 2021
Text by Leonore Spemann
> press release
> check list
> 3D tour
Exhibition documentation: Best Quality Photography, Berlin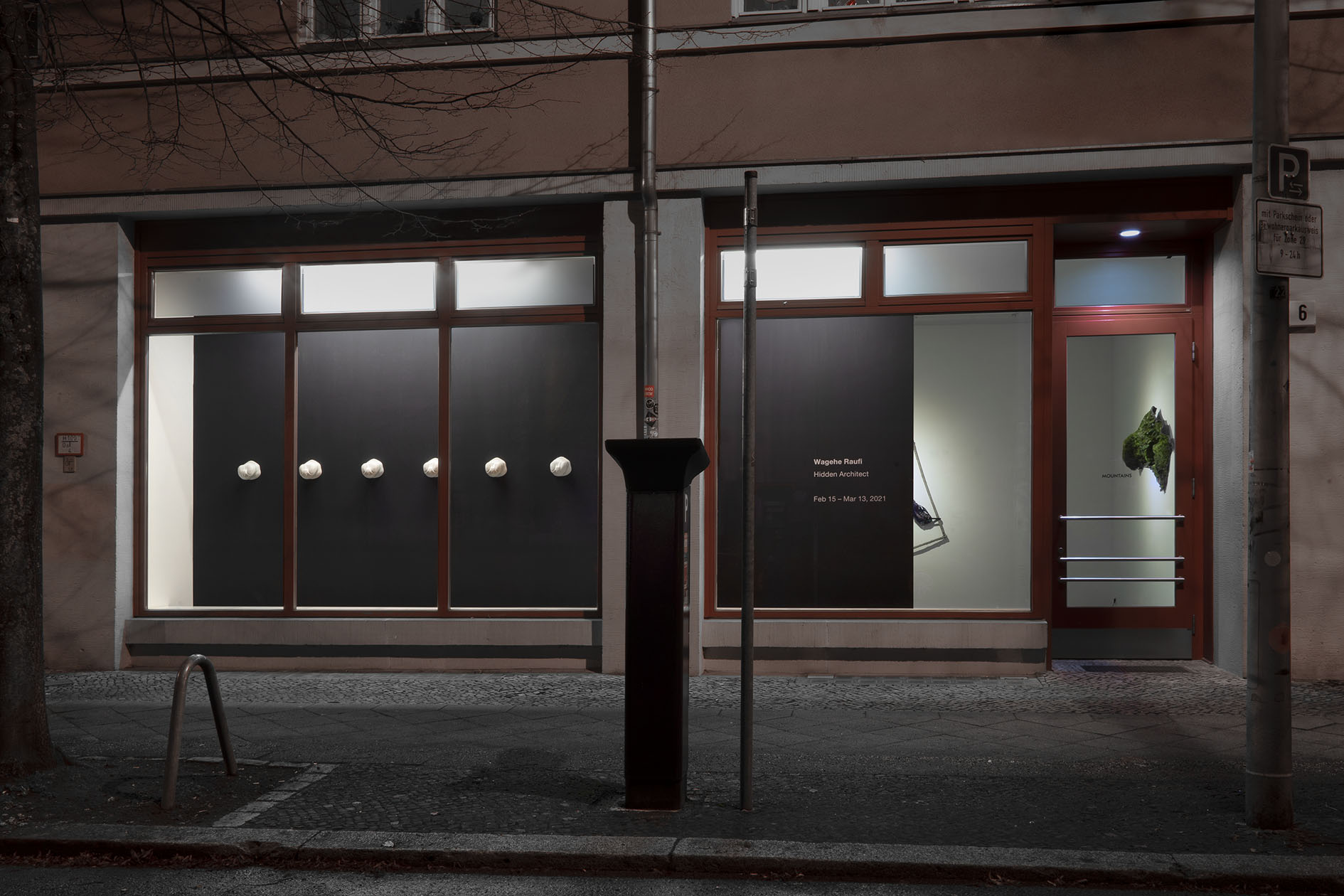 Exterior view

Installation view

Installation view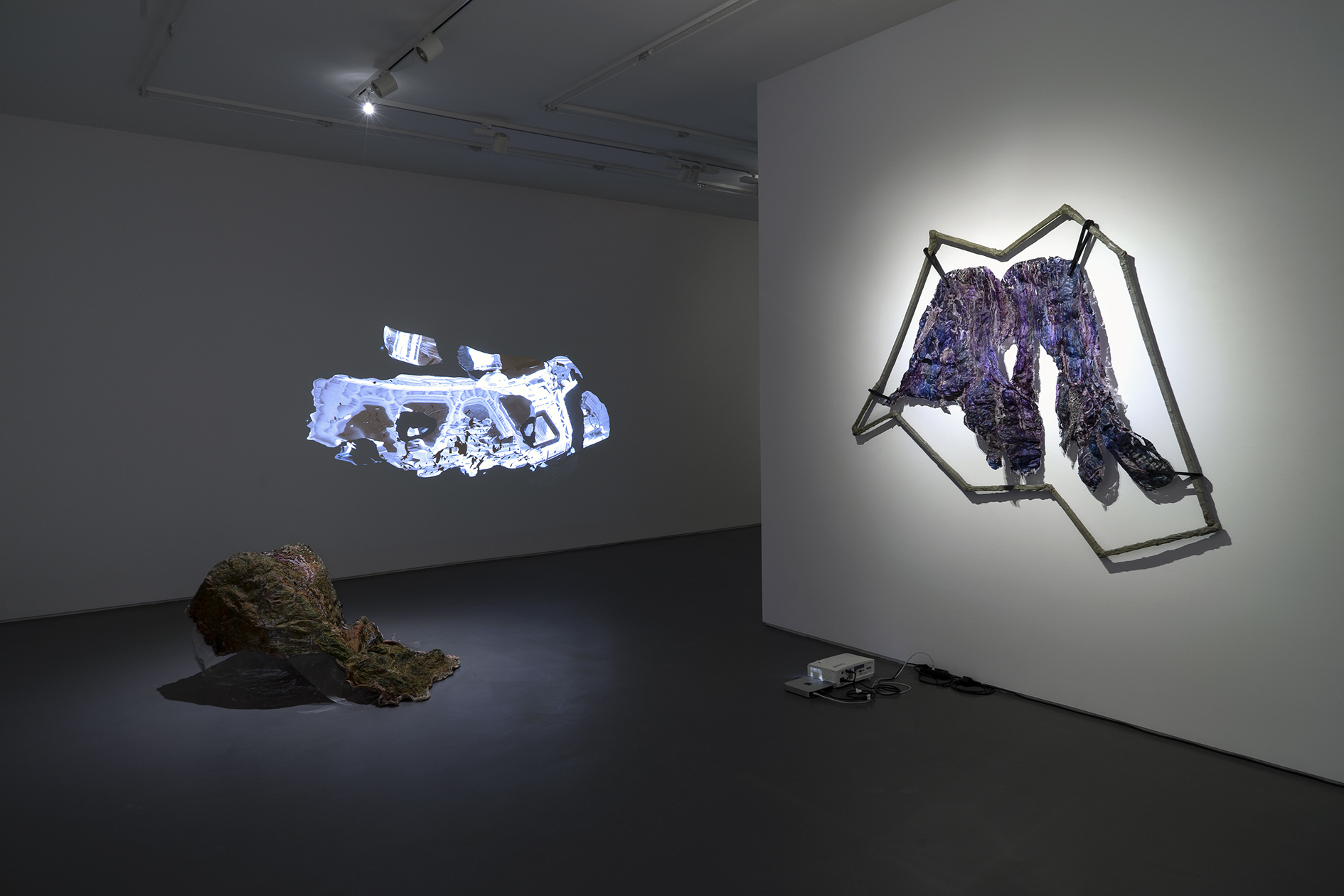 Installation view

Installation view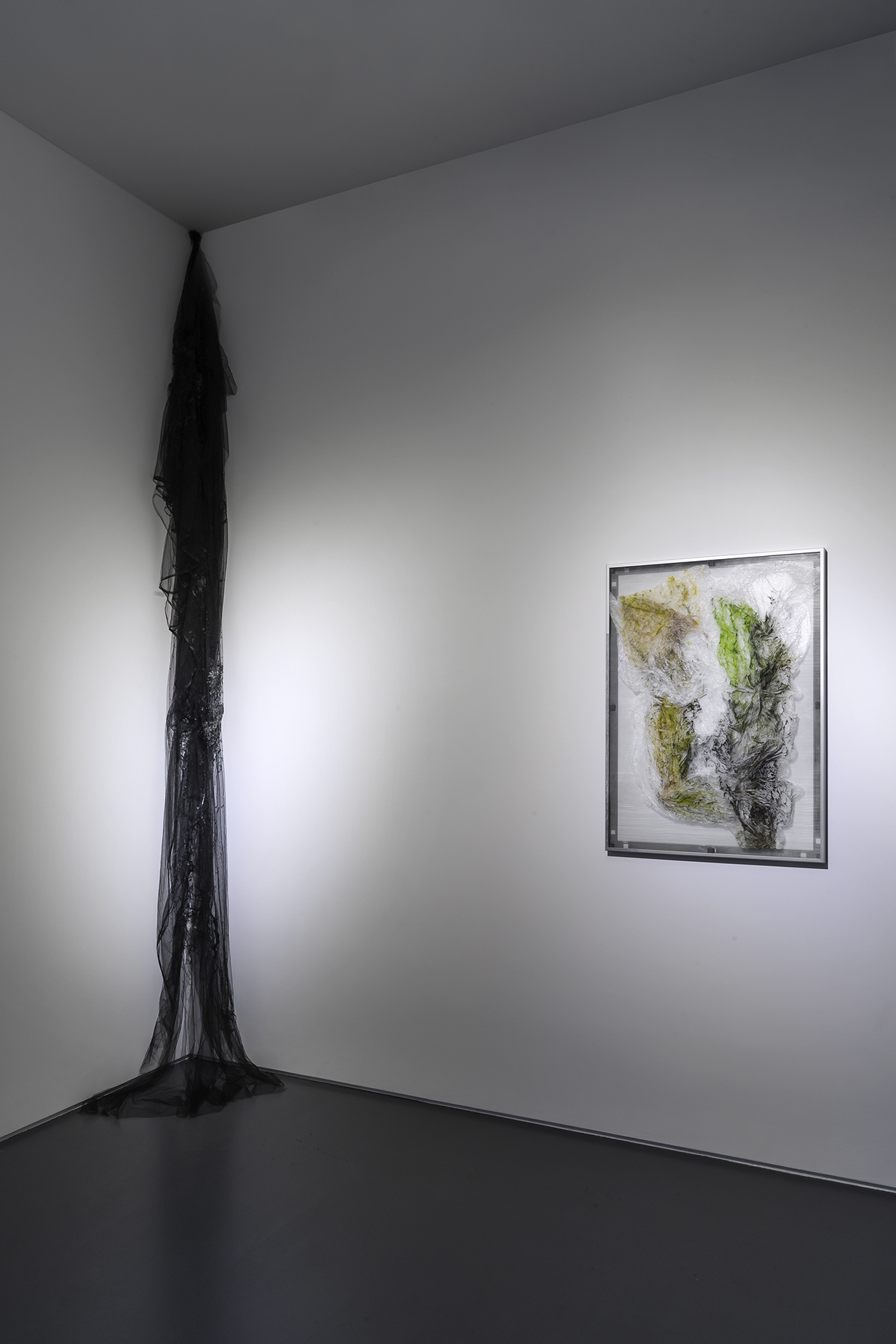 Installation view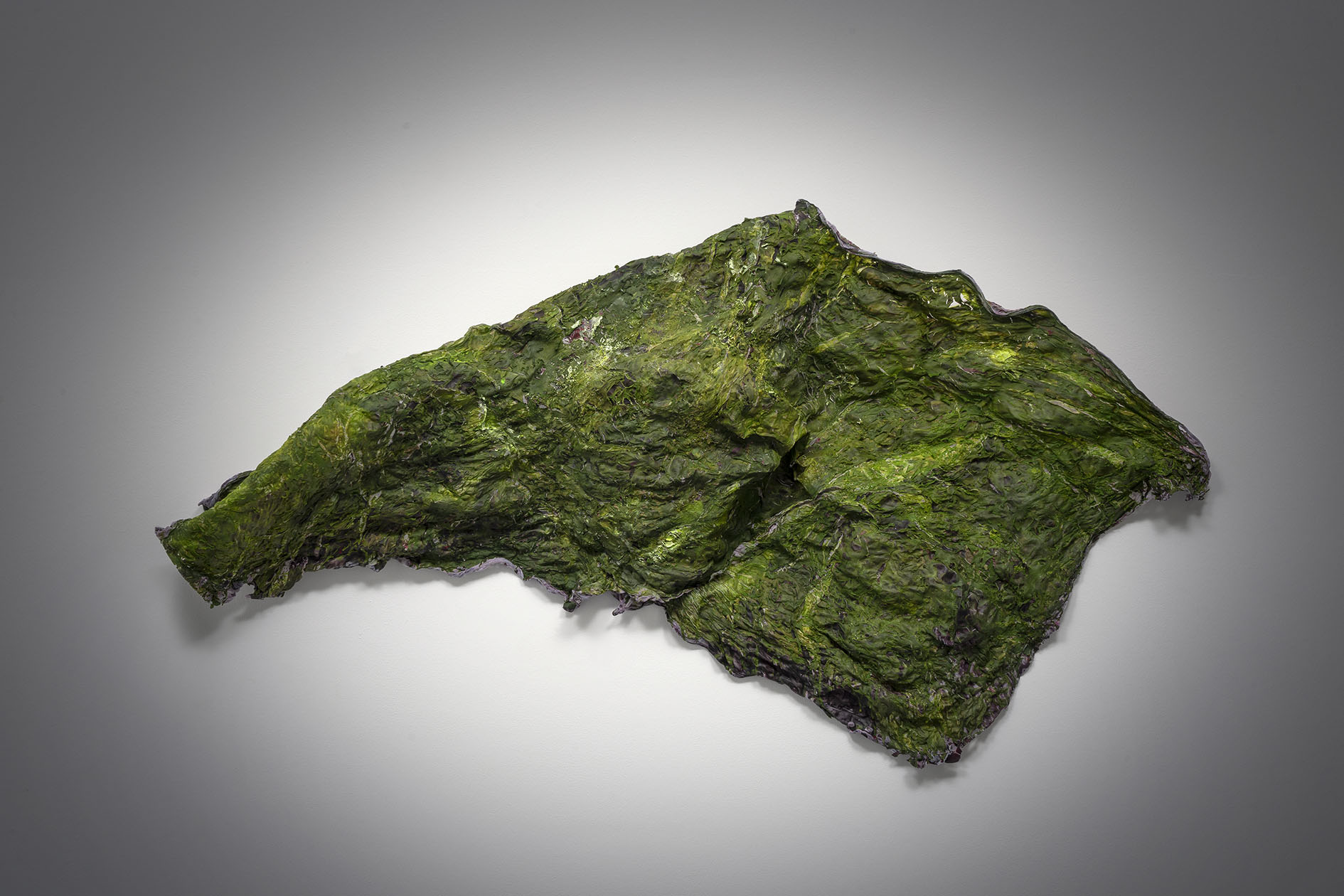 Wagehe Raufi, Untitled, 2019 | Textiles, pigment, ink, agar-agar, water-retaining granules | 92 × 167 × 22 cm (36.2 × 65.7 × 8.7 in)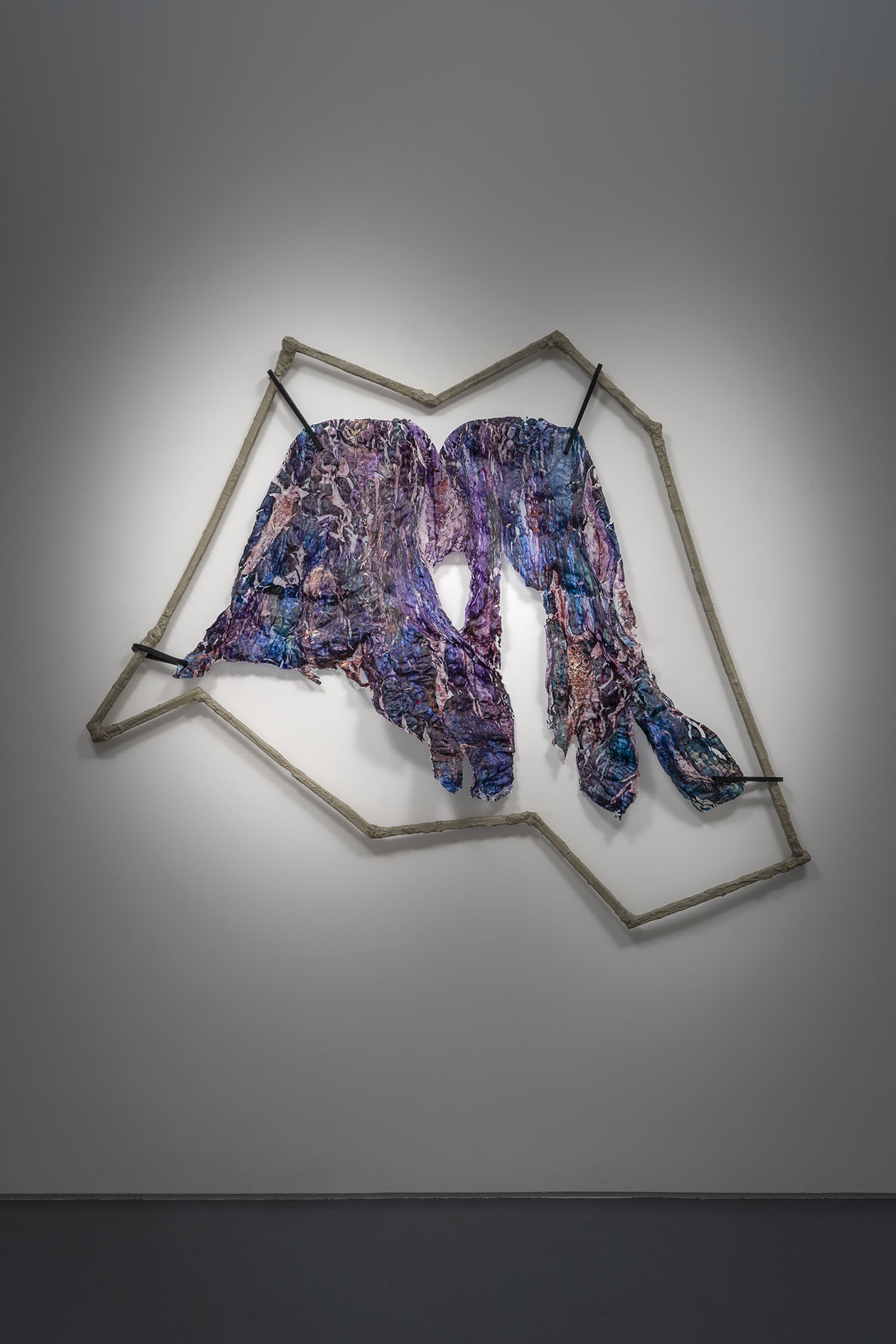 Wagehe Raufi, Untitled, 2021 | Textiles, pigment, ink, agar-agar, water-retaining granules, thibra, polylactide | 150 × 200 × 7 cm (59.1 × 78.7 × 2.8 in)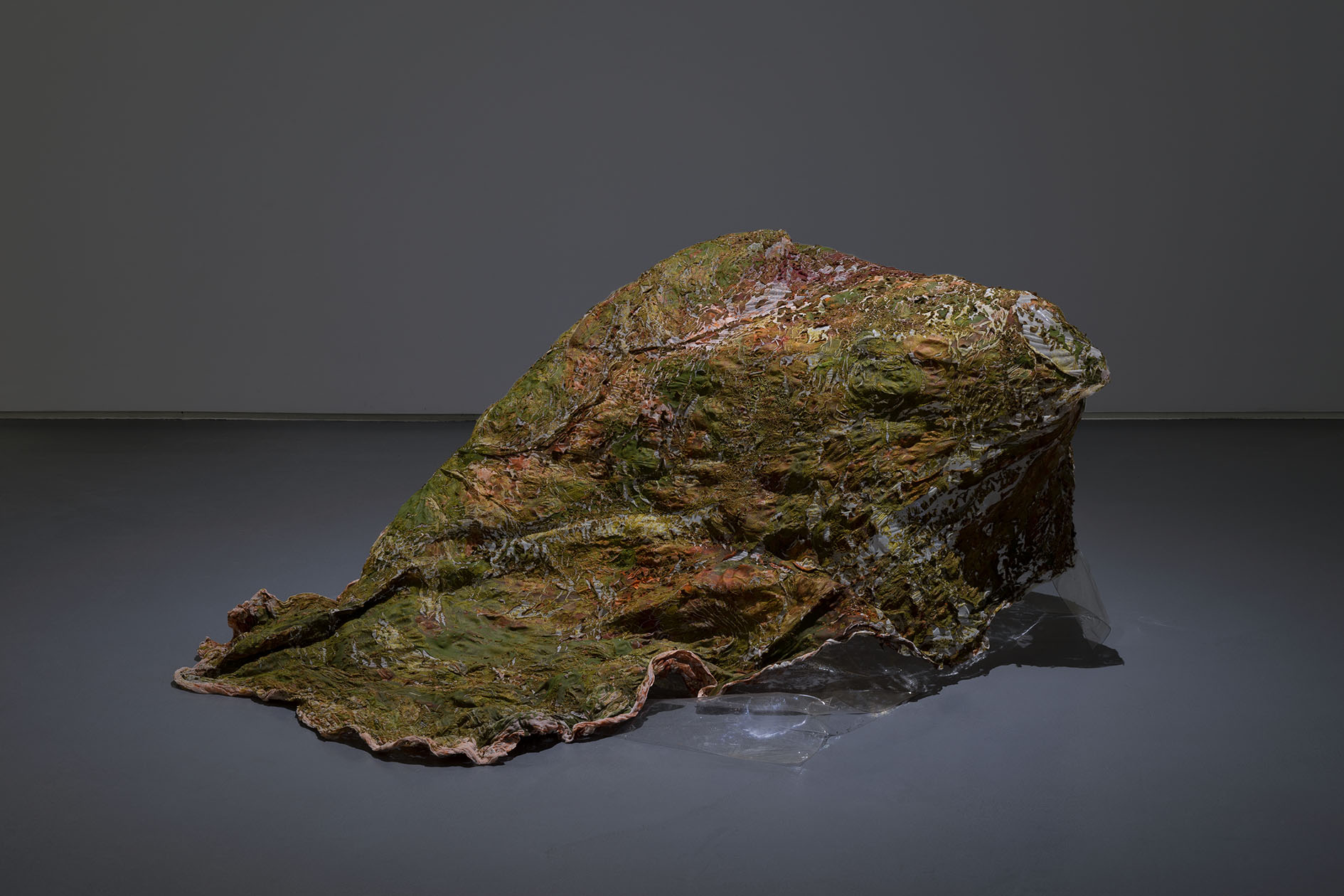 Wagehe Raufi, blob, 2019 | Thermoplastic material, textiles, pigment, ink, agar-agar, water-retaining granules | 75 × 130 × 160 cm (29.5 × 51.2 × 63 in)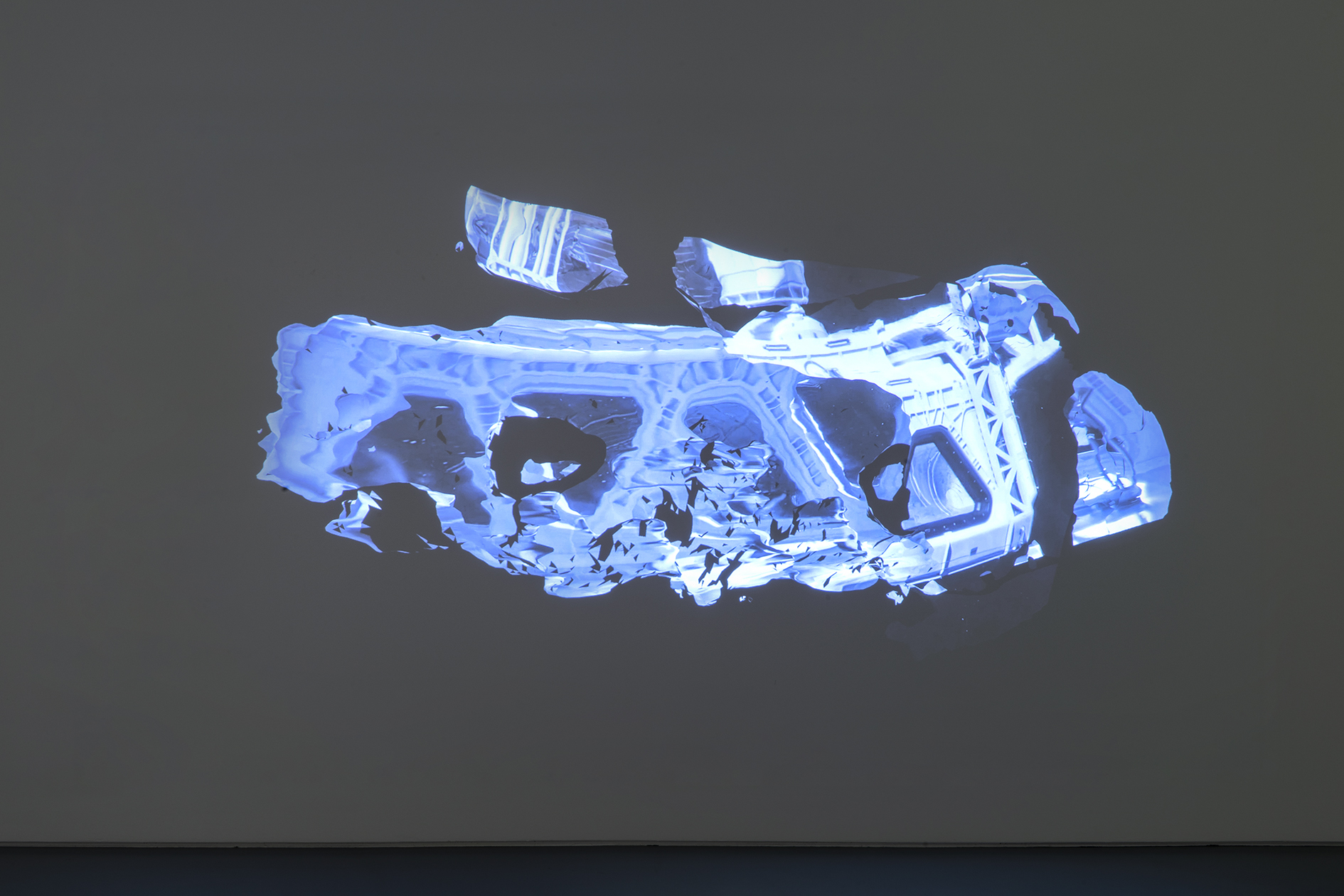 Wagehe Raufi, hidden architect – moths as mess, 2020 | Single channel 4K video, color, sound | 11 minutes 18 seconds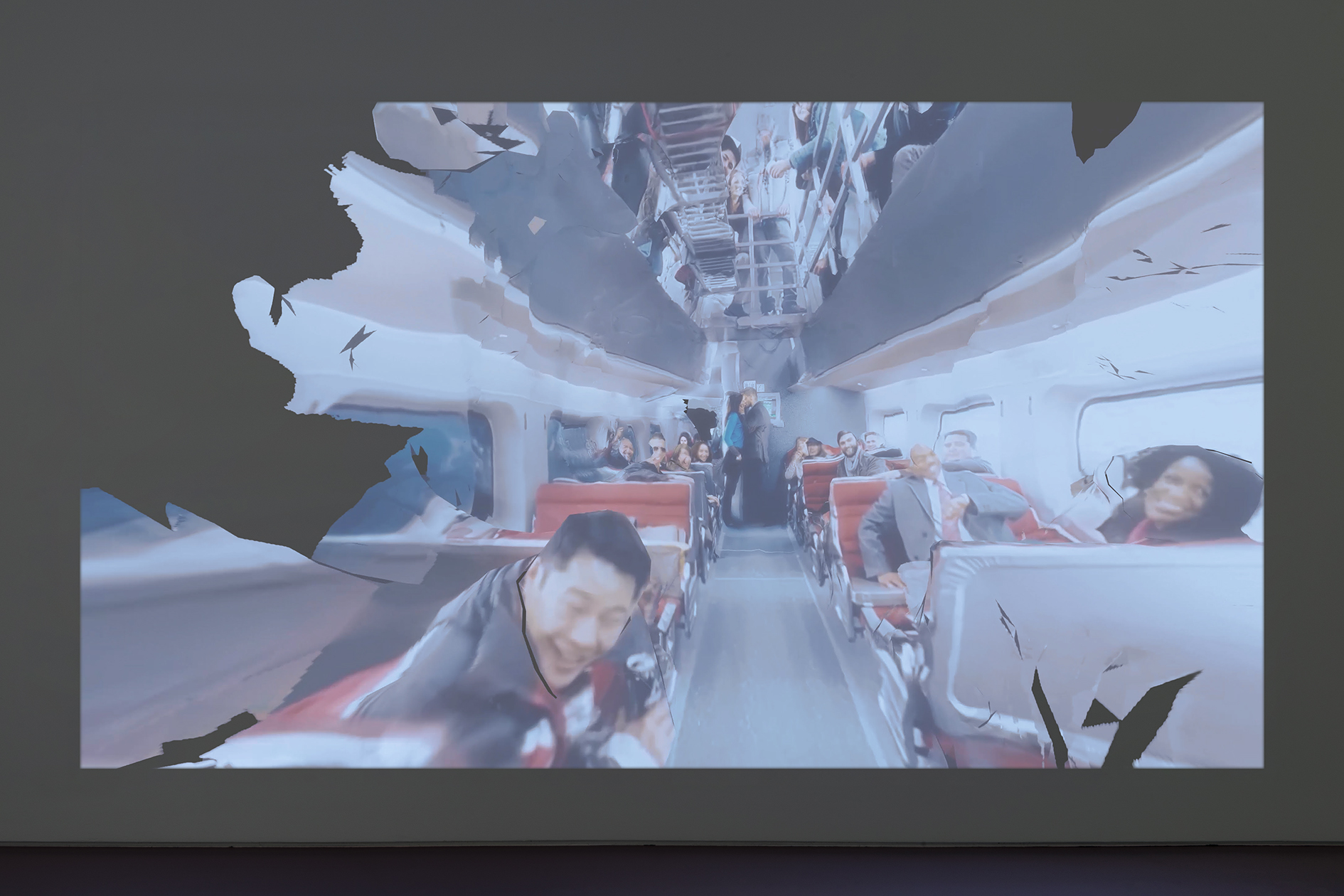 Wagehe Raufi, hidden architect – moths as mess, 2020 | Single channel 4K video, color, sound | 11 minutes 18 seconds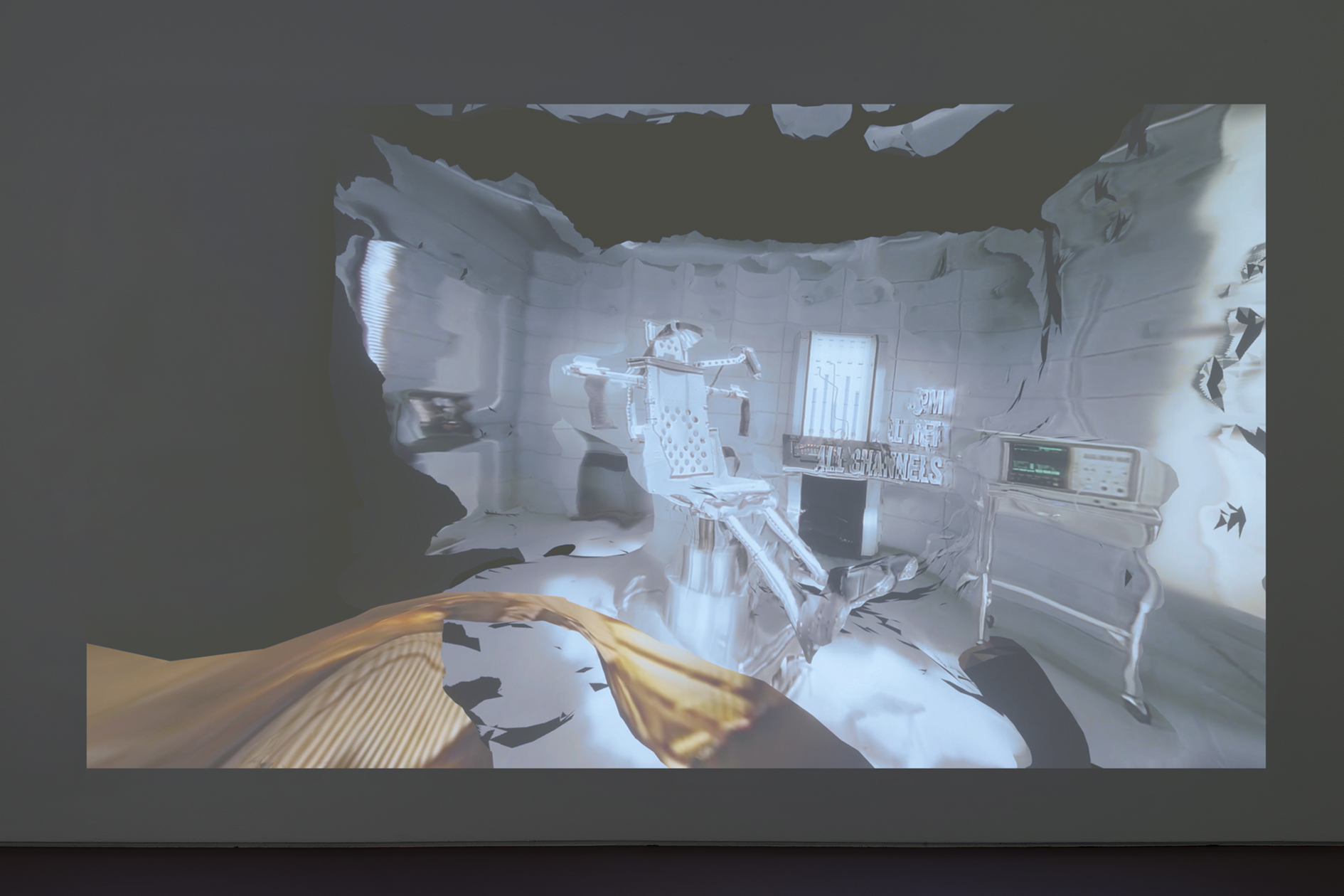 Wagehe Raufi, hidden architect – moths as mess, 2020 | Single channel 4K video, color, sound | 11 minutes 18 seconds

Wagehe Raufi, hidden architect – moths as mess, 2020 | Single channel 4K video, color, sound | 11 minutes 18 seconds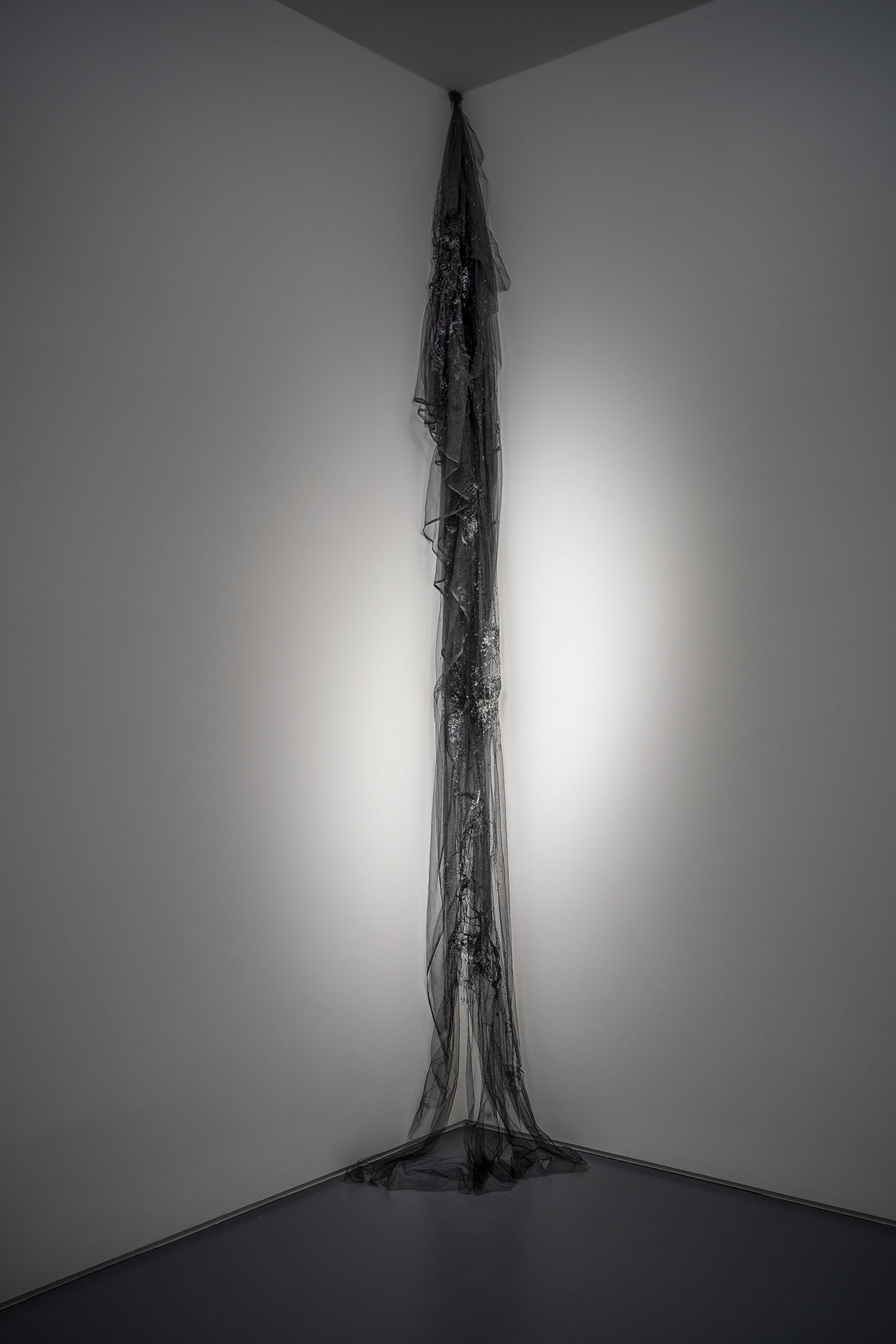 Wagehe Raufi, Untitled (black widow), 2021 | Mesh, pigment, agar-agar, water-retaining granules | 365 × 23 × 23 cm (143.7 × 9.1 × 9.1 in)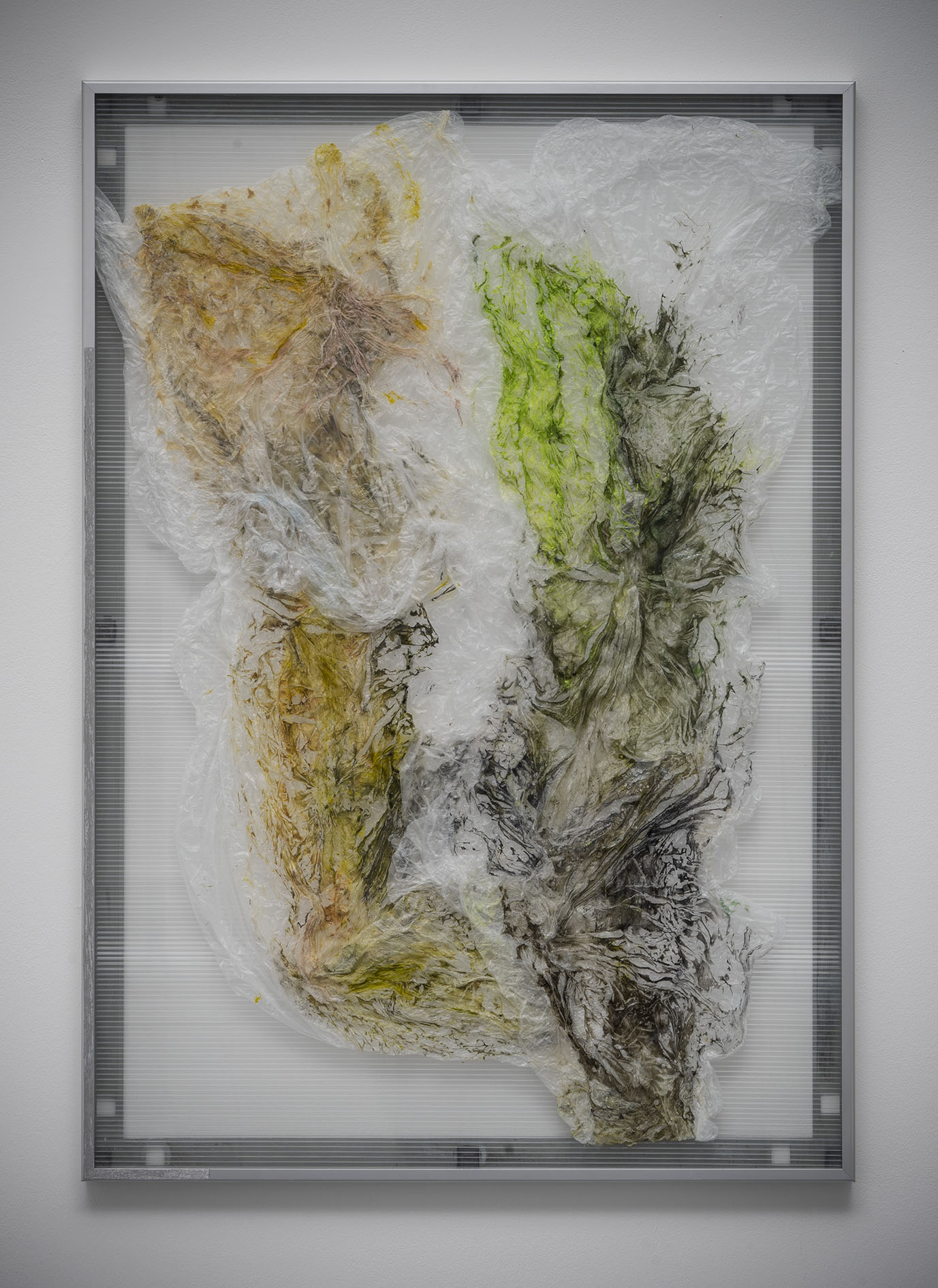 Wagehe Raufi, snake detection frame, 2020 | Plastics, pigment, ink, agar-agar, water-retaining granules, aluminum, acrylic glass | 101 × 71 × 3 cm (39.8 × 28 × 1.2 in)
---
BOUTIQUE
December 6, 2020 – January 31, 2021
Shop window
Guy Allott, Lauren Coullard, Sophia Domagala, Max Geisler, Brigitte Nicole Grice, John Matthew Heard, Stephanie Kloss, Eric Meier, Sarah Reva Mohr, José Montealegre, Olivia Parkes, Wagehe Raufi, Laura Schusinski, Yana Tsegay, Norbert Witzgall, Sonja Yakovleva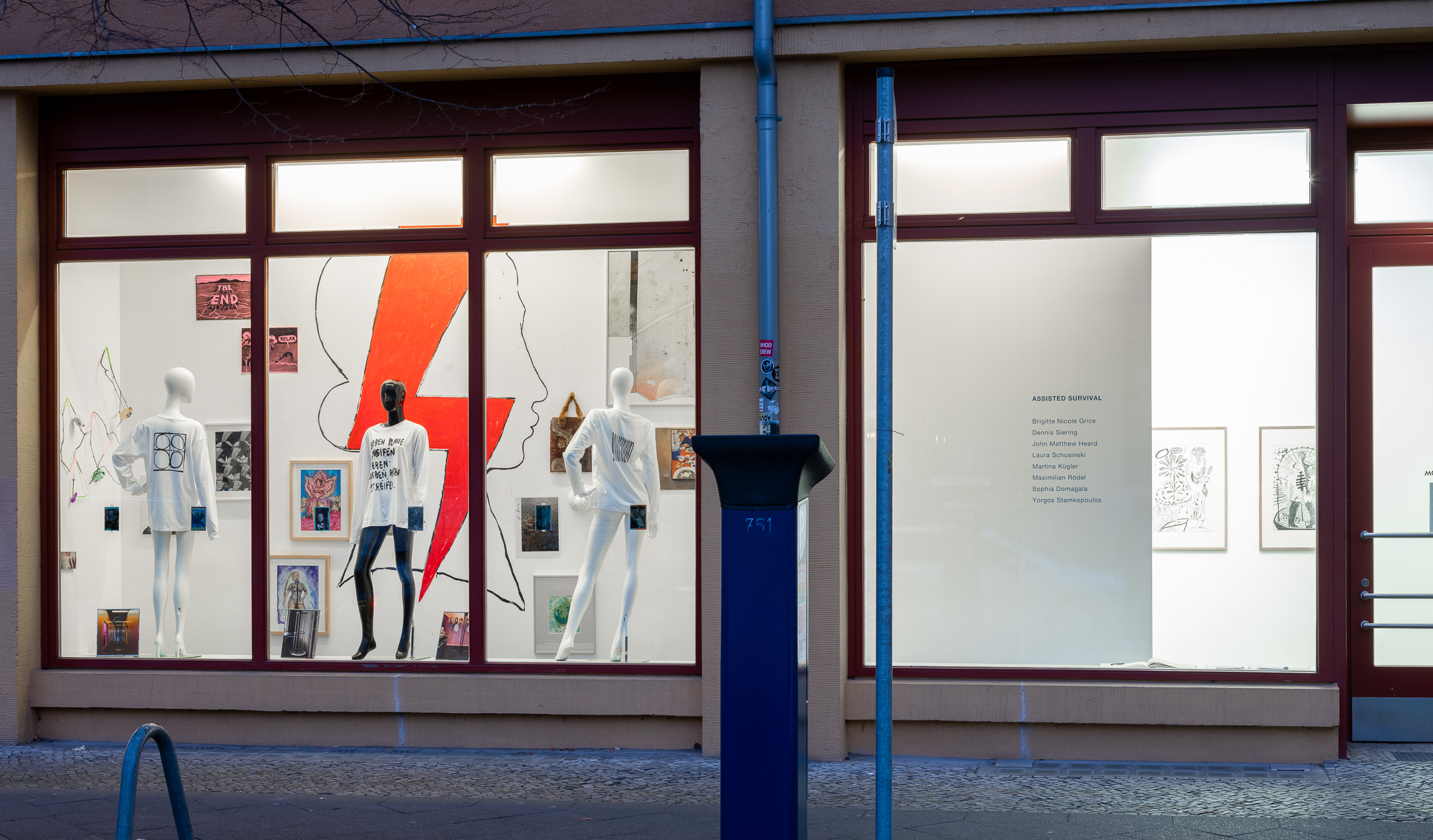 ---
ASSISTED SURVIVAL
October 9 – January 31, 2021
Brigitte Nicole Grice
Dennis Siering
John Matthew Heard
Laura Schusinski
Martina Kügler
Maximilian Rödel
Sophia Domagala
Yorgos Stamkopoulos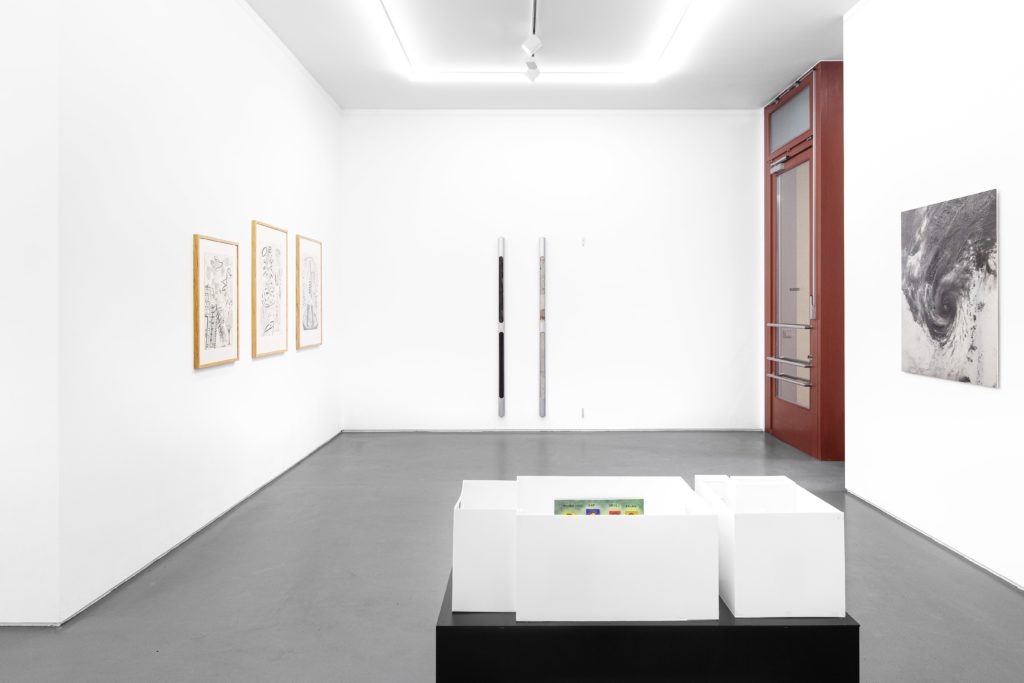 ASSISTED SURVIVAL – MARTINA KÜGLER, JOHN MATTHEW HEARD, DENNIS SIERING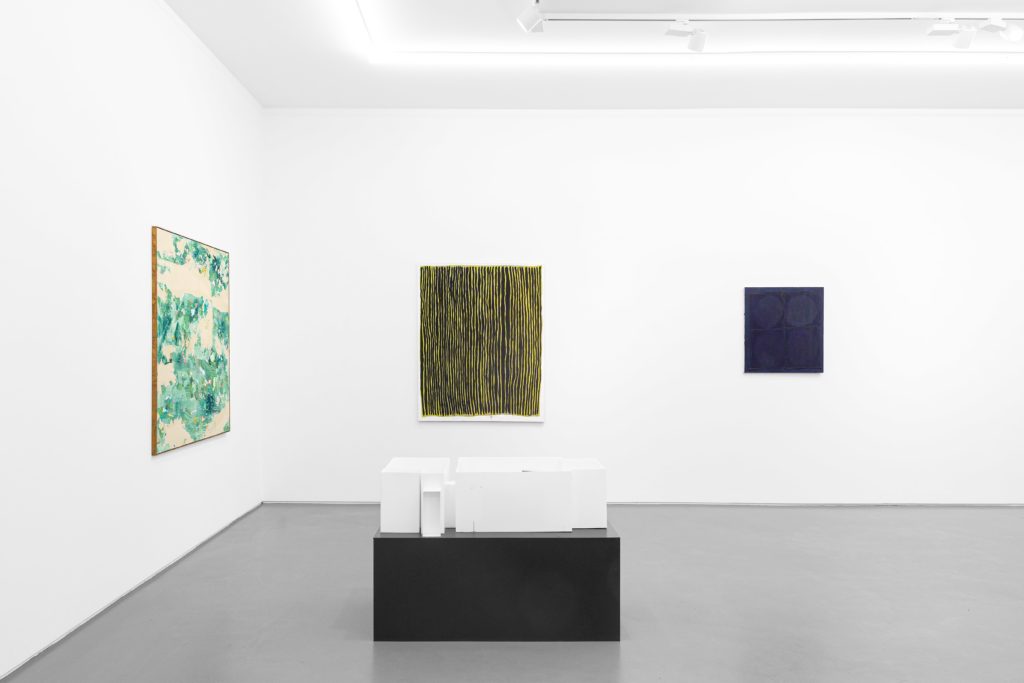 ASSISTED SURVIVAL – YORGOS STAMKOPOULOS, JOHN MATTHEW HEARD, SOPHIA DOMAGALA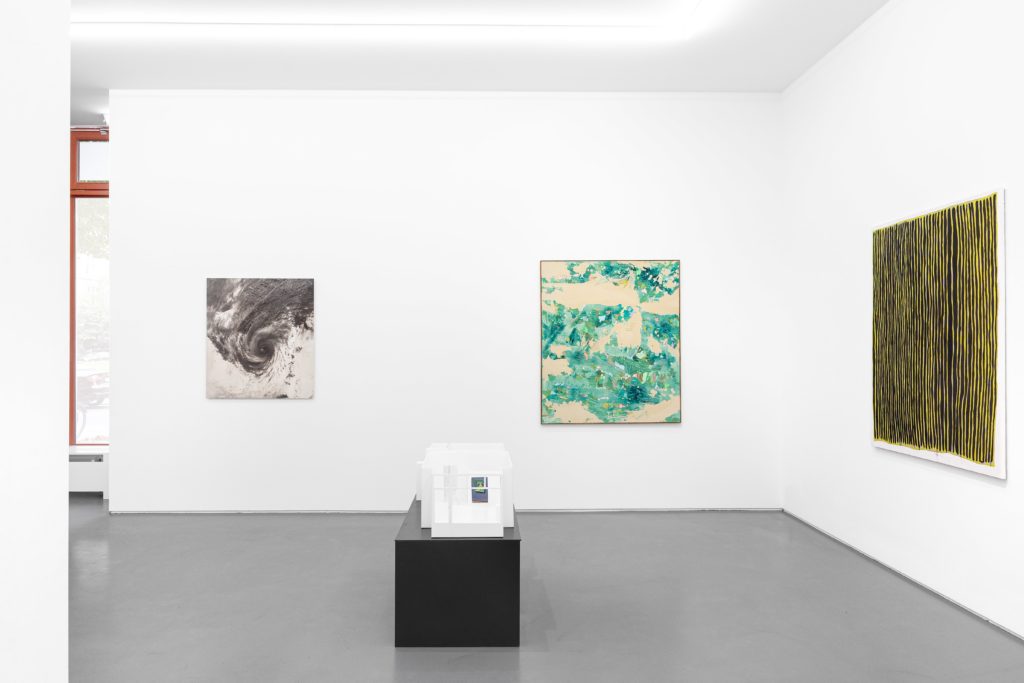 ASSISTED SURVIVAL – DENNIS SIERING, JOHN MATTHEW HEARD, YORGOS STAMKOPOULOS, SOPHIA DOMAGALA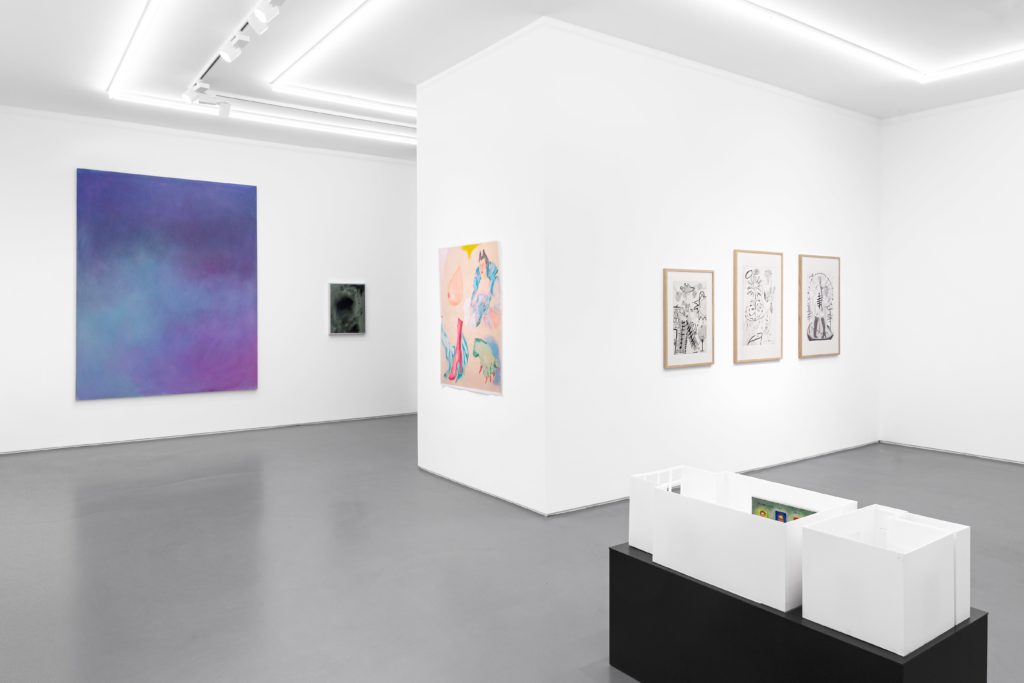 ASSISTED SURVIVAL – LAURA SCHUSINSKI, MAXIMILIAN RÖDEL, DENNIS SIERING, BRIGITTE NICOLE GRICE, MARTINA KÜGLER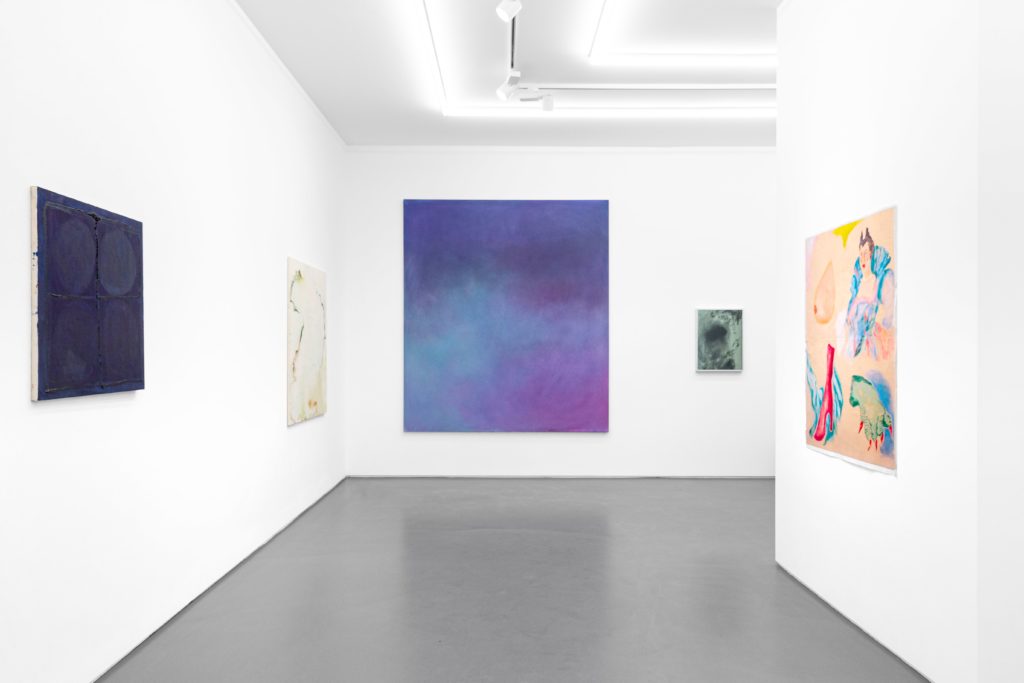 ASSISTED SURVIVAL – SOPHIA DOMAGALA, LAURA SCHUSINSKI, MAXIMILIAN RÖDEL, DENNIS SIERING, BRIGITTE NICOLE GRICE

ASSISTED SURVIVAL – JOHN MATTHEW HEARD, LAURA SCHUSINSKI, MAXIMILAIN RÖDEL, DENNIS SIERING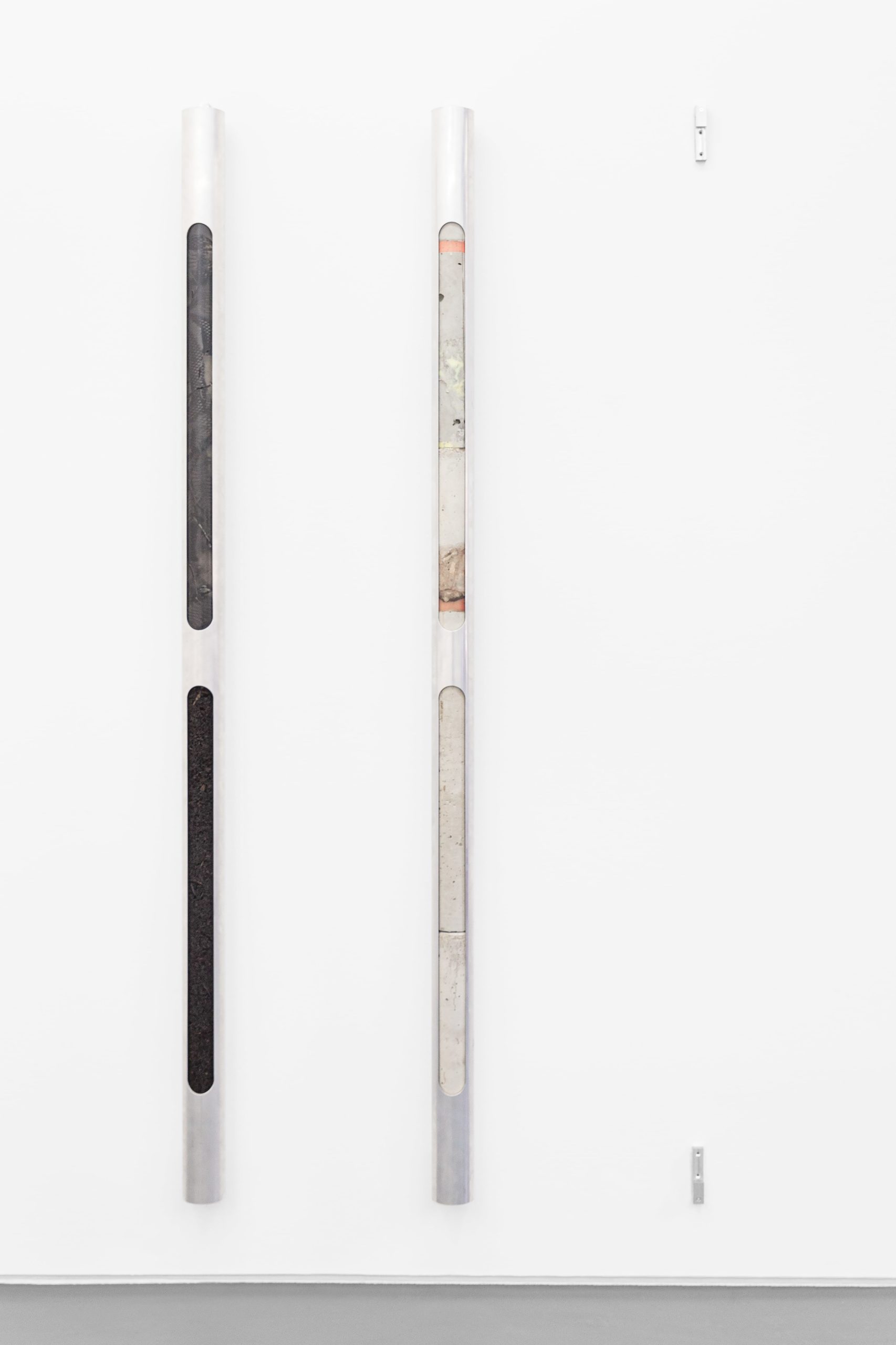 ASSISTED SURVIVAL – DENNIS SIERING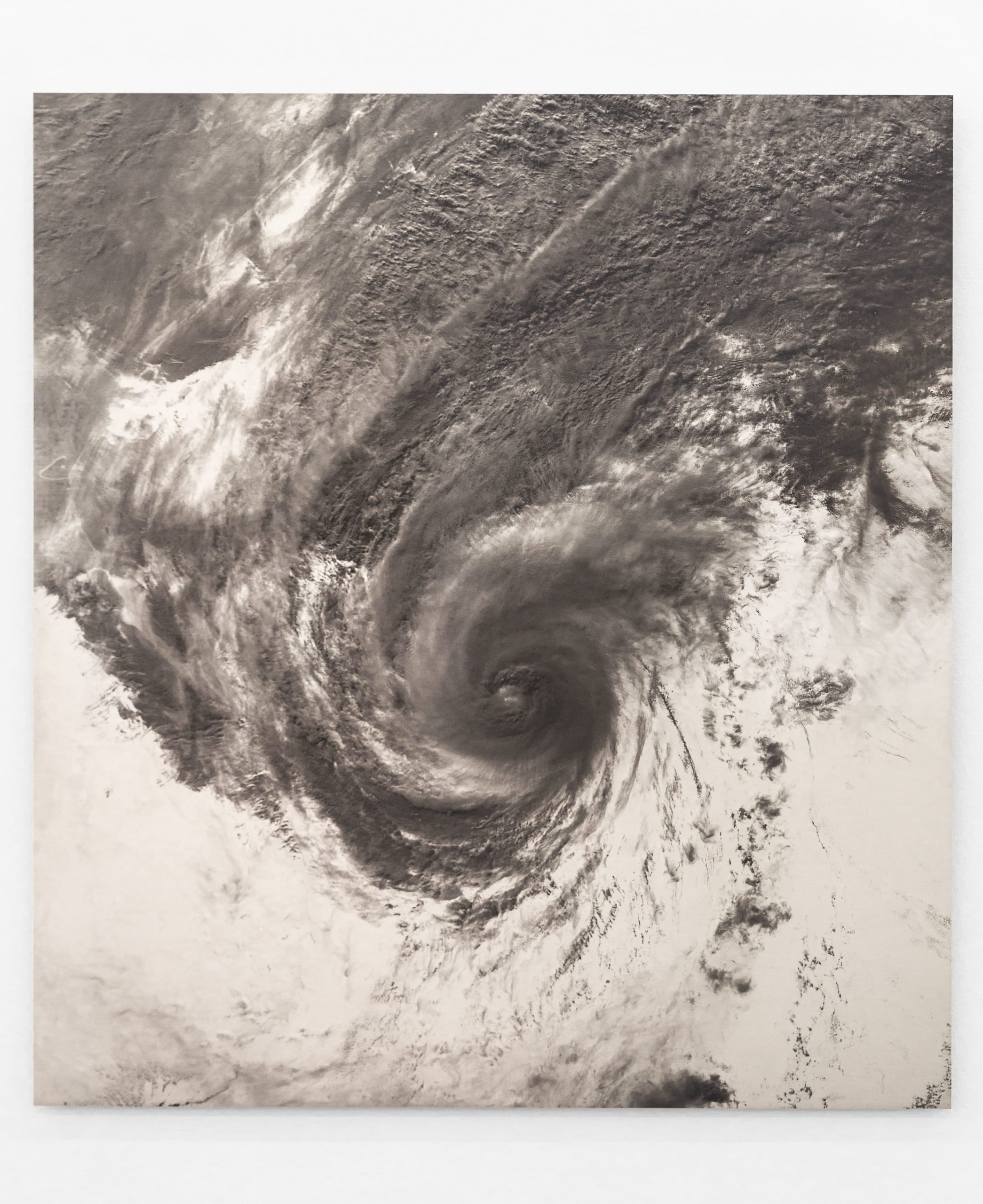 ASSISTED SURVIVAL – DENNIS SIERING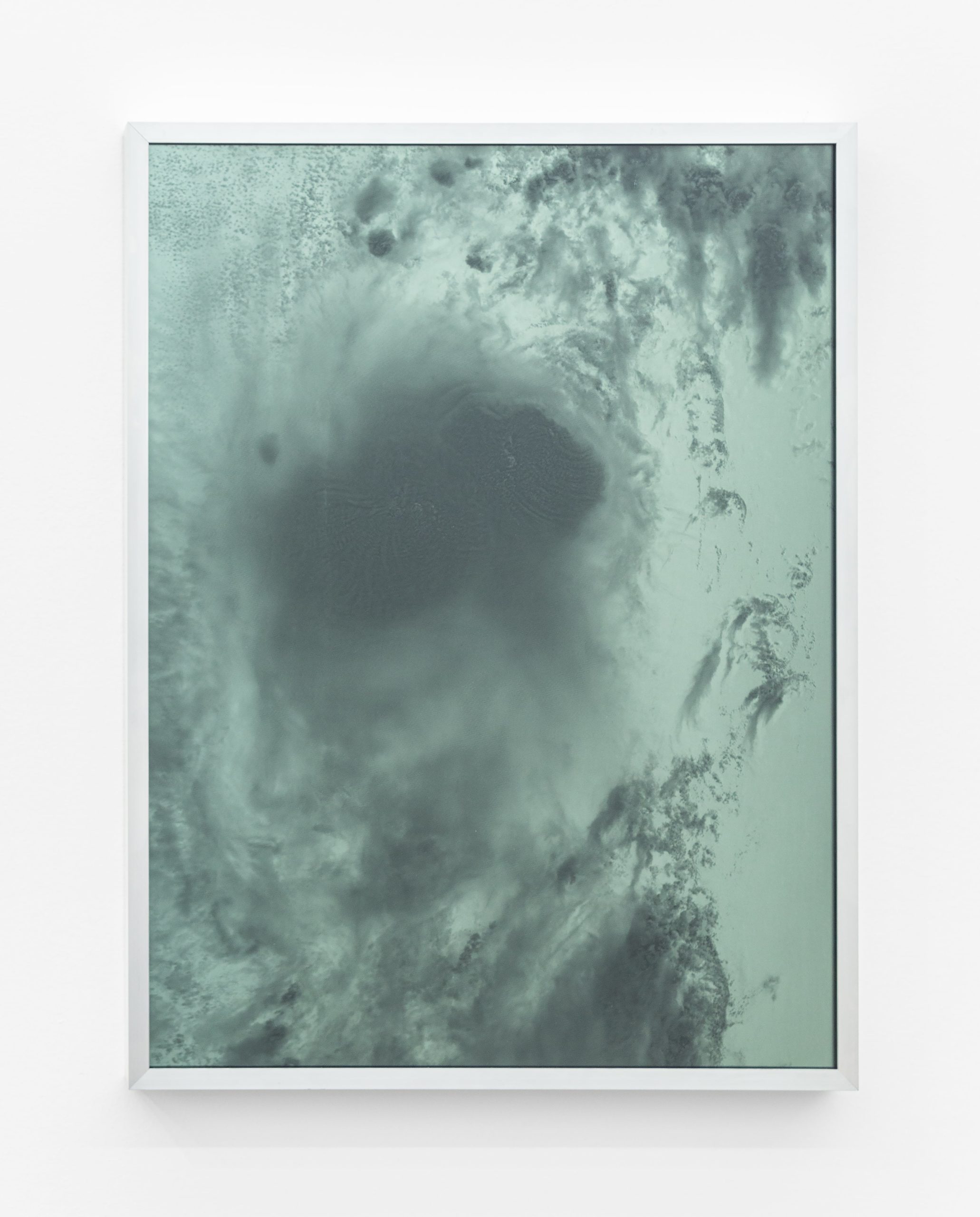 ASSISTED SURVIVAL – DENNIS SIERING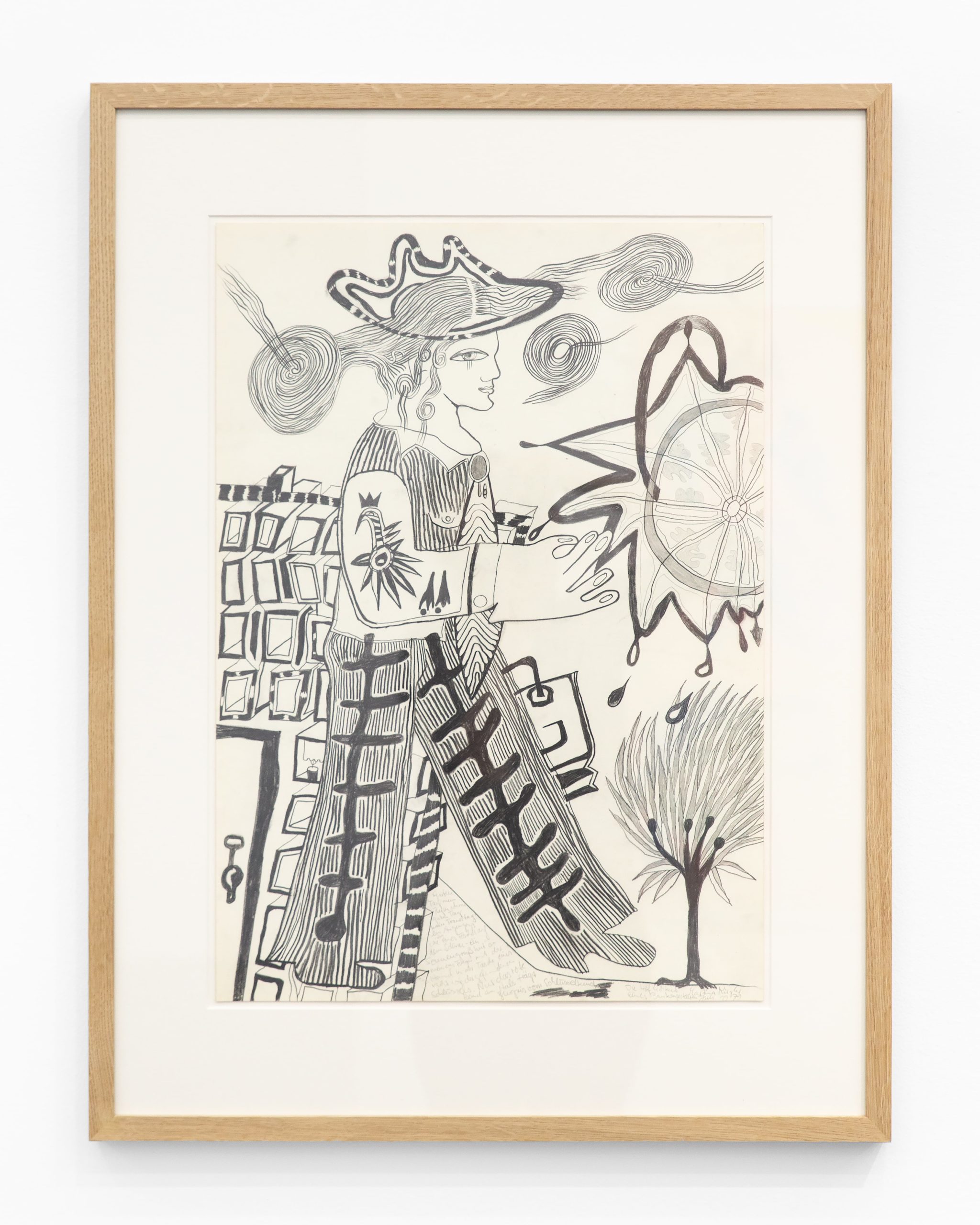 ASSISTED SURVIVAL – MARTINA KÜGLER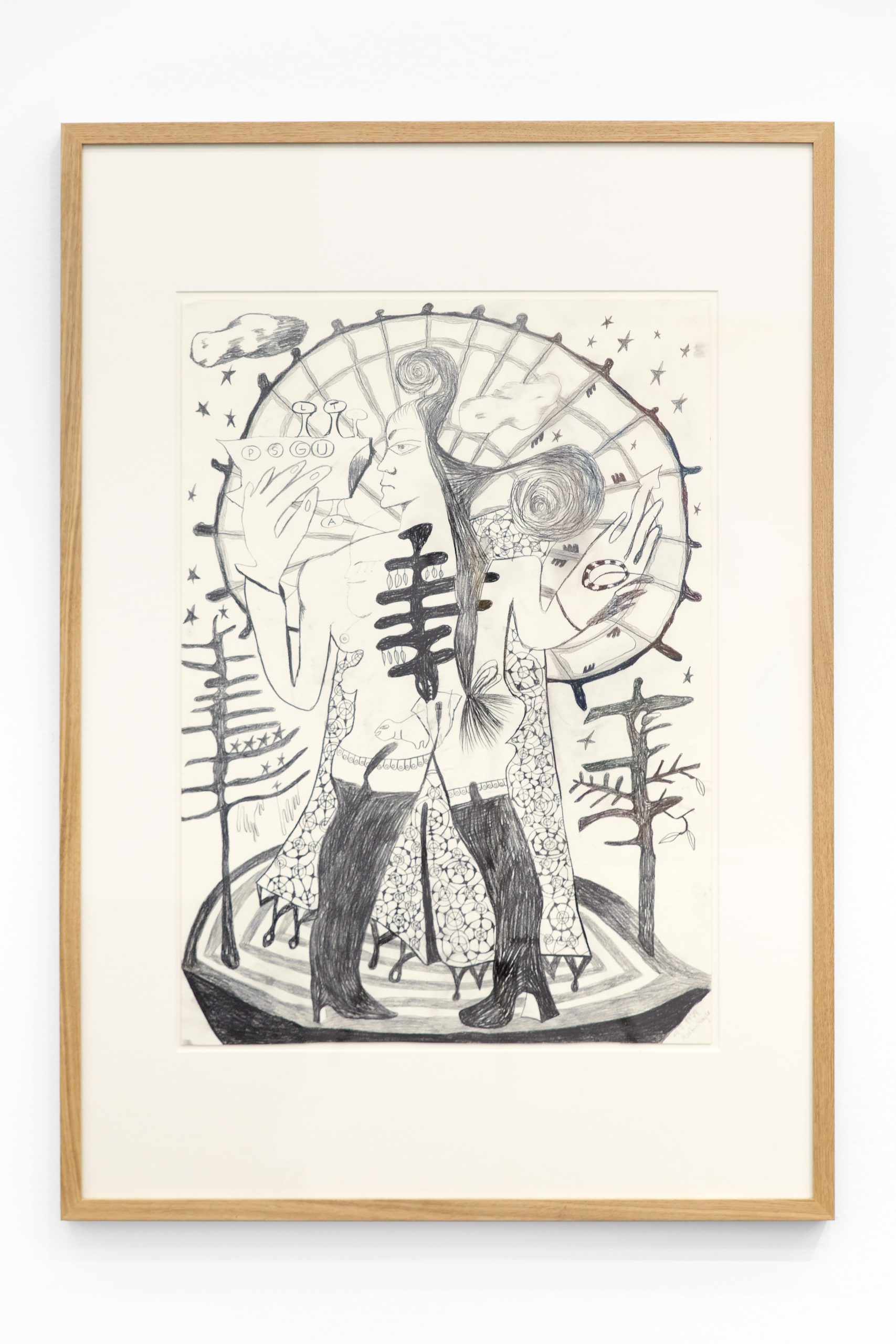 ASSISTED SURVIVAL – MARTINA KÜGLER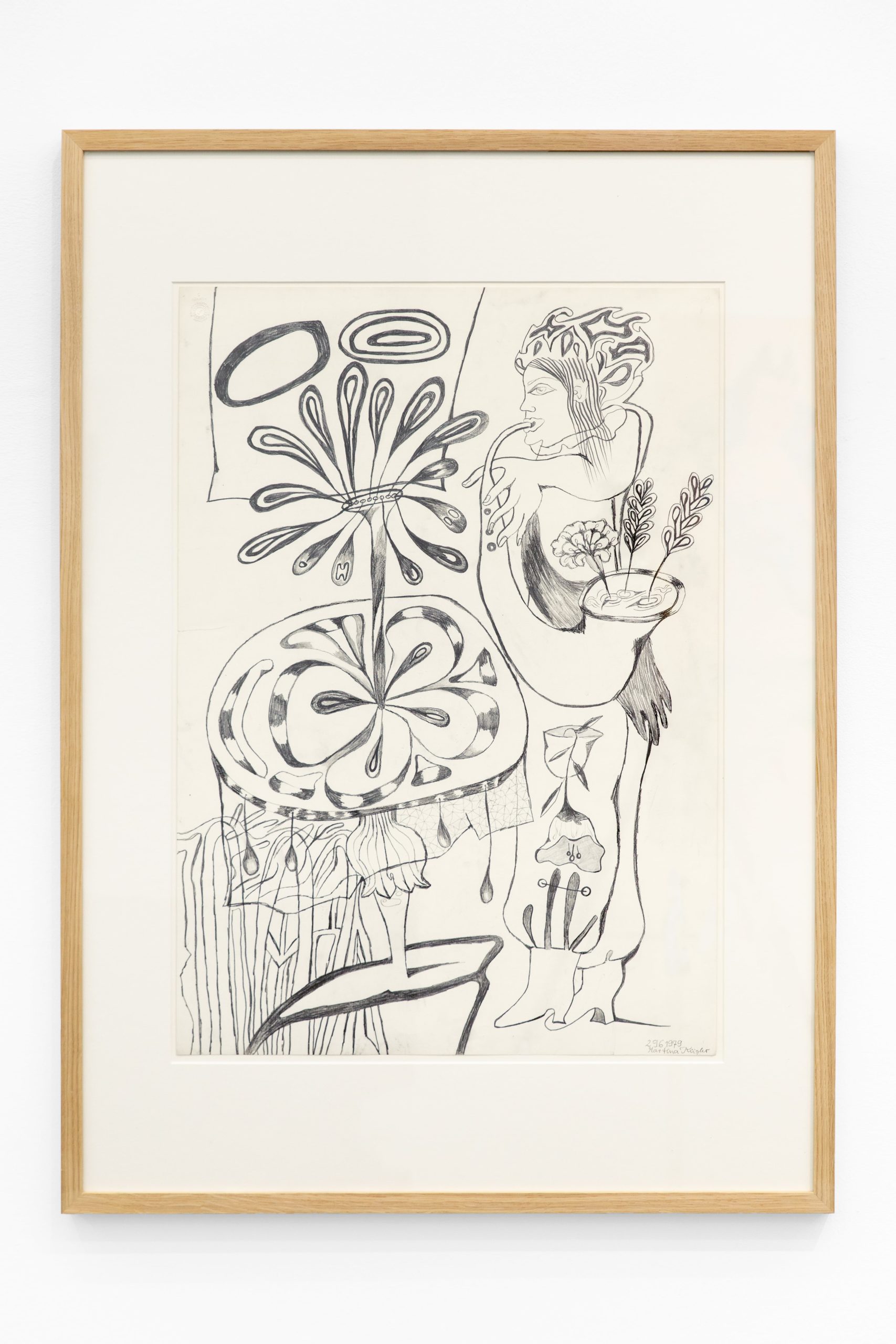 ASSISTED SURVIVAL – MARTINA KÜGLER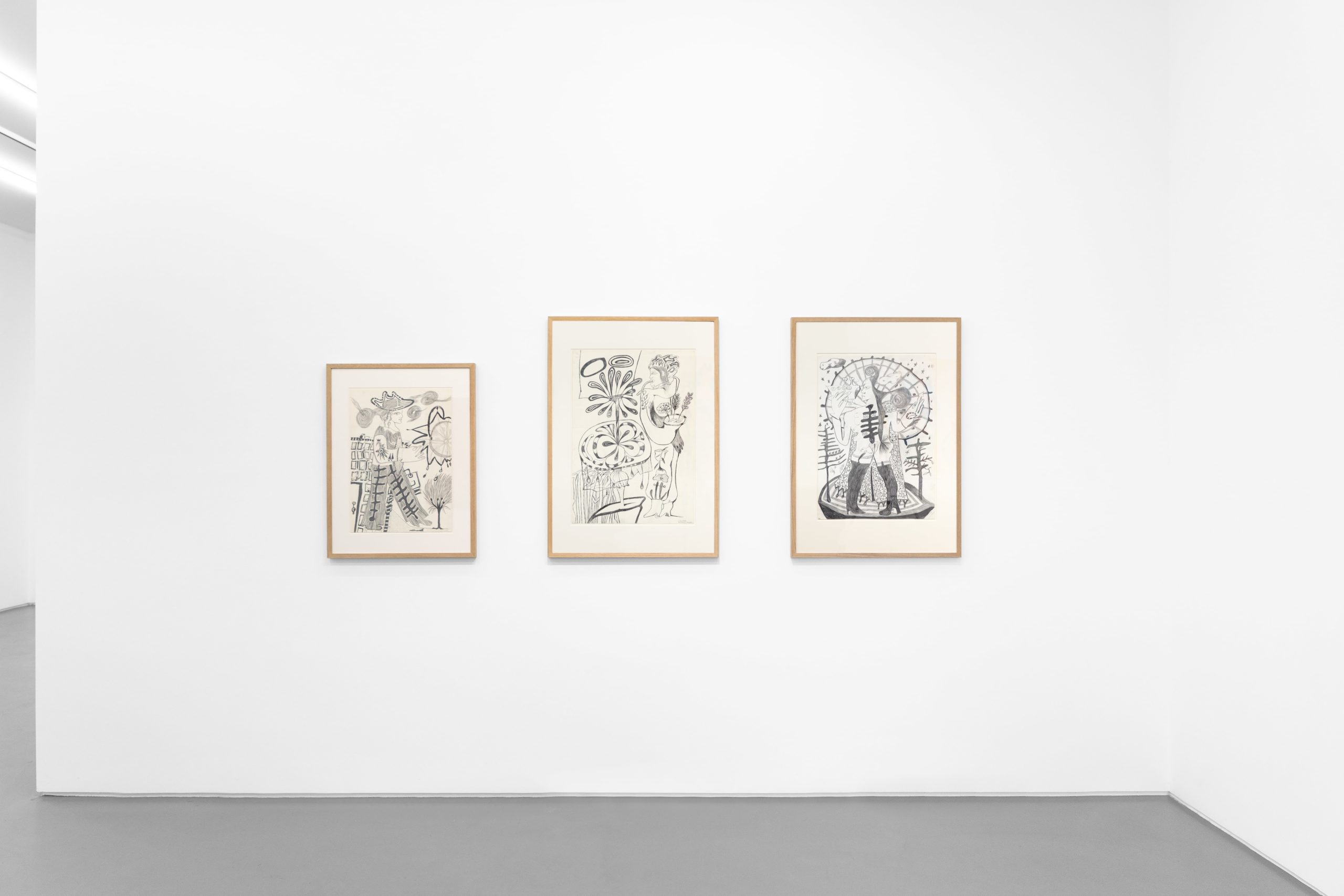 ASSISTED SURVIVAL – MARTINA KÜGLER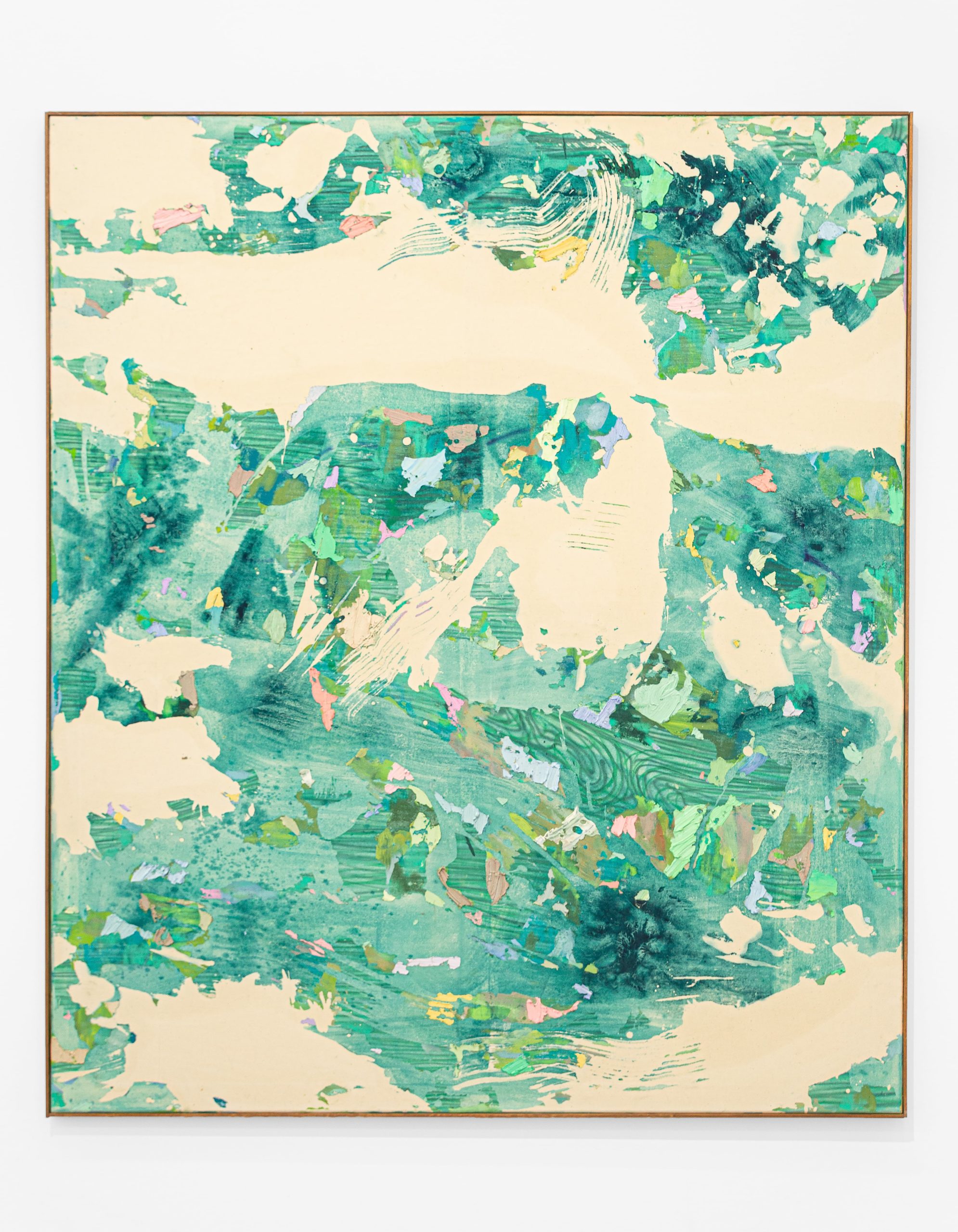 ASSISTED SURVIVAL – YORGOS STAMKOPOULOS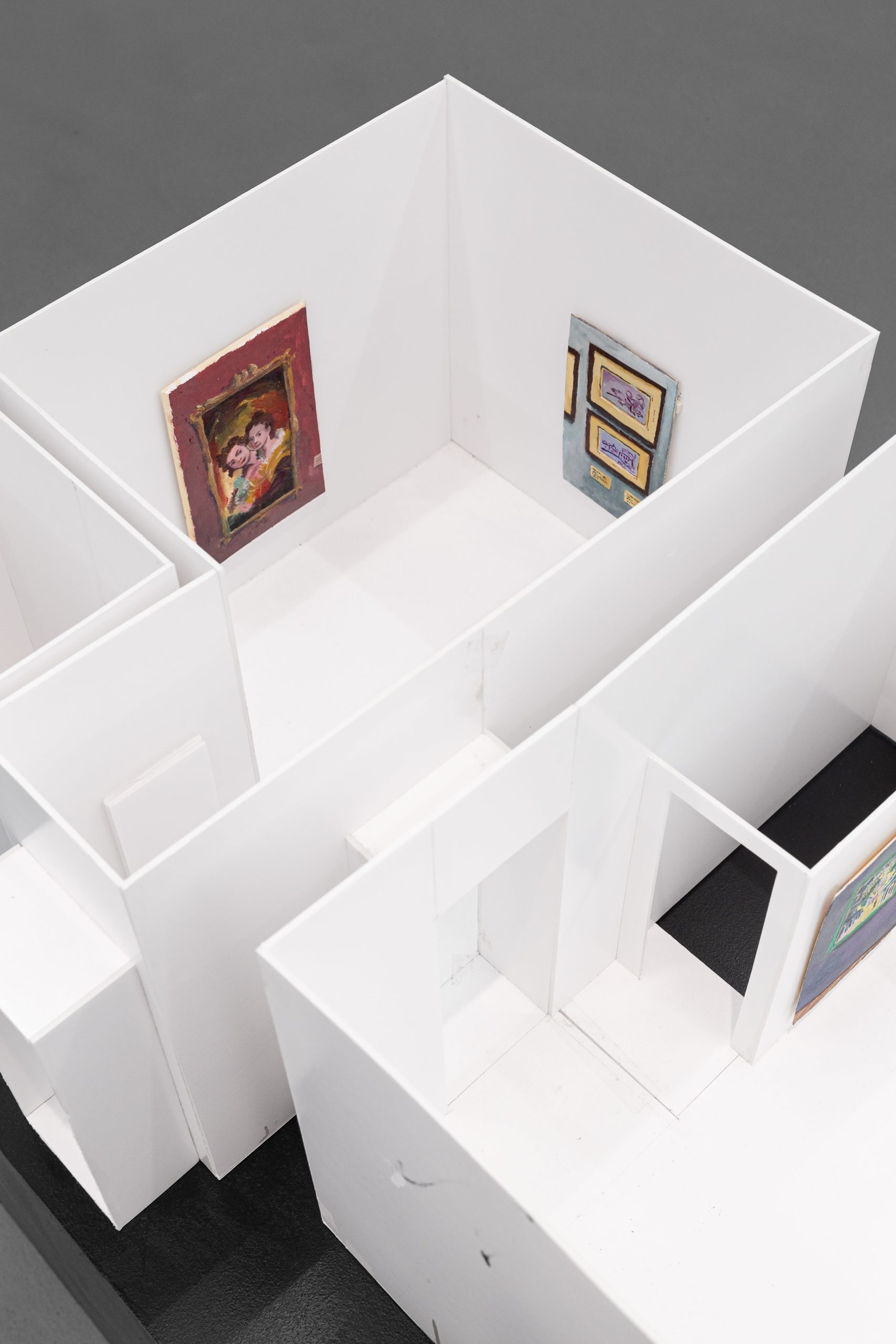 ASSISTED SURVIVAL – JOHN MATTHEW HEARD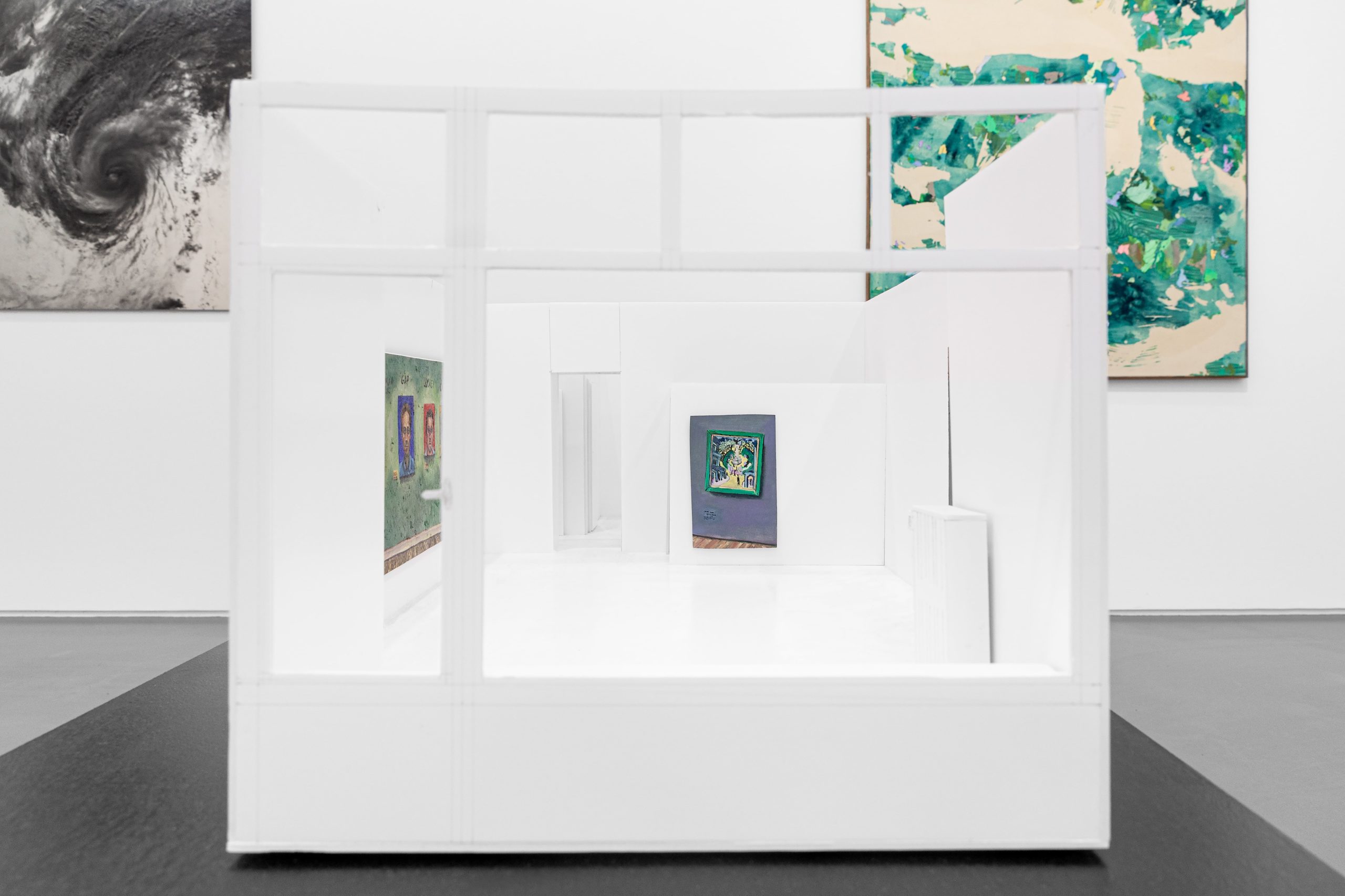 ASSISTED SURVIVAL – JOHN MATTHEW HEARD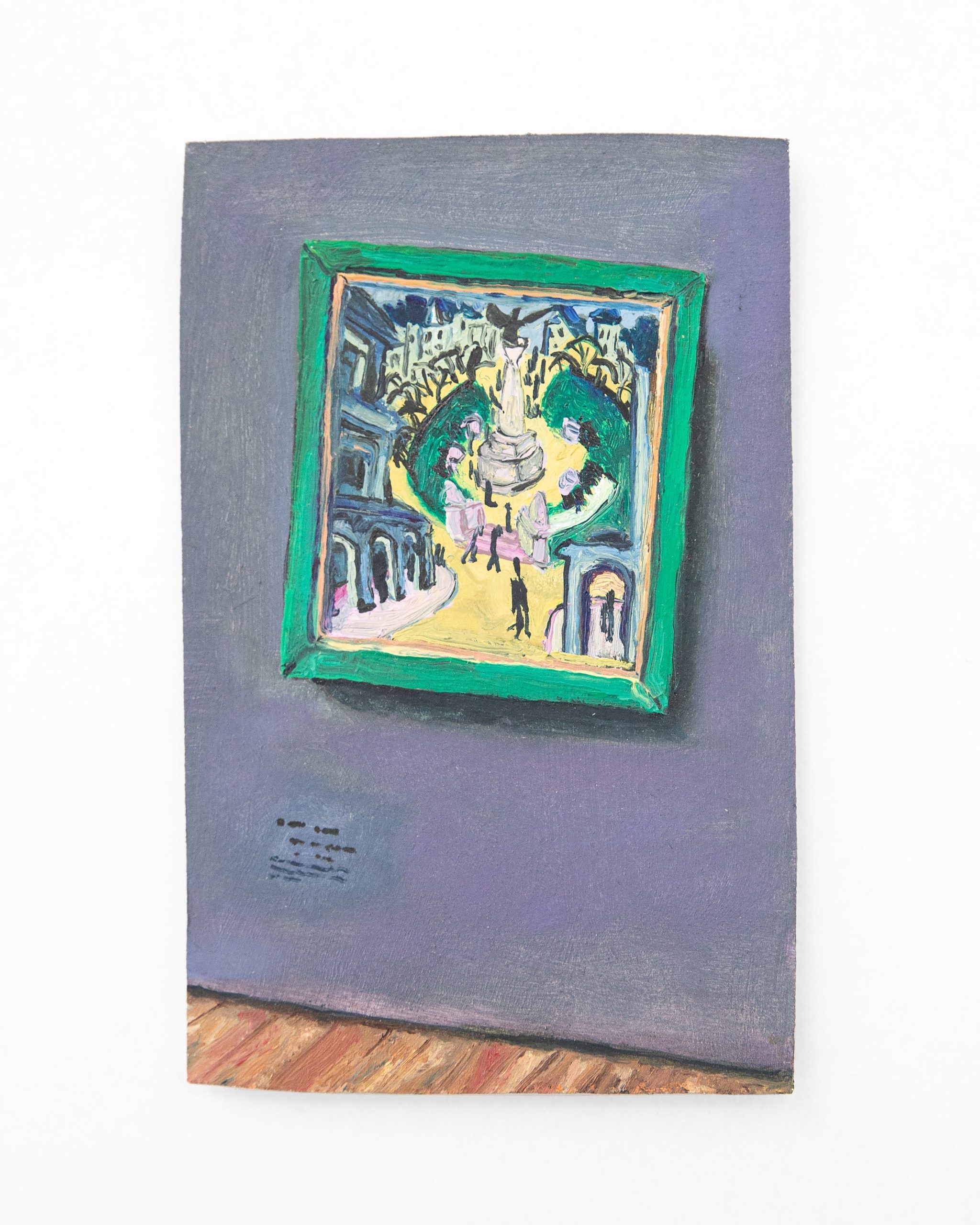 ASSISTED SURVIVAL – JOHN MATTHEW HEARD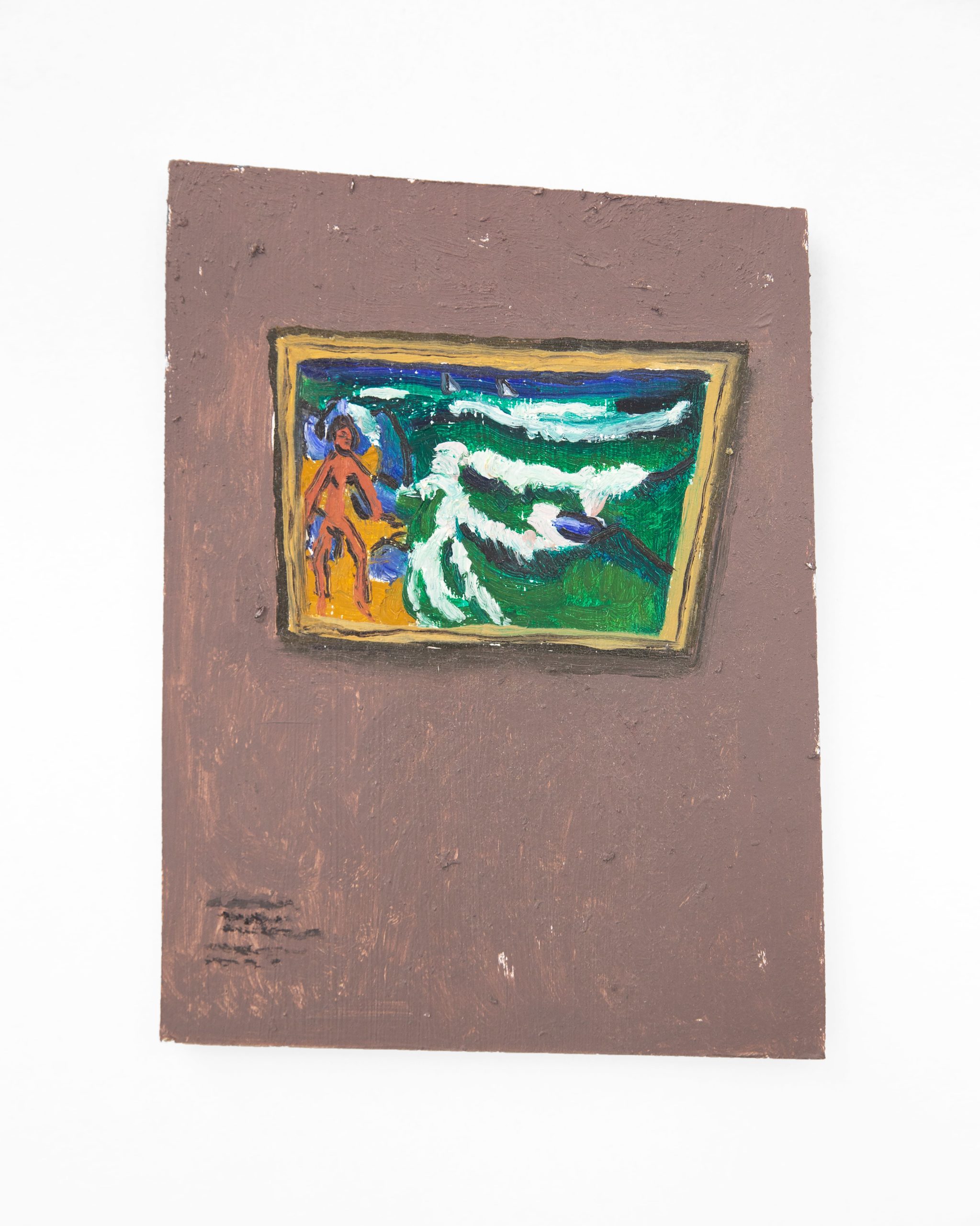 ASSISTED SURVIVAL – JOHN MATTHEW HEARD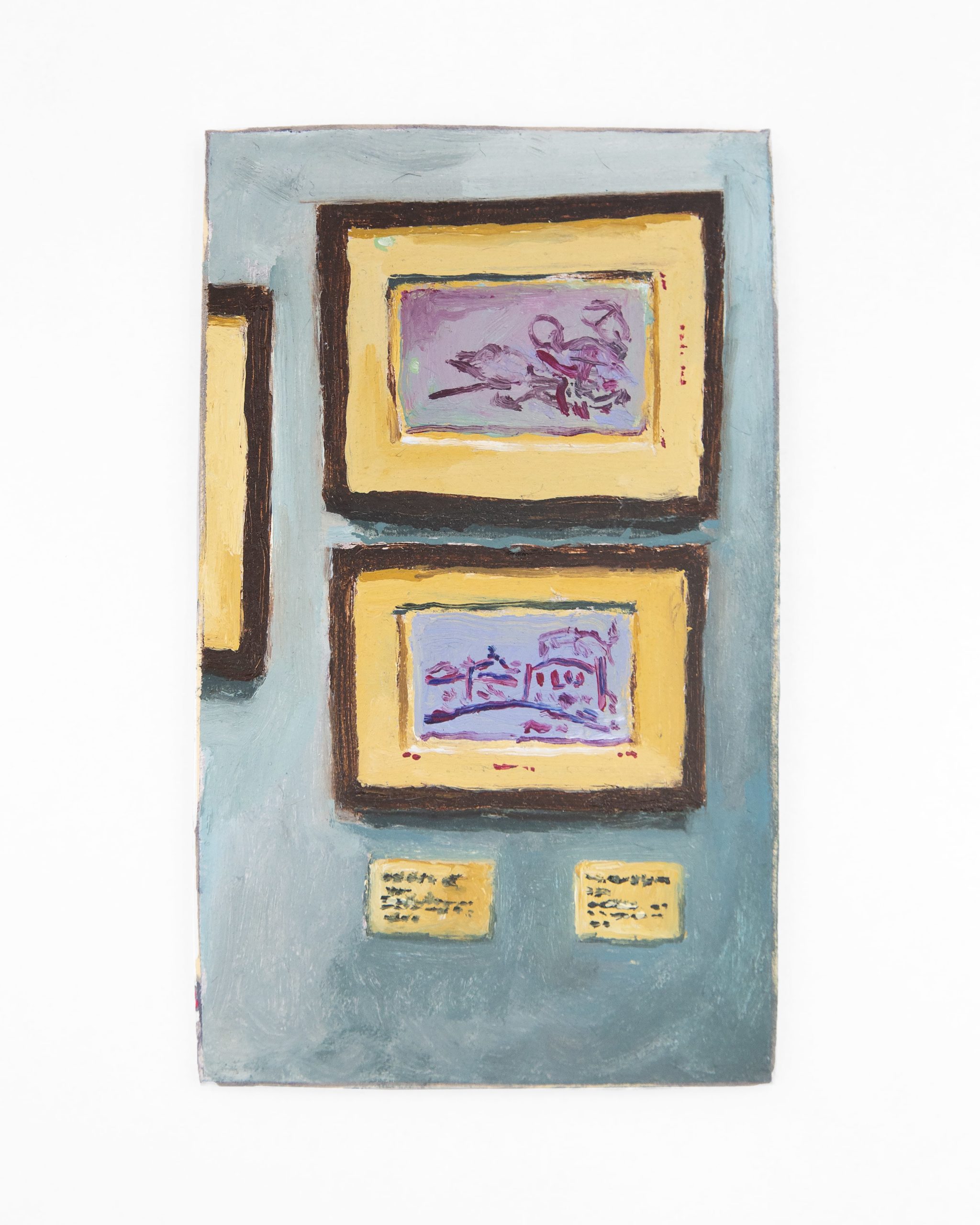 ASSISTED SURVIVAL – JOHN MATTHEW HEARD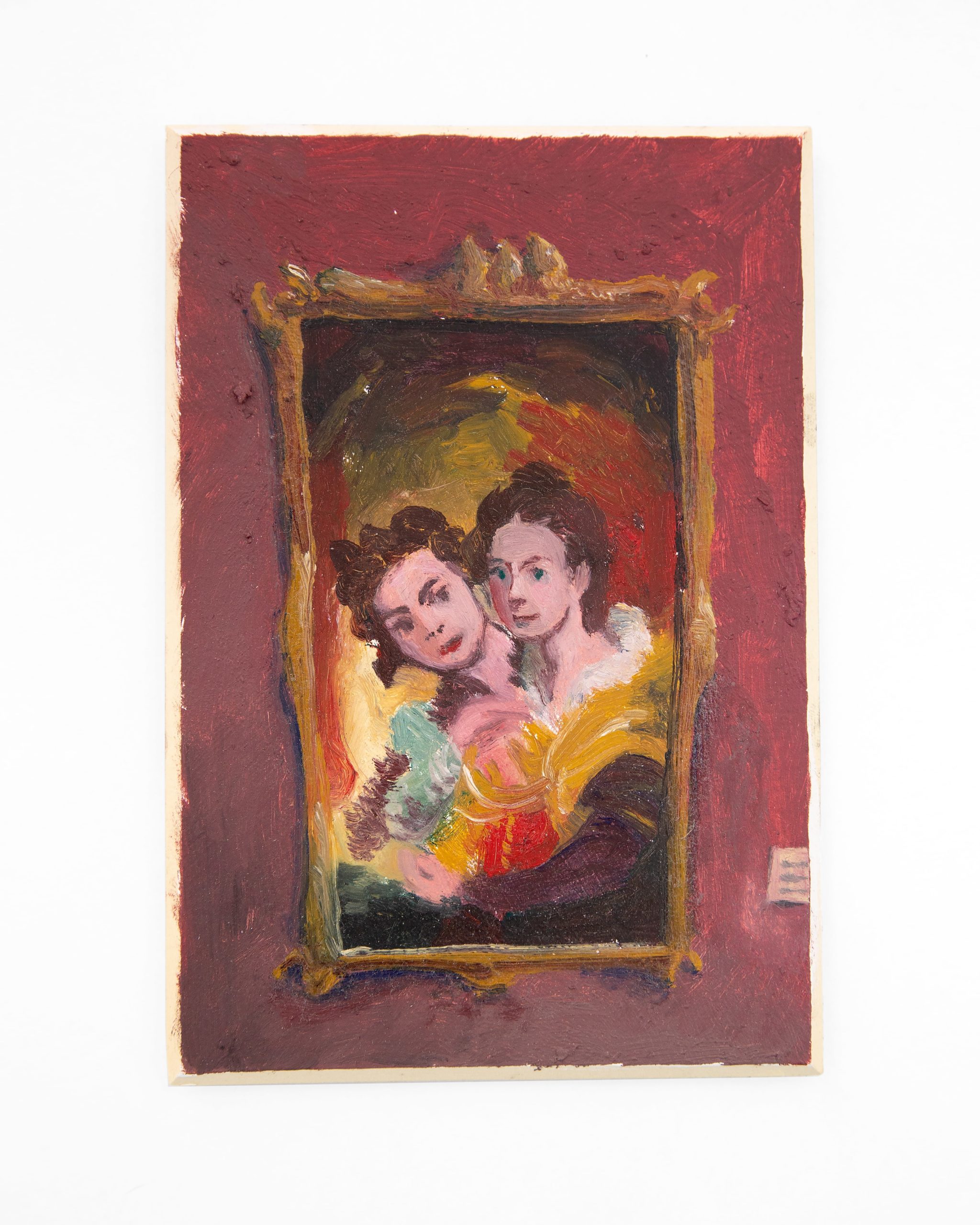 ASSISTED SURVIVAL – JOHN MATTHEW HEARD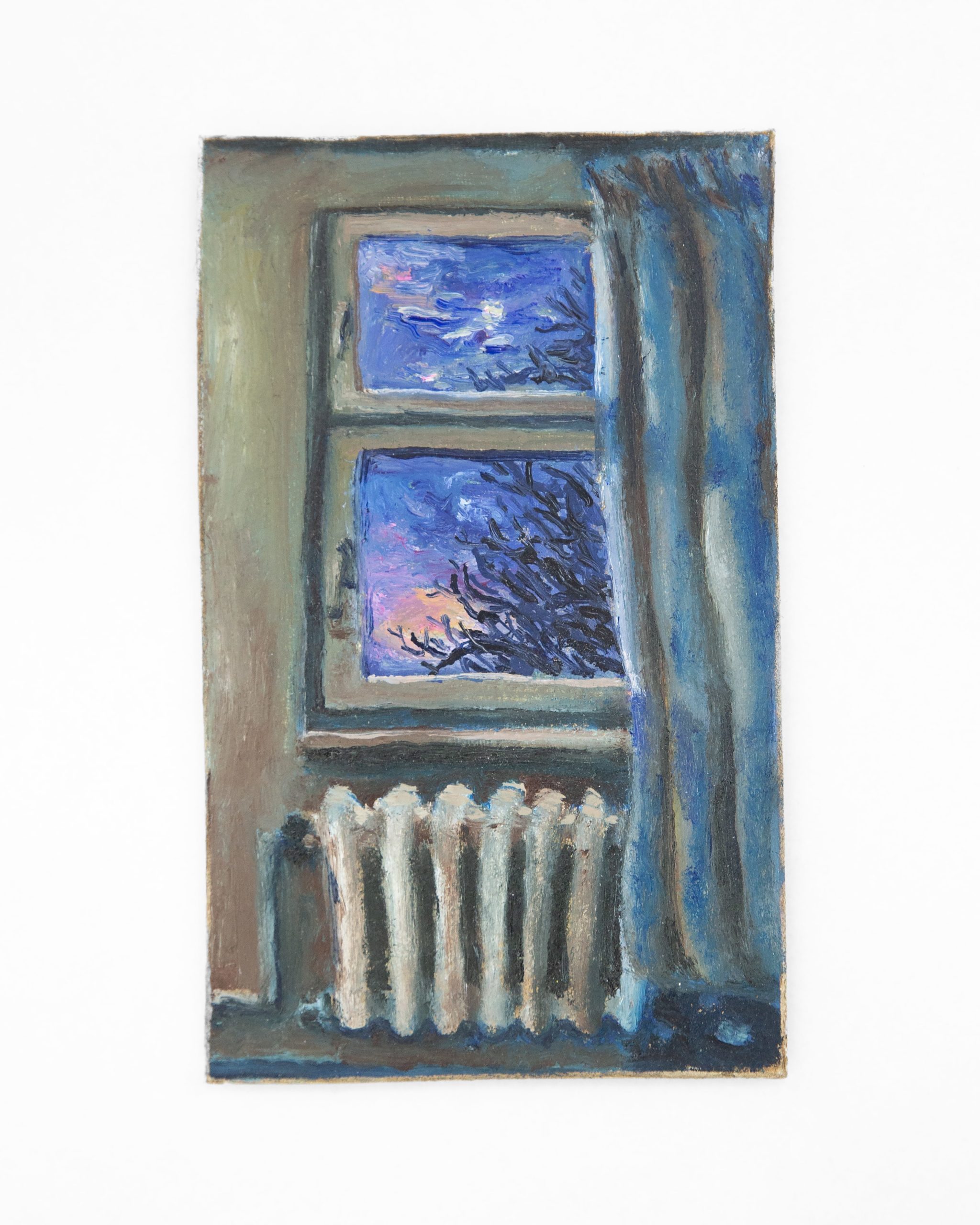 ASSISTED SURVIVAL – JOHN MATTHEW HEARD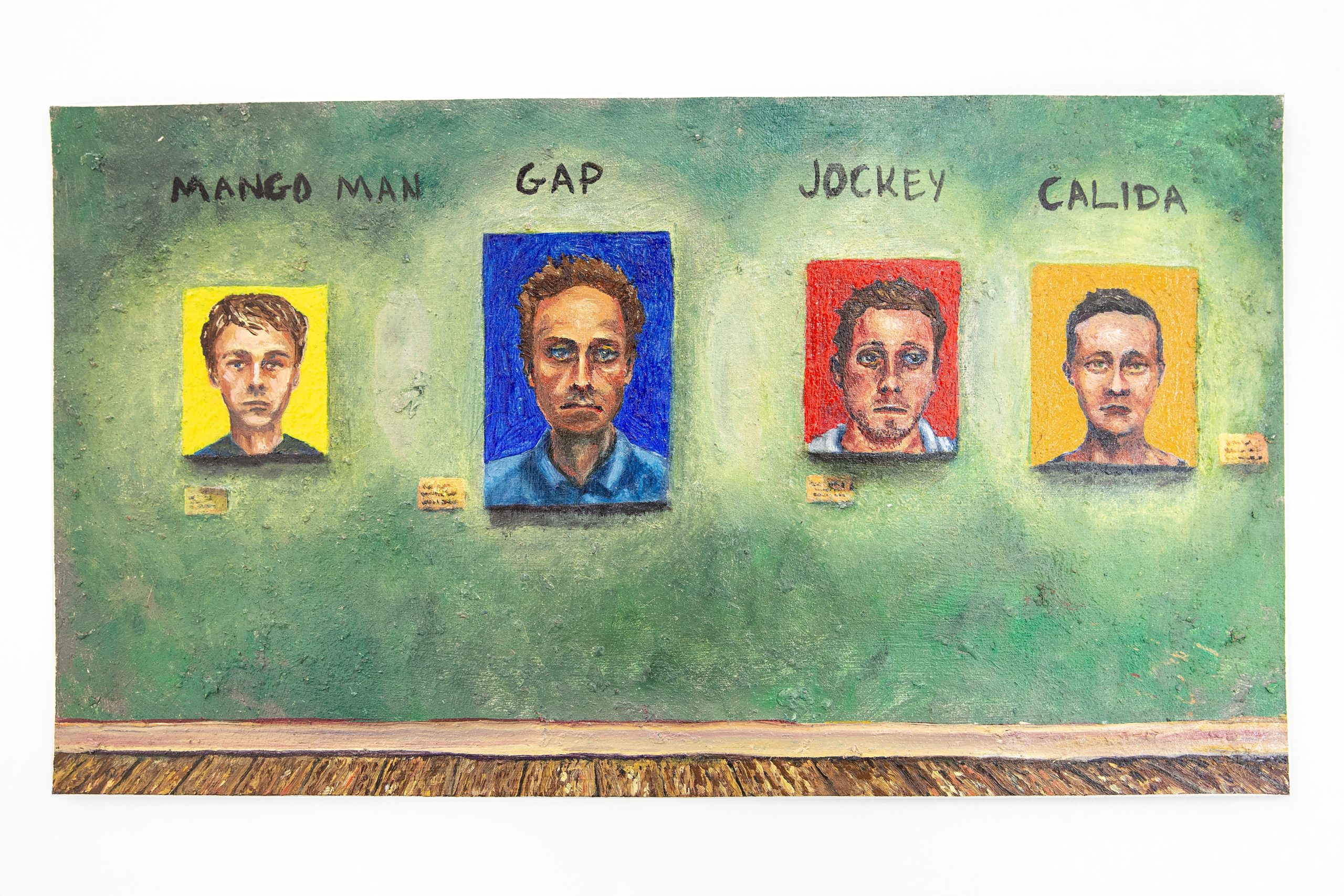 ASSISTED SURVIVAL – JOHN MATTHEW HEARD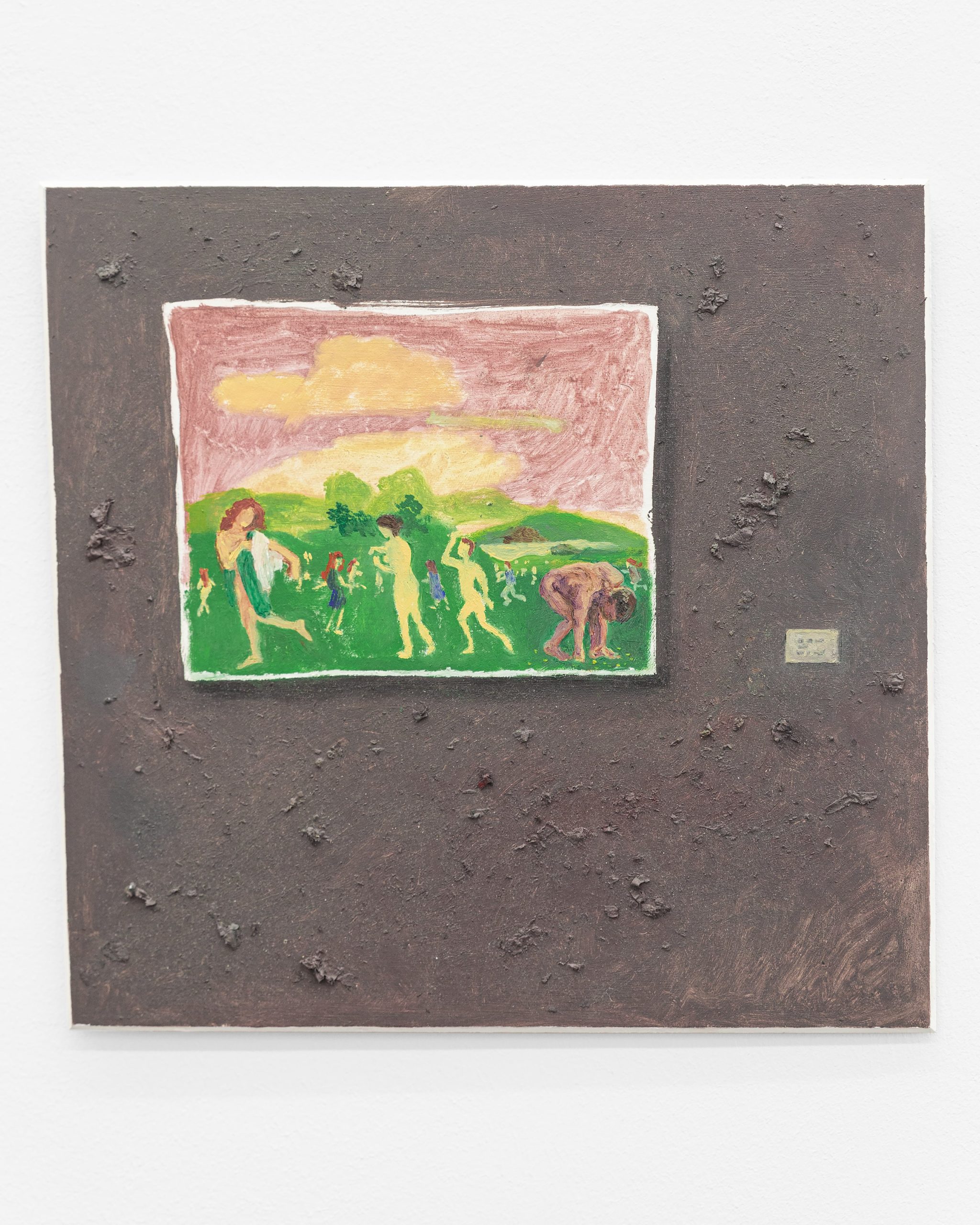 ASSISTED SURVIVAL – JOHN MATTHEW HEARD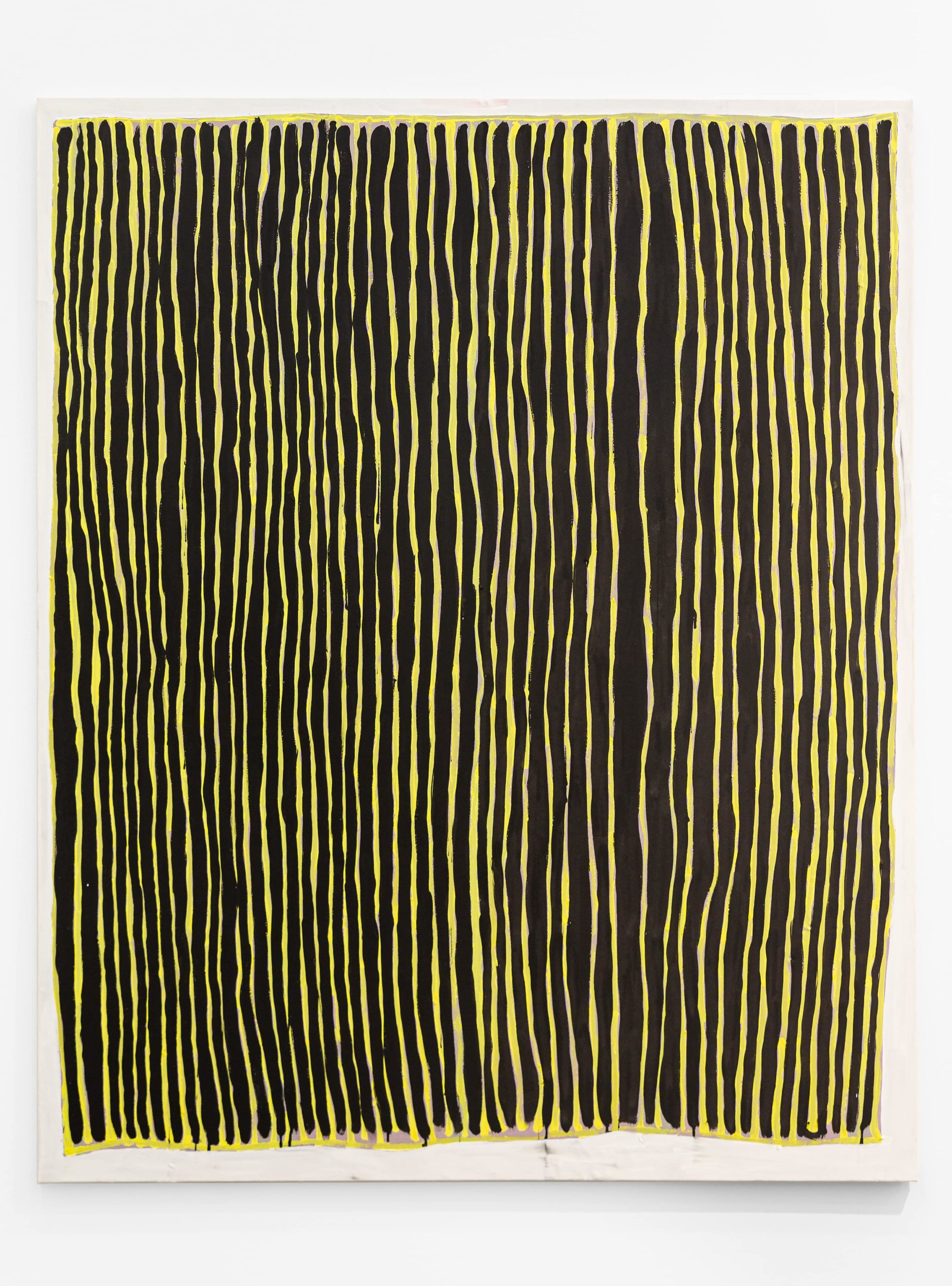 ASSISTED SURVIVAL – SOPHIA DOMAGALA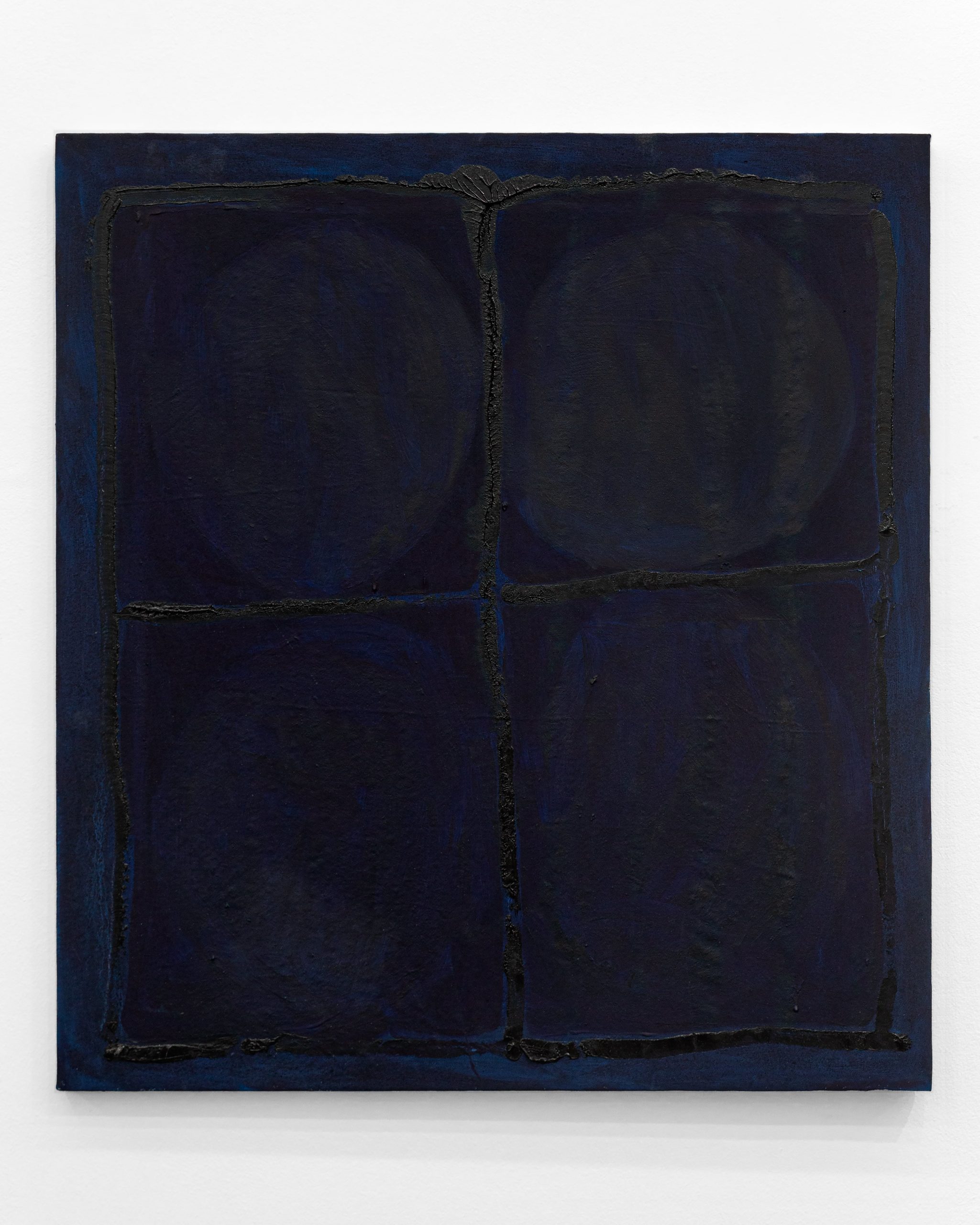 ASSISTED SURVIVAL – SOPHIA DOMAGALA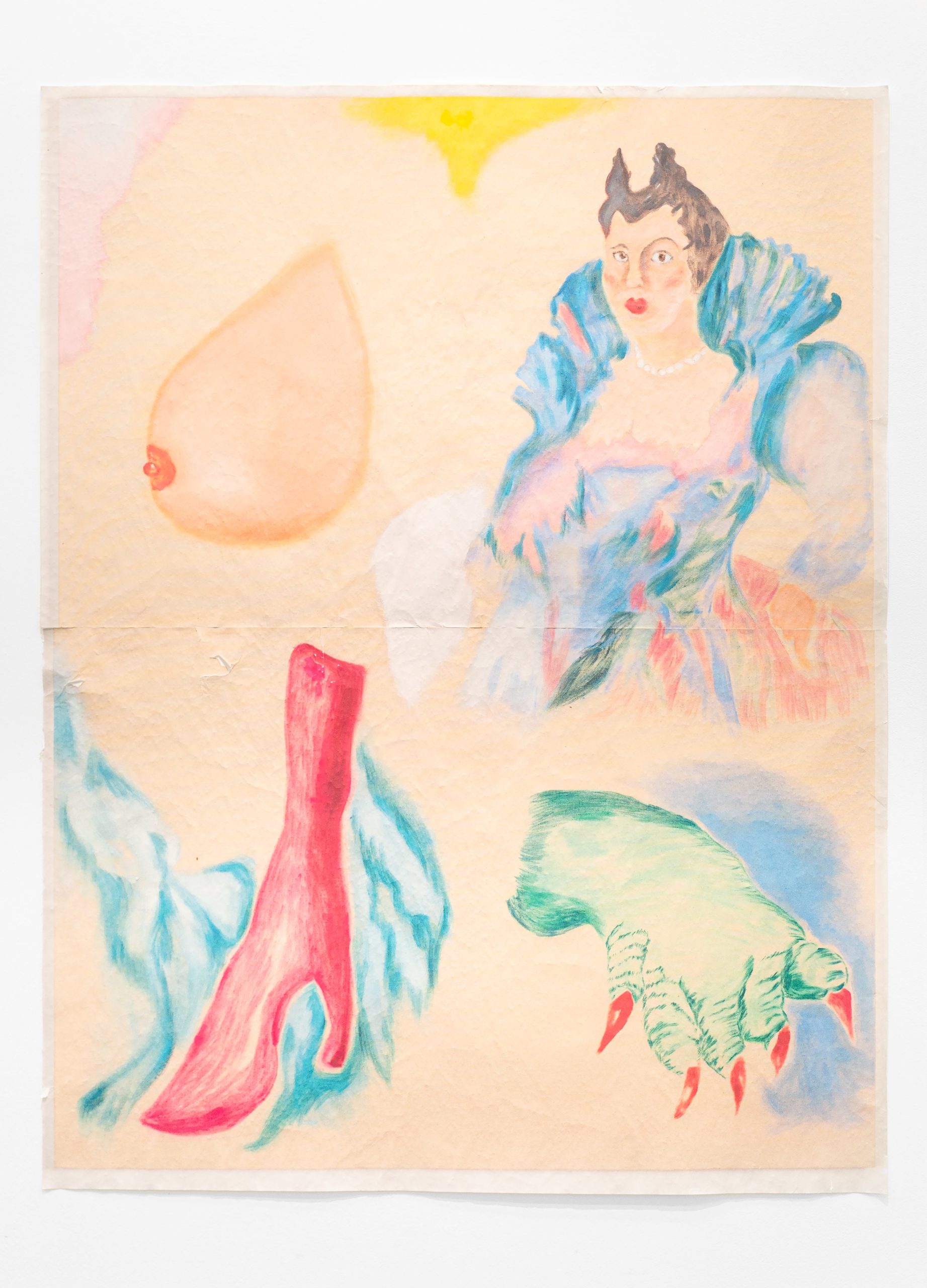 ASSISTED SURVIVAL – BRIGITTE NICOLE GRICE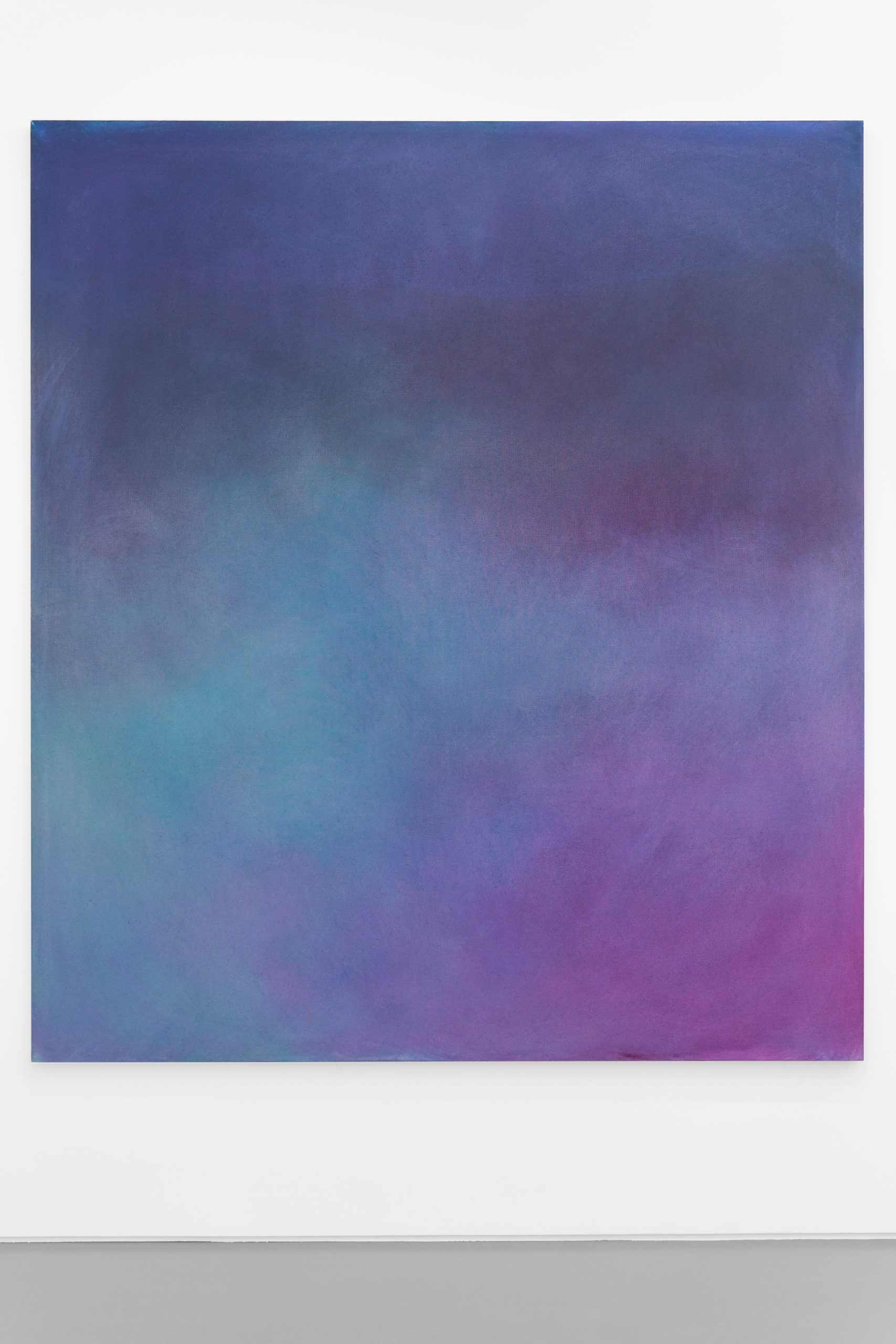 ASSISTED SURVIVAL – MAXIMILLIAN RÖDEL
---
LAUREN COULLARD – Angels on a Needle
July 18 – September 13, 2020
July 17 opening reception
July 26 SUNDAY OPEN organized by INDEX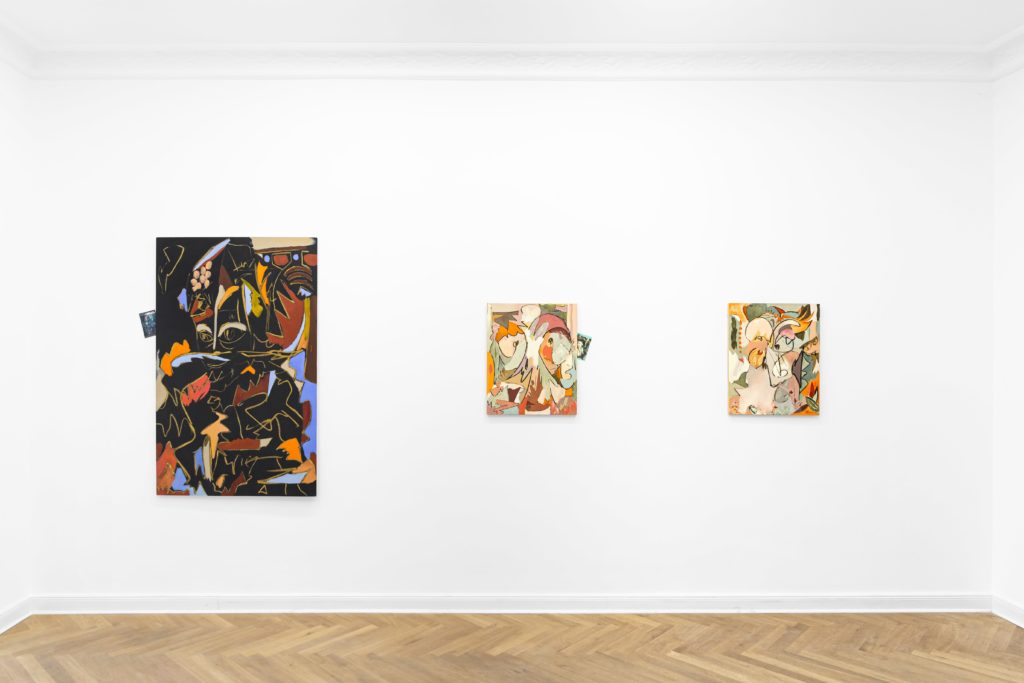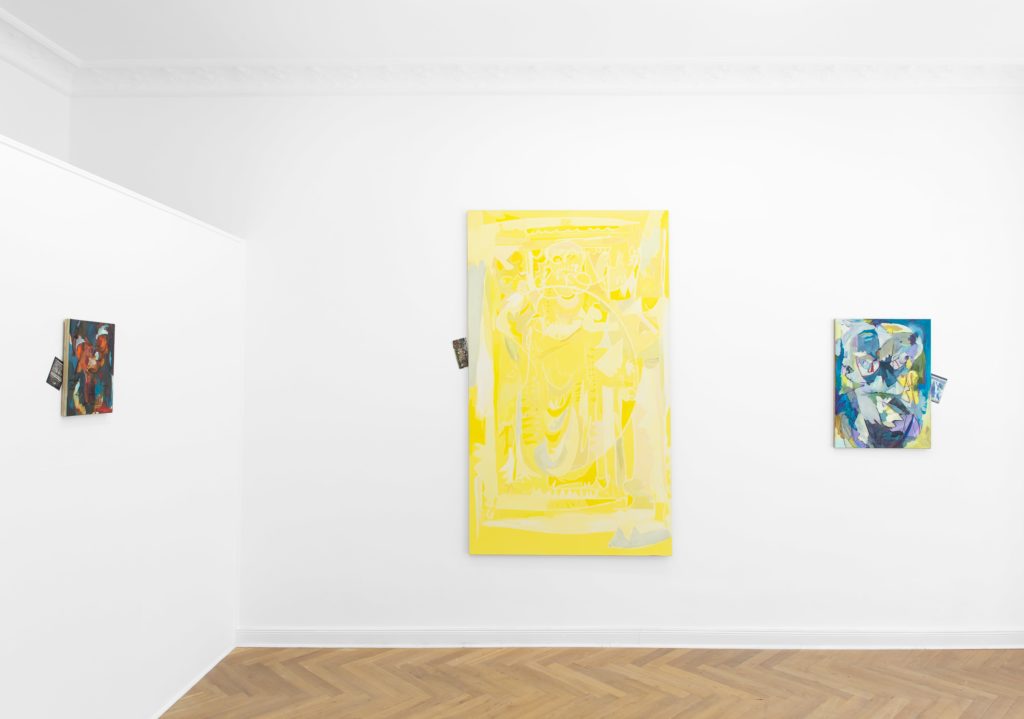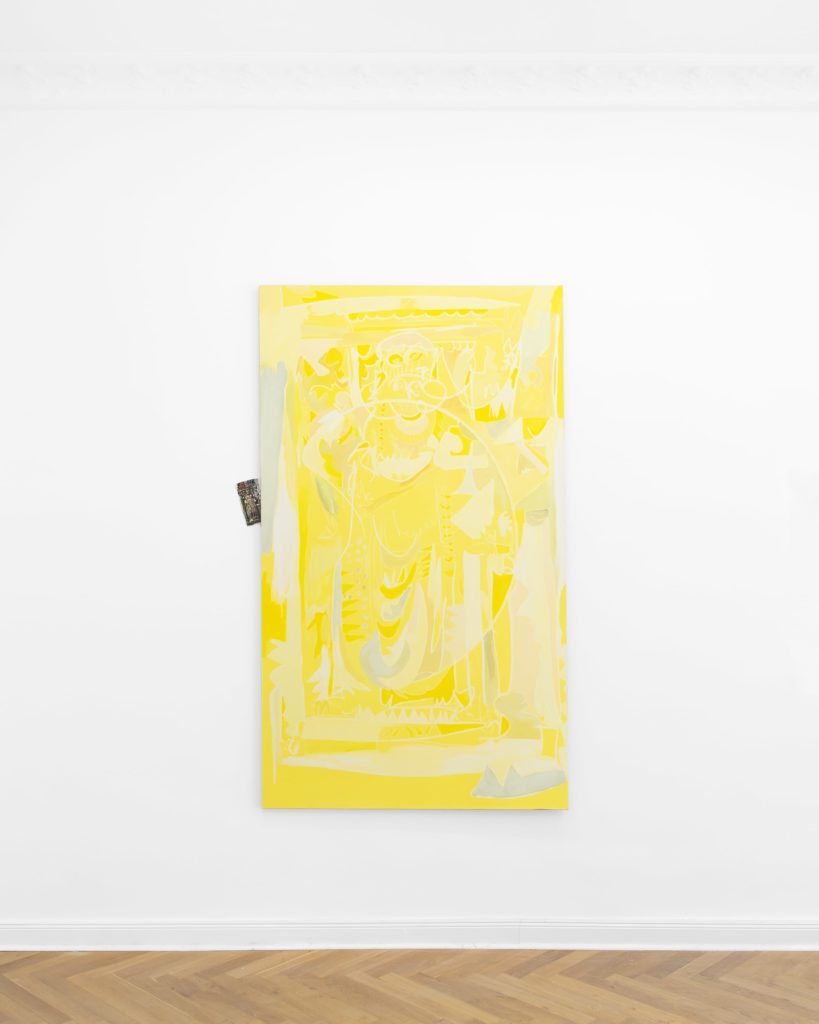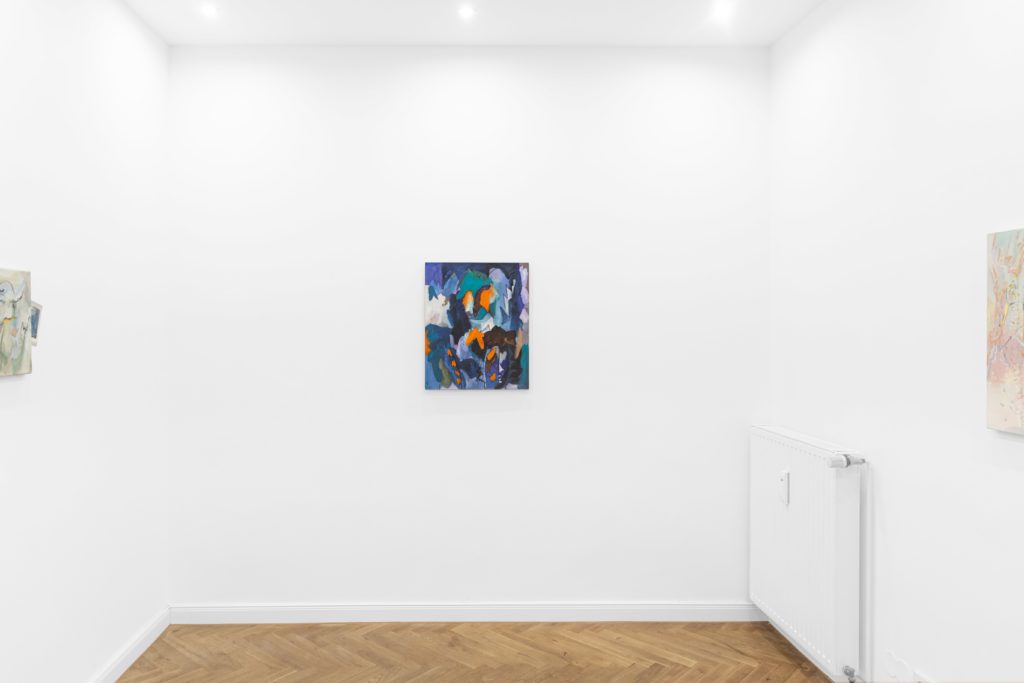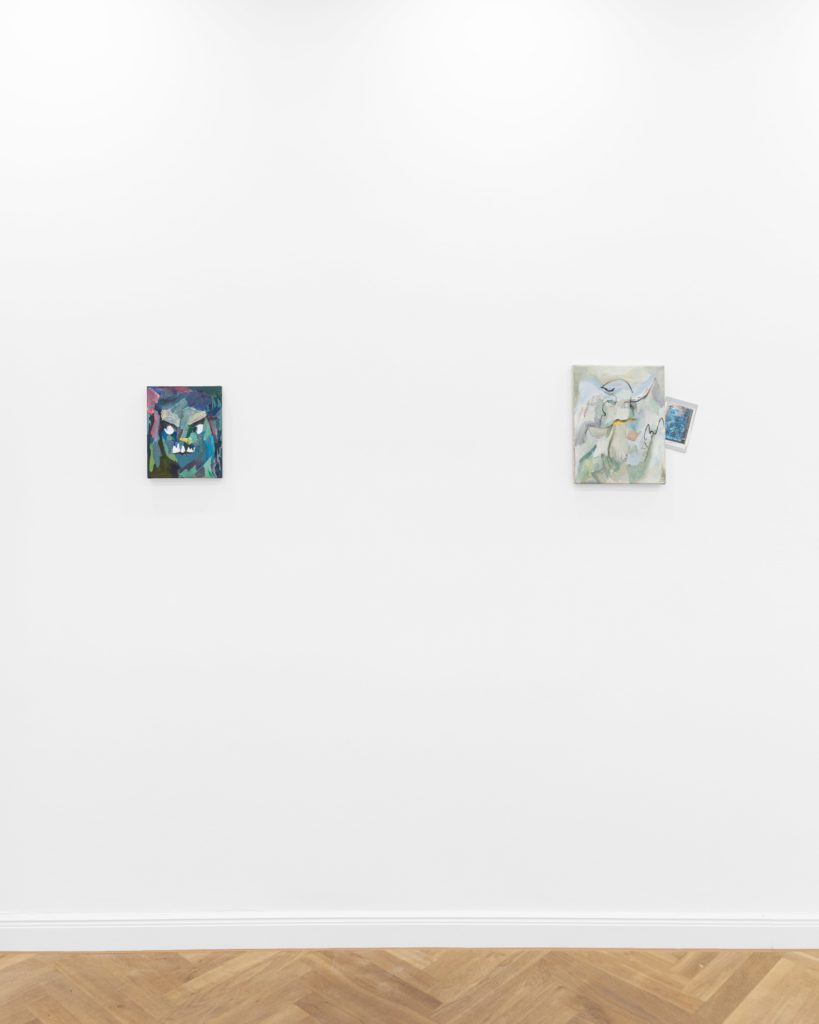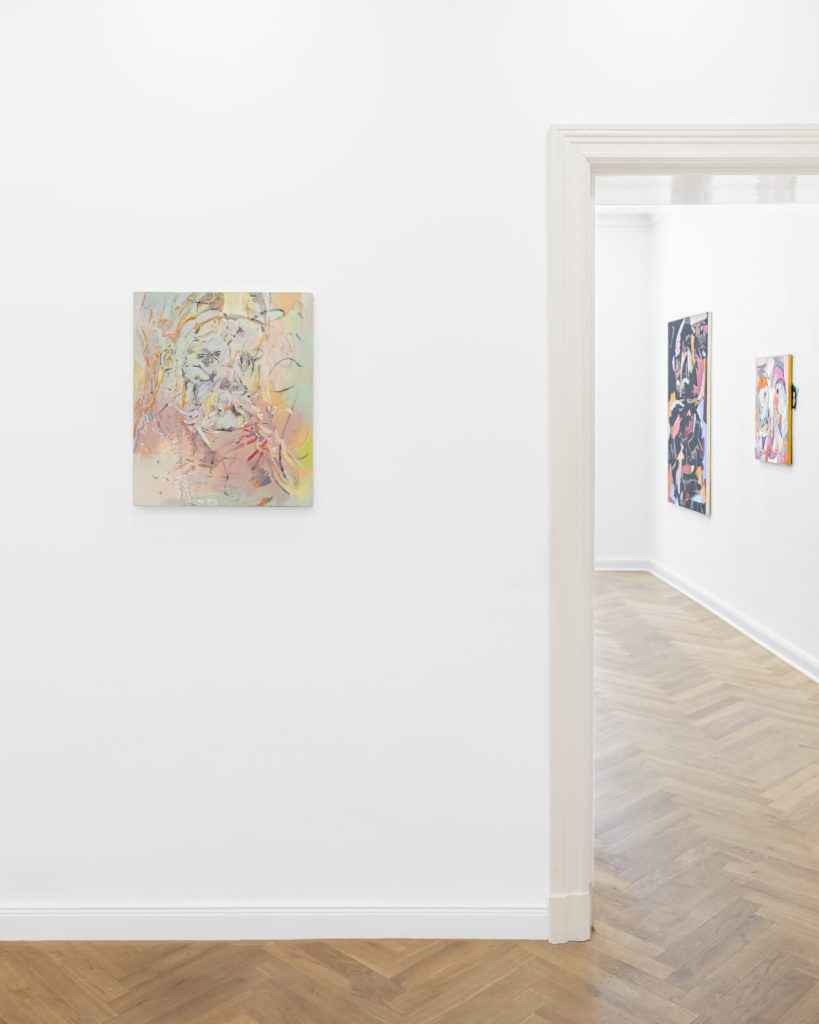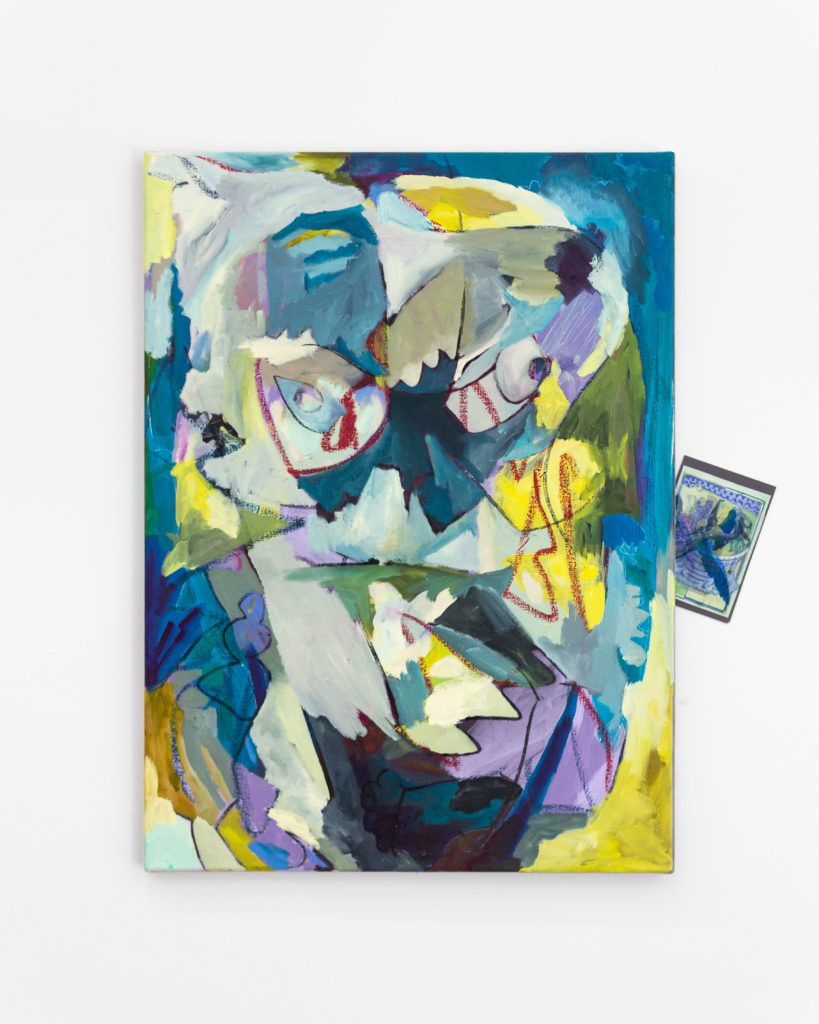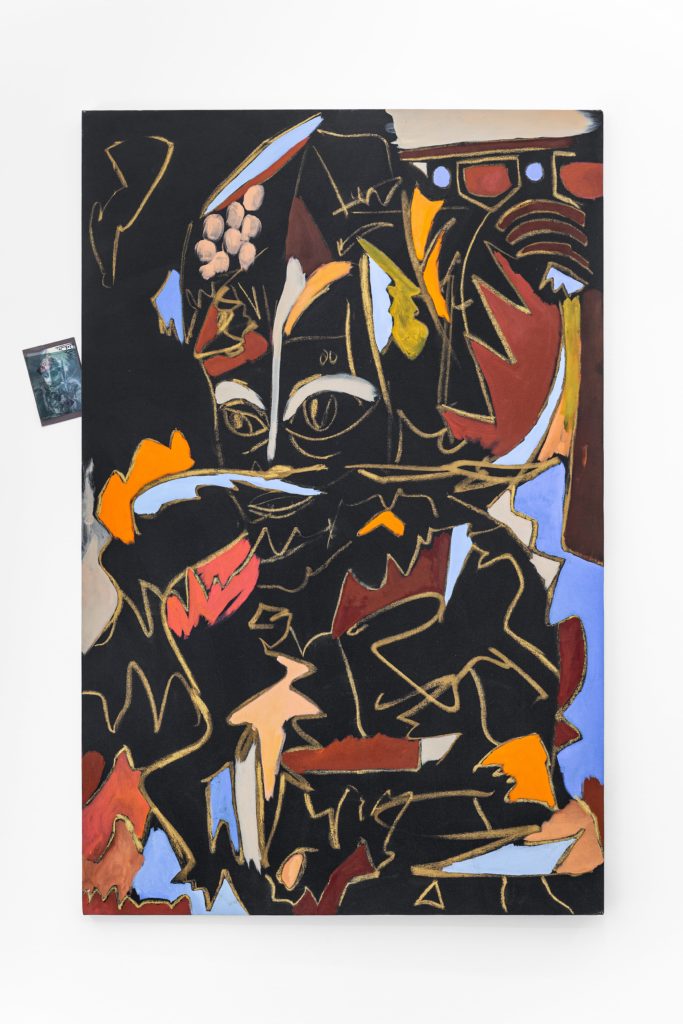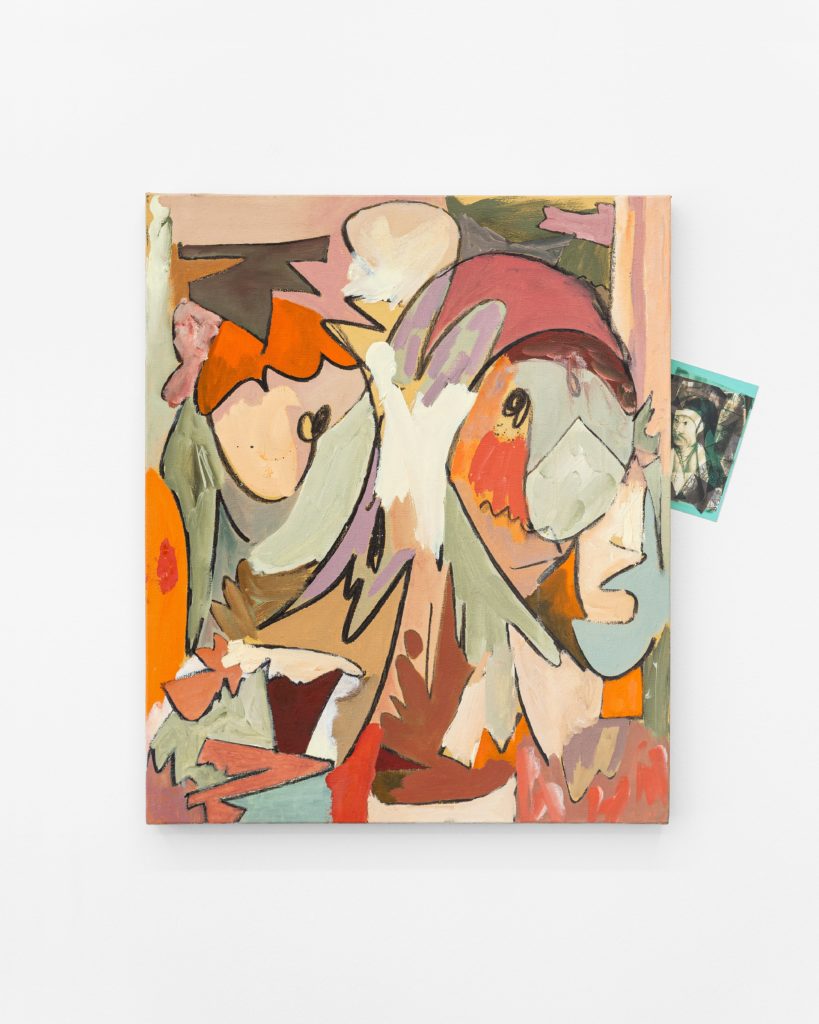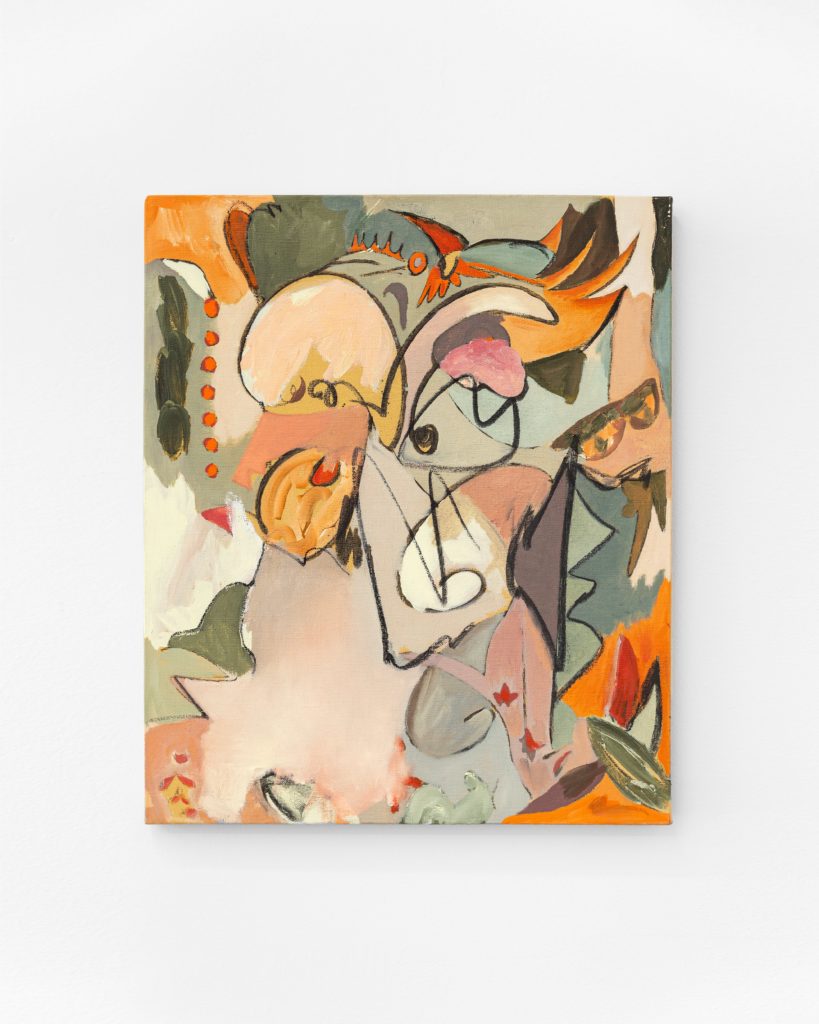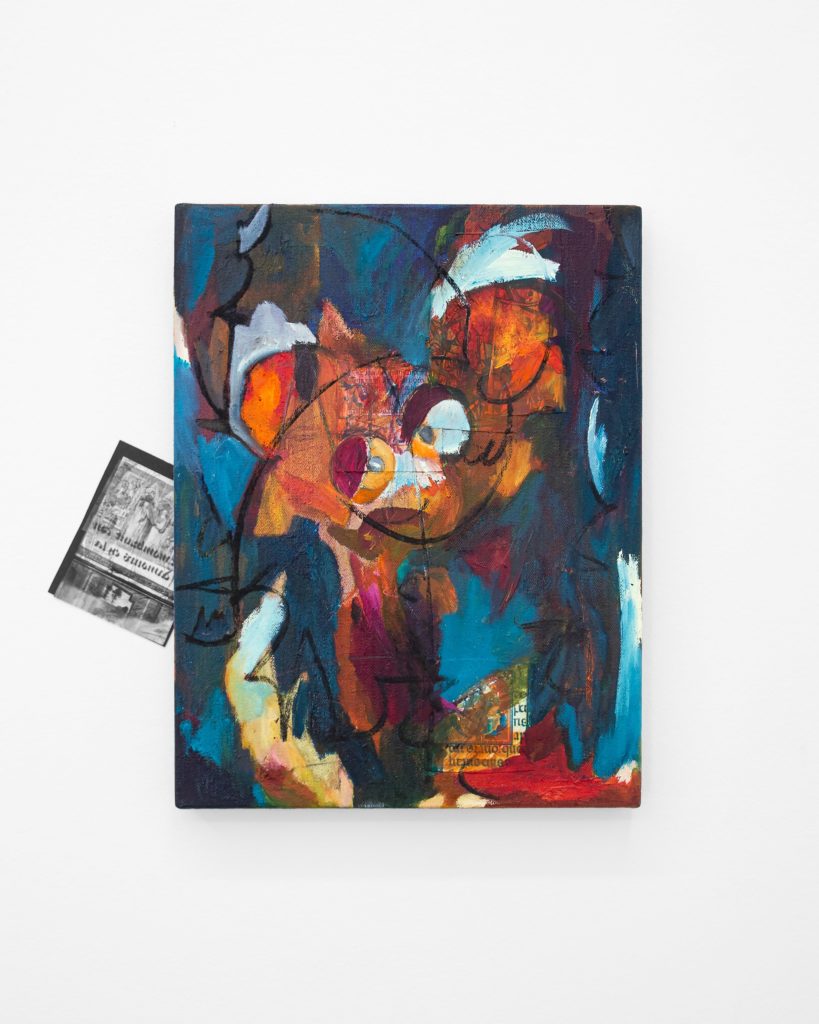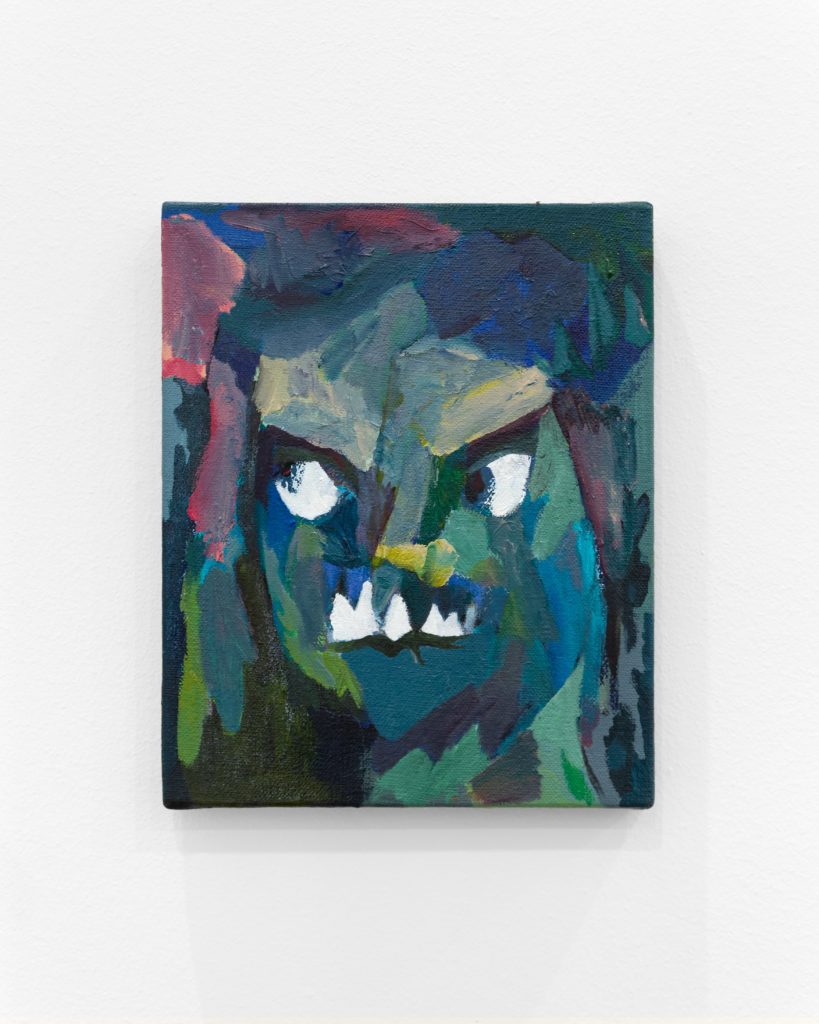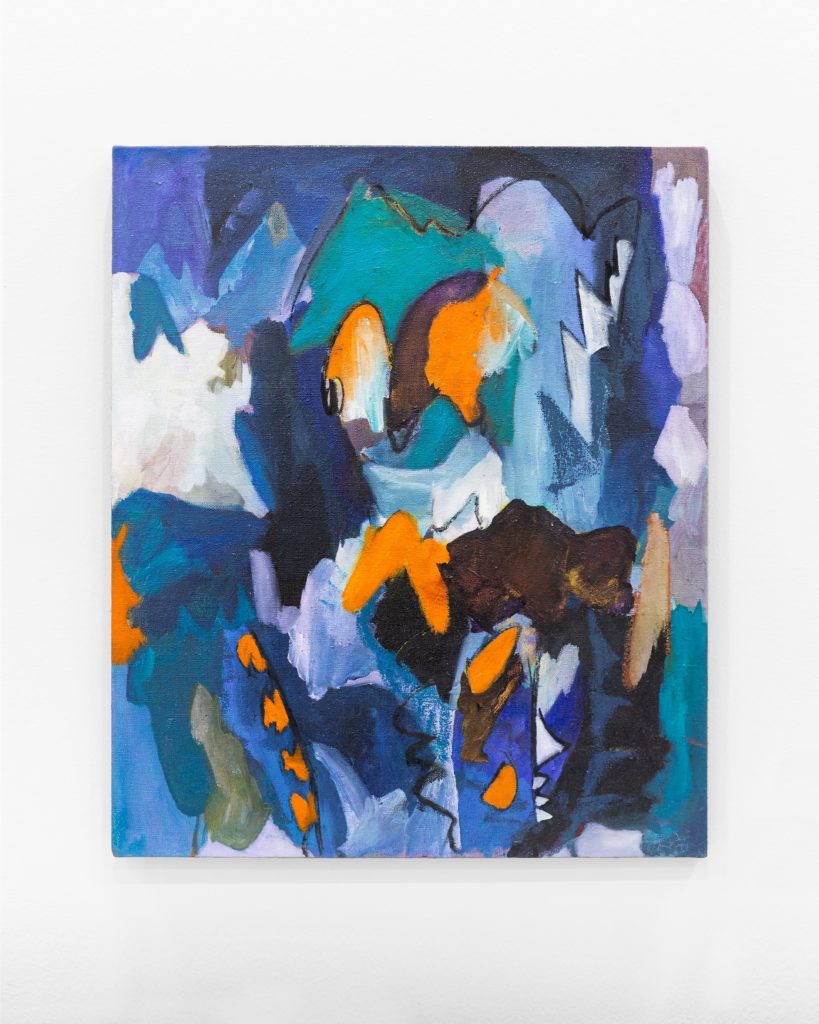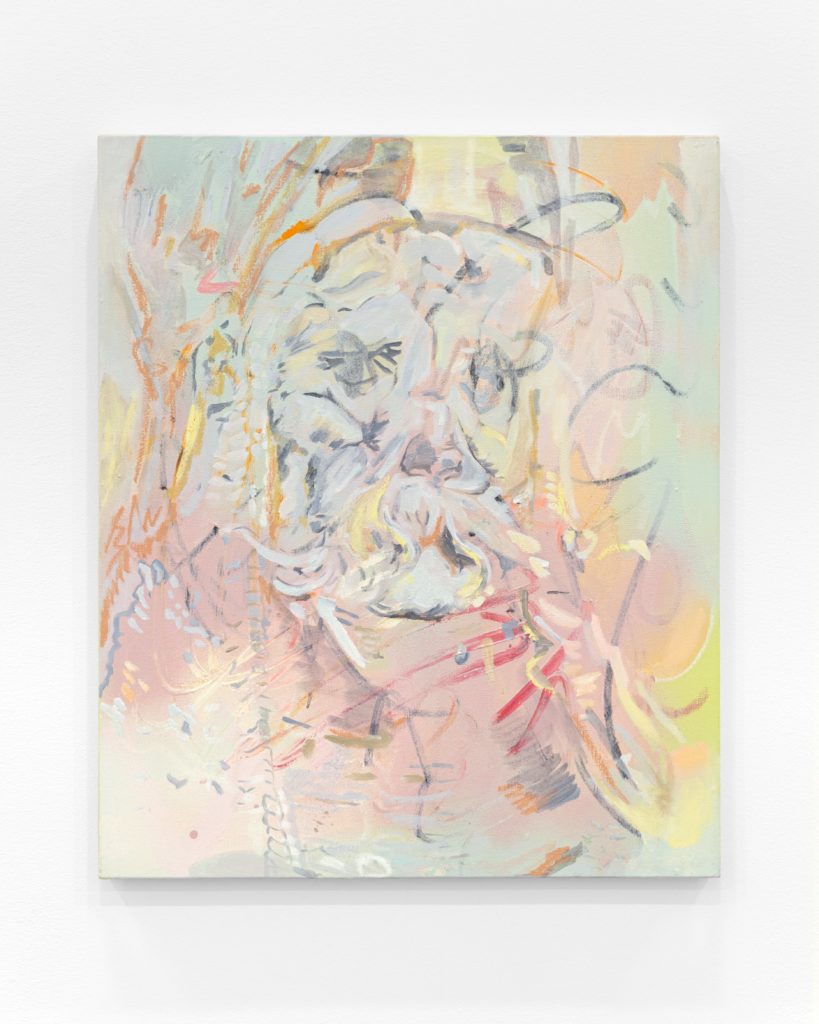 Photos: Julie Becquart
---
In A Single Work – RASHIYAH ELANGA
My Trip Inside The Mesosphere Sponsored By Magic Blue, 2020
June 21 – July 10, 2020
June 21 opening reception / SUNDAY OPEN organized by INDEX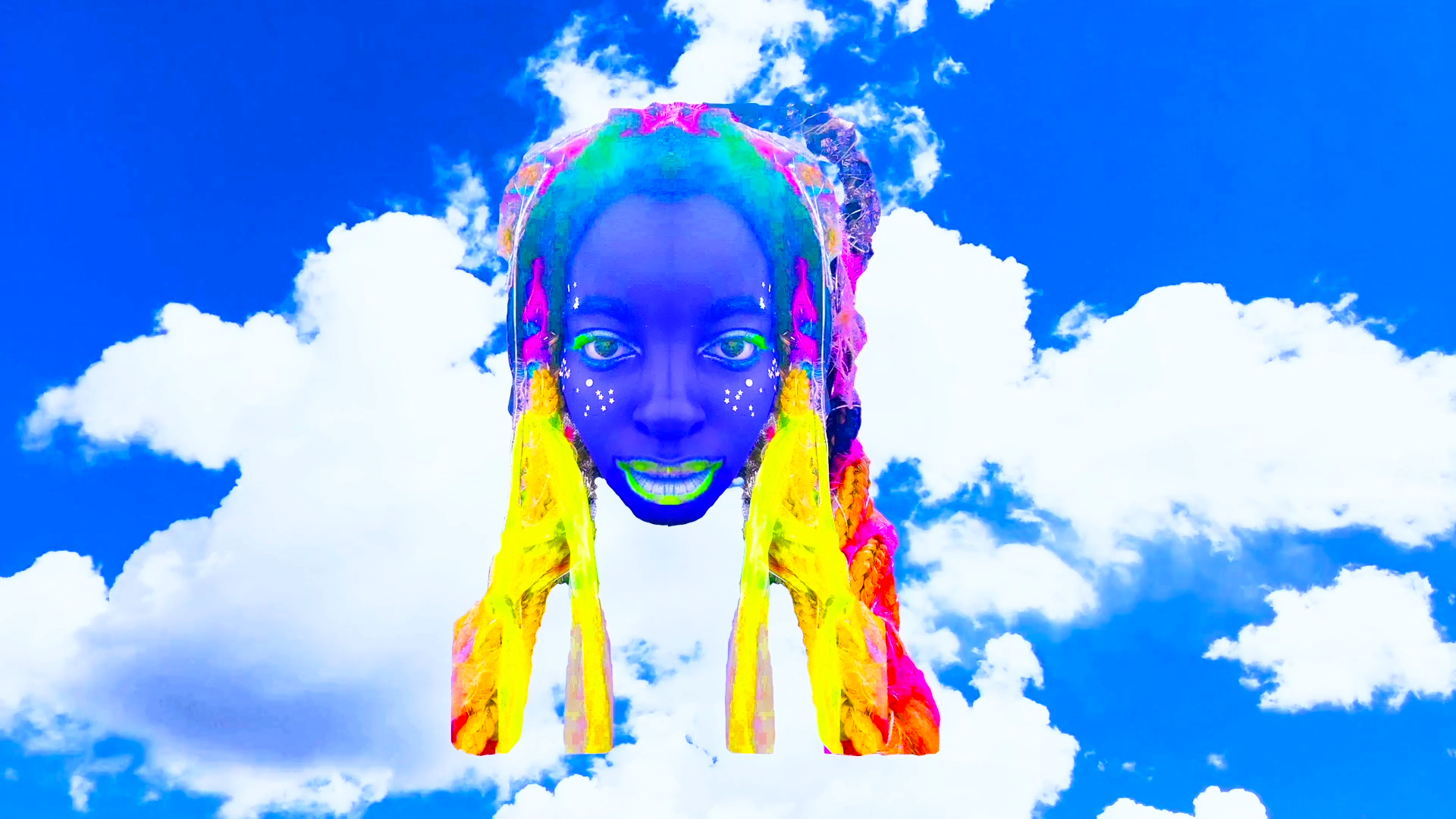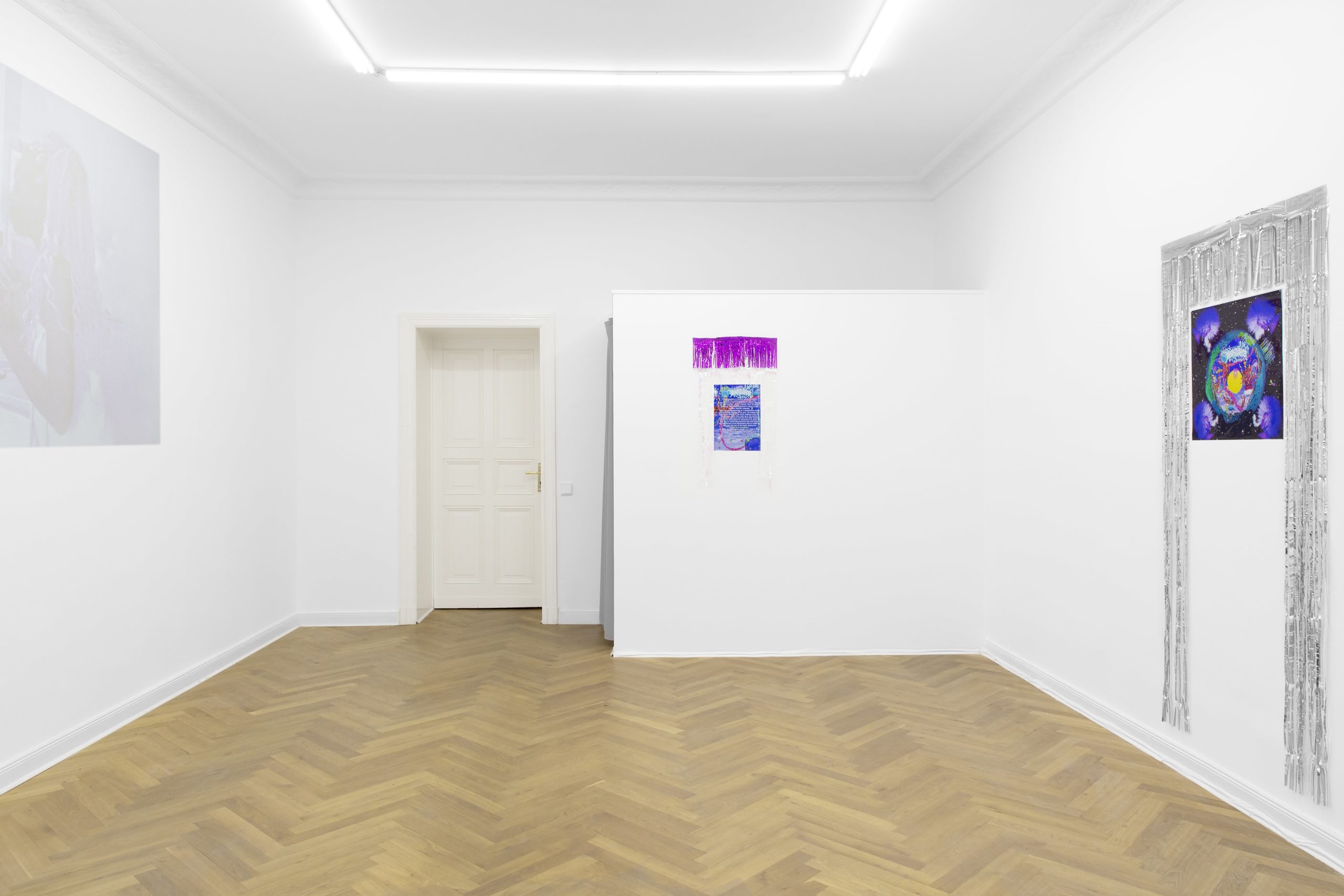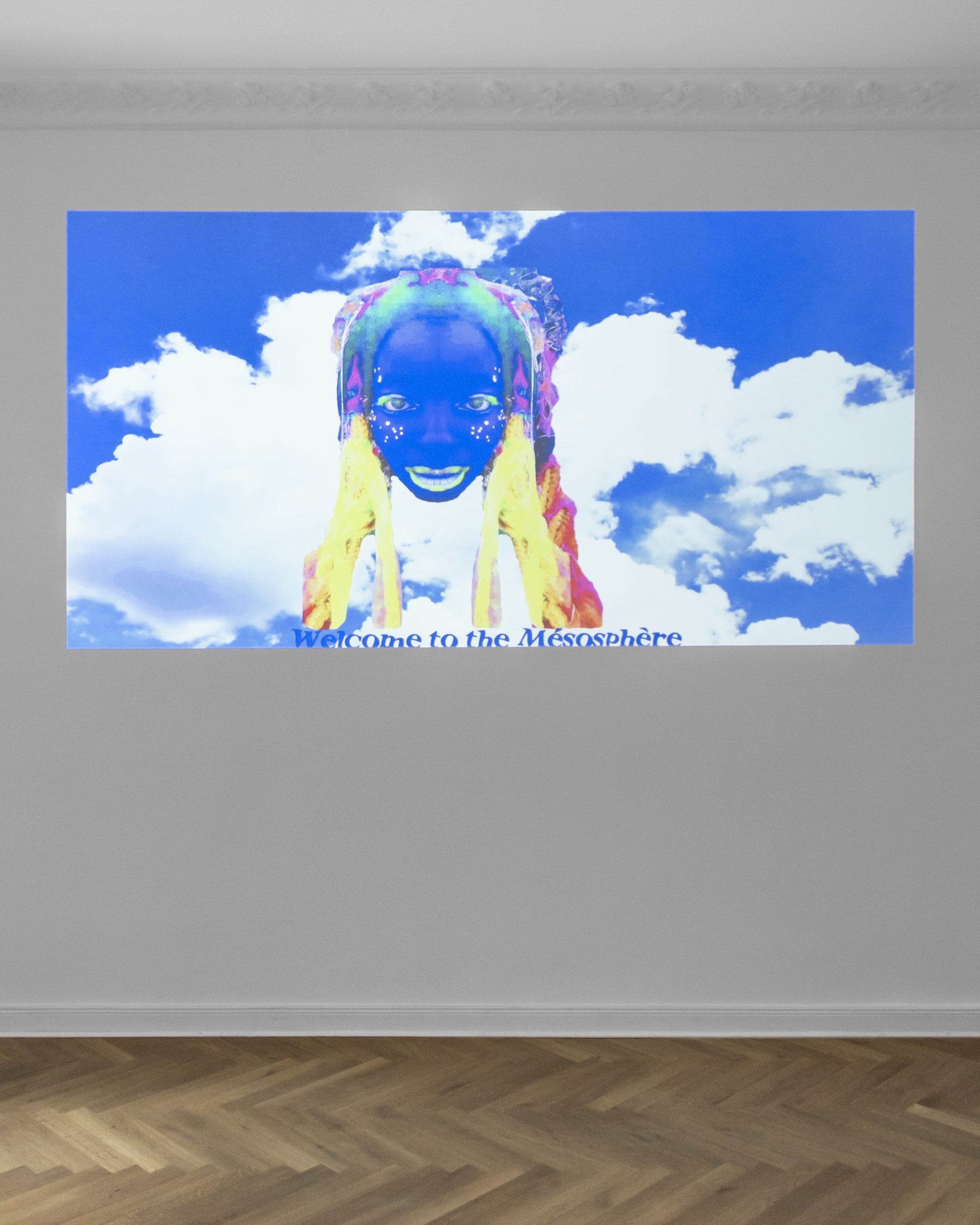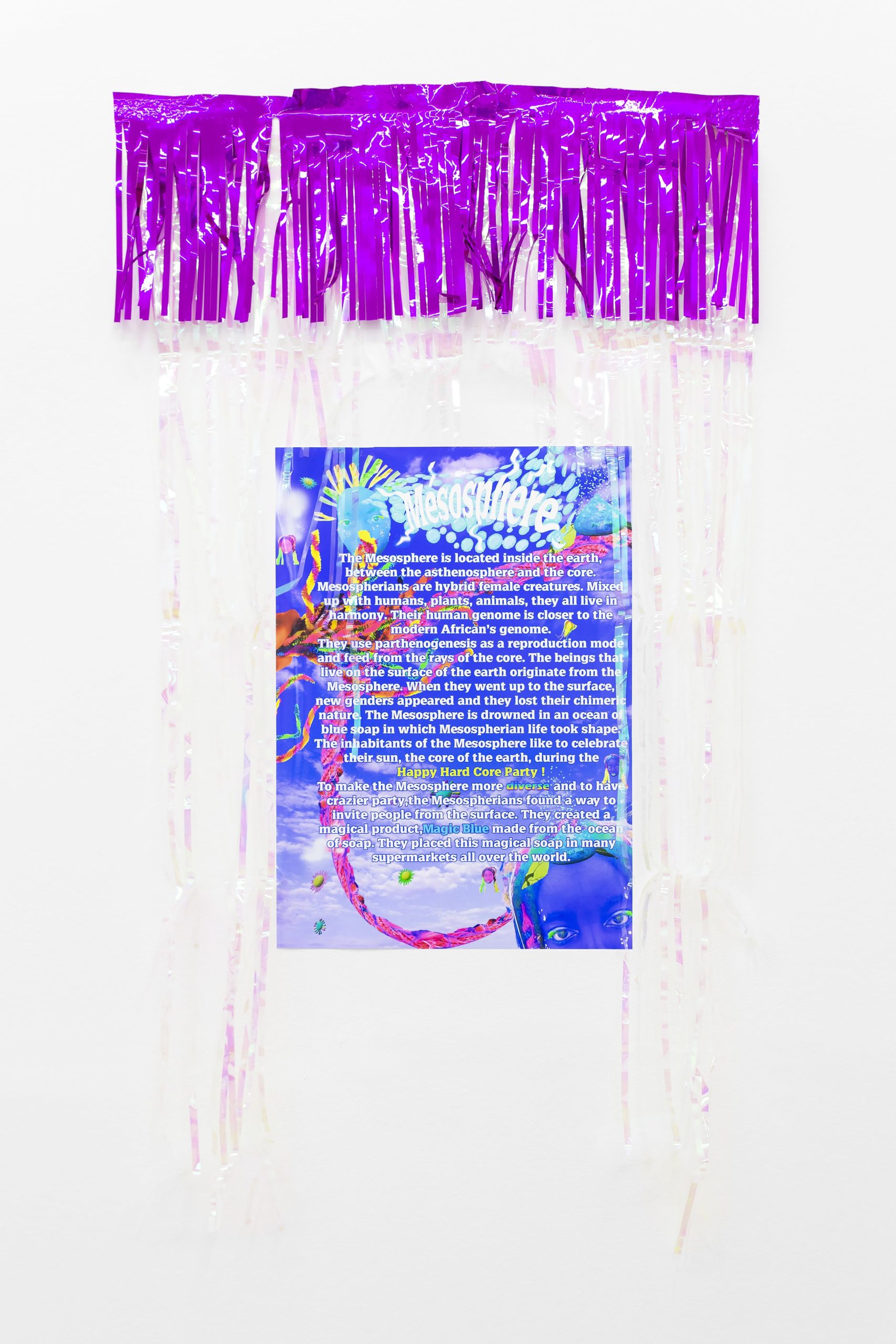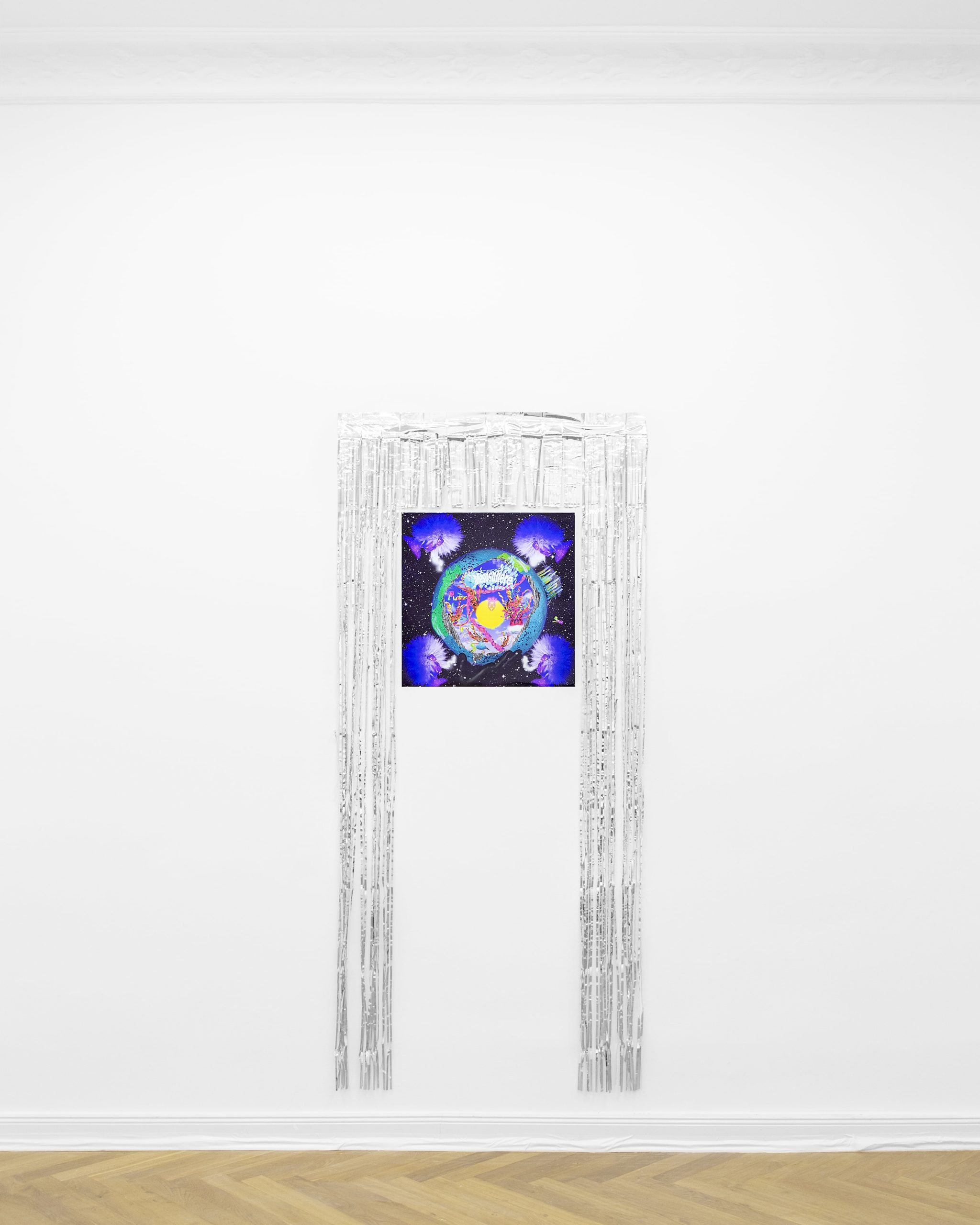 Photos: Julie Becquart
---
In A Single Work – MAX GEISLER
Angetäuschte Isolationsübung, 2018
May 24 – June 13,2020
May 24 opening reception / SUNDAY OPEN organized by INDEX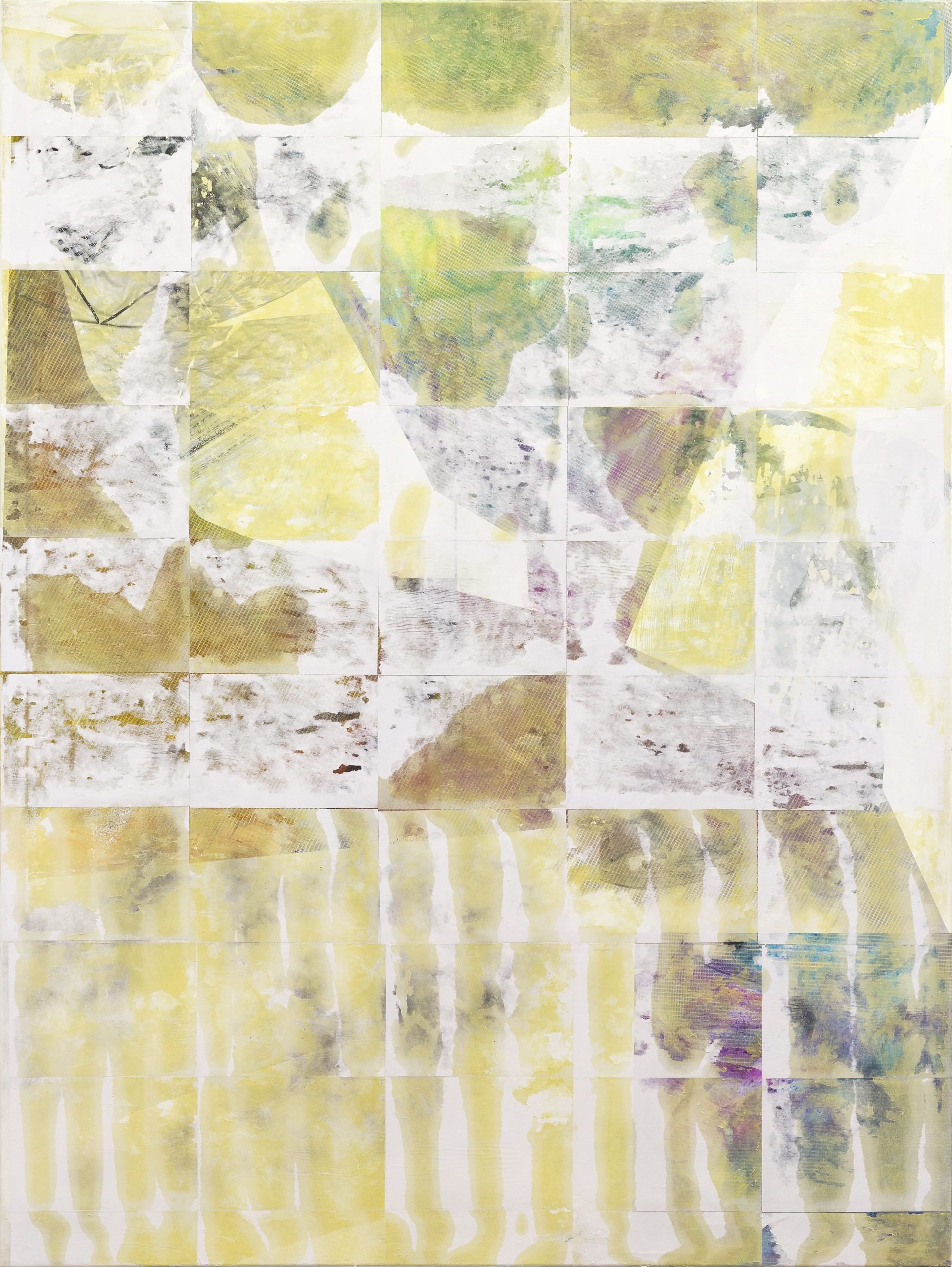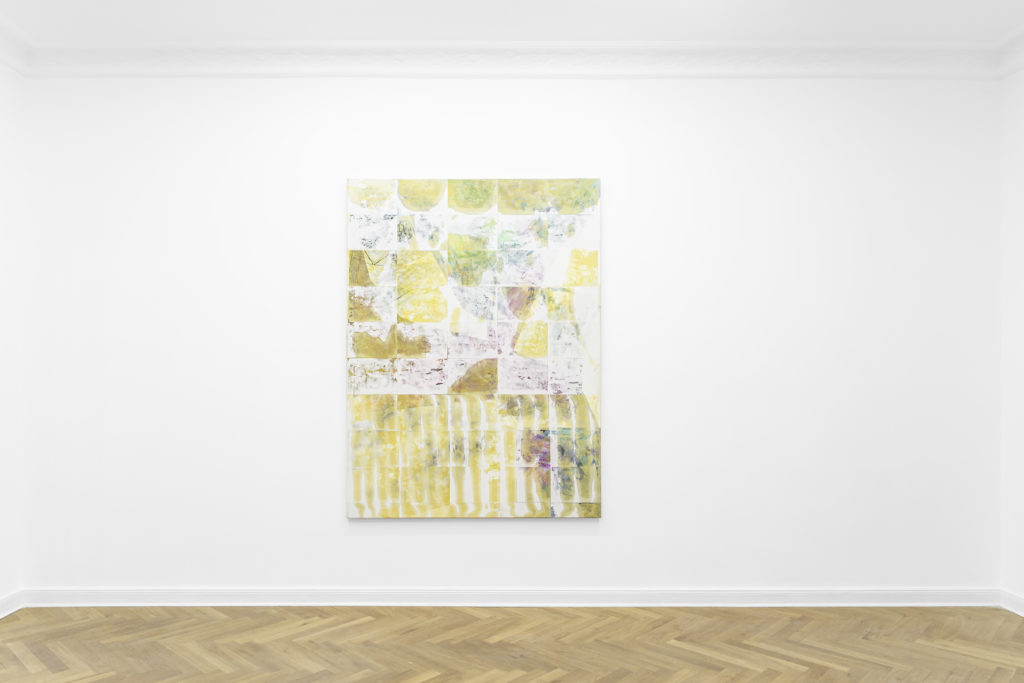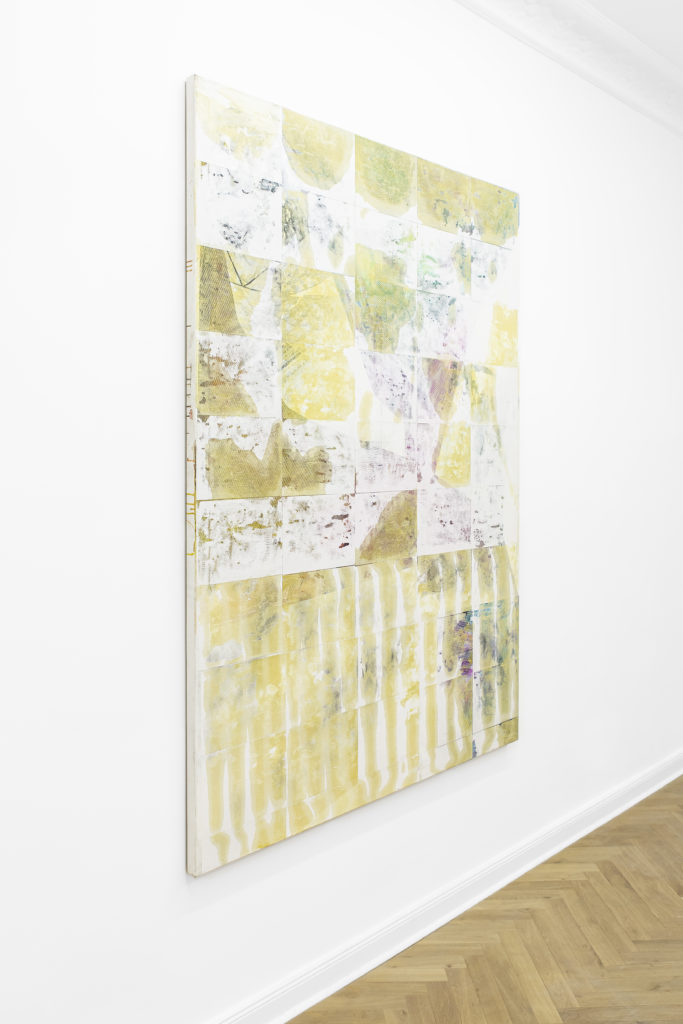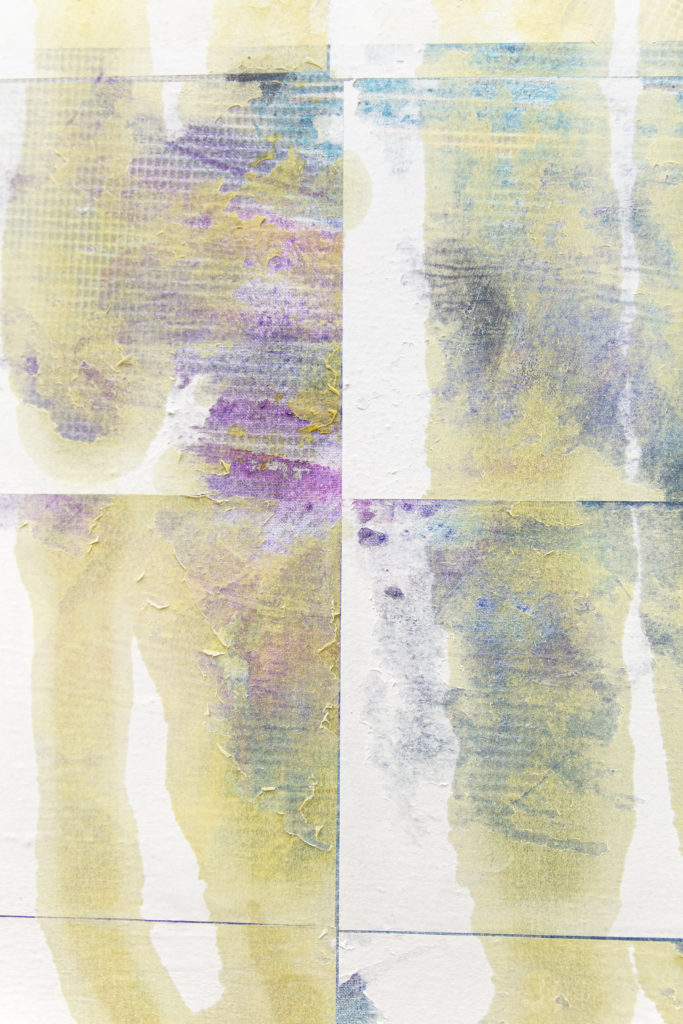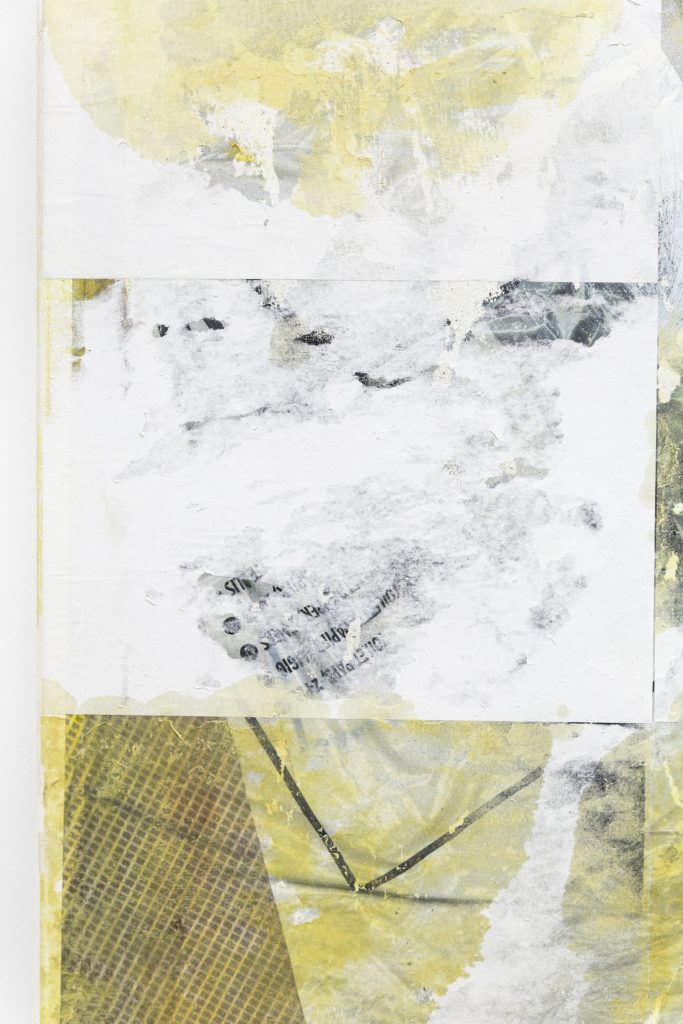 Photos: Julie Becquart
---
JOHN MATTHEW HEARD Flash Card
February 7 – May 9, 2020
> press release
> checklist
> 3D tour
> Contemporary Art Daily (selected by Tenzing Barshee)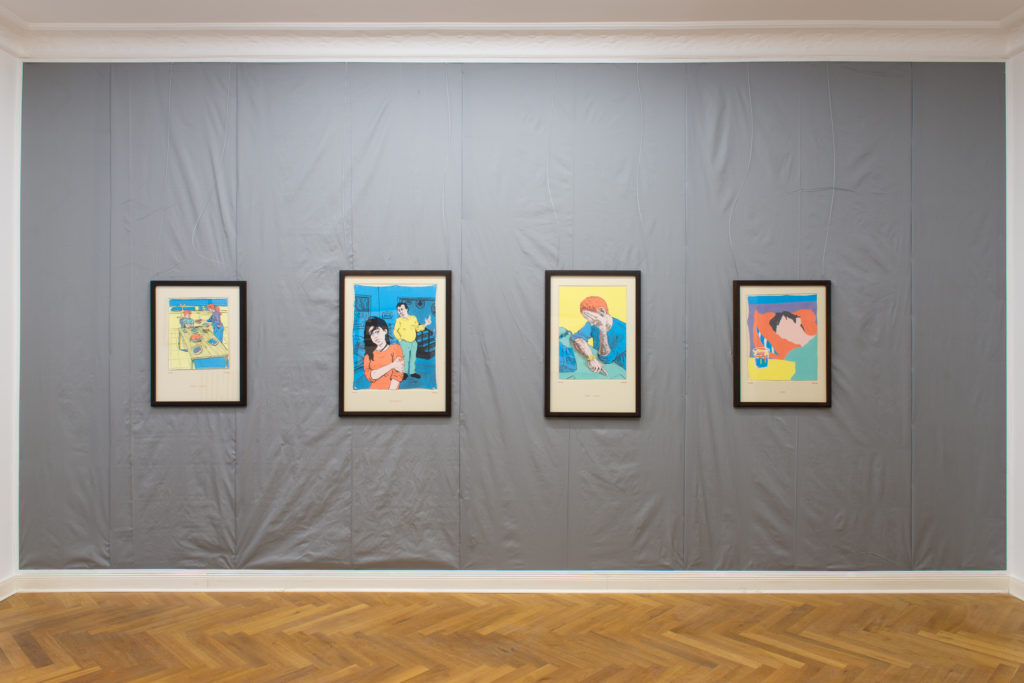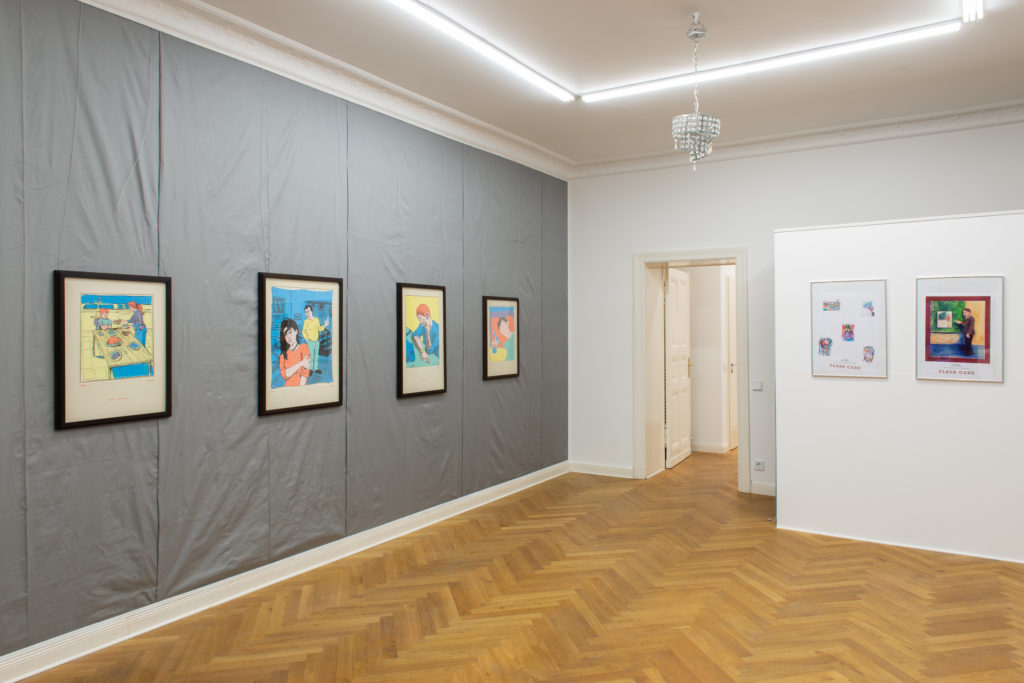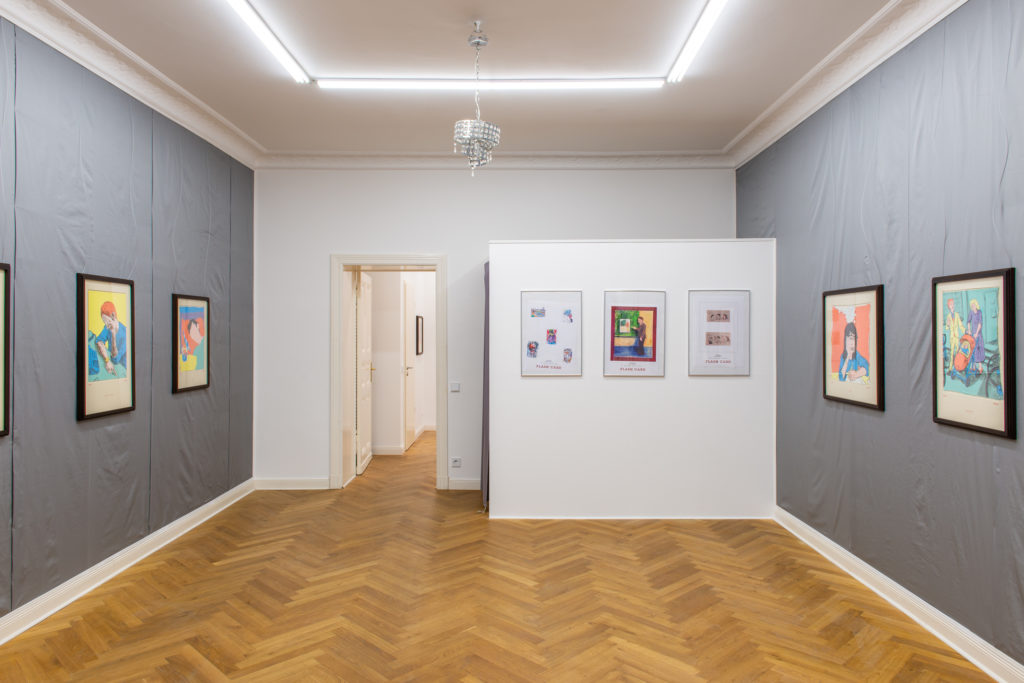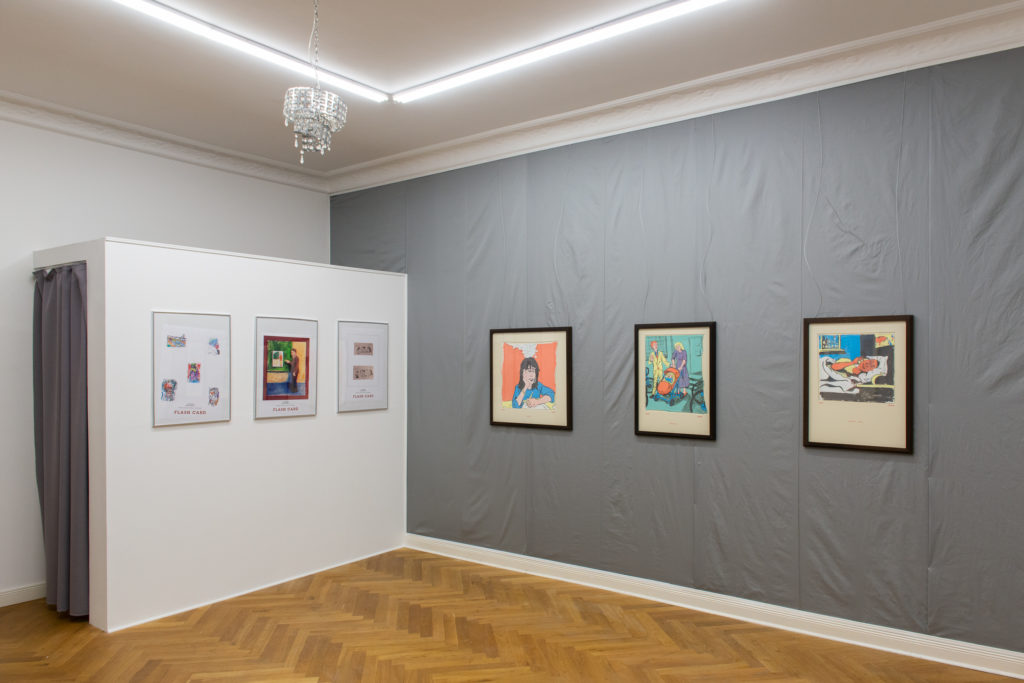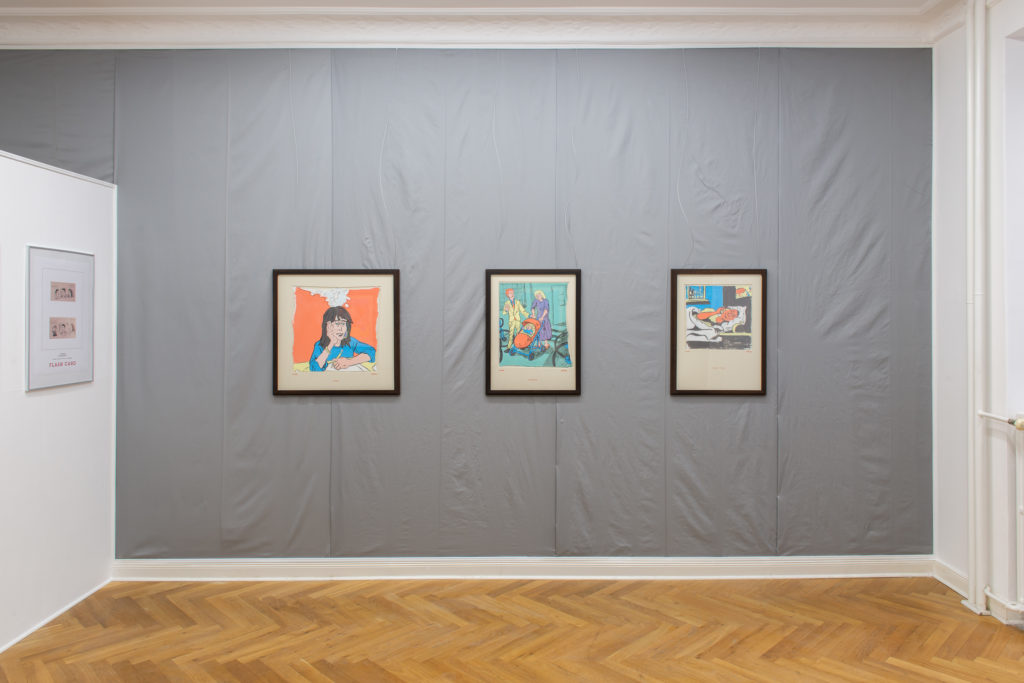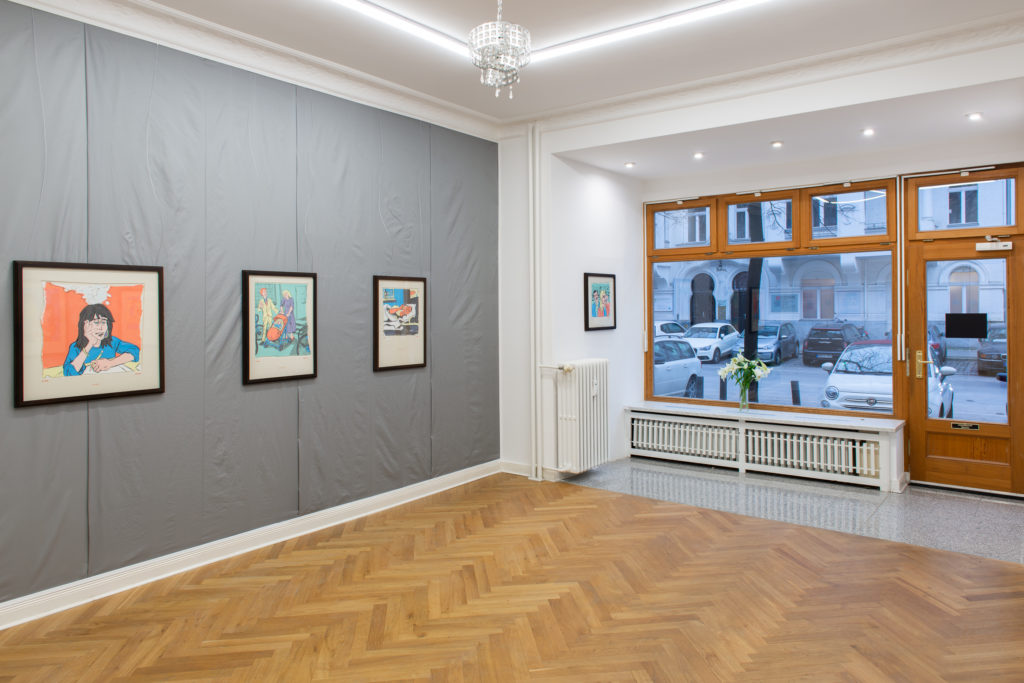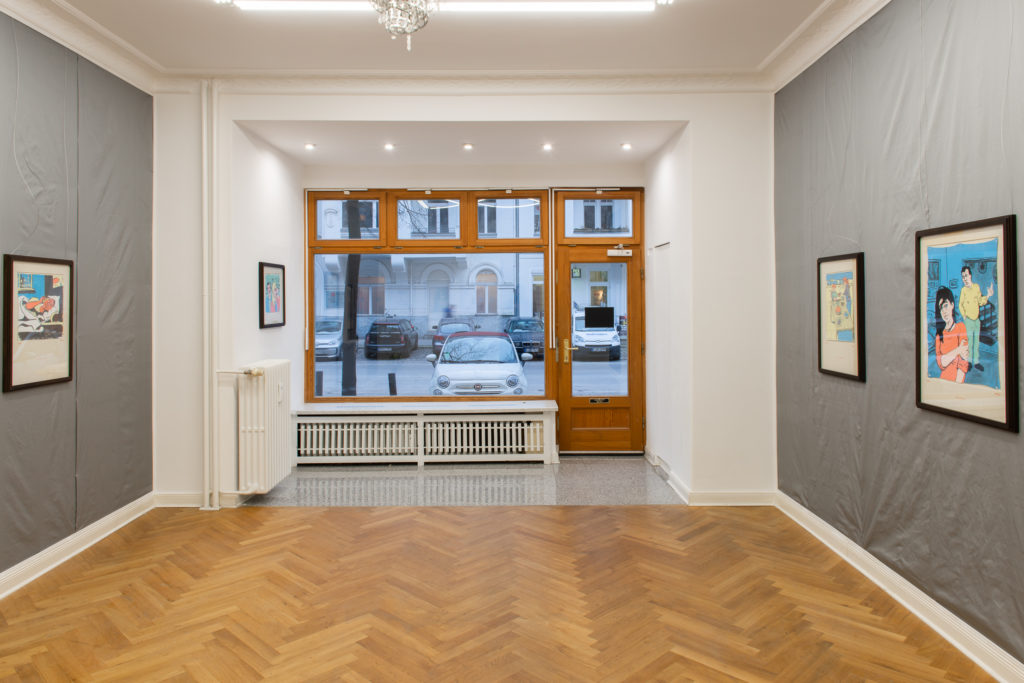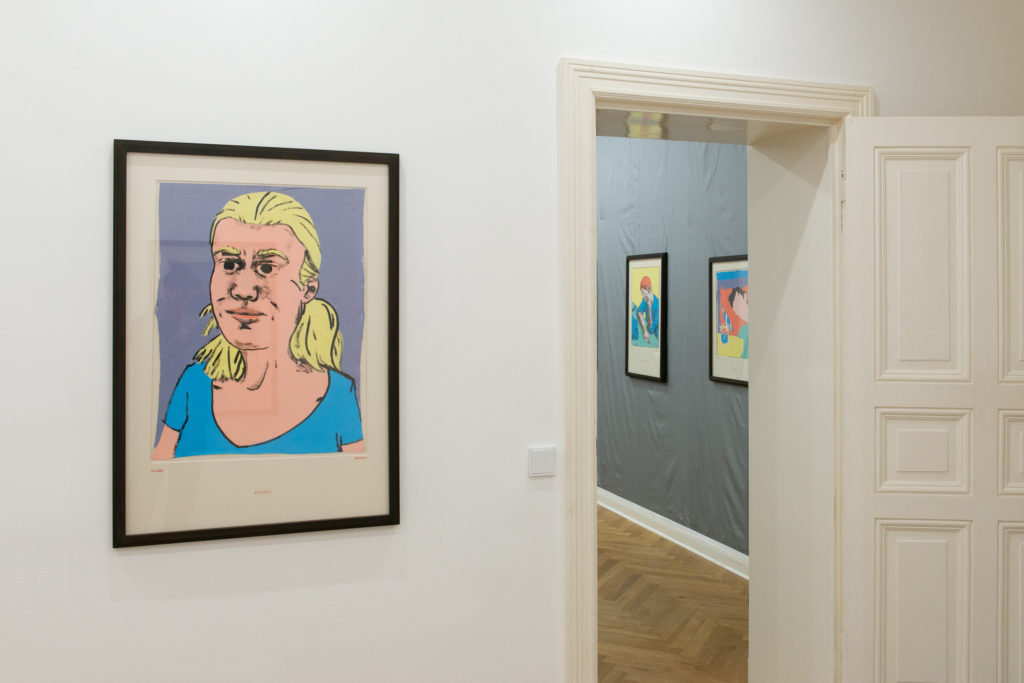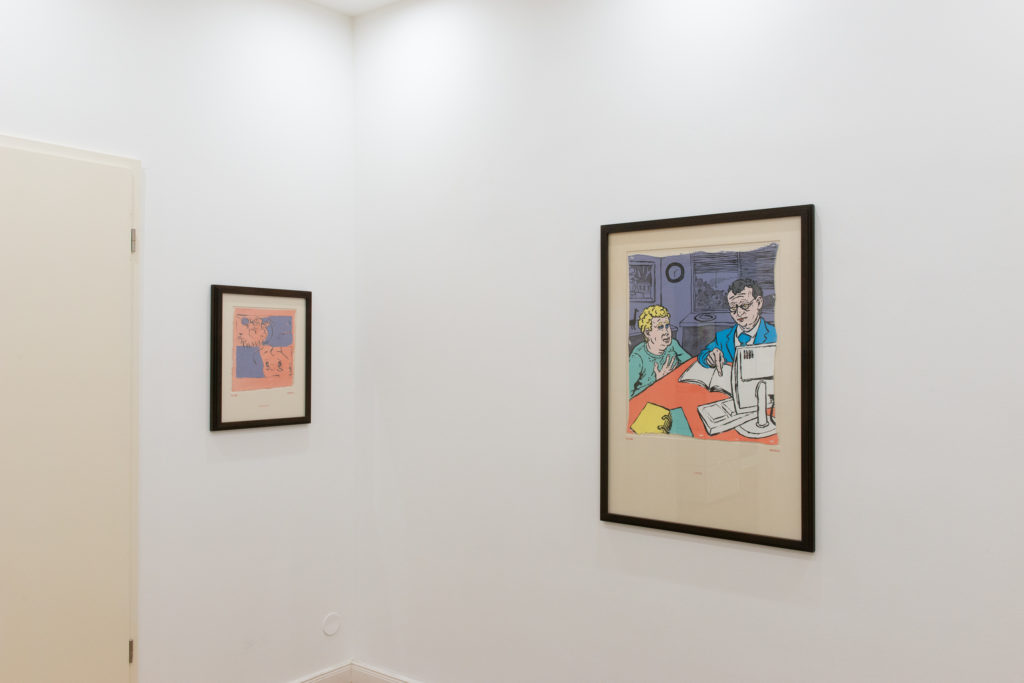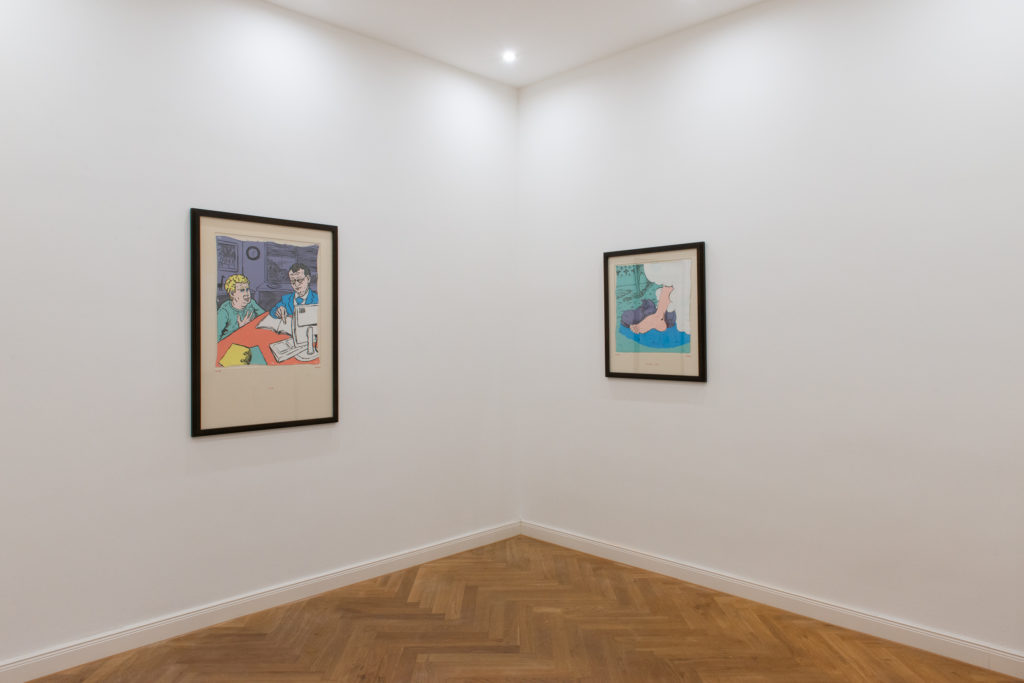 Photos: Julie Becquart
……. when in peril
No additional text for print.
So read the primordial saturations. Through and through, like the baleen of the whale's jaw : sieves, shudder-lit, tendering, it filters the krill from the mass, the invisible proteins, the microcosm from the chasm, the thing from the wanton, yes it wrings the sea through the verdant sea.
Ever since childhood you have known. The artist has this obligation to desire, the way color requires vowels. The way the phone has its own diabolical tastebuds. The way the bones of snowy owls are found in the Abyssal Plain. We have this obligation to follow its helpless migration, its incandescent howl. To put foot to soil, silt to bed.
Dolphins of words leap from the crevices. They candle and hiss, arcing in you. There is only one Ocean. It is not metaphorical for those who live it.
My friend who was born on her parents fishing boat in Alaska, a twin, tells me this.
The hummingbird drifts from land for fragrance is not always rooted to cause.
Sleep is a moate full of hungry ghosts, around the red crumb of winter.
Seeing is a sinking ship. Watering to obscure that shape.
What happens to places water once needed ?
………. Time         gets used for a lot of things …
Our house in the desert belongs to geckos now. They are the hue of having eaten spiders in silence on cactus pads. Warm blue, cold orange, beak-pierced, cunning. Jack has been there.
When in peril, geckos lose their tails on purpose, leaving them behind for the hunter, a phantom body loose in the dune, one could use to make this work.
Devin Alexander
Invitation card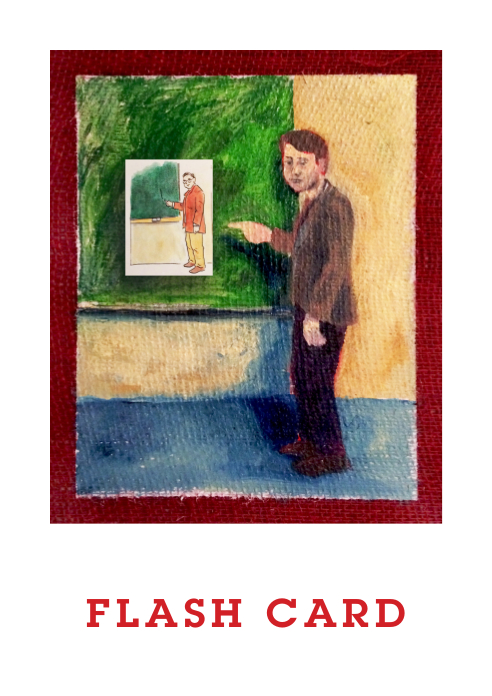 ---
YANA TSEGAY The Amber Room
November 30, 2019 – January 27, 2020
> Exhibition text (en/de) by Miriam Bettin
> Check list
> PASSE-AVANT – Yana Tsegay's Amberism, by Arootin Mirzakhani
> taz – Im Glanz geschmolzenen Zuckers, by Beate Scheder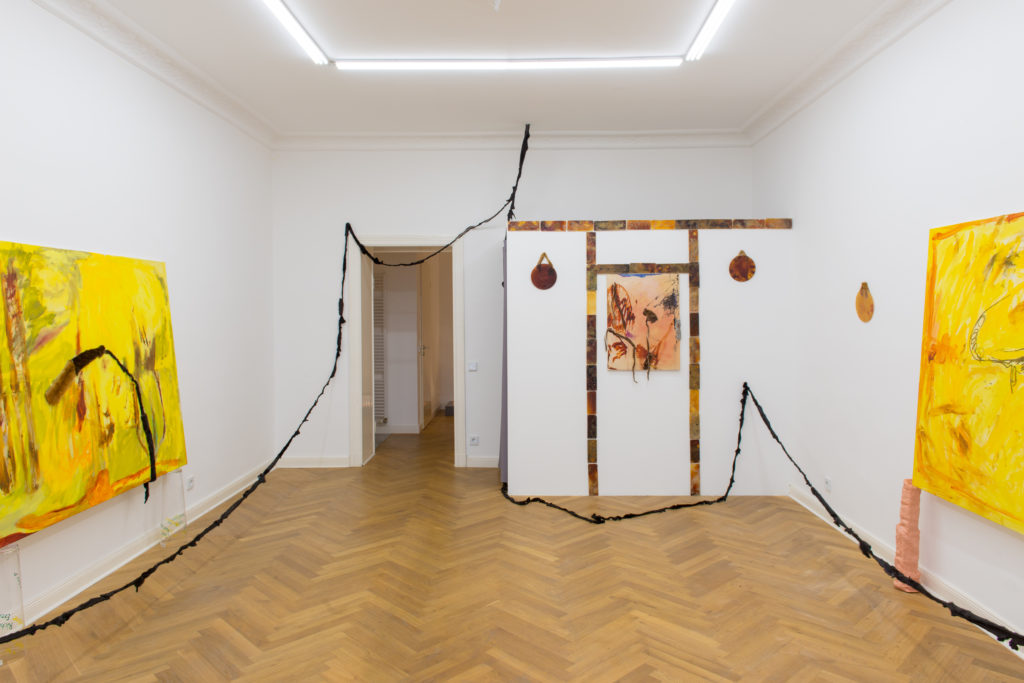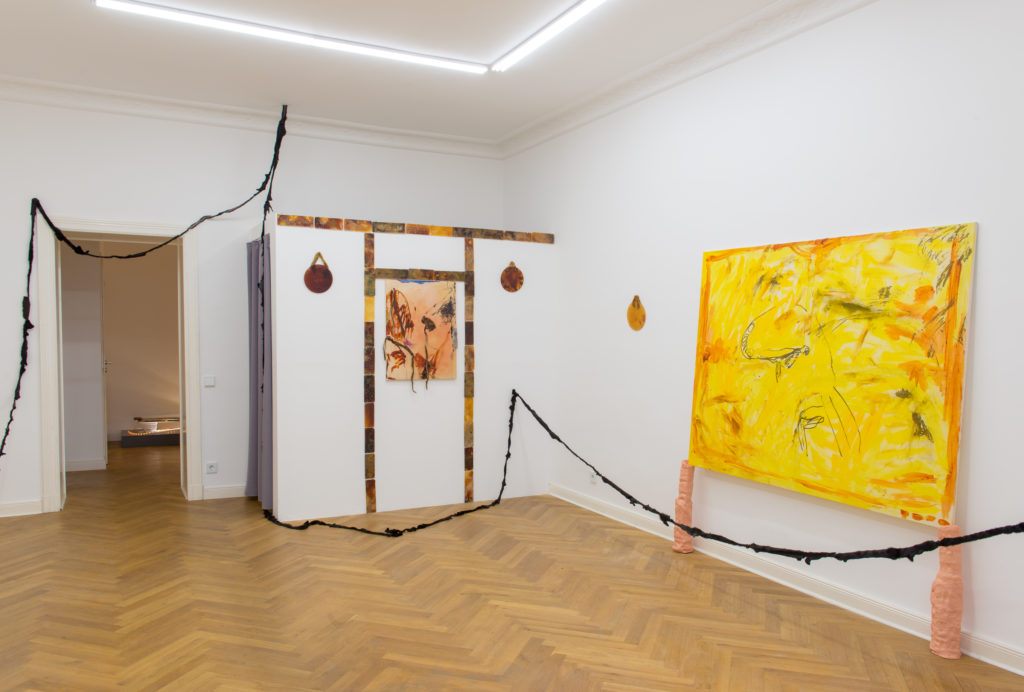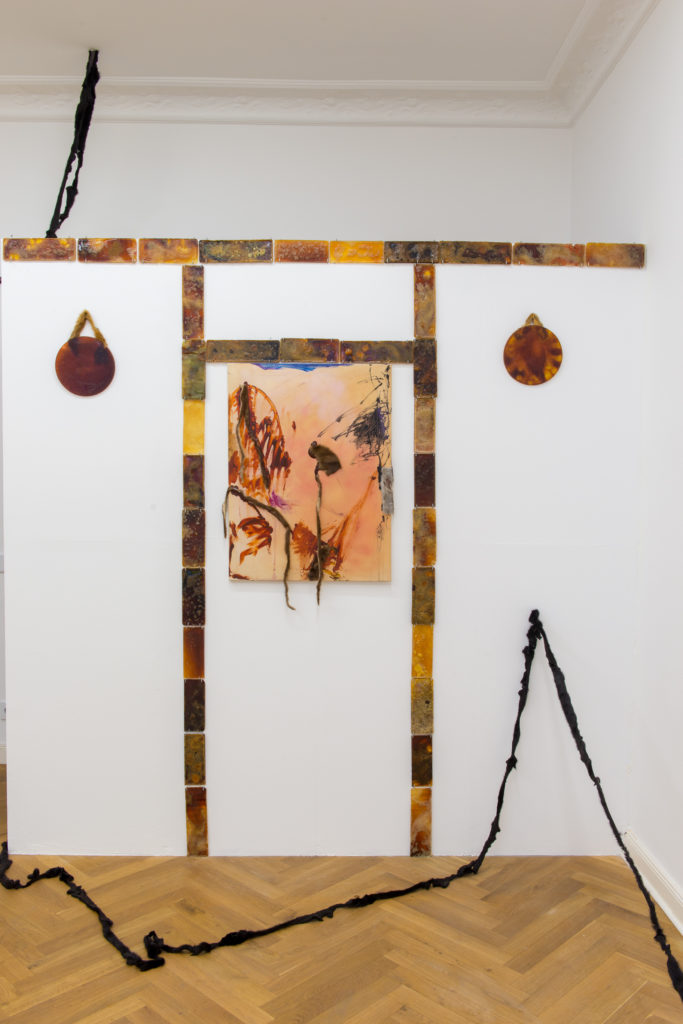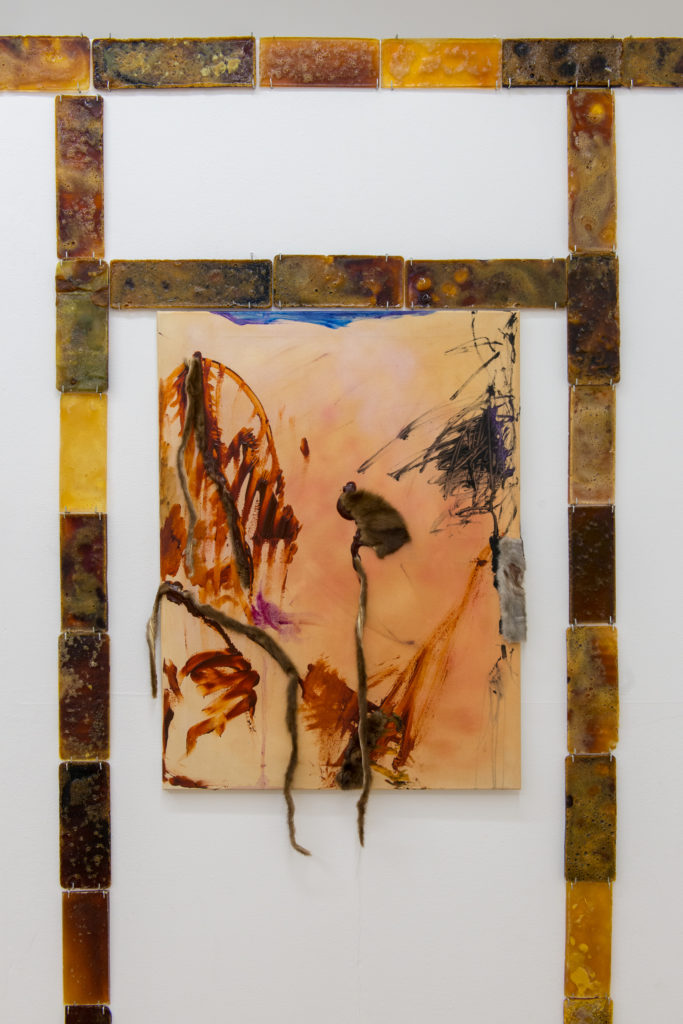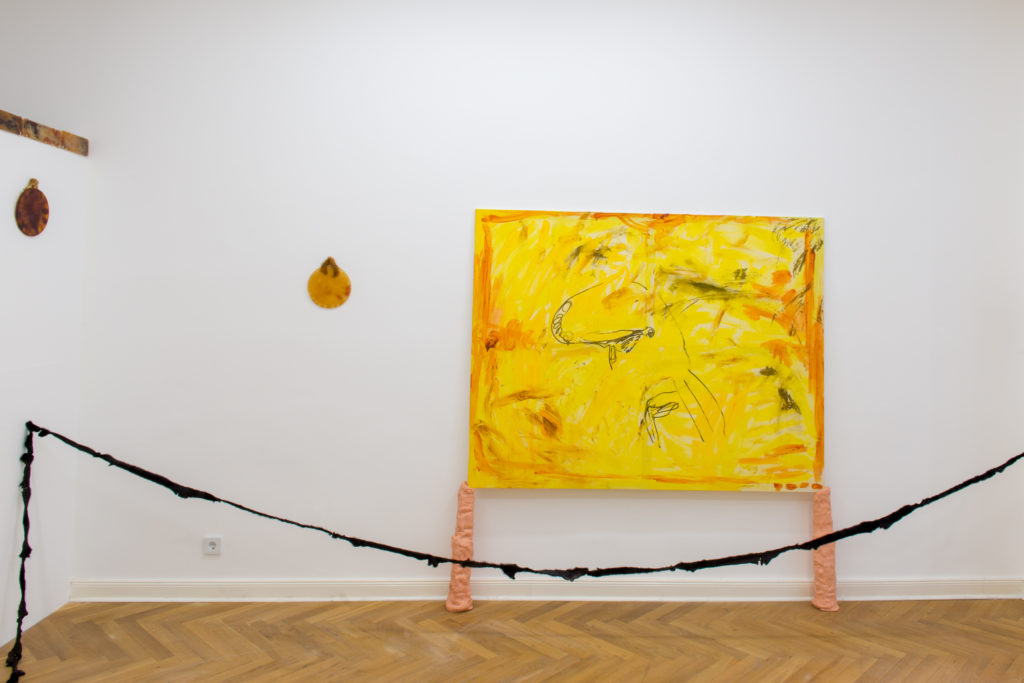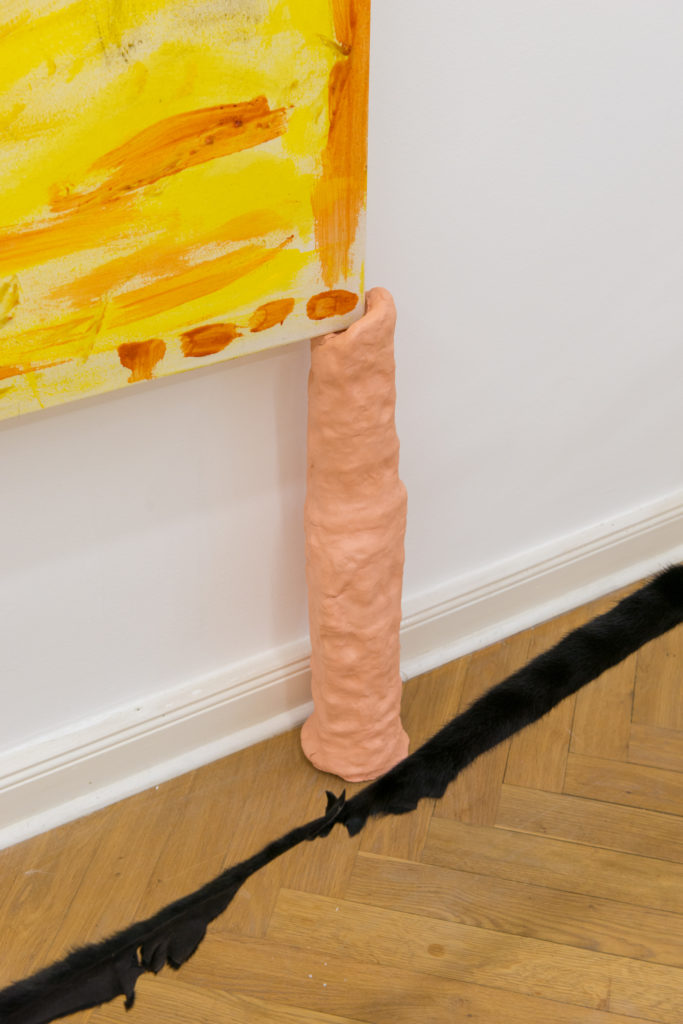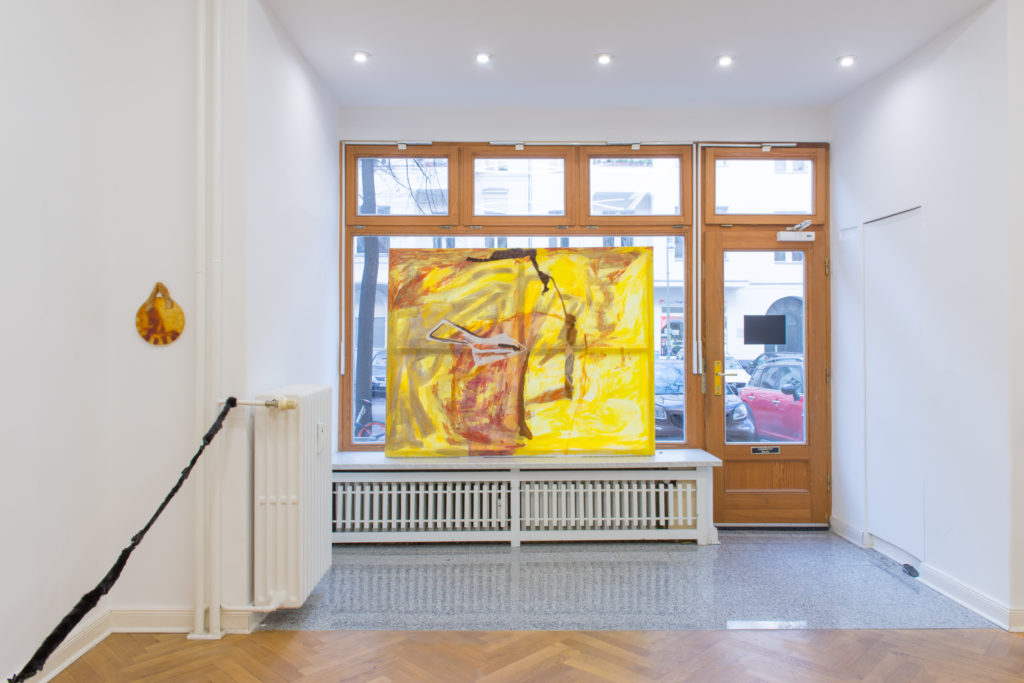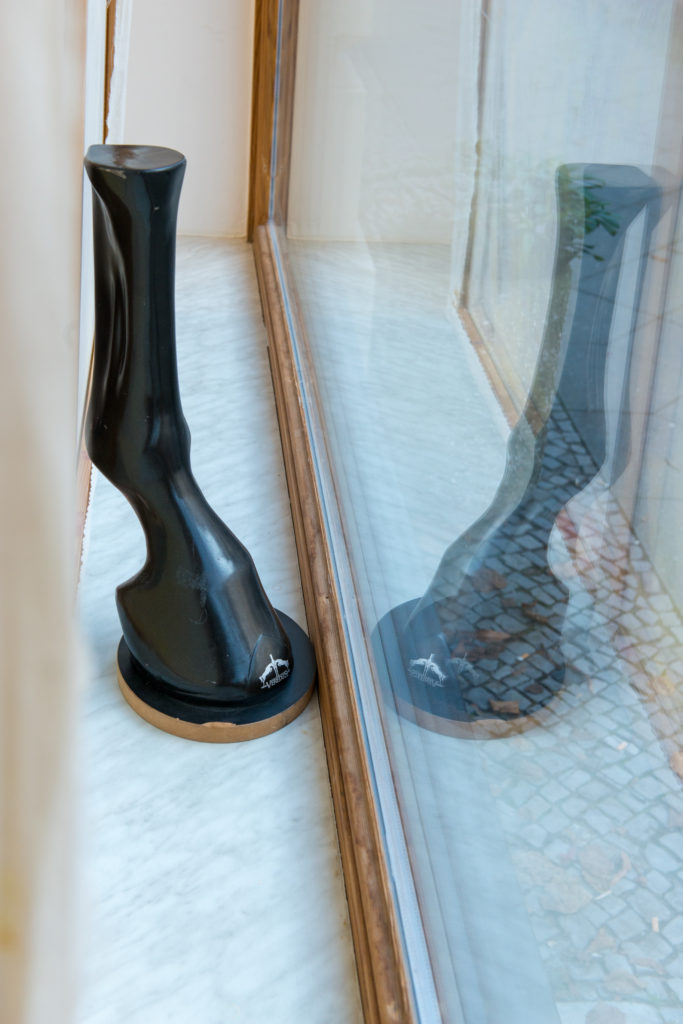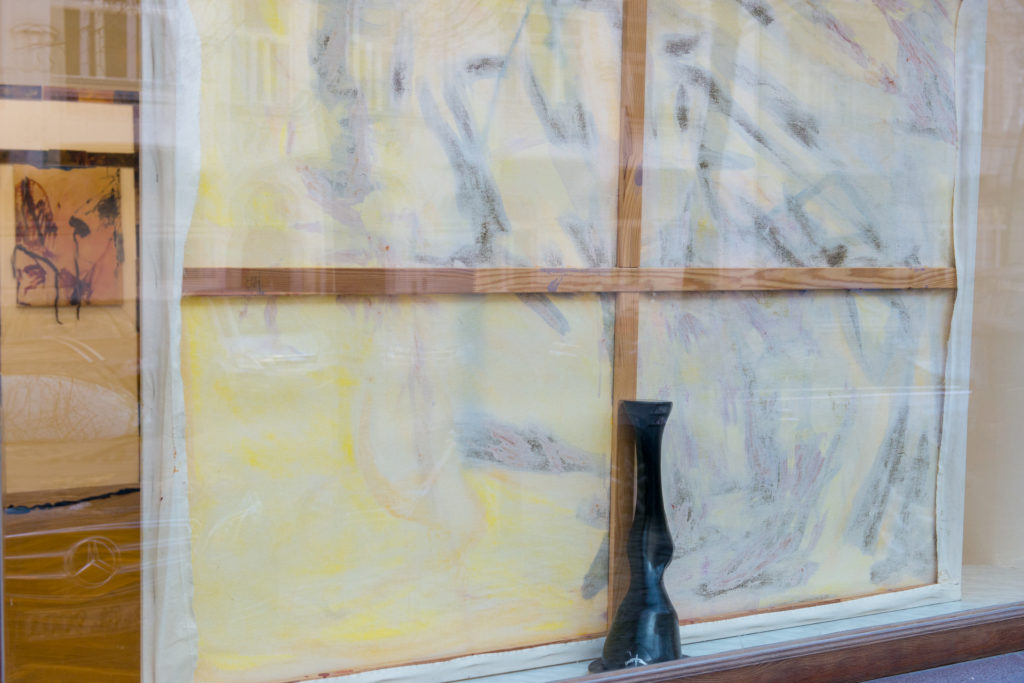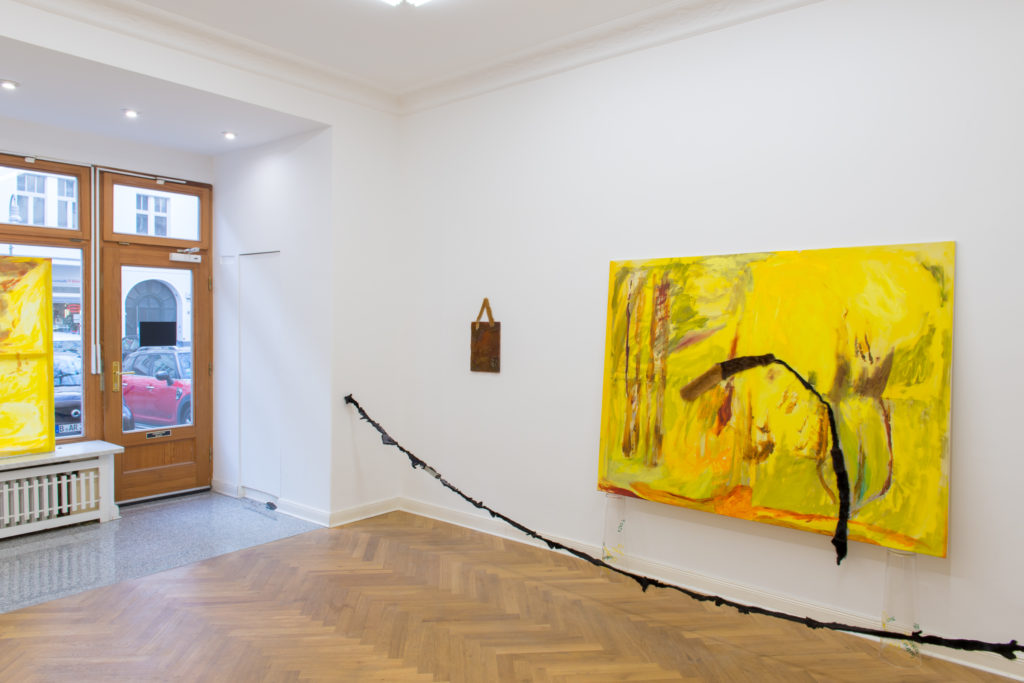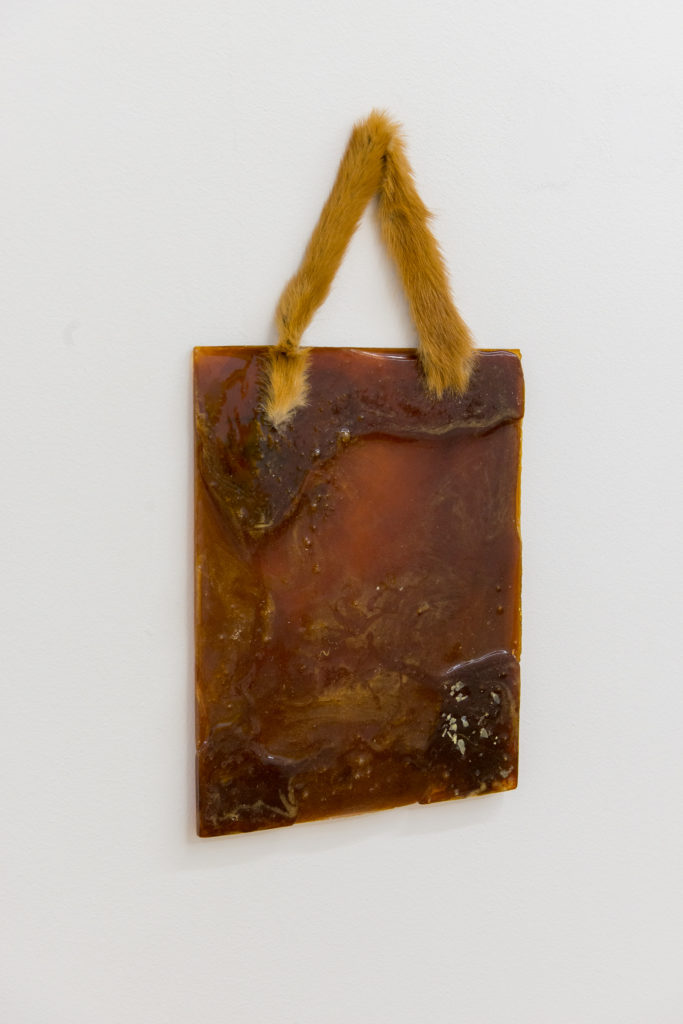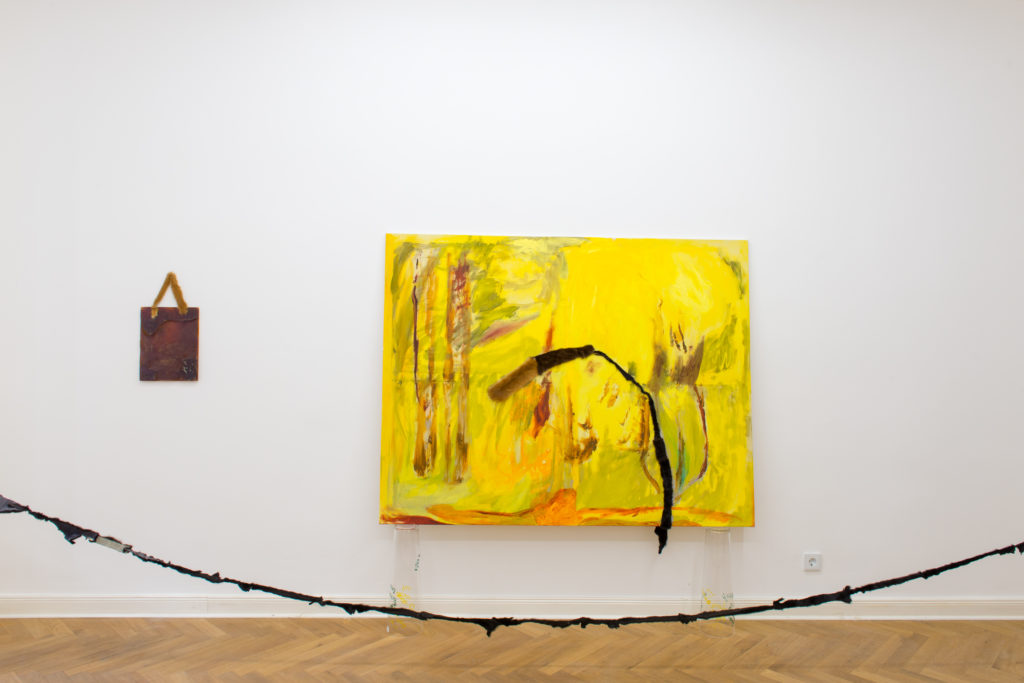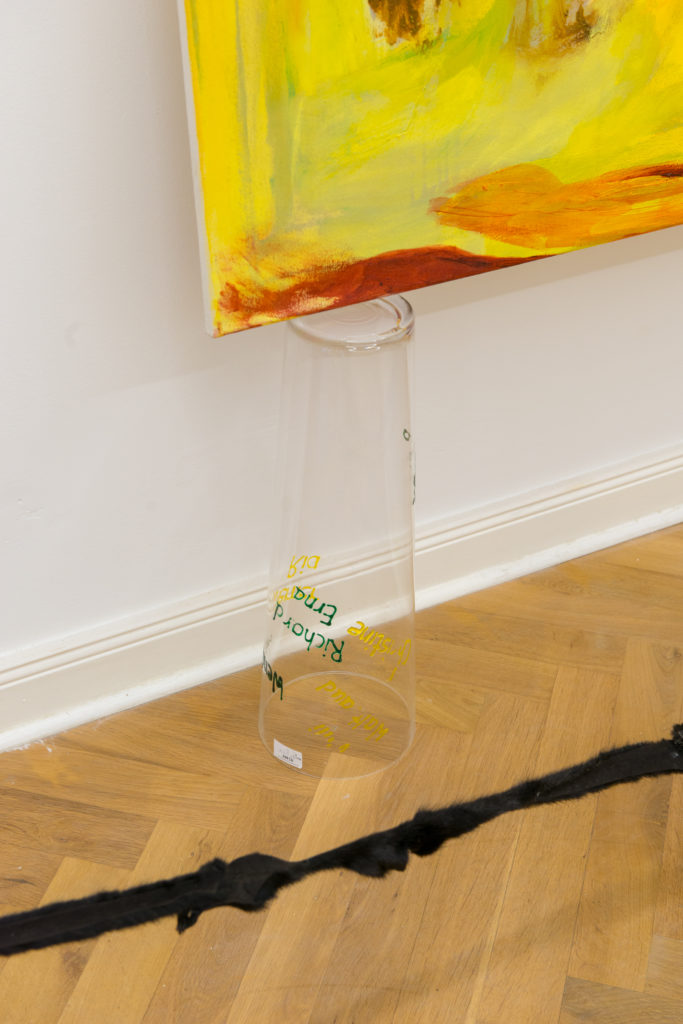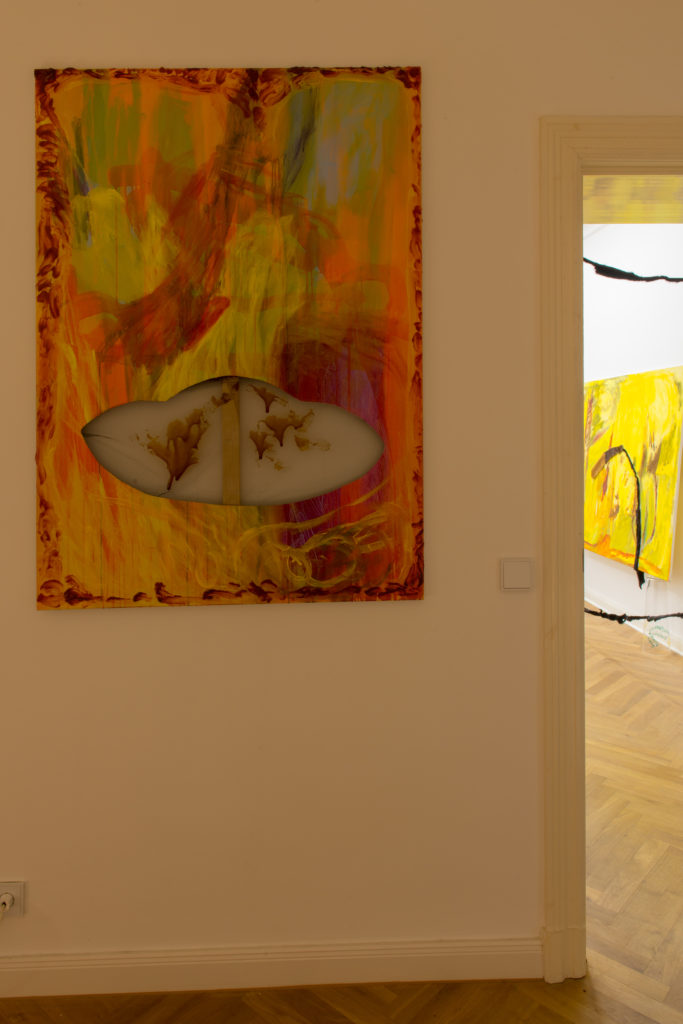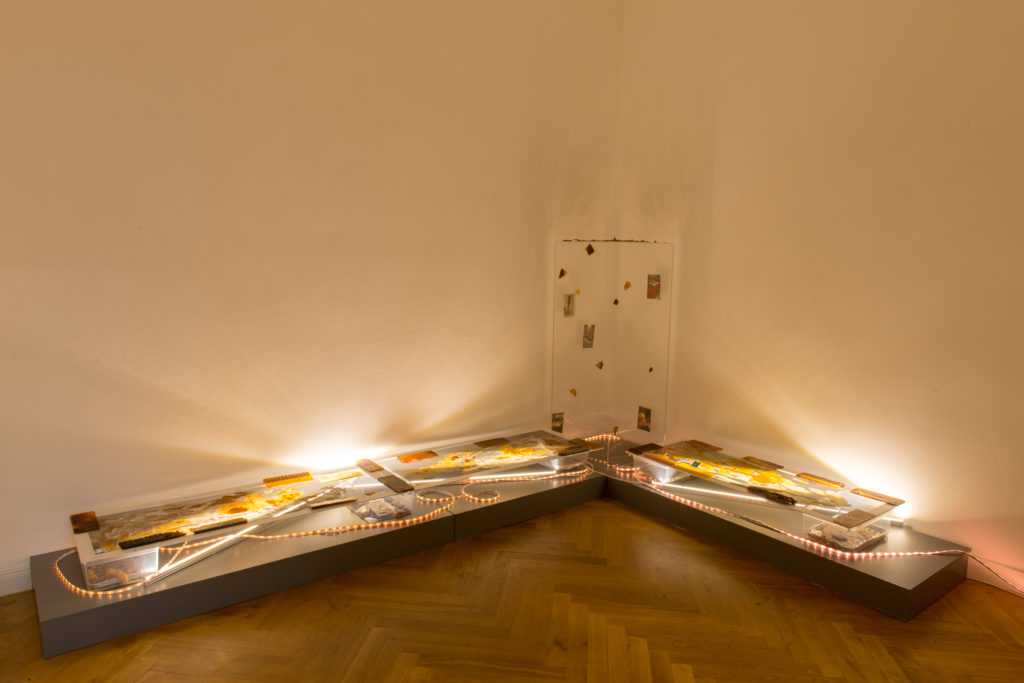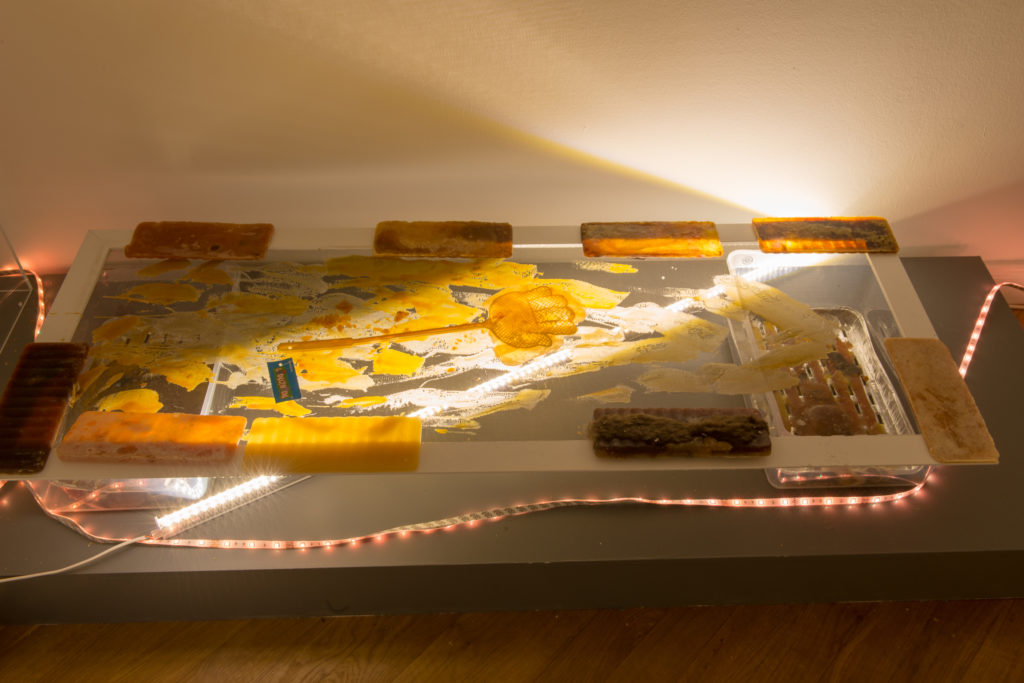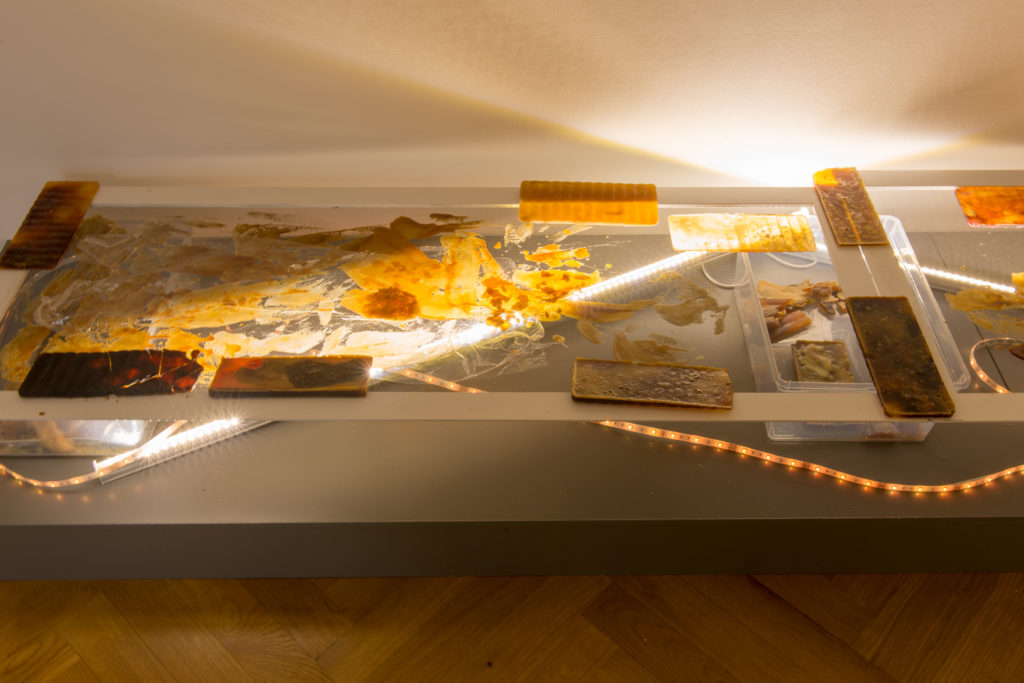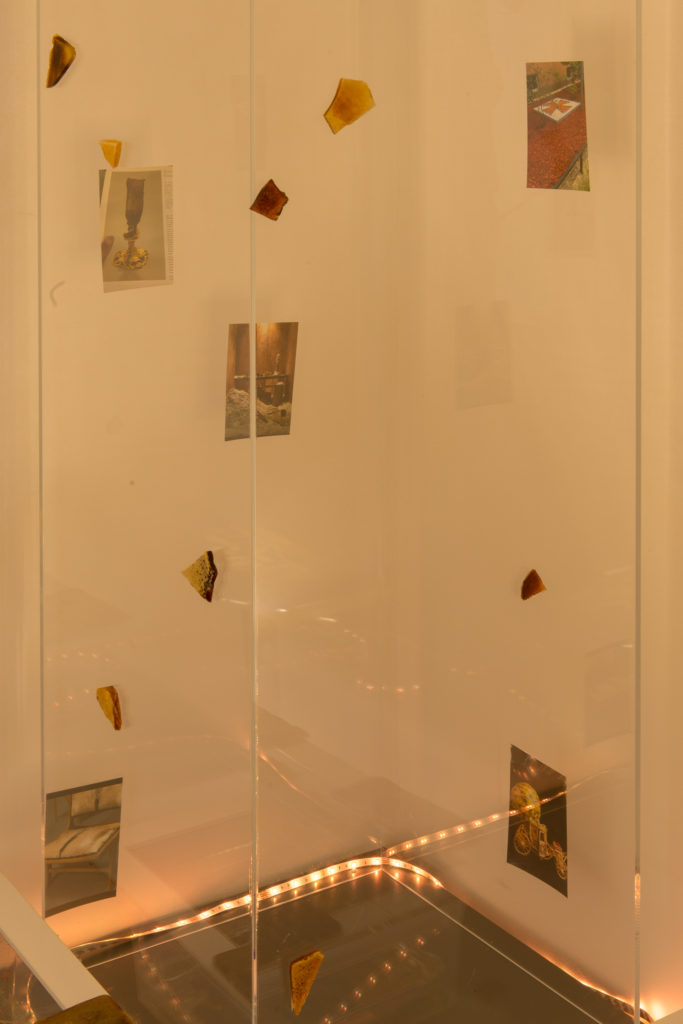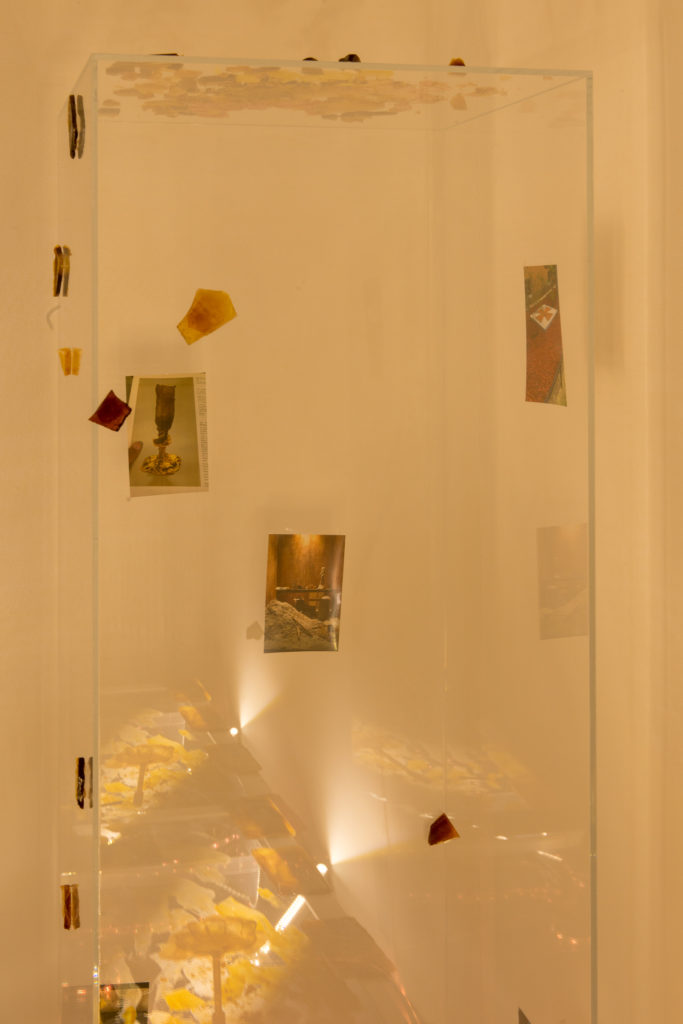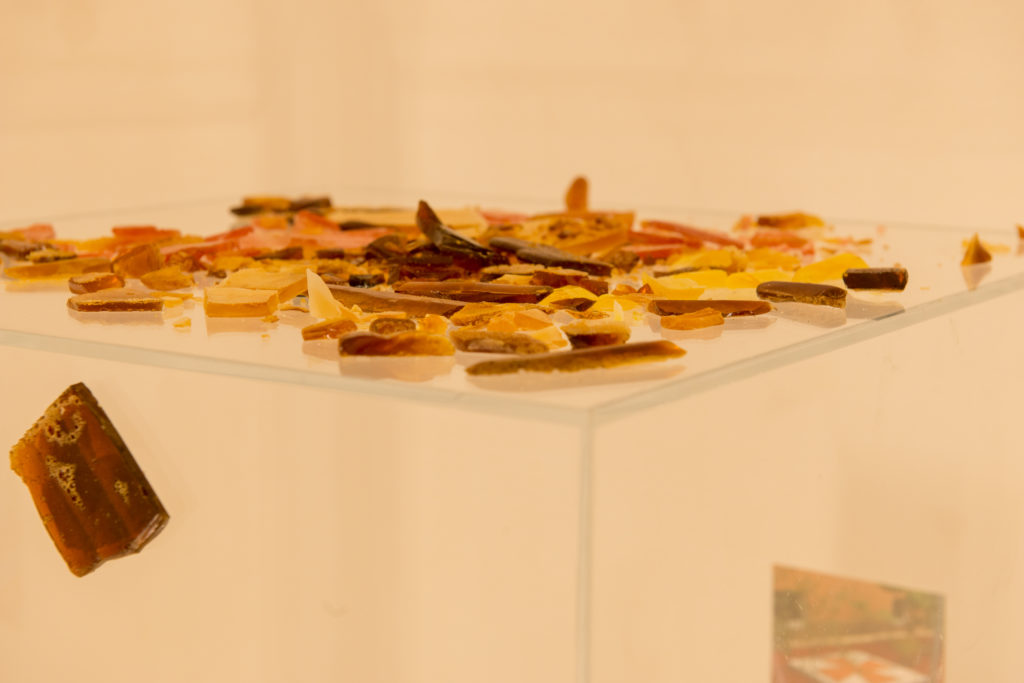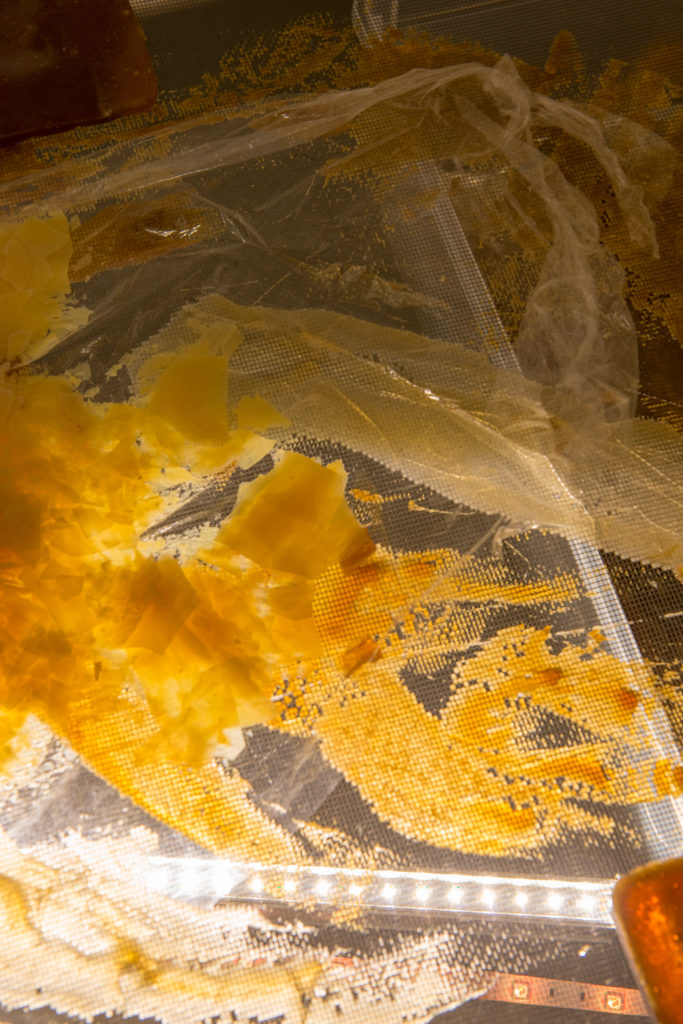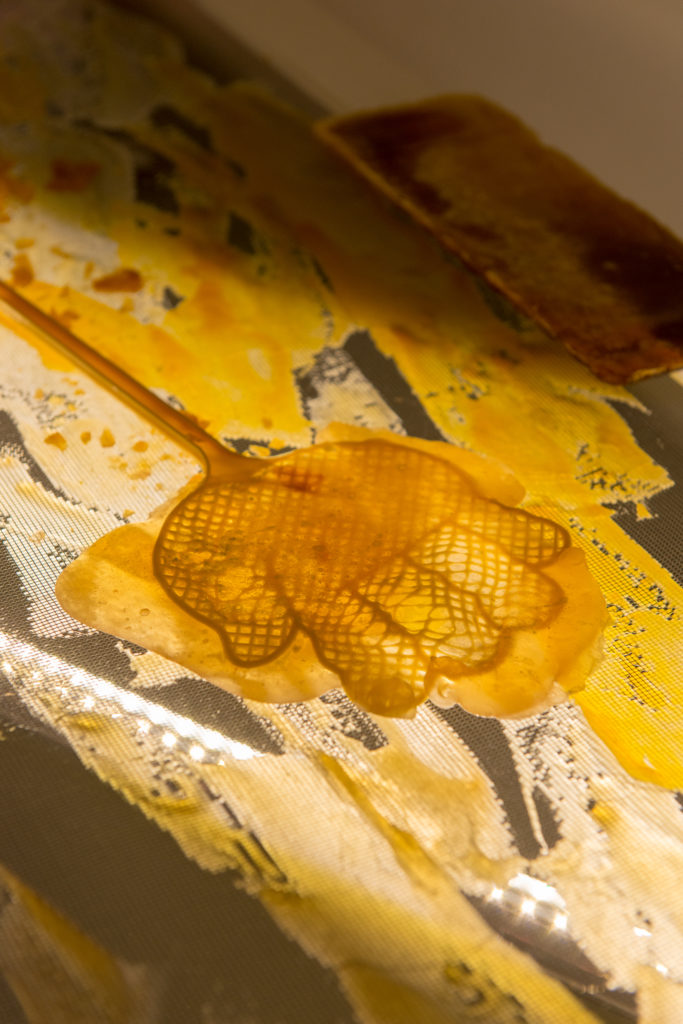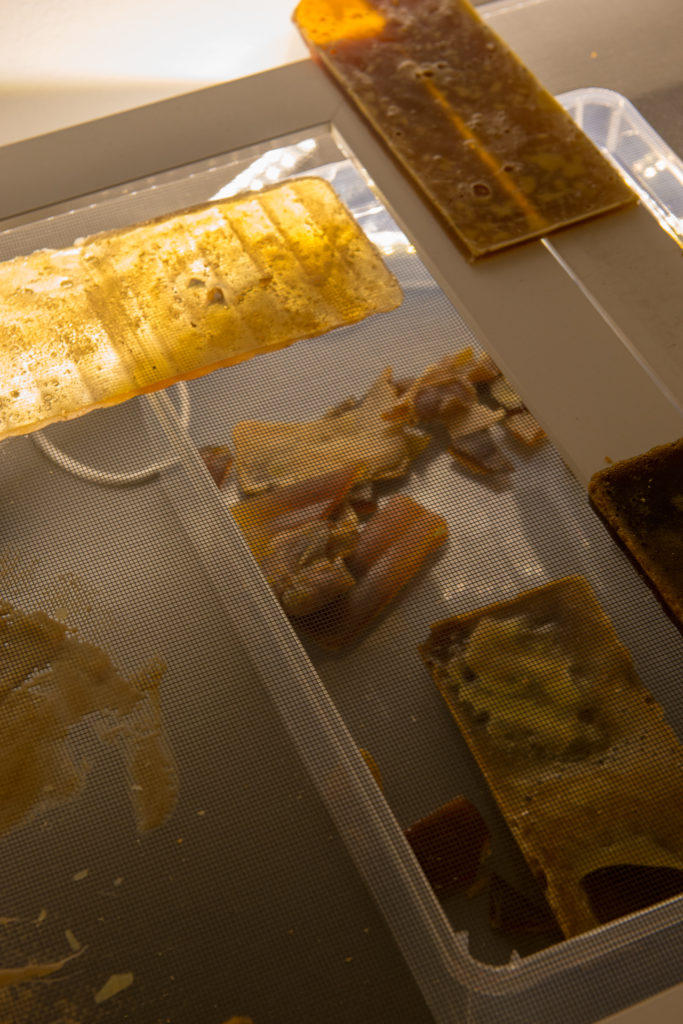 Invitation card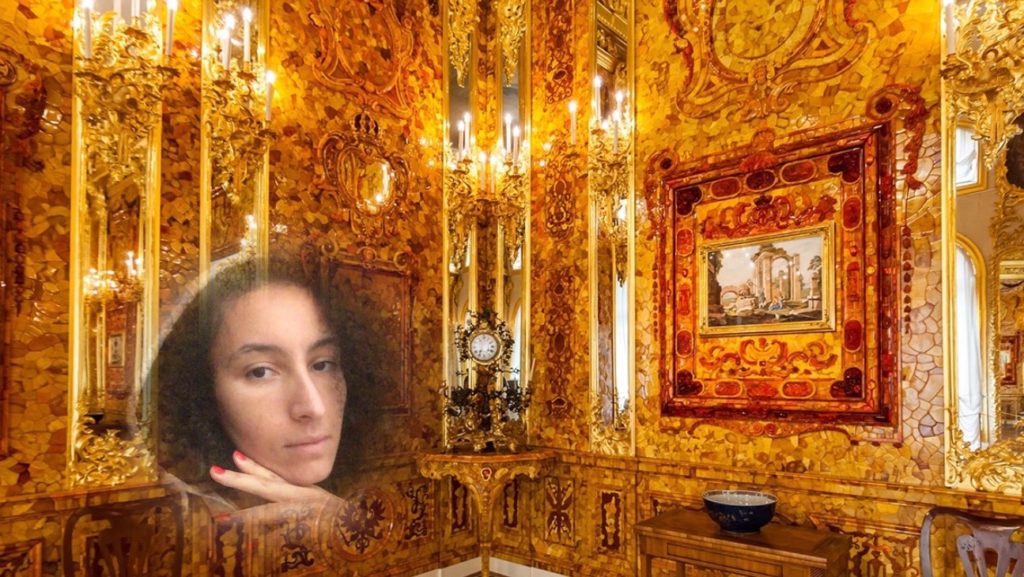 Yana Tsegay The Amber Room
Opening November 30, 2019, 6-9 pm * Performance at 7 pm
Exhibition November 30, 2019 – January 18, 2020
---
ERIC MEIER
Wind Of Change
October 18 – November 23, 2019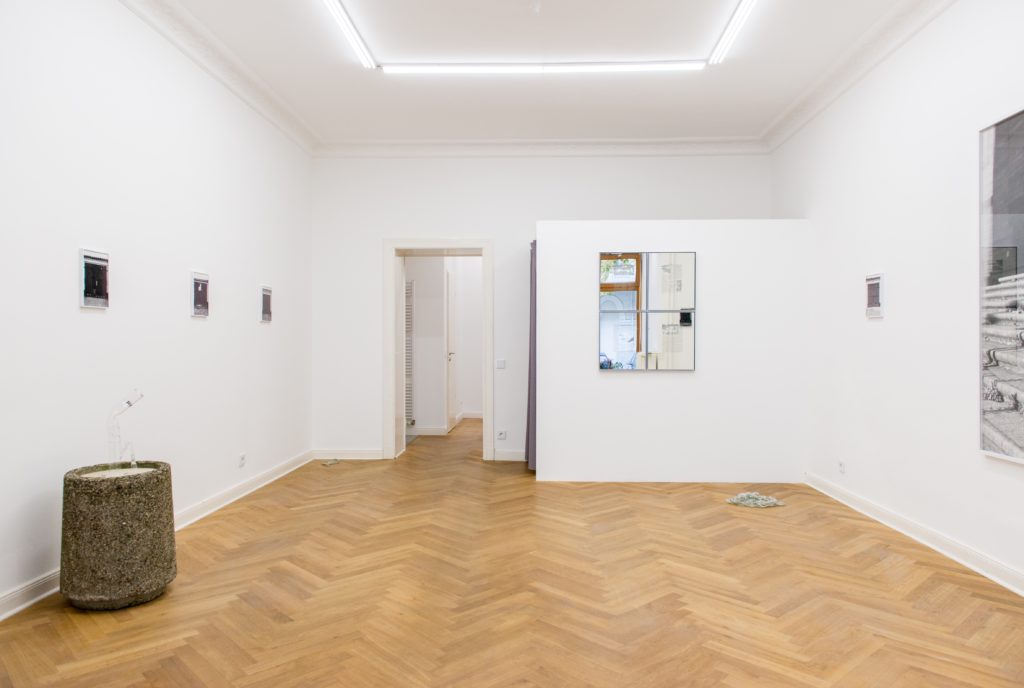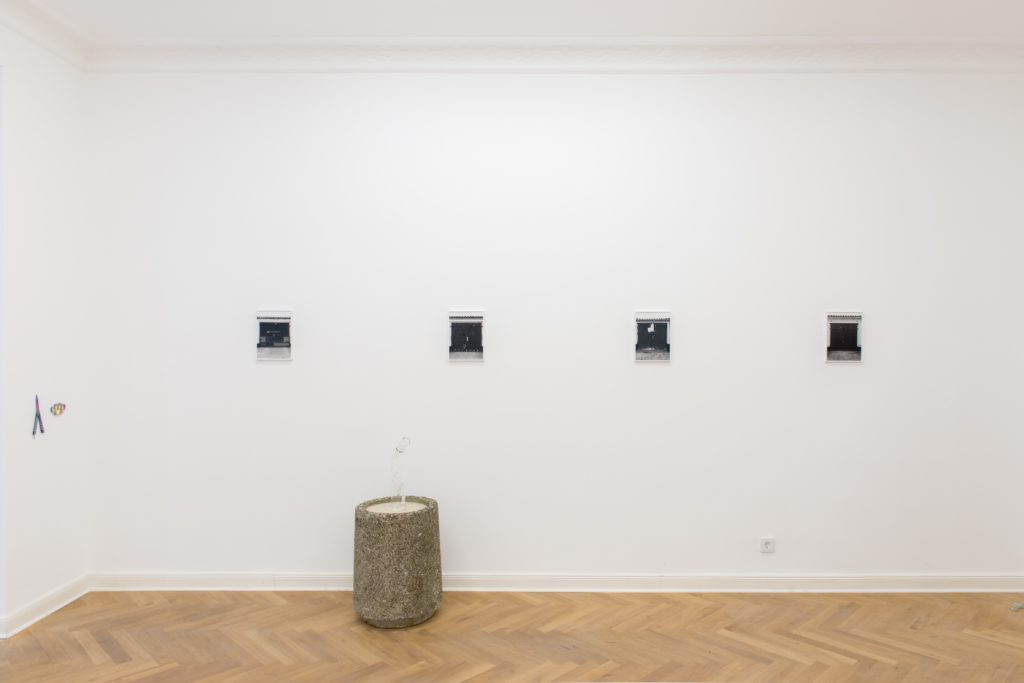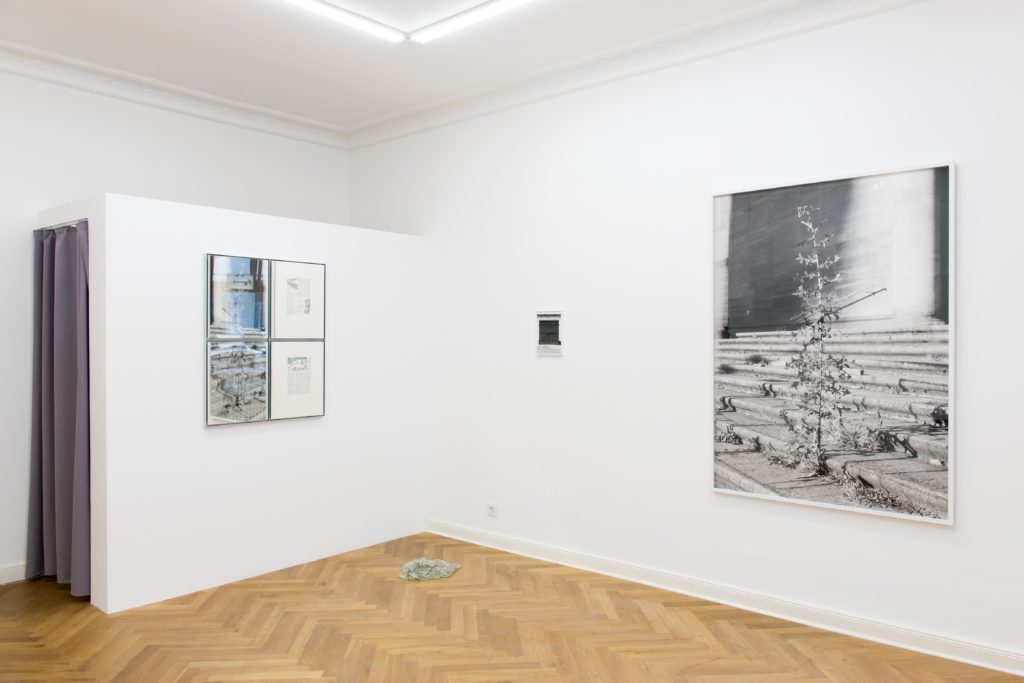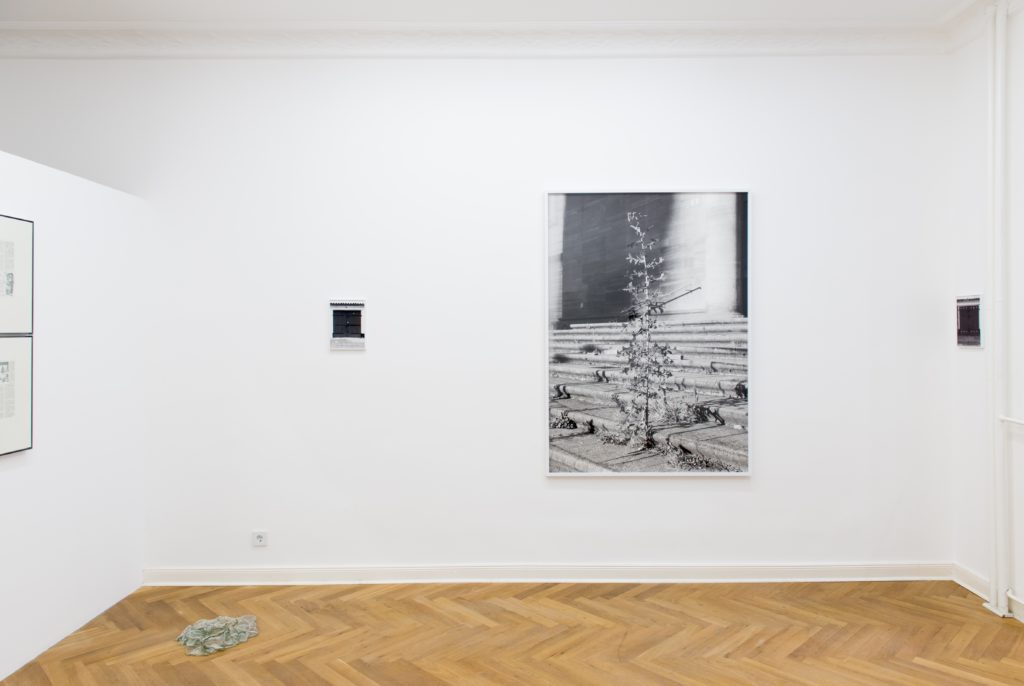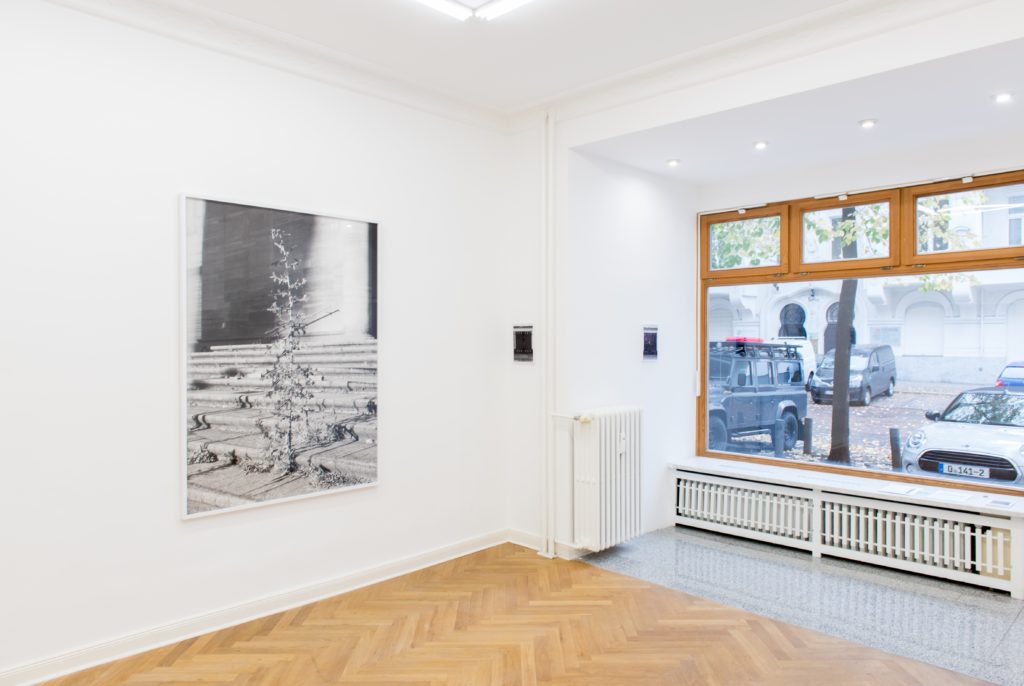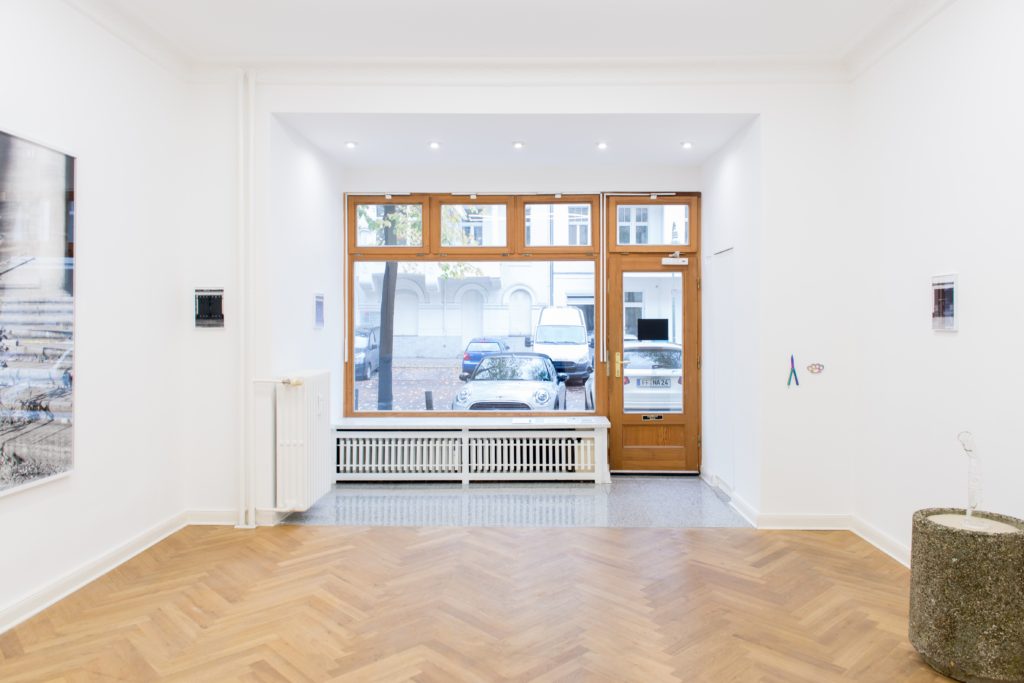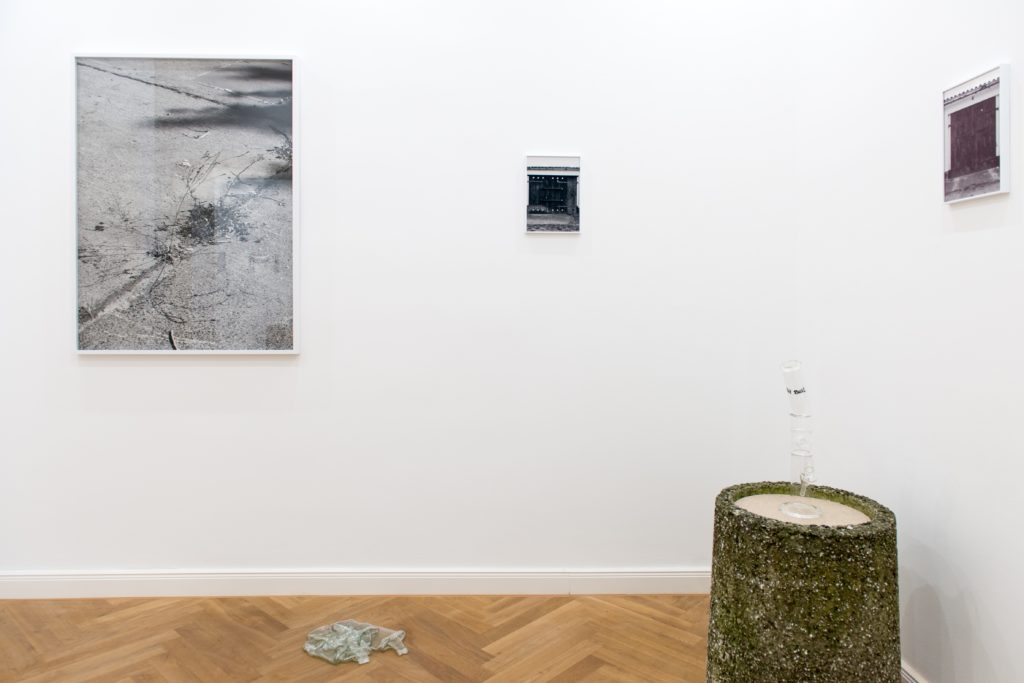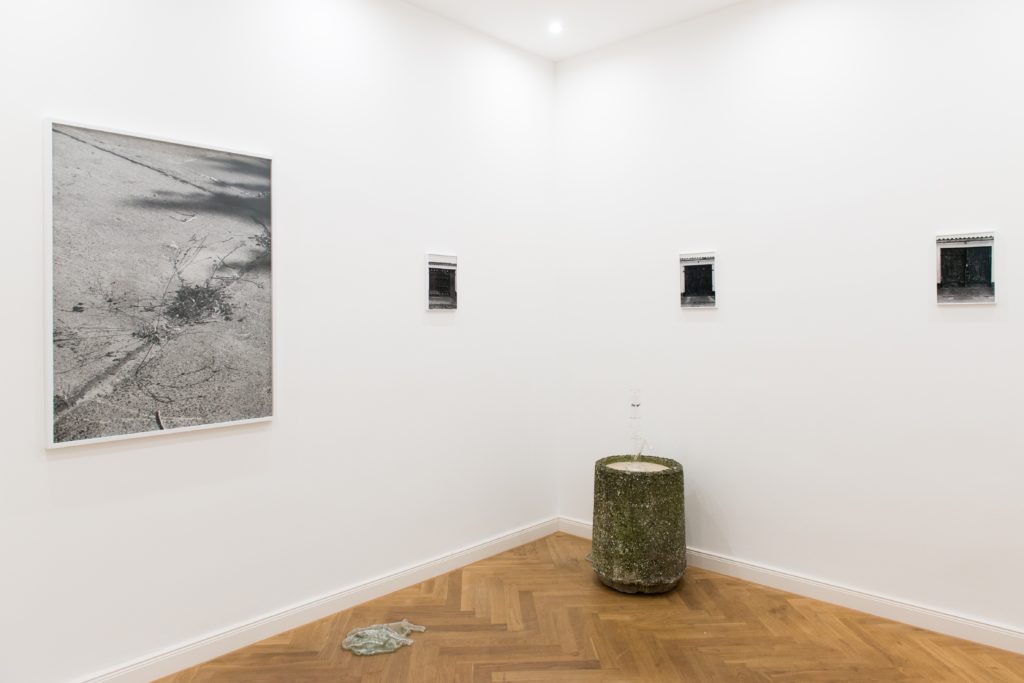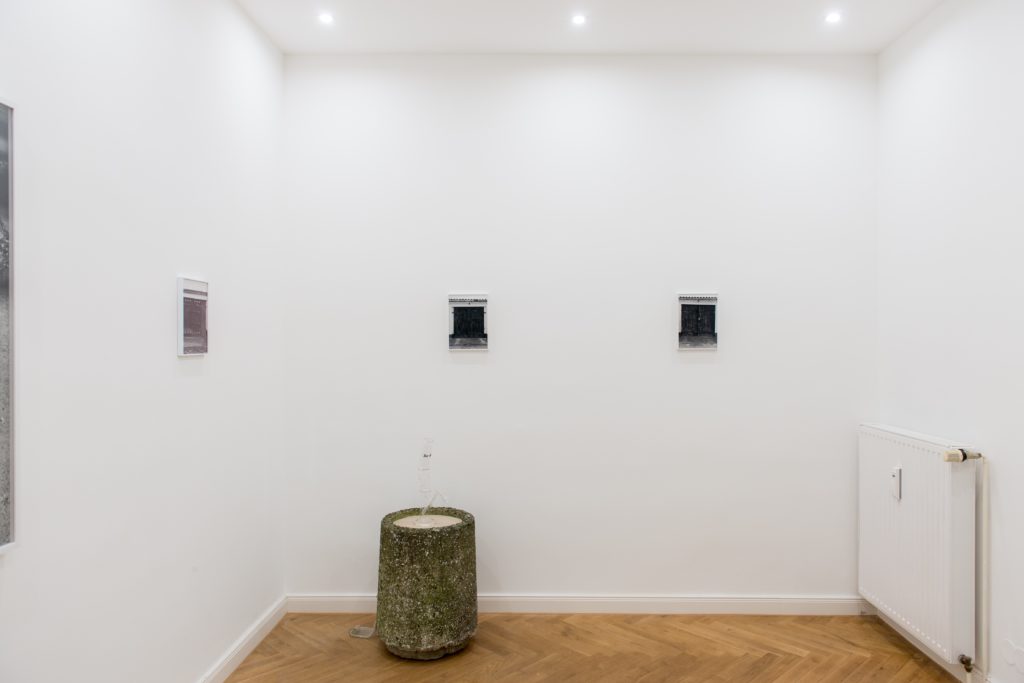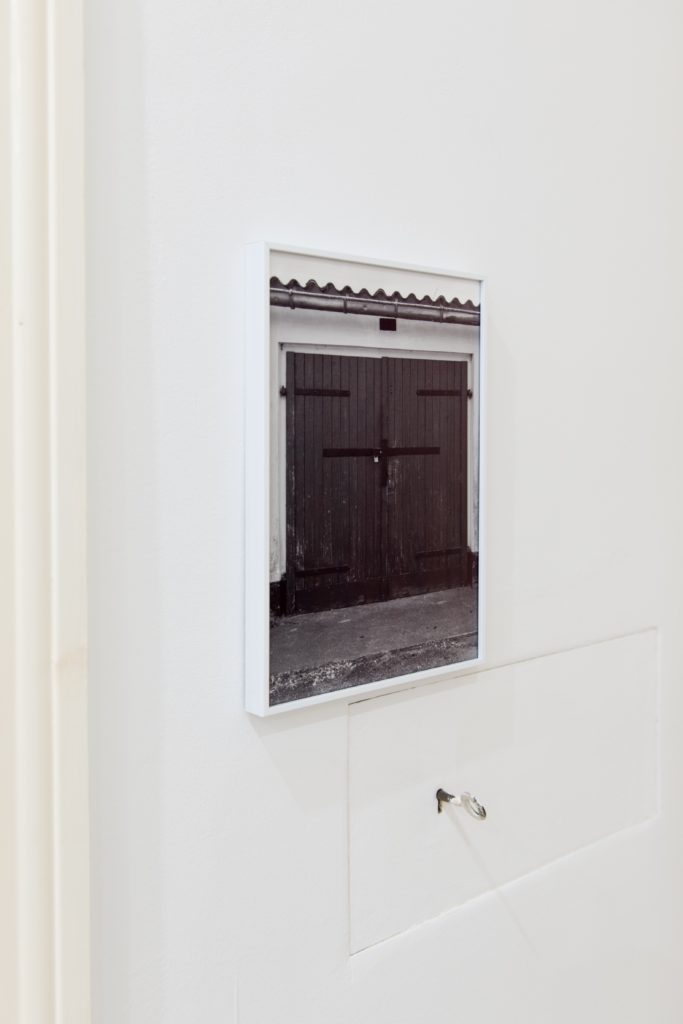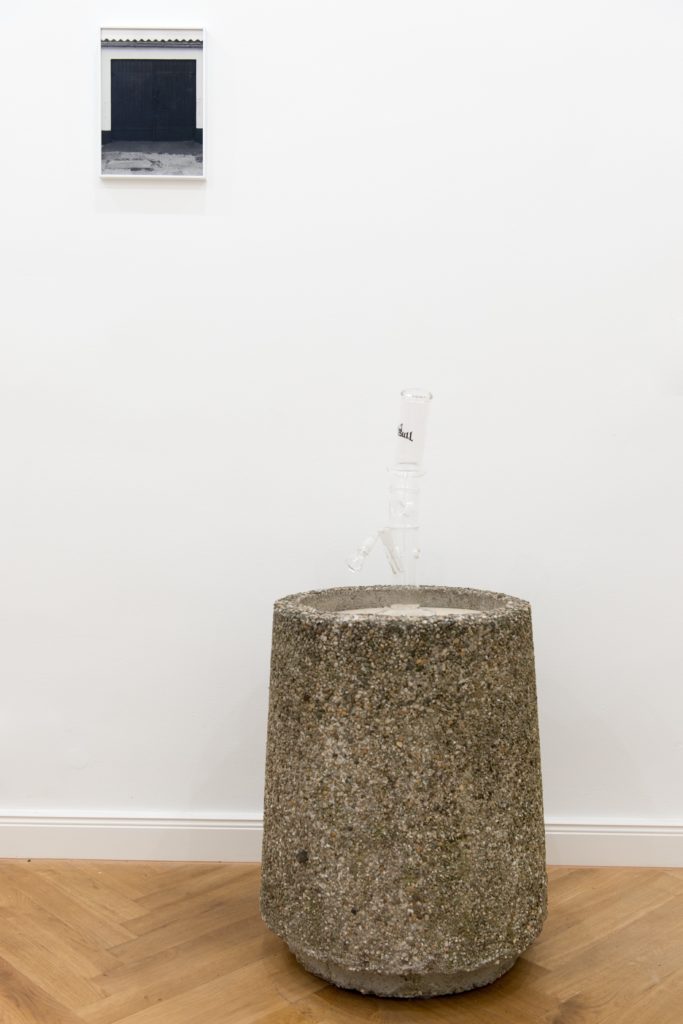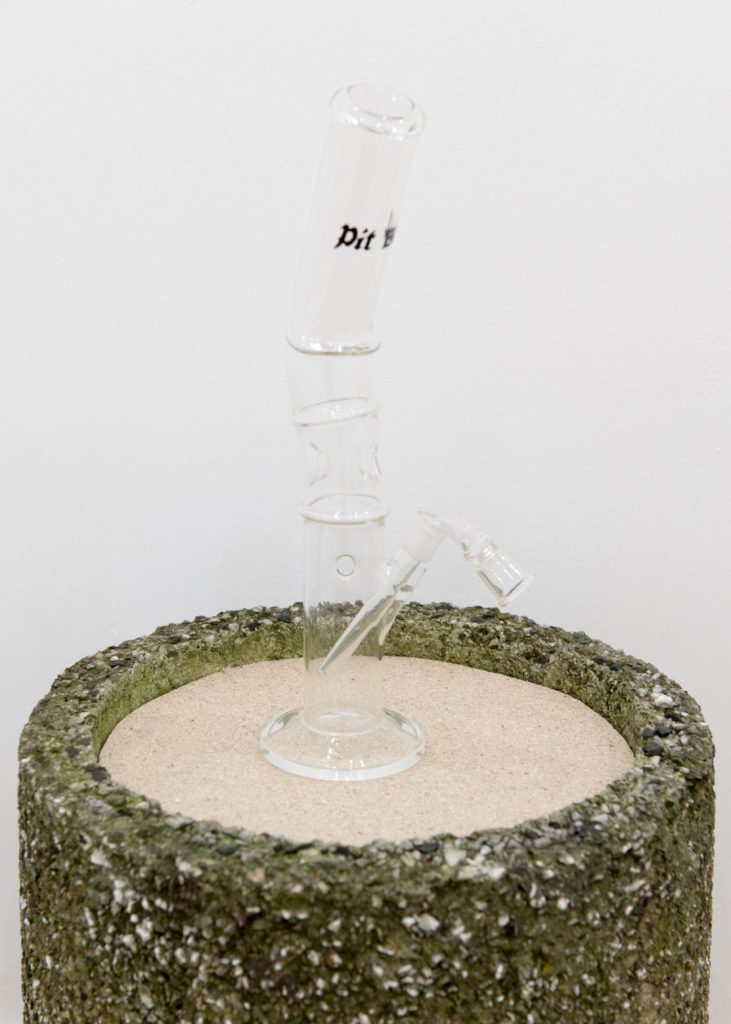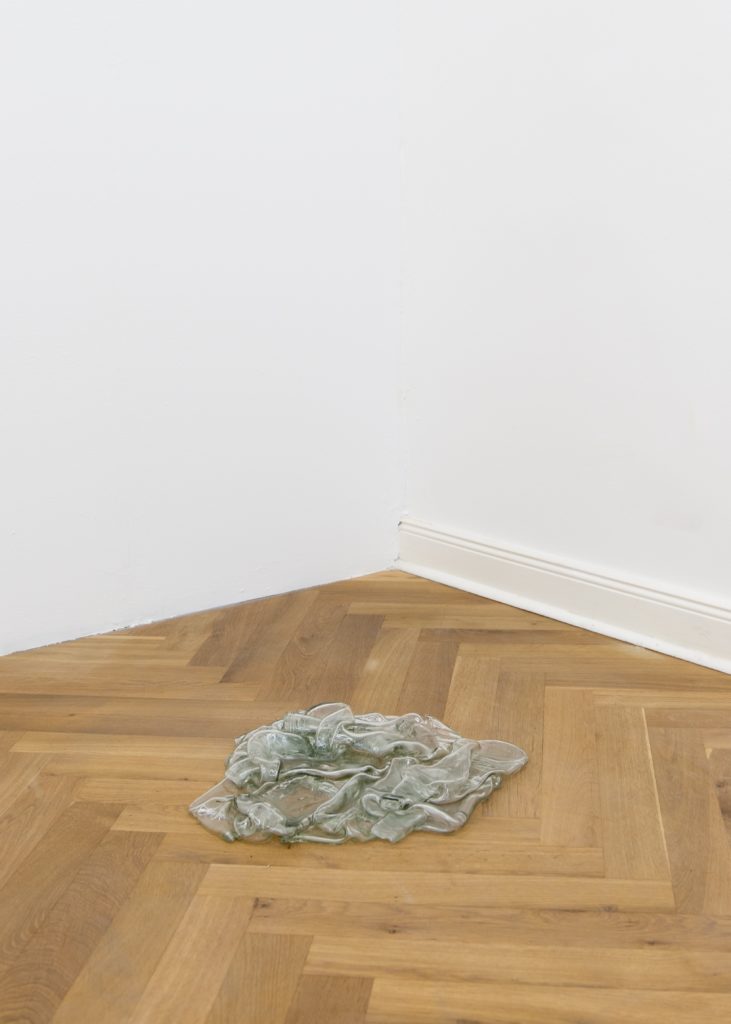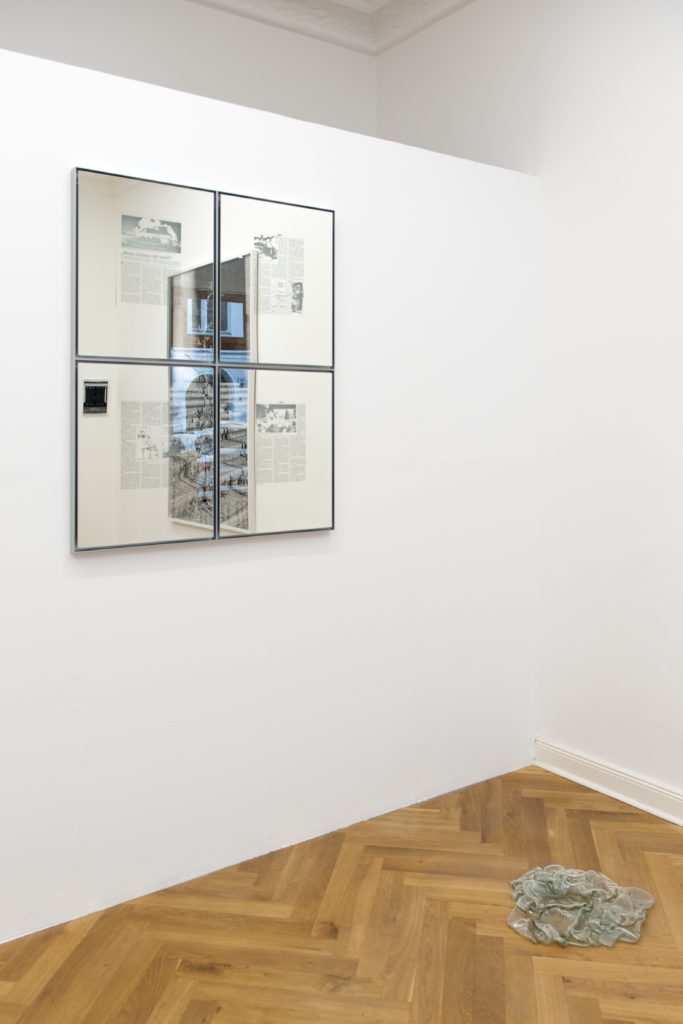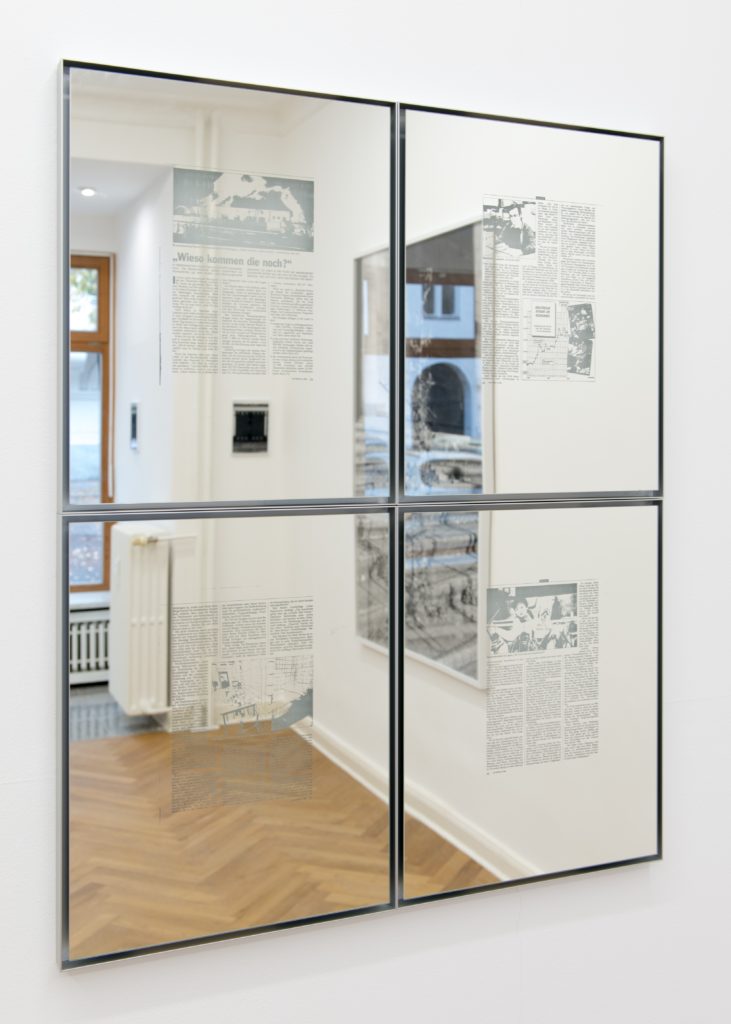 ---
L'Arbre du Soleil
GUY ALLOTT, SARAH CHOW, STEPHAN DILLEMUTH, JOHN MATTHEW HEARD, ULRIKE MÜLLER,
WAGEHE RAUFI, MAX SCHMIDTLEIN, LAURA SCHUSINSKI
August 31 – October 12, 2019
Installation views (L-R):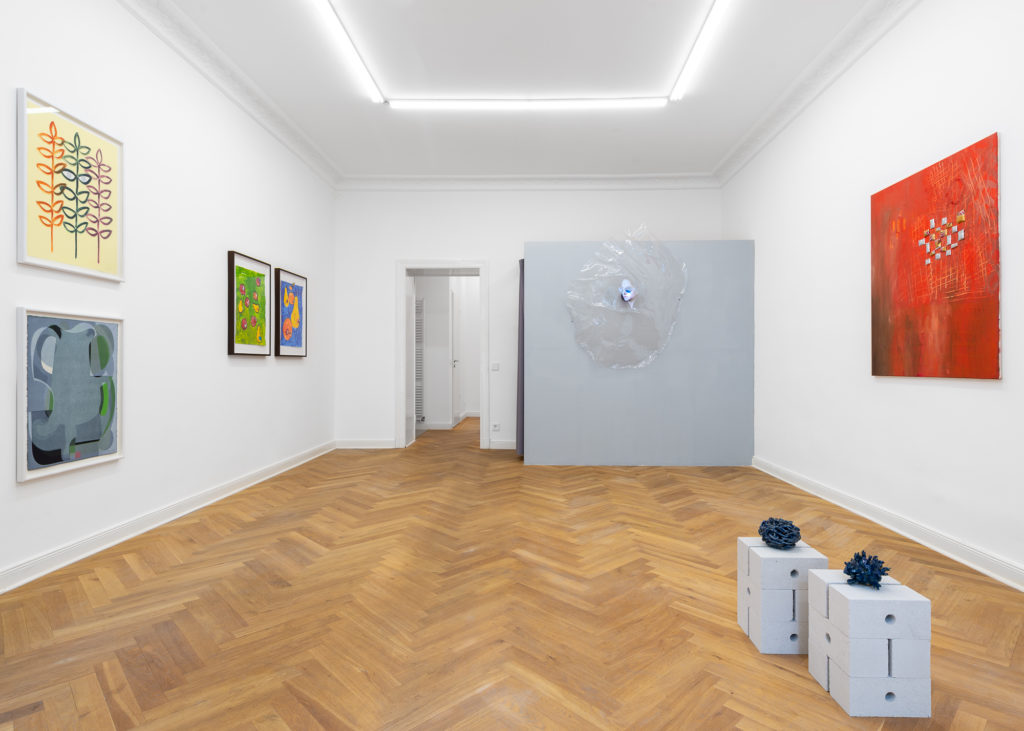 L'Arbre du Soleil – ULRIKE MÜLLER, JOHN MATTHEW HEARD, WAGEHE RAUFI, GUY ALLOTT, LAURA SCHUSINSKI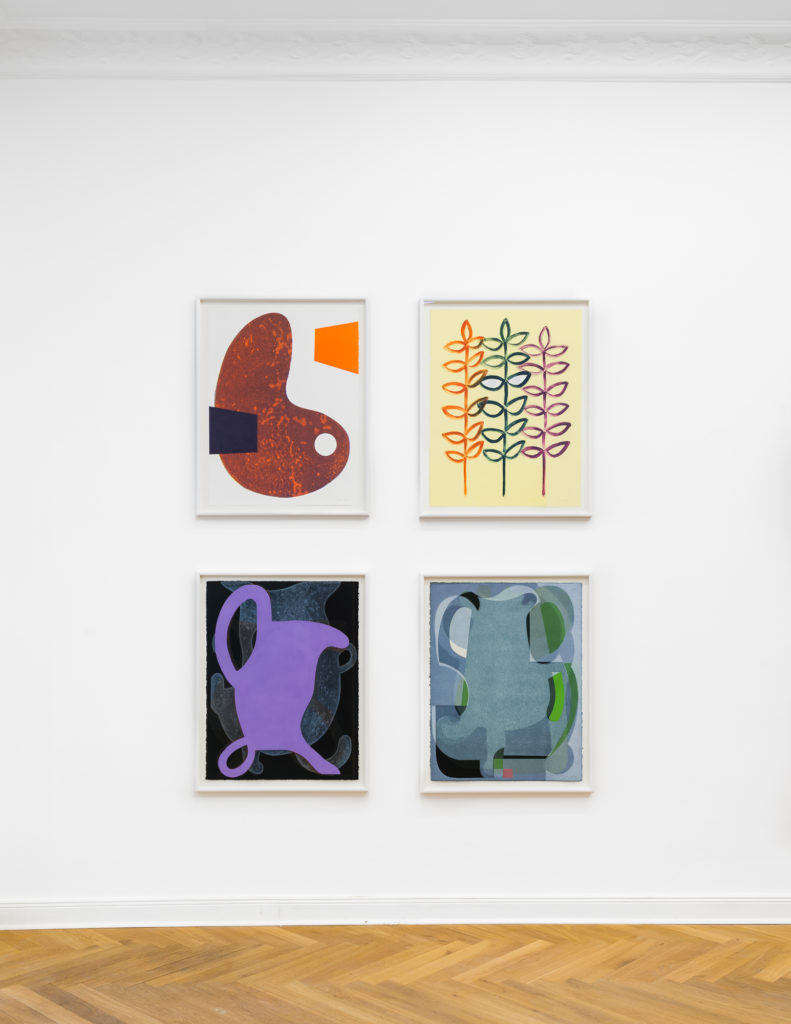 L'Arbre du Soleil – ULRIKE MÜLLER

L'Arbre du Soleil – JOHN MATTHEW HEARD

L'Arbre du Soleil – ULRIKE MÜLLER, JOHN MATTHEW HEARD, WAGEHE RAUFI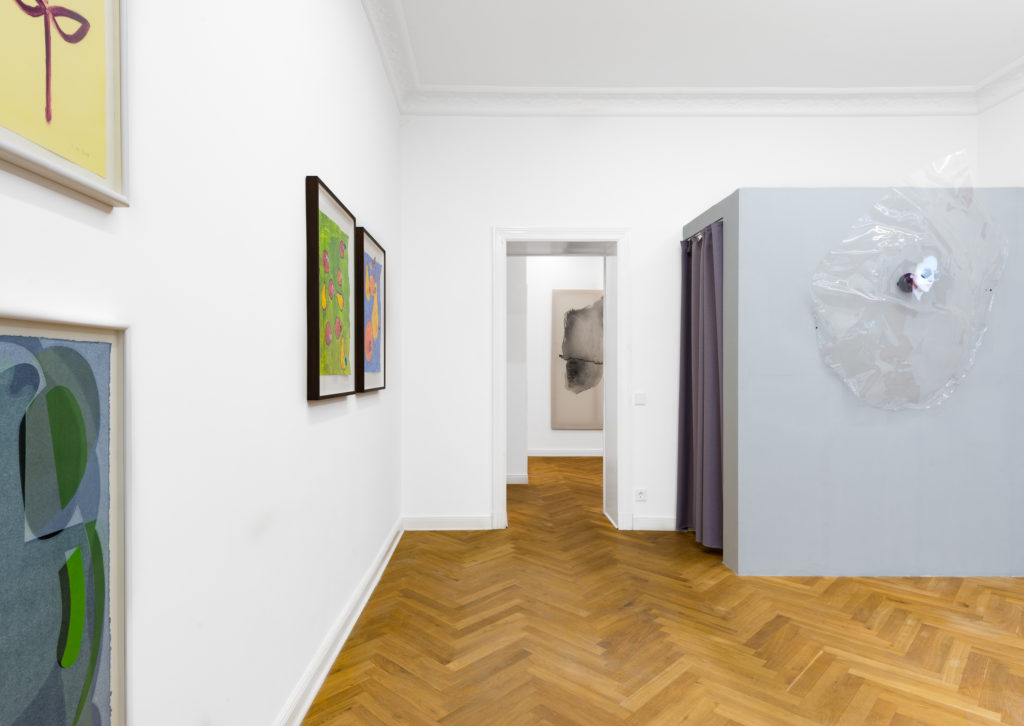 L'Arbre du Soleil – JOHN MATTHEW HEARD, MAX SCHMIDTLEIN, WAGEHE RAUFI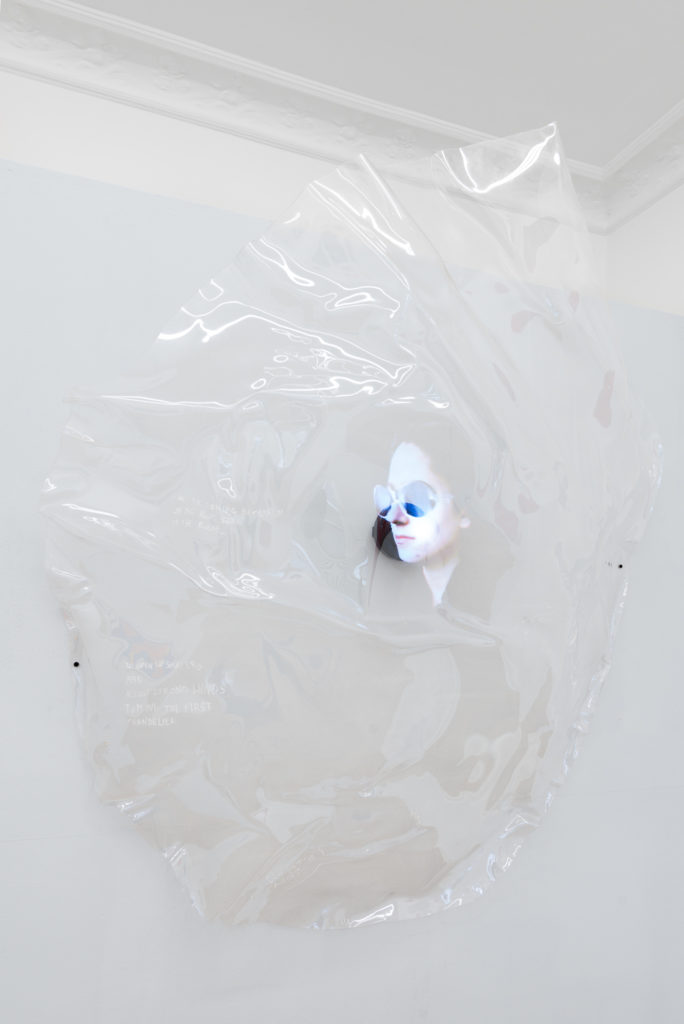 L'Arbre du Soleil – WAGEHE RAUFI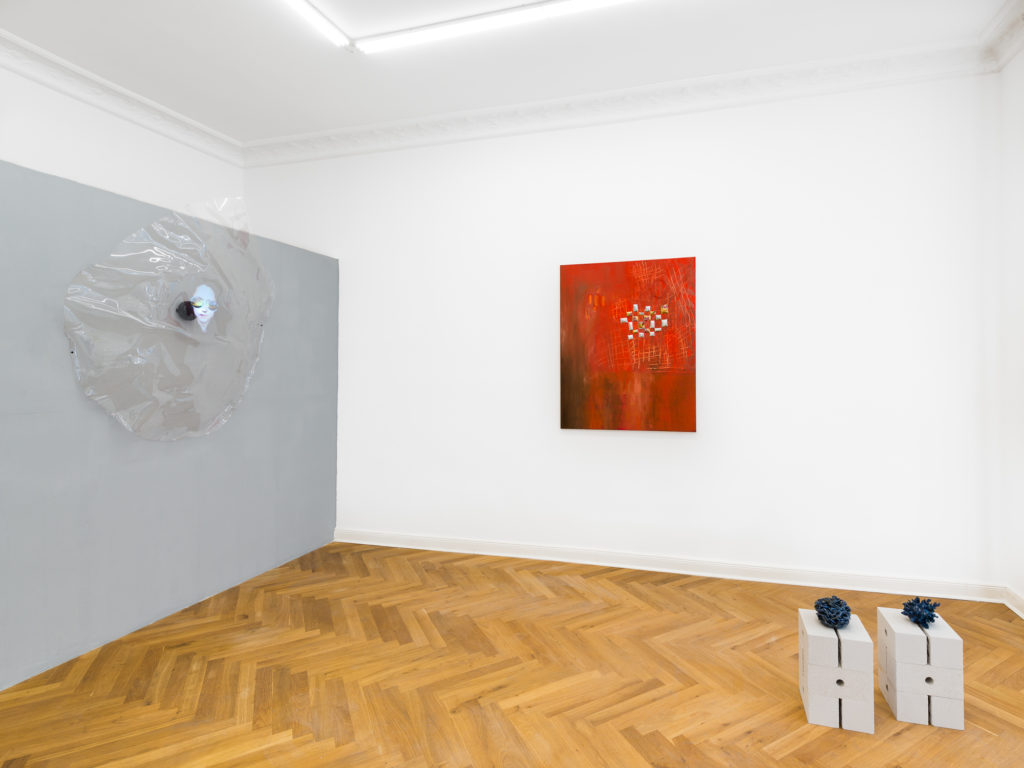 L'Arbre du Soleil – WAGEHE RAUFI, LAURA SCHUSINSKI, GUY ALLOTT

L'Arbre du Soleil – LAURA SCHUSINSKI, GUY ALLOTT, MAX SCHMIDTLEIN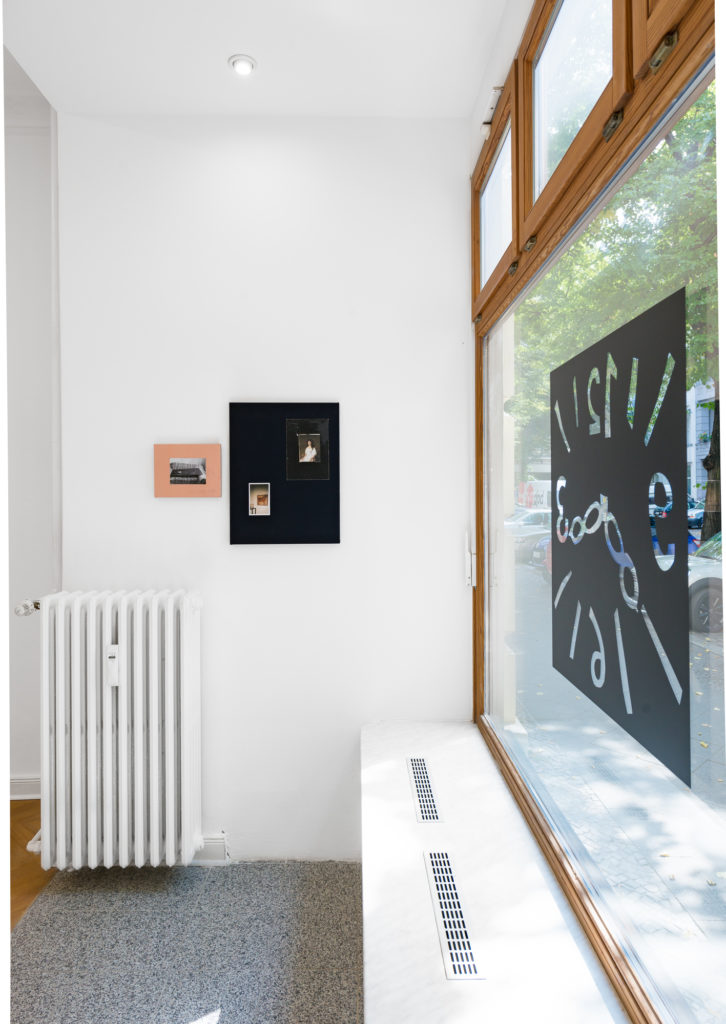 L'Arbre du Soleil – MAX SCHMIDTLEIN, STEPHAN DILLEMUTH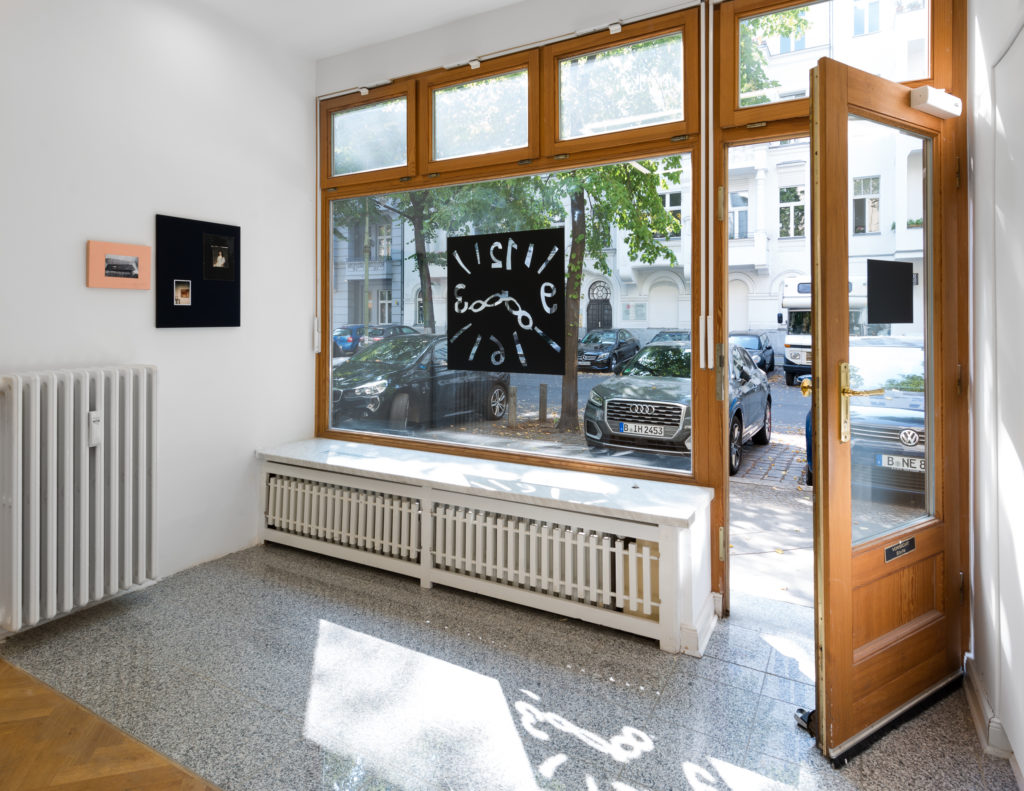 L'Arbre du Soleil – MAX SCHMIDTLEIN, STEPHAN DILLEMUTH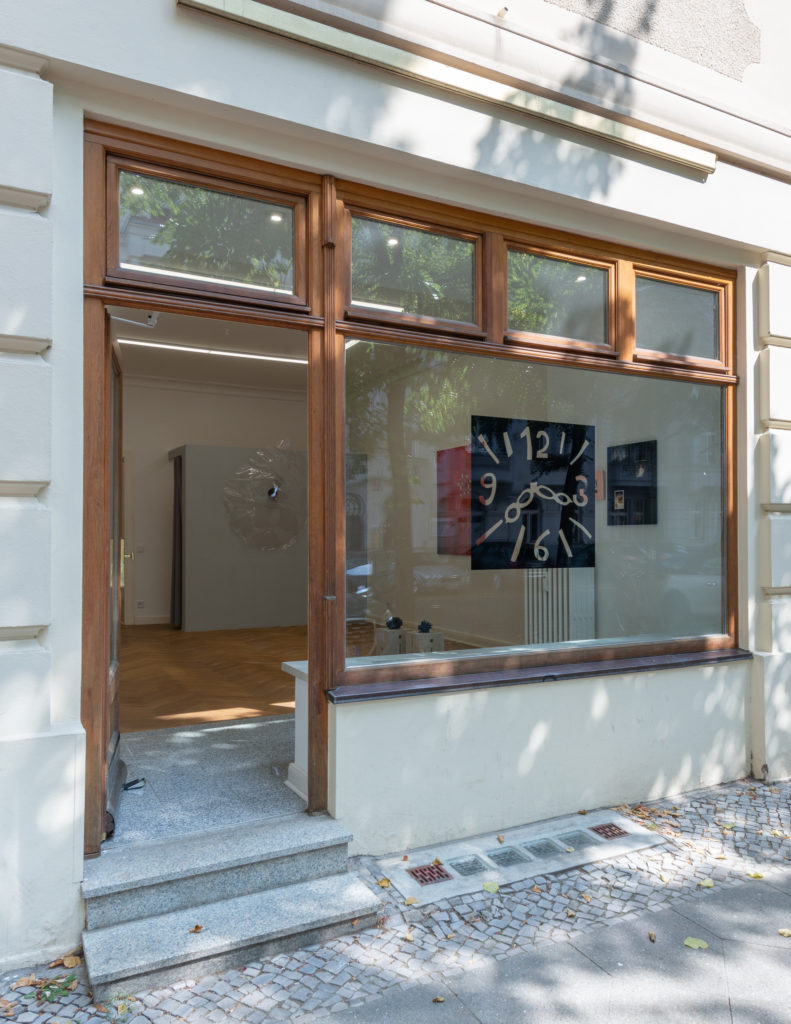 L'Arbre du Soleil – WAGEHE RAUFI, GUY ALLOTT, LAURA SCHUSINSKI, STEPHAN DILLEMUTH, MAX SCHMIDTLEIN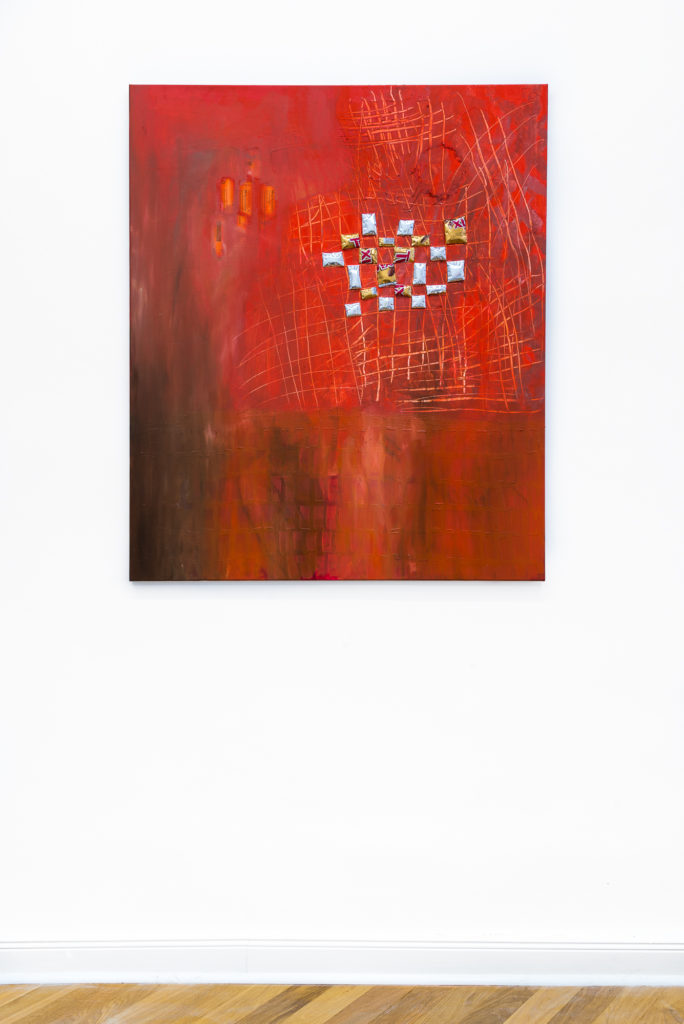 L'Arbre du Soleil – LAURA SCHUSINSKI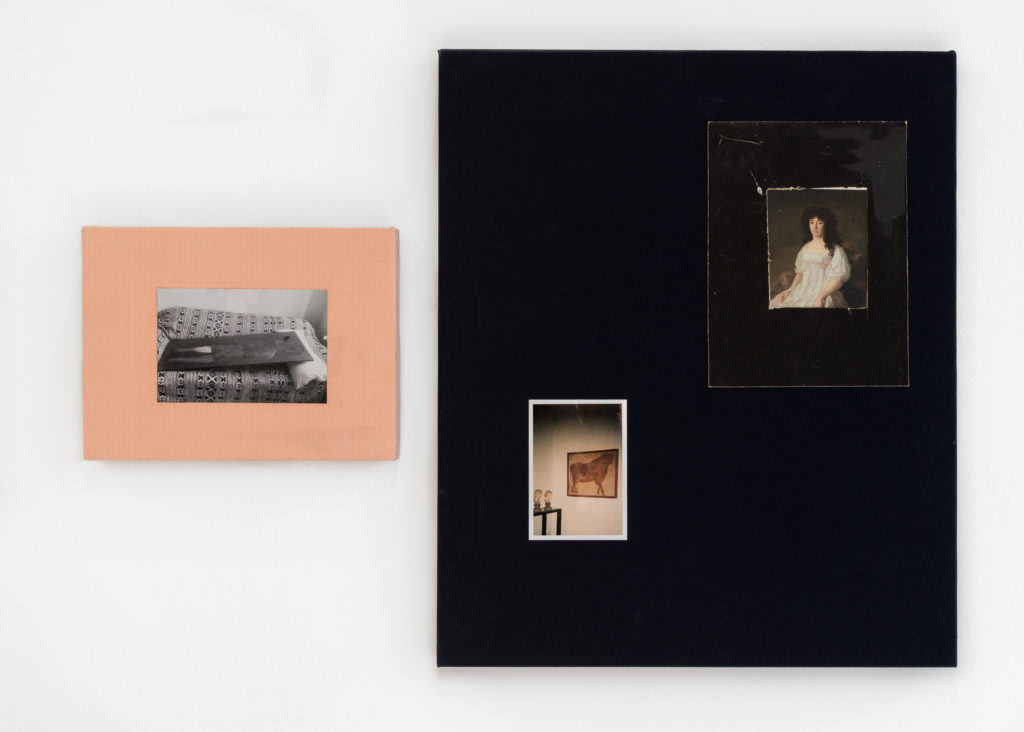 L'Arbre du Soleil – MAX SCHMIDTLEIN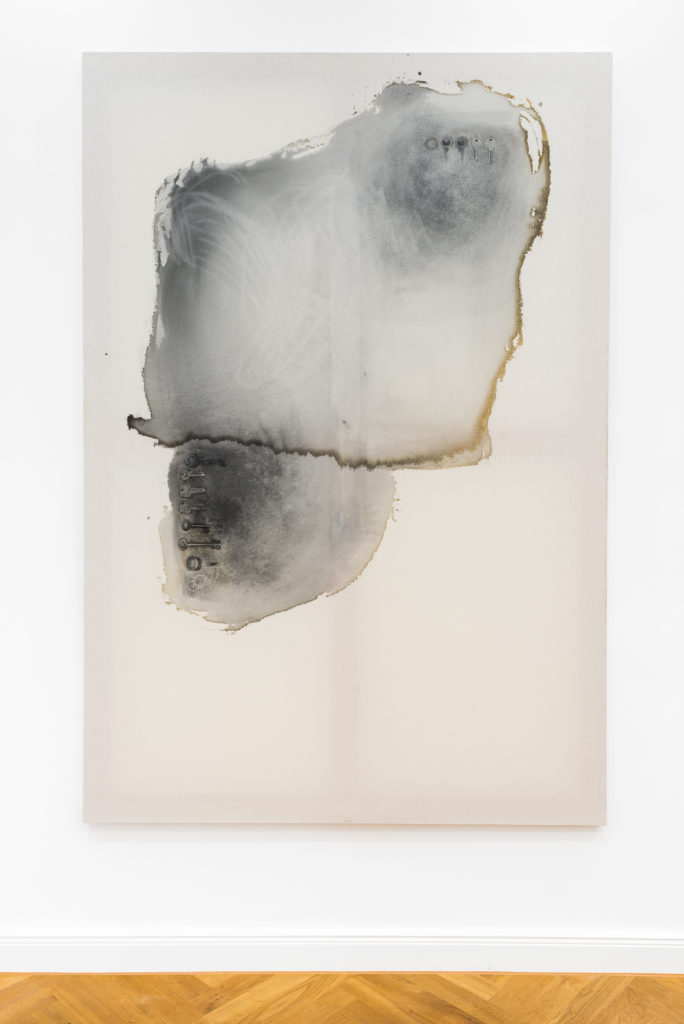 L'Arbre du Soleil – MAX SCHMIDTLEIN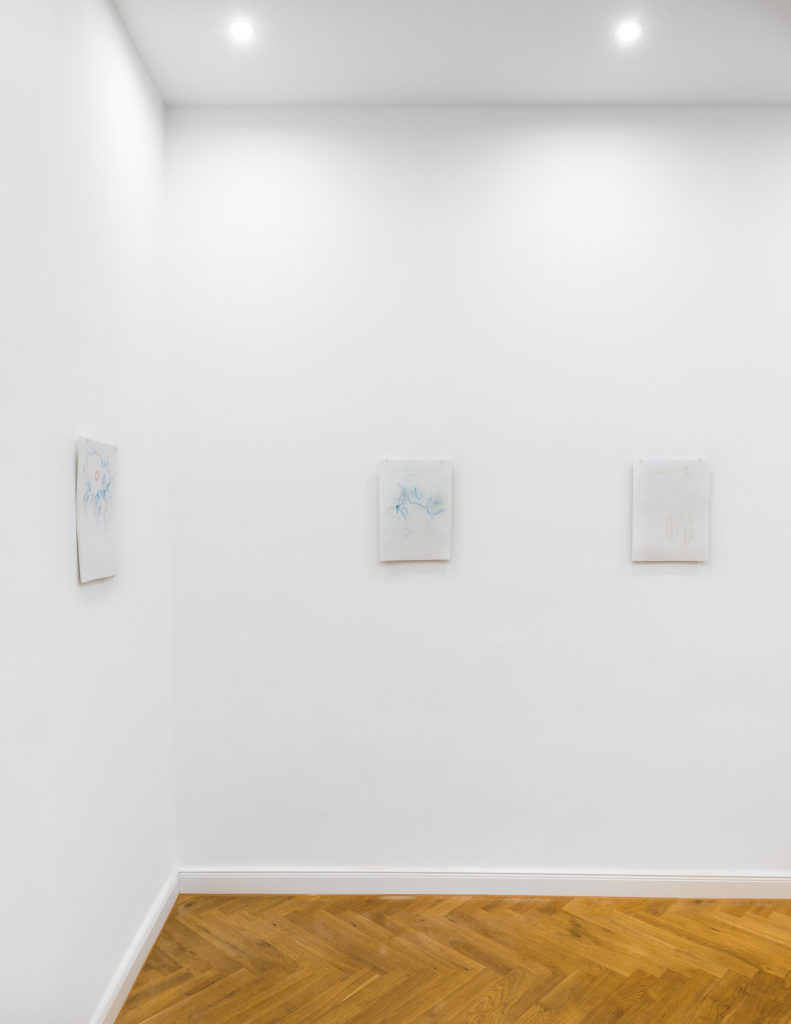 L'Arbre du Soleil – SARAH CHOW

L'Arbre du Soleil – SARAH CHOW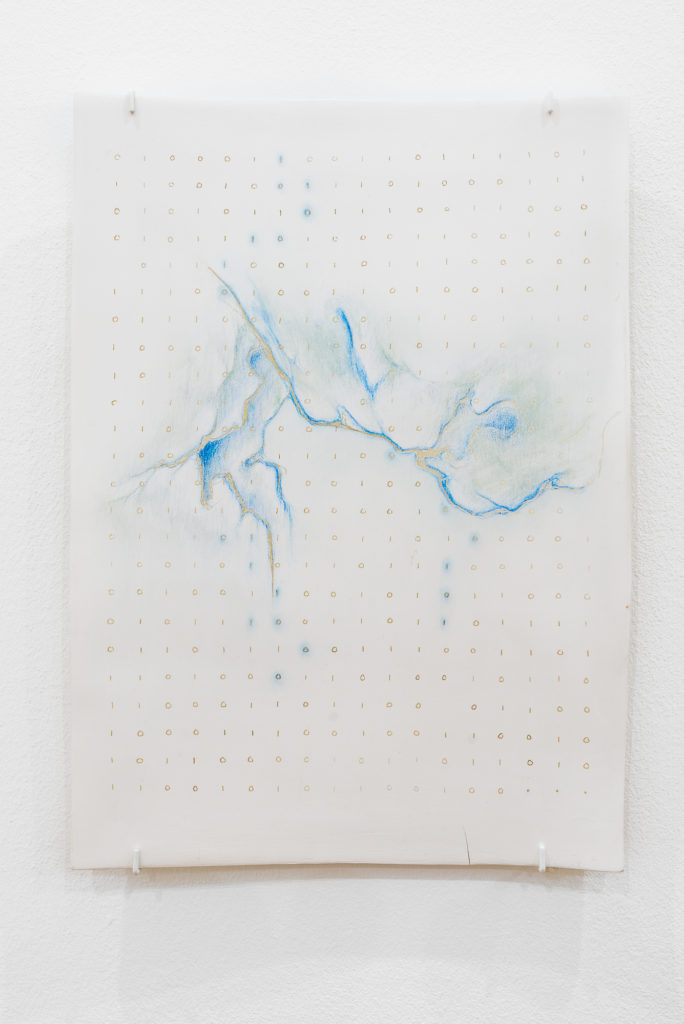 L'Arbre du Soleil – SARAH CHOW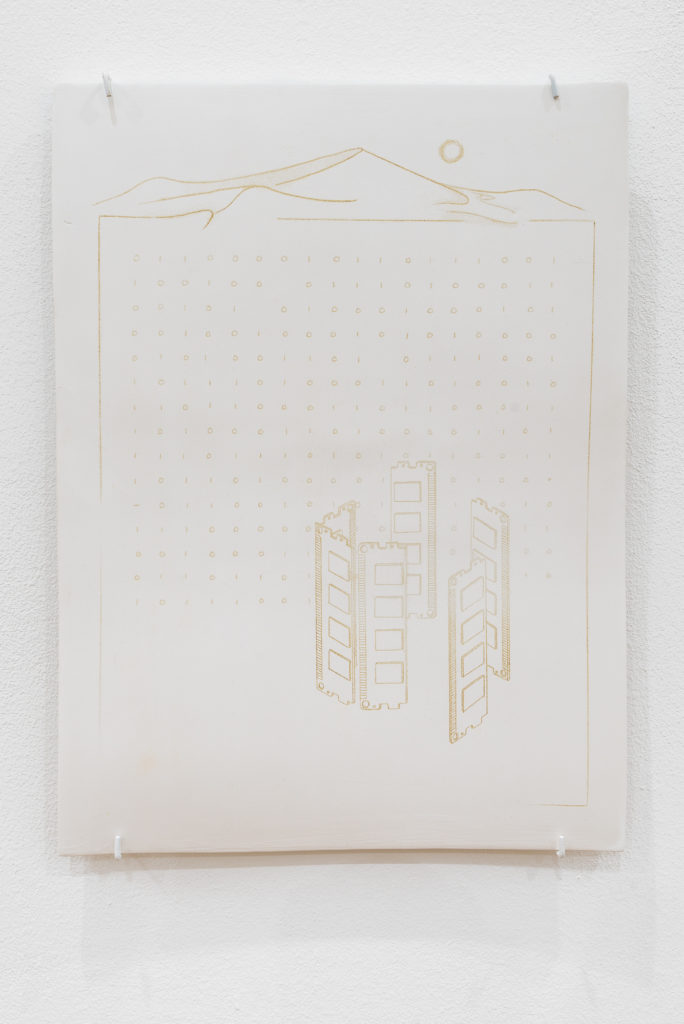 L'Arbre du Soleil – SARAH CHOW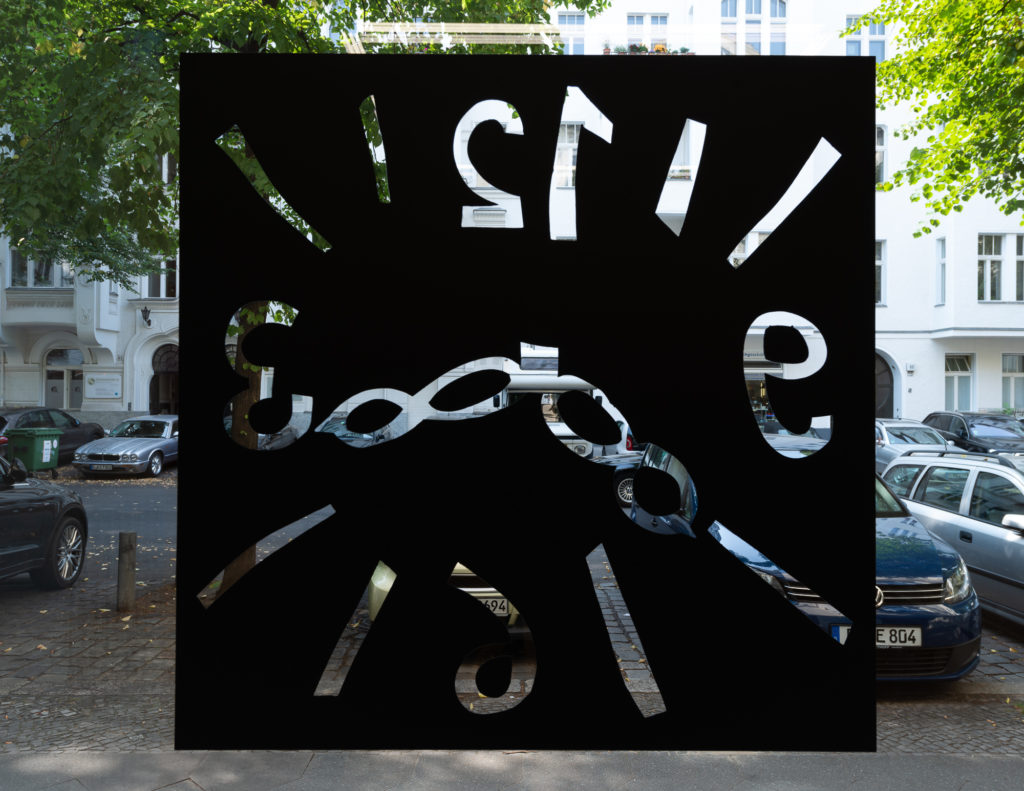 L'Arbre du Soleil – STEPHAN DILLEMUTH
Photos: groupshow.eu
Invitation card