Yana Tsegay perceives the cave as a speculative canvas and as an intersection of painting and cultural history where notions of primordiality are challenged. In her artistic practice, the cave is entered in a speculative manner as a place of unlearning and reinvention. Her involvement with cave painting starts with Cave Paintings, 2017, and continues through 2023 in the form of a research and a publication: From the Stone Age to the Present refers to Georges Bataille's writings on the rock paintings of Lascaux.
Aside from the cave, she is also interested in historical events like the invention of fire or cultural sites such as the Amber Room. They serve as starting lines for the reshaping and appropriation of history in the context of painting. Recognizing the history of painting as malleable and appropriable opens up the possibility of writing one's own history while avoiding external definition. Texts like Kodwo Eshun's Further Considerations on Afrofuturism are a key component of her discussion in this regard.
Working with museum exhibition displays and spaces is also part of her transformative practice. Here she wonders, 'What cultural concept is engraved in these spaces? How can I create moments of displacement and transform settings?' Hereby she wants to reclaim the spaces of museums, palaces, and huts, by working as a performer or with the format of artistic intervention.
Gallery exhibitions
2023 I. S. Kalter | Yana Tsegay
2019 The Amber Room
Further exhibitions (selection)
2022 The Invention of Fire, basis Projektraum, Frankfurt am Main, DE
2020 The White Hut, as part of OADE#2, curated by KVTV, Grüne Lunge, Frankfurt am Main, DE
Selected works

Yana Tsegay, Giant Track / Found in Rocks, 2022-2023 – Acrylic and molding paste (painted frame) on nettle fabric, 140 × 80 × 2 cm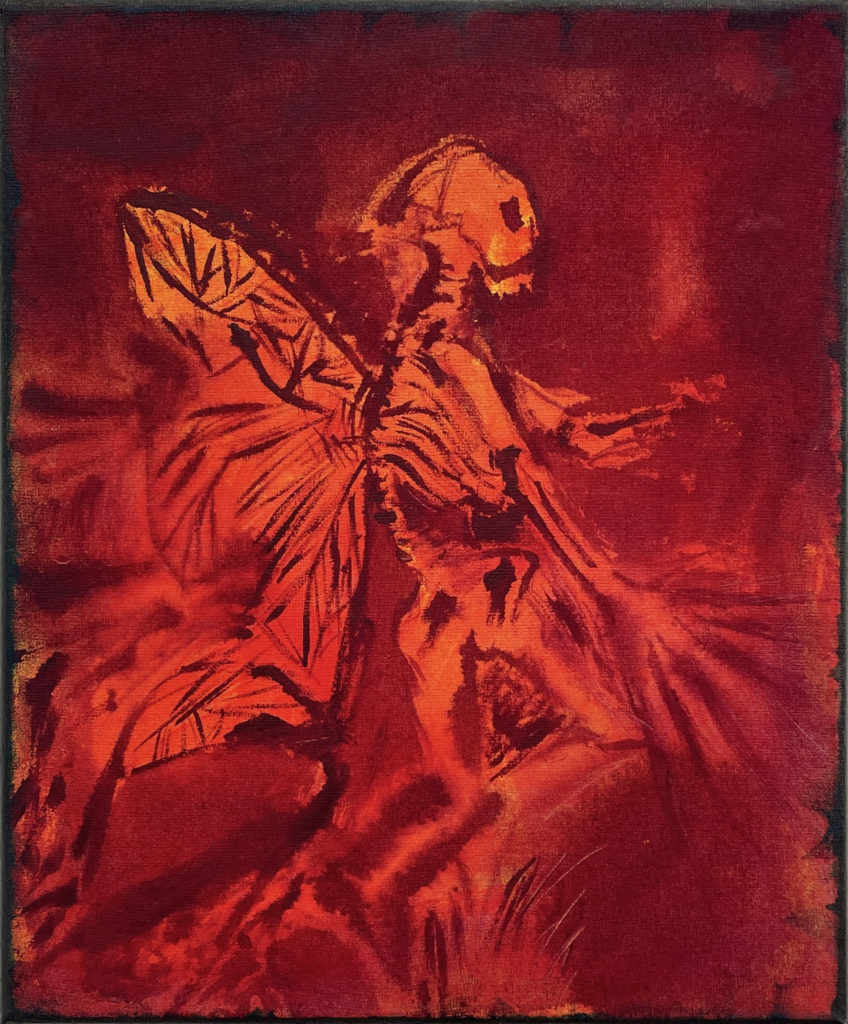 Yana Tsegay, Fossilization / Fairy, 2023 – Acrylic on nettle fabric, 30 × 25 × 2 cm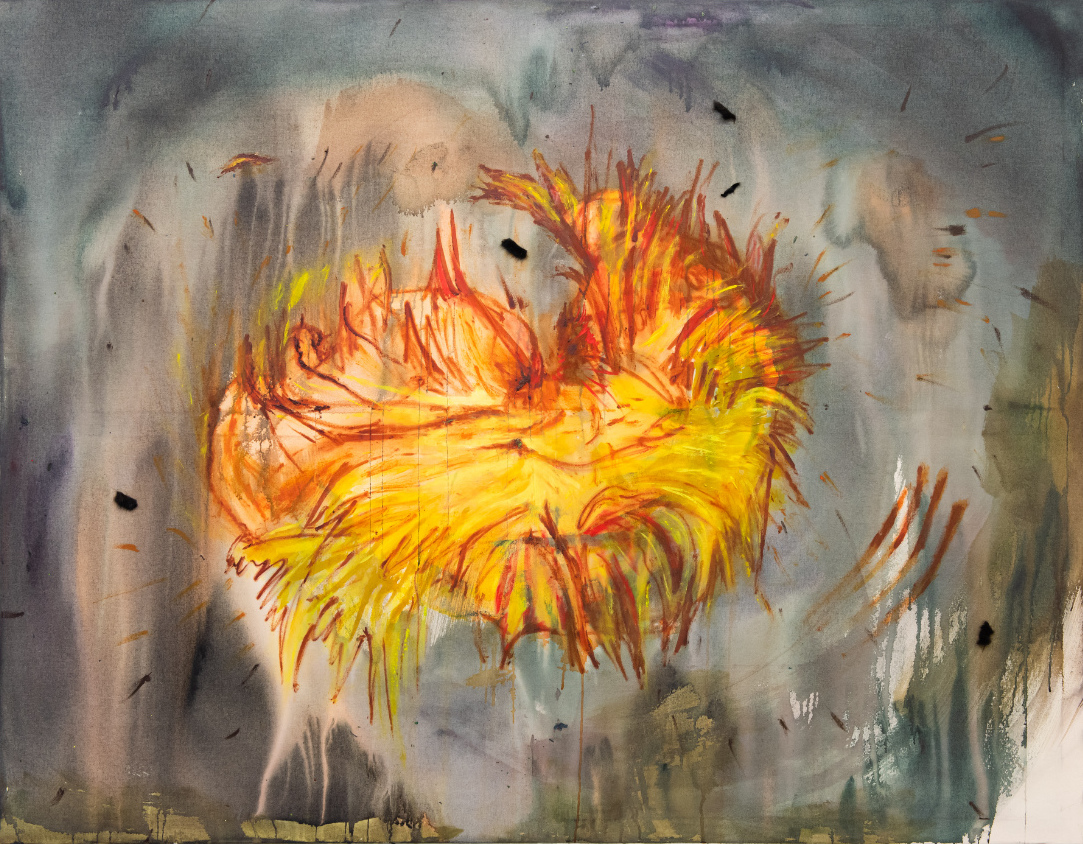 Yana Tsegay, Imagining a Flame / Mural, 2022 – Acrylic paint, oil stick, fur on nettle, 140 × 180 cm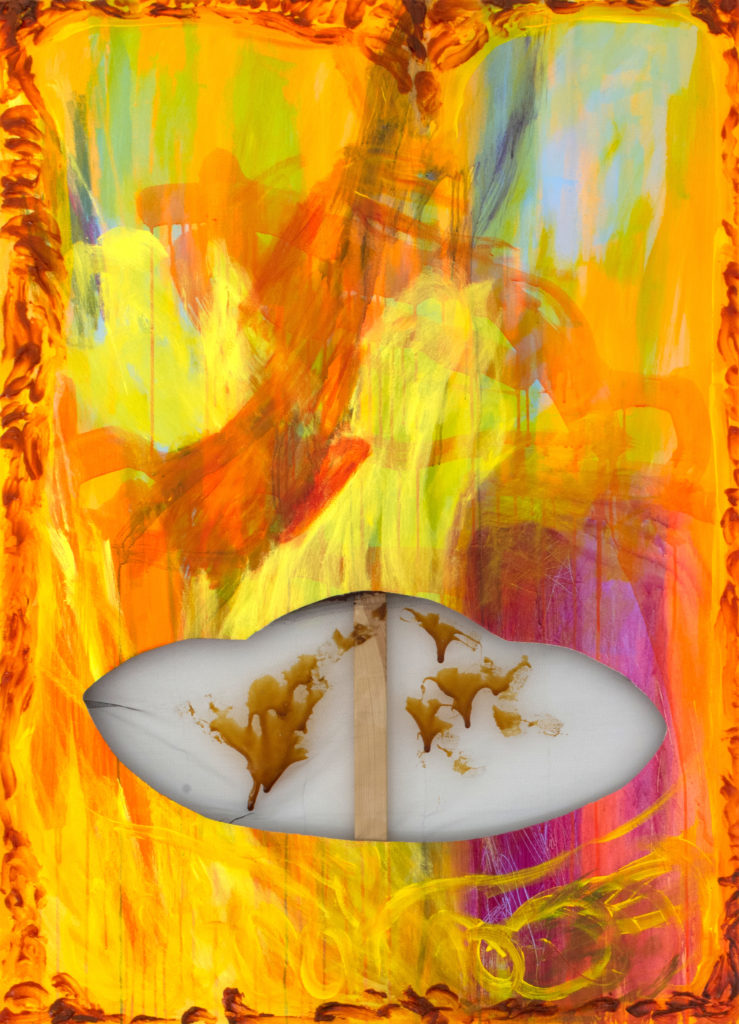 Yana Tsegay, Untitled (Rocaille), 2019 – acrylic and polymers on cotton, isomalt on flyscreen, wood, 140 × 100 × 2 cm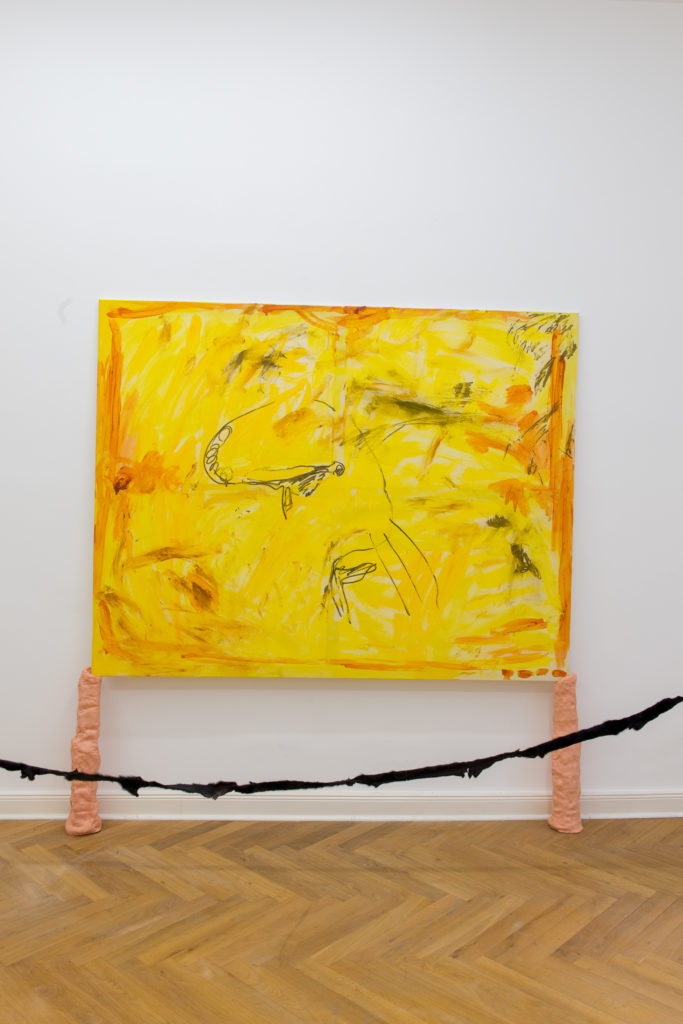 Yana Tsegay, Bernstein-Paneel I, 2019 – painted clay, sculpture, 60 cm × 16 cm × 14 cm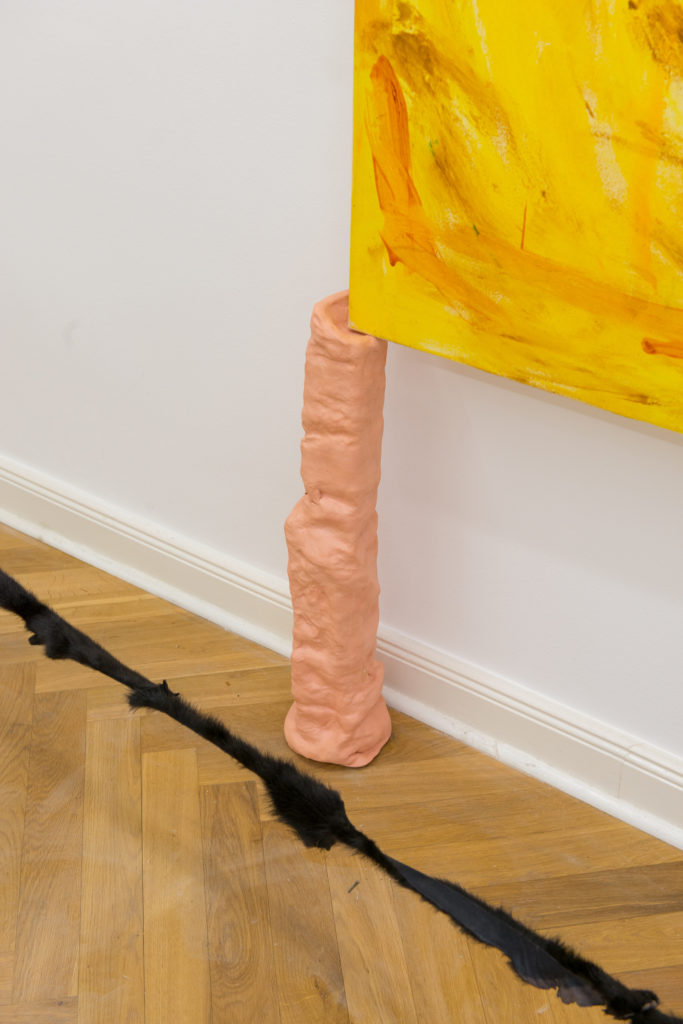 Yana Tsegay, Bernstein-Paneel I (detail), 2019 – painted clay, sculpture, 60 cm × 16 cm × 14 cm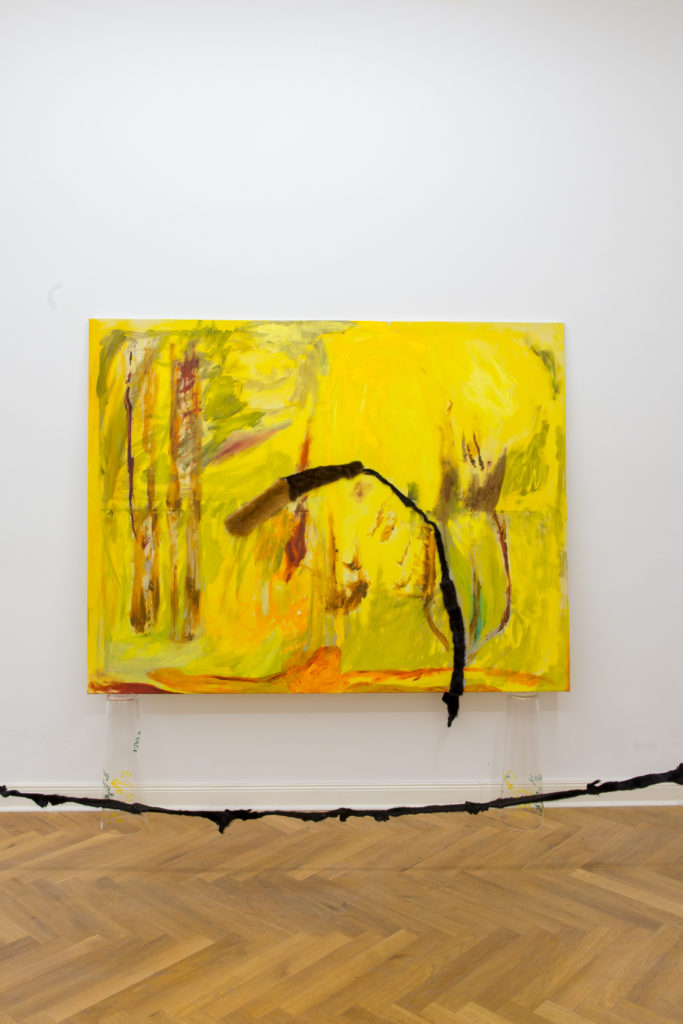 Yana Tsegay, Bernstein-Paneel III, 2019 – acrylic, oil stick, fur, polymeres on cotton, 140 × 180 × 2 cm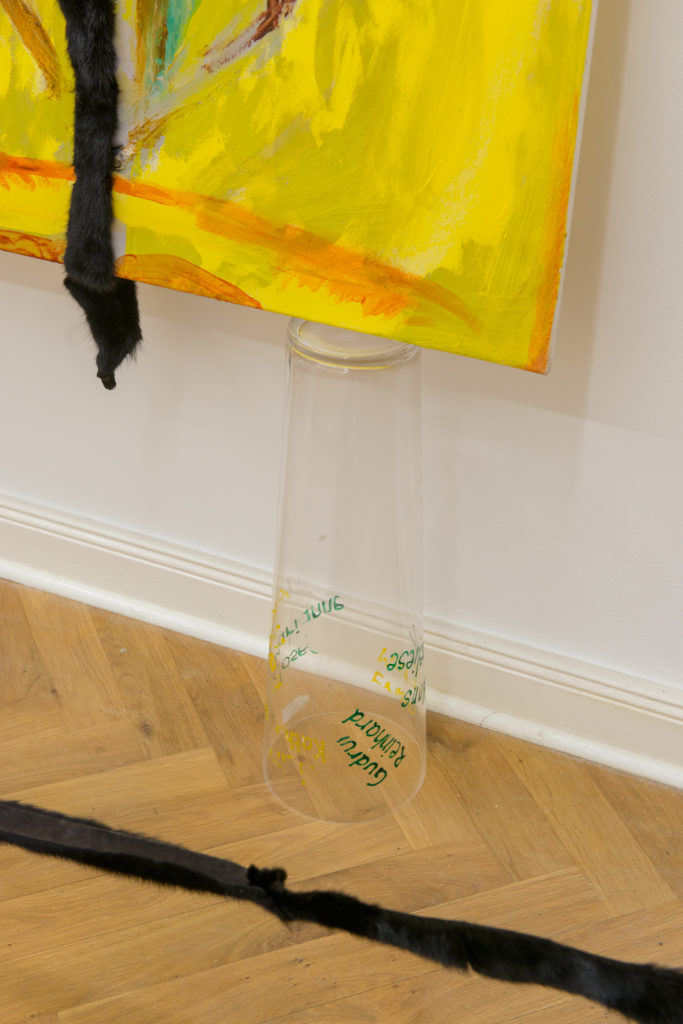 Yana Tsegay, Bernstein-Paneel III (detail), 2019 – acrylic, oil stick, fur, polymeres on cotton, 50 × 16,5 × 16,5 cm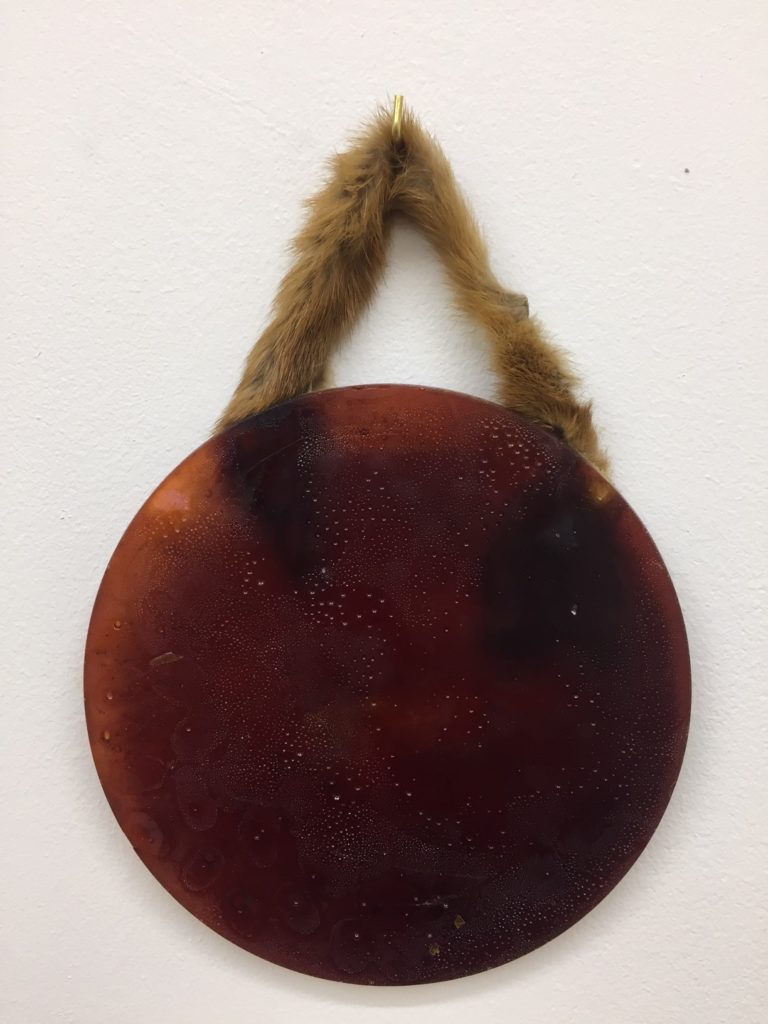 Yana Tsegay, Amber Medallion, 2019 – isomalt and fur, 26 × 21,5 cm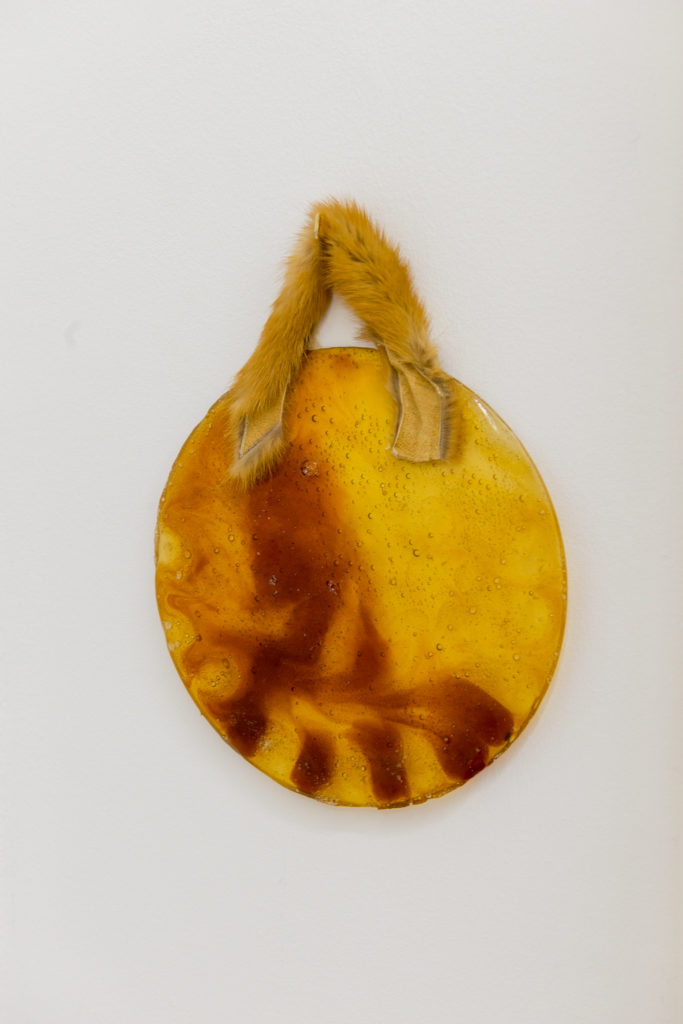 Yana Tsegay, Amber Medallion, 2019 – isomalt and fur, 26 × 25 × 1 cm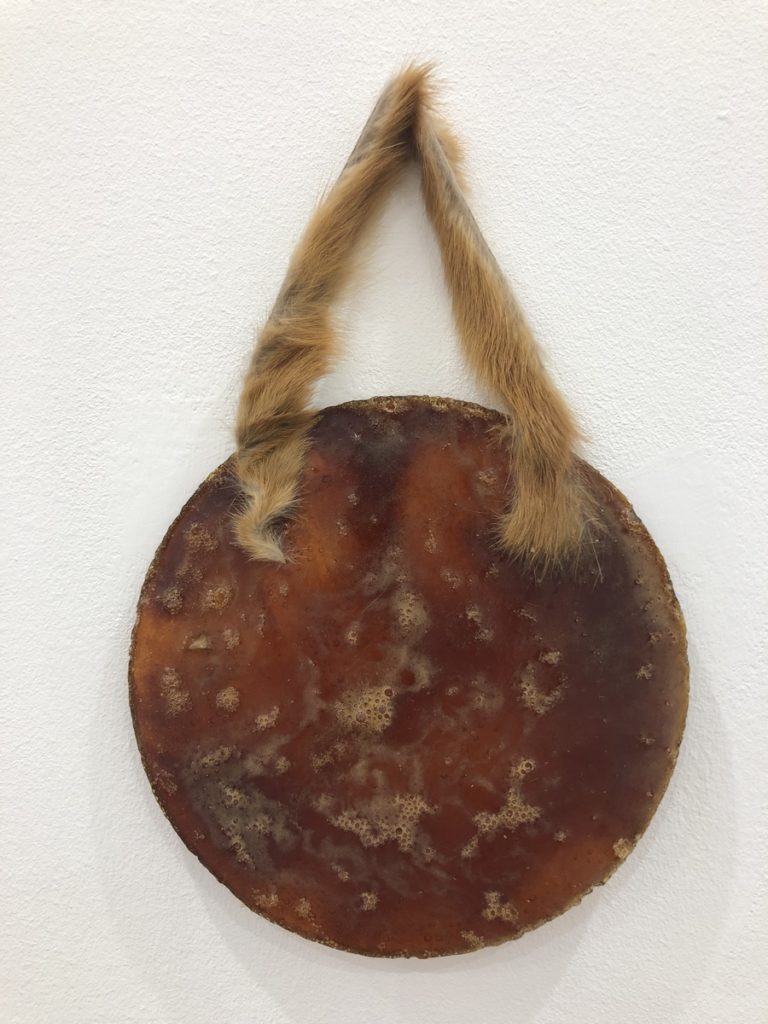 Yana Tsegay, Amber Medallion, 2019 – isomalt and fur, 33,5 × 21,5 cm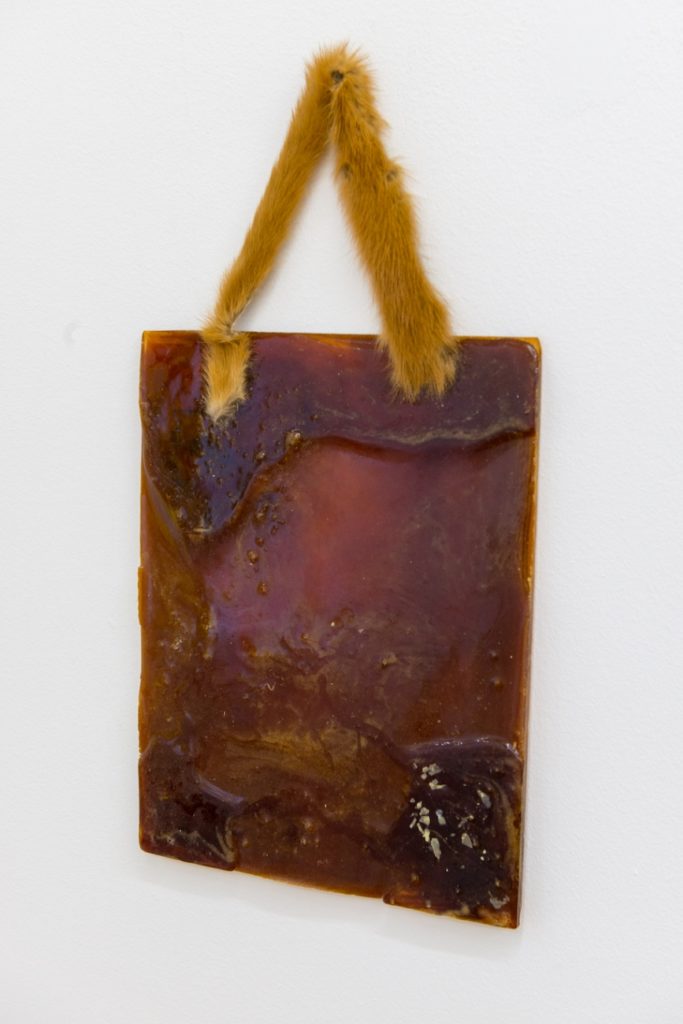 Yana Tsegay, Amber Plate, 2019 – isomalt and fur, 52 × 28 cm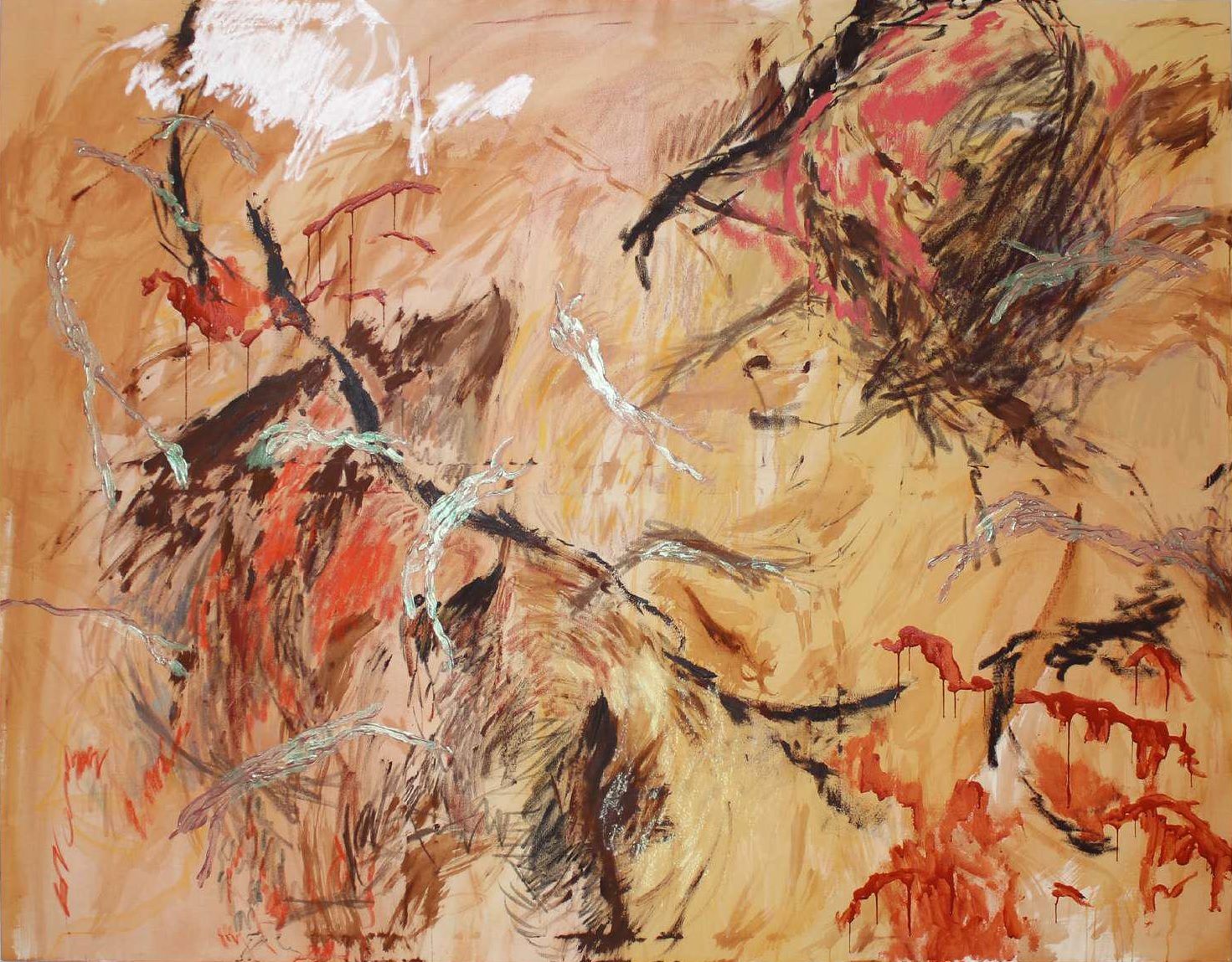 Yana Tsegay, Cave of Rave, 2017 – acrylic, oil, crayons and interference pigments on nettle, 140 × 180 cm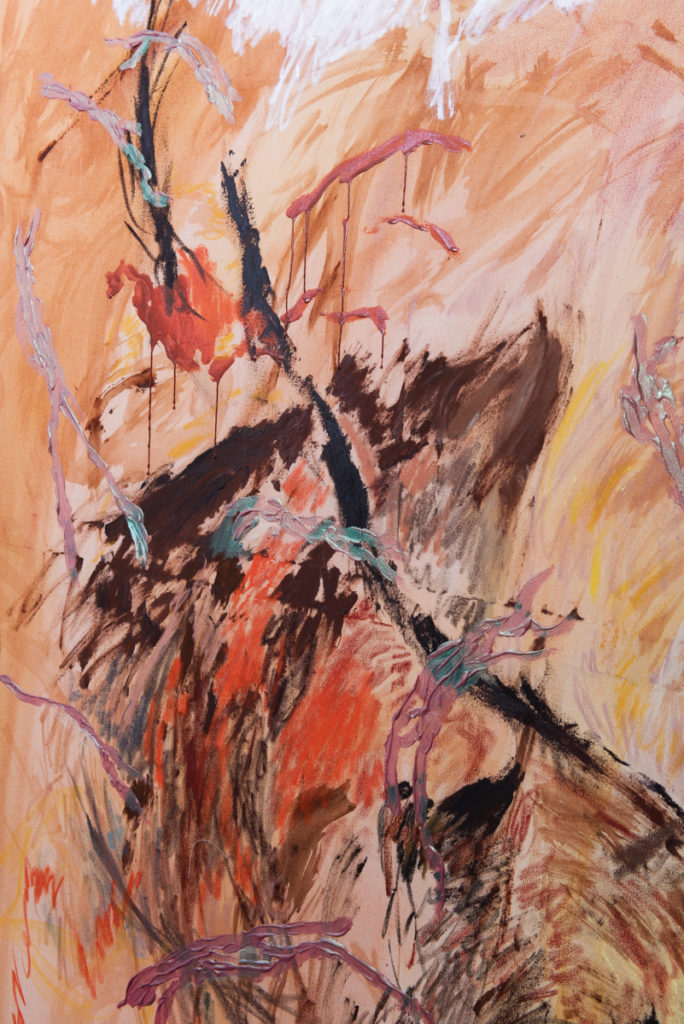 Yana Tsegay, Cave of Rave (detail), 2017 – acrylic, oil, crayons and interference pigments on nettle, 140 × 180 cm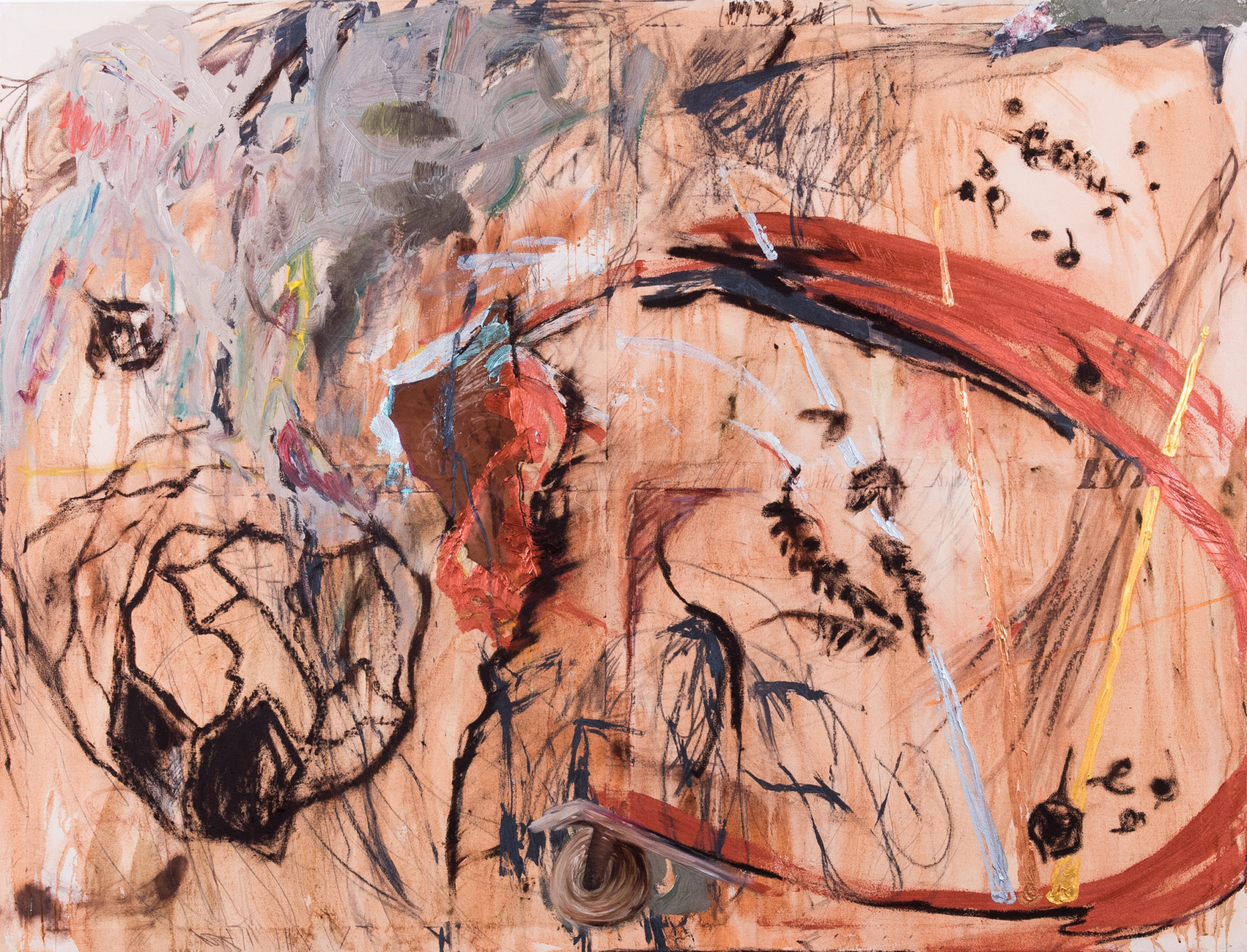 Yana Tsegay, Gedanken über Konsistenz (Tellicherry), 2017 – acrylic, oil, charcoal and interference pigments on cotton, 140 × 180 × 2 cm